Its December already and my studio kitchen is brimming with cranberry desserts! Today I'm sharing a very festive recipe of my Cranberry Pistachio Fudge that is perfect for gifting, easy to make and easier to finish because it is just that good!
We all need easy going and smooth recipes to make in the festive season because there's so much to do and so much to eat, haha. This recipe for the Cranberry Pistachio Fudge has an extremely simple procedure and all it requires is a little bit of patience. For everyone who shies away from making too much of an effort in the kitchen, this Cranberry Pistachio Fudge is the recipe for you.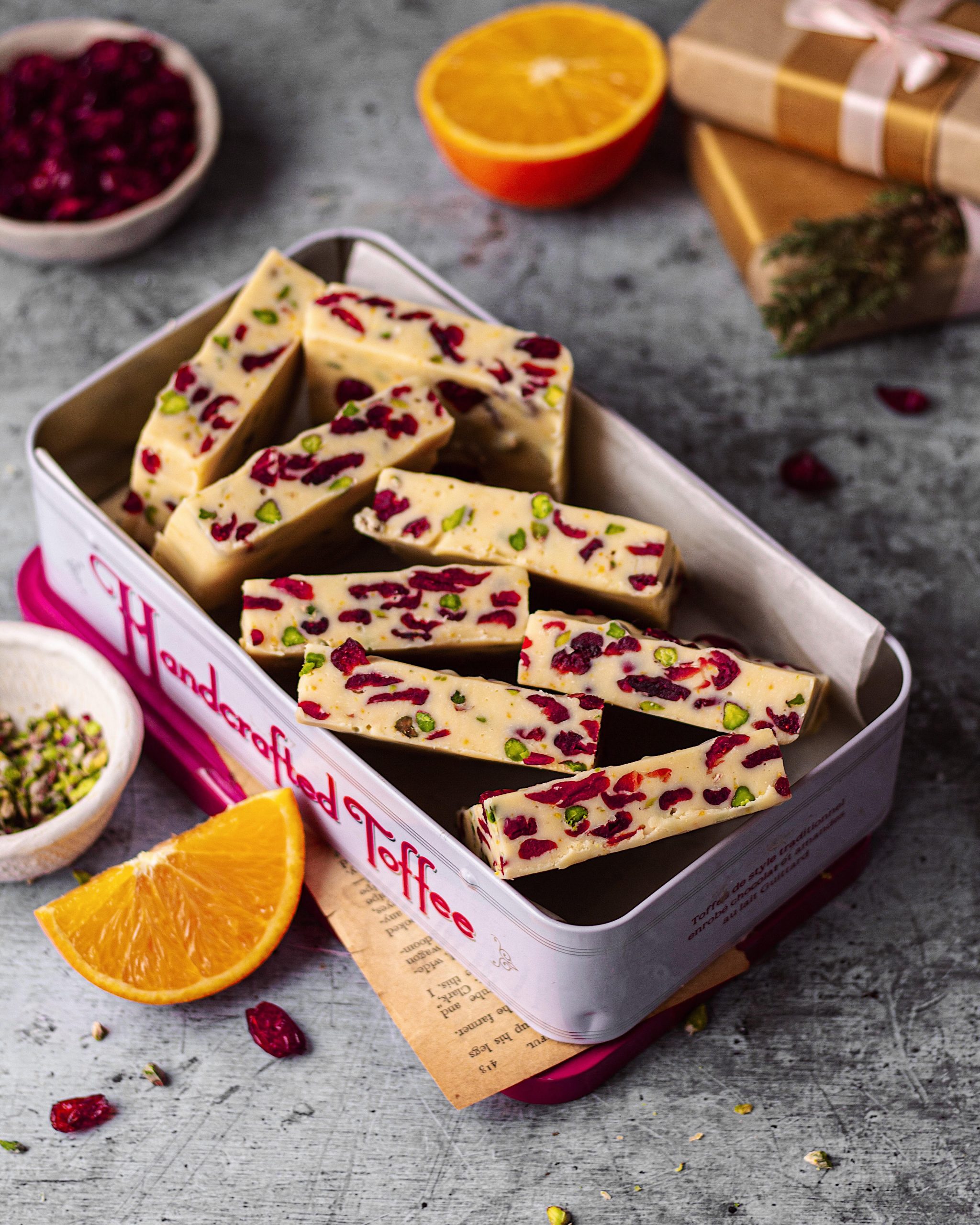 What is Fudge
Fudge is an old school dessert that can best be described as a sugar candy that has sugar, butter, and milk as its main components. Fudge is an American dessert and making and giving Chocolate Fudge is synonymous with the holiday season there.
The best part about fudge is that the flavor possibilities are endless! You can add anything and everything in a Fudge. Just make sure that you're balancing out all the flavors otherwise it can get too sweet to eat.
The Cranberry-Pistachio Flavor Combination
Any fudge will contain a fair amount of sweet condensed milk, butter, and chocolate in it. All of these ingredients are sweet and decadent. This is why when I was making this fudge, I decided to balance things out with my mix-ins.
Cranberries and Pistachios are absolutely perfect for this. It adds tartness from the cranberries and nuttiness from the pistachios. Oh and these look as if they were invented just for Christmas! They're just too cute.
US Cranberries
All the recent cranberry dessert recipes that you see on my website have US Cranberries in them. They're so delicious in themselves, that these cranberries make the perfect snack.
US Cranberries shares how Cranberries are a powerhouse and a super fruit that has a lot of health benefits and is a great source of various Vitamins.
I've used Cranberries in my desserts a few times before. You might want to try these out!
Cranberry Pistachio Fudge
Ingredients
1¼ cup chopped white chocolate
¾ cup condensed milk
3 tablespoon melted butter
¾ cup US cranberries
½ cup pistachios
Instructions
Prepare a 9x9 square tin with parchment paper.
Add the white chocolate, condensed milk and melted butter in a saucepan set over medium low heat.
Continue heating until everything is smooth and well combined.
Remove from heat and fold in the cranberries and pistachios.
Transfer the fudge mixture into the prepared pan and spread evenly.
Refrigerate the fudge for 1-2 hours to firm.
Once cooled cut the fudge into equal sized square bars.
If you made this during the holiday season or in any season, don't forget to share a photo with me on my
Instagram
! Use the hashtag #Bakewithshivesh. Happy Holidays!