Holi is literally tomorrow and while there are new recipes up to celebrate the event, I know that most of you will need a healthy-ish dessert at the end of your day! Today's recipe is about these amazing, decadent Quinoa Chocolate Bars which are yum and also have a healthy angle! I know most of you have apprehensions regarding Quinoa in desserts. But, if you have ever tried having it, you'll know it's not too bad. I literally have quinoa in at least one meal every single day. It's an amazing alternative to gluten and is super nutritious too.
These bars take about five minutes to make, then an hour in the freezer – sorry! – before they're ready, but still, so simple! Not eating the whole thing before it makes it to the bar stage is the hardest part. Having dessert bars like these quinoa chocolate bars as your dessert is also not that harmful. Some healthy dessert bars have literally half the calories as your normal dessert. Gluten does contain a lot of calories and believe me when I say this, gluten-free desserts are the future.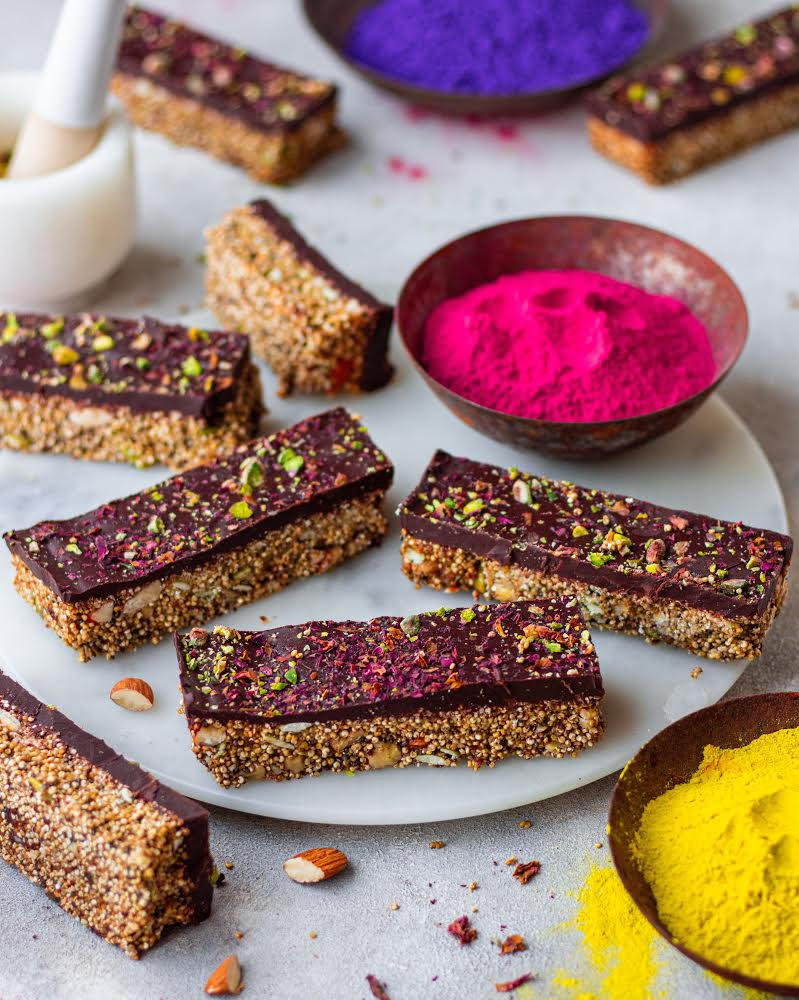 What's the fuss about gluten-free desserts?
Major voices of the health industry say that one should keep a moderate amount of gluten in our meals. However, as Indians, we have gluten in majorly all our meals! This calls for major changes. Gluten is basically a type of protein found in your wheat, barley, and other grains. The thing about gluten protein is that it is not friendly to the enzymes that break down proteins in our digestive system. This results in incomplete digestion, which of course is not that good. Now, with these Quinoa chocolate tarts, I really wish to create this vibe of inclusivity for Quinoa. With each bite, you bite into so many yum textures. Quinoa literally tastes like mini crunchy balls with chocolate. So delicious!
Ingredients for these Quinoa Chocolate Bars
The ingredients for these quinoa chocolate bars are majorly nuts, seeds, and quinoa of course. The thing with seeds and nuts is that they are now in every big and small grocery store. But, this does not guarantee quality. You'd think that good quality of things is expensive, but it is really not. There is endless adulteration in basic spices all over the market. This really explains how there has to be adulteration in seeds and nuts too. Hence, avoid buying open dry fruits and seeds. Go for packaged ones and always see the dates for these. For the coconut oil, please go for cooking coconut oil only. By chance you're not able to get your hands on any of the ingredients, you can always find them online!
Recipe for these quinoa chocolate bars
Quinoa Chocolate Bars-Vegan and gluten-free
Quinoa Chocolate Bars
Ingredients
⅔ cup chopped almonds
⅔ cup chopped walnuts
½ cup pumpkin seeds
½ cup flaxseed powder
2 Tbsp chia seeds
2 cups quinoa
⅔ cup maple syrup
2 Tbsp coconut oil
For the chocolate topping
400gms vegan chocolate (chopped)
2tbsp coconut oil
4tbsp crushed pistachios
¼th cup dried rose petals (optional)
Instructions
Line a 8inch baking dish with vegetable oil and parchment. Set this aside.
In a bowl, put the chopped almonds, walnuts, pumpkin seeds, chia seeds, flaxseed powder, quinoa and mix well.
Once combined, add both honey and coconut oil to the same bowl. Mix this well till everything is combined.
Pour this mixture in your prepared pan and make sure to push down the mixture evenly and along the sides of the pan so that it takes its shape.
Bake this for 20 minutes at 180°C.
Once baked, let it cool completely. If you feel that the base is not firm enough, you can freeze it for an hour.
Chocolate topping :
In a bowl, put your chopped chocolate and coconut oil. Heat this in a microwave till completely melted.
Pour the melted chocolate over your cooled quinoa bars. Spread the chocolate evenly on the surface and spread crushed pistachios and dried rose petals all over the top.
Let this chill in the fridge for an hour. Enjoy!