Another no-oven recipe is here to absolutely blow your minds! This No-oven Vanilla Cake is amazing because of the taste, textures, and amazing flavour. It is not only a beautiful cake that does not require an oven or a pressure cooker; it is also eggless. You might be thinking that this No-oven vanilla cake, being eggless, might require condensed milk. But, you're wrong. It is a common and a huge misconception that eggless cakes always require condensed milk. In fact, maximum eggless recipes on the blog do not require any condensed milk at all! How? Check out the recipe below to know more!
I chose to top this No-oven Vanilla Cake with some delicious and smooth strawberry buttercream. Vanilla cakes, I feel, are extremely versatile when it comes to adding things. Not only does their subtle taste go well with buttercream, it also tastes heavenly with caramel or chocolate-based frostings/ganache.
This No-oven Vanilla Cake was also super-duper easy to prepare and I loved experimenting with the whole no-bake concept! Plus, I feel, in the hustle-bustle of today, everyone is extremely busy and engaged to invest to proper baking processes. As the world is developing, more and more ways are coming up to save time. Though this entire No-oven Vanilla Cake concept can be aged back to a lot many years, people have stuck to baking in ovens. But, then again, a lot of you guys don't want to deal with fussy ovens and want baking to be a quick and convenient process- which it definitely is not in general. Now, with the advent or the re-introduction of so many recipes and methods of easy baking, this science of baking does not seem complicated anymore.
If you do end up baking this No-oven Vanilla Cake, don't forget to tag me on Instagram!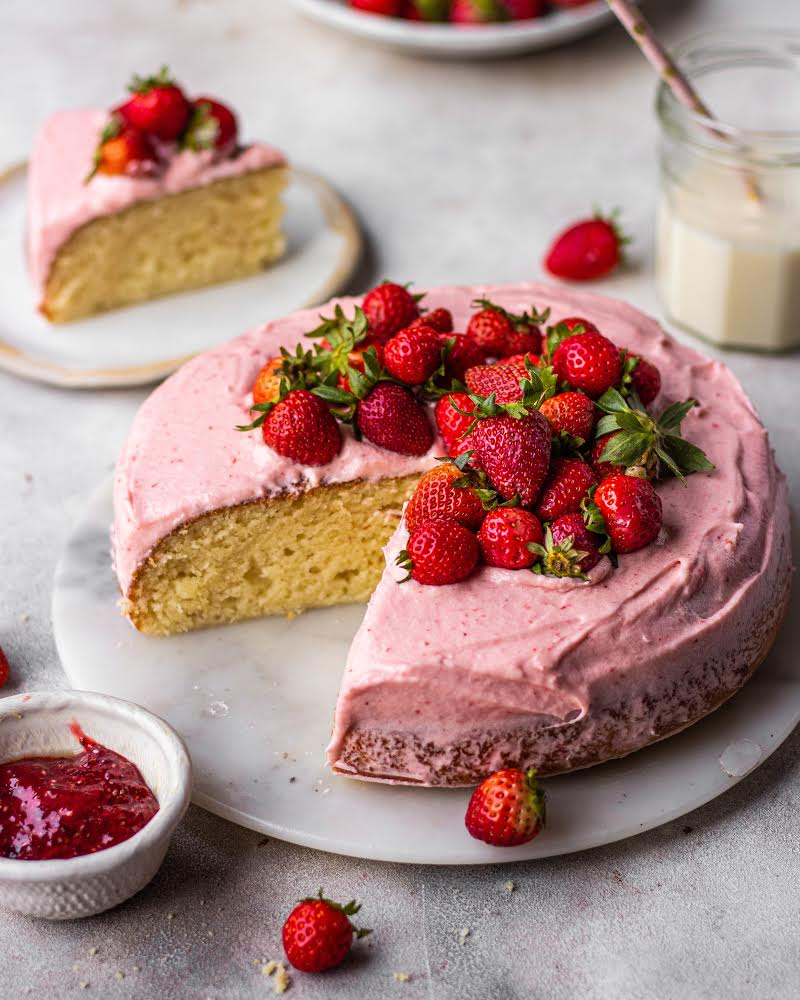 Getting the perfect No-oven Vanilla Cake
Though the method of baking this No-oven Vanilla Cake is fairly easy and very straightforward, one can always do with some tips to ensure absolute perfection. Thus, to serve  a divine piece of this vanilla cake, please keep in mind the following tips and I assure you, you'll love the process and the result!
Preparing your saucepans
This is something that I always advise you guys to do before jumping into the process. In this case of the No-oven Vanilla Cake, you will see that this tip is of extra importance. To start with, the process requires you to use two saucepans- one small and one big. You need to essentially ensure that the smaller saucepan perfectly fits into the bigger one. The smaller one will contain your batter and this no-oven process basically requires one to not provide direct heat of the stove fire to the cake because that will burn it. This No-oven Vanilla Cake recipe needs you to use the process of indirect and slow heating that actually bake a beautiful and spongey vanilla cake.
The deal with over-mixing
The age-old concept of 'the more you whisk, the lower the risk' is not a smart one. Everyone has the conventional note stuck in their minds like anything. I have seen so many people just beating and mixing their batter endlessly for 15 or 20 minutes and frankly, it is scary and also very unwise. When bakers asked you to beat your ingredients, they wanted you to do so for the sugar to dissolve quickly and easily. Even then, they asked you to beat your sugar with the butter or oil. This definitely did not apply to the entire batter.
Now, when most of us use castor sugar in their recipes, mixing batters is not that important. In this recipe of the No-oven Vanilla Cake, you need to incorporate ingredients together only until mixed. That is, when your mixture does not show you three different ingredients properly. If you whisk and mix too much after adding the flours, you will actually beat the air out of the batter. This will render your cake a very damp and dense look and taste.
The issue with yogurt in eggless recipes
Quite frankly, there is no issue with using yogurt in any recipe as long as you are using the right kind. Your basic Amul/Mother dairy 'Dahi' is not typically used in baking in its normal form. When I say 'Dahi', does any typical taste come in your mouth? A little sour and creamy mixture, yes? Because of this very typical taste, it is not advisable to use these in baking. I typically end up using Epigamia Greek Yogurt which is perfect for baking because of its texture and its tasteless characteristic. You can also hang your typical 'Dahi' in a muslin cloth overnight in order to get its water out. This renders it tasteless and softer- perfect for this No-oven Vanilla Cake!

Strawberry Buttercream to top this No-oven Vanilla Cake
Like I said before, I have gone ahead with strawberry buttercream for this very versatile No-oven Vanilla Cake. Strawberry buttercream is an absolutely delicious and smooth frosting. It goes amazing with cupcakes and cakes both. The recipe is essentially of buttercream and we have just gone ahead and added some strawberry puree. I am in love with strawberries more than anyone else in this entire industry. Thus, I have not only binged over them throughout the winters, I have also frozen some to keep me happy during the dreadful Delhi summer.
Click here for all my amazing Strawberry recipes.
Strawberry Buttercream recipe:
Take 1 cup unsalted butter (softened), 2 cups icing sugar, and 1 cup fresh strawberry puree
To make the frosting add the butter in a bowl and whisk until pale and fluffy. Add the icing sugar slowly in parts and mix well. Add the pureed strawberries and beat until smooth. Frost the cake generously with the buttercream frosting.
Recipe for No-oven Vanilla Cake
No-oven Vanilla Cake- Eggless recipe!
Ingredients
1 + ½ cups all purpose flour (maida)
1 teaspoon baking powder
1 cup yogurt
½ teaspoon baking soda
¾ cup castor sugar
½ cup vegetable 0il
1 teaspoon Vanilla Extract
Instructions
Take an 8inch non stick pan and grease it with some vegetable oil. Take another 10inch pan and set these two aside.
In a bowl whisk together flour and baking powder and set a side.
In a separate bowl add the yogurt and sprinkle baking soda over it and set it aside to foam up.
Whisk together castor sugar and oil in a separate bowl until pale and well combined.
Now pour the yogurt mixture to the oil and sugar mixture and mix well.
Add the vanilla extract.
Gently fold in the flour and mix until everything is well combined there are no large flour pockets in the batter. Do not over mix at this stage.
Pour the batter into the 8inch non stick pan. Take the 10inch non stick pan and place the pan with the cake batter in this bigger non stick pan.
Now put both of these pans on the heat and bake at low heat. Let the cake cook for 5 minutes and then add some water in the 10inch non stick pan, making a water bath of sorts. Keep refilling the water after every 15 minutes.
Put the 8inch pan over it again and bake for 40-50 minutes or until a toothpick inserted in the center comes out clean. If you're using an induction, fix the temperature at 160°C and bake for 40-50 minutes.