Oh, see how the spring is knocking at our doors. I know we are all quarantined and our Spring spirit seems sloshed, but desserts can definitely be the fix for you. Trying new desserts will not only stir your mood, it will also keep you and your family entertained. Plus, we all know how beautifully desserts lift up our energies. So, why not give Baking a full-fledged try this Coronavirus season? Now, I did hear that Vitamin-C is in huge demand to increase immunity. This lemon curd recipe is here to give you your dose of some Vitamin-C in truly the best way possible!
If you are wondering about what in the world in lemon curd, just think about the cute little lemon tart you must have had once in your life. The filling on top, the beautiful yellow coloured, blasting with lemon flavours- that's precisely what is lemon curd. It does not only go on top of tarts, lemon curd is a beautiful accompaniment with most desserts. Need a tangy partner for your pancakes? Lemon curd. Need a delicious and smooth filling with your shortcakes? Lemon curd. Want to elevate the flavours of a vanilla sponge cake? Lemon curd. Making a special occassion cake and you wish to add some tangy goodness? Lemon curd! So yum, so smooth, and so delicious, this curd will win your hearts!

Basic tips to nail your lemon curd
Making lemon curd is extremely easy and a no-fuss procedure. The consistency can be tweaked, the tanginess can be handled, the color can be enhanced. It's a suit yourself recipe and we know that such recipes are really tho OG!
Tip #1- Take it slow and steady
If you are a beginner at making this lemon curd, please be cautious of what the recipe asks you to do. To begin with, the procedure will require you to put up a mixture containing egg over a saucepan of simmering water. Why this is done is because the eggs are prone to scrambling. Eggs of course react to heat and while this recipe is doable on direct heat, indirect heat saves you from a scrambled mess. Pun intended.
Tip #2- Keep whisking
The lemon curd mixture actually needs vigorous whisking. This does not only prevent eggs from getting cooked, it also brings the desired consistency of the curd.
Tip #3- Adding cornflour for thicker consistency
To make your lemon curd thicker, you can add about 2-3 tablespoons of cornflour to the following recipe. I do not have a specific preference of the consistency because the lemon curd does set on refrigeration. However, if you want a thick and smooth consistency, this is the way to go!
Tip #4- Avoid using an all-metal double boiler
Before you ask, a 'double-boiling' method is one in which you put a bowl over a saucepan of simmering water to provide something with indirect heat. This is valid in the case of say melting chocolate, making ganache, and what not. Similarly, this lemon curd also uses a double-boiler method. Now, the bowl you choose to keep over the saucepan has an effect on your end product. You will of course be boiling water in a metallic saucepan. However, for the bowl in which the curd forms in, please trying using a glass or porcelain bowl. Why? Because the lemon juice in the mix reacts with the metal and causes the lemon curd to have a metallic taste. This is a strict no-no. Choose a glass bowl which is heat-friendly and you're good to go!
Tip #5- Mixing your sugar, eggs, and lemon juice is vital
Pre-mixing of your sugar, eggs, and lemon juice is very vital. This allows the ingredients to get incorporate in a better manner. I have seen many people complaining of egg coagulation and the straining mess. To avoid that, most people have suggested mixing these three ingredients before you put them over heat.
Tip #6- Adding food colour for enhanced color
Your resultant lemon curd can be a little too pale for your liking. This is because when you mix sugar, eggs, and lemon, the mixture is already pale. Throughout the whisking process, the mixture comes together but the color might not. It will taste heavenly and will surely knock off the floor from under your feet, but the color issue is something you might want to work upon. And it can be done simply by adding a bit of color. I know most of you do not have food color at home and I wish I could help you but unfortunately, this is the only way. Food colors are easily available at most grocery stores. But, they're also available online! If you do decide to add colors, kindly do that after curd has formed.
Tip #7- Strain your lemon curd, just to be sure
Most bakers say that straining the formed curd is really important This takes out any coagulation brought about in the mixture because of the eggs. Straining also gets you an even smoother lemon curd. Plus, since baking is not a very versatile art, you need to be 100 percent sure about your dishes. Straining just makes you rest assured that your energy and efforts have not been wasted.
Tip #8- Adding the butter when the curd is still hot
Addition of the butter as the last step of the recipe is of utmost importance. The addition of butter gives off an extremely velvety and an enhanced level of smoothness to your lemon curd. This is something I am sure no one can actually resist. Plus, it also stabilises the tanginess a bit and gives you the most dreamy texture and flavor of the curd.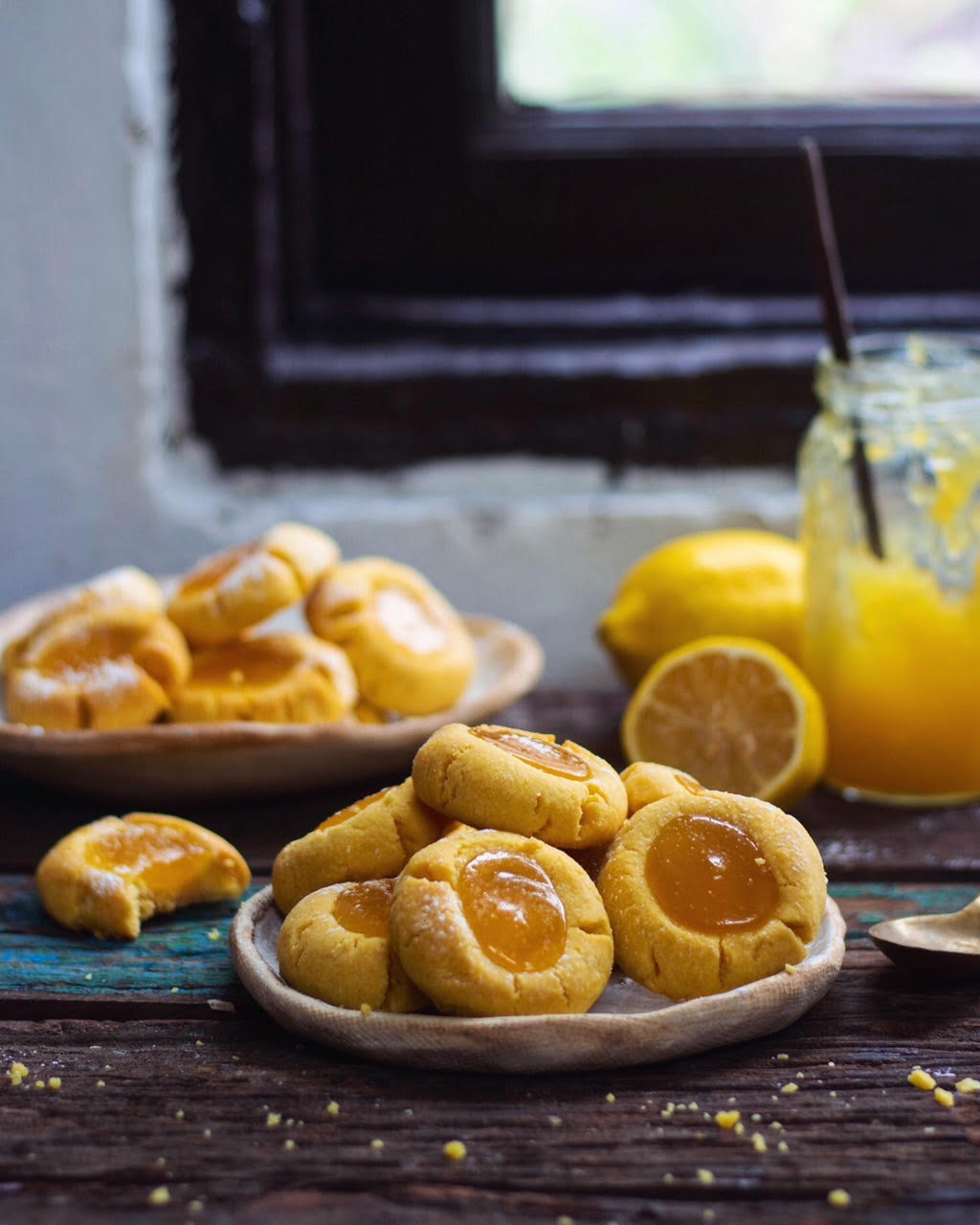 Recipe for lemon curd
Lemon Curd Recipe
Ingredients
2 eggs
¼ cups sugar
4 tbsp fresh lemon juice
2 tbsp unsalted butter
½ tbsp lemon zest
Instructions
In a bowl, whisk together eggs, sugar and lemon juice until blended.
Place the bowl over a saucepan of simmering water and stir continuously to prevent curdling
Cook the mixture until it becomes thick and covers the back of your spoon. This will take approximately 10 minutes. Do not pause whisking,
Remove from heat and immediately pour through a sieve to remove any lumps
While the mixture is still hot, add butter and mix until it melts and is well incorporated
Add lemon zest. Cover the mixture and let it cool in the fridge
Lemon curd recipes from the blog
If you want to try some lemon curd recipes from the blog, you can see them here.
If you do end up trying them, please let me know on Instagram!