Tricolour white chocolate truffles- Indian Independence Day special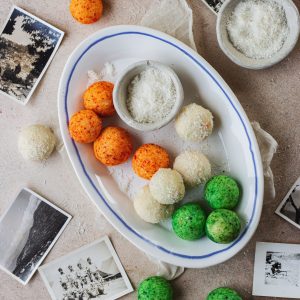 3 ½ cups white chocolate (chopped)
1 cup fresh cream (warm)
¾ cup shredded coconut
Orange food coloring
Green food coloring
To melt your chocolate, add it to a microwaveable bowl and melt it in 30 second intervals till all is melted evenly or you can simply melt it in a saucepan on low heat. Keep a close eye and make sure to not burn your chocolate.
Once all chocolate is melted, add in warm cream and combine well. Your ganache is ready.
Cover the bowl and keep it in the refrigerator for 2-3 hours or until ganache is set.
Take three bowls and equally divide ¾ cup of shredded coconut in them. In one bowl add 2 drops of orange food coloring and mix well till most of the coconut shreds are orange. In another bowl add in 2-3 drops of green food coloring and repeat the same. Set these aside.
Once your ganache has set, use an ice cream scoop, scoop out portions of the ganache and form smooth spheres.
Equally divide the number of spheres between the three colors prepared and roll each sphere in the decided color.
Eat immediately or store in the refrigerator.
Recipe by
Bake with Shivesh
at https://bakewithshivesh.com/tricolour-white-chocolate-truffles-indian-independence-day-special/