It's raining mangoes at the studio and it feels so awesome to be making and sharing so many mango recipes with you guys! Last year on my birthday, I baked an incredible carrot cake for me and my sister as we are twins! We went into our first lockdown during that time and I ended up baking and spending so much time with my family.
This year, we're still in the same situation as last year, staying home during the lockdown. But I'm honestly so grateful for everything I have in my life – my family (including my dog Yoda), my friends and an incredible baking family that keeps me constantly motivated, aka you guys! To celebrate my birthday this year, I decided to combine two of my (and I know yours) favorite things in the world – Mangoes and ice cream! Yes, we're making a No-Bake Mango Ice Cream Cake which is absolutely delicious, perfect for summer and hits all the right spots.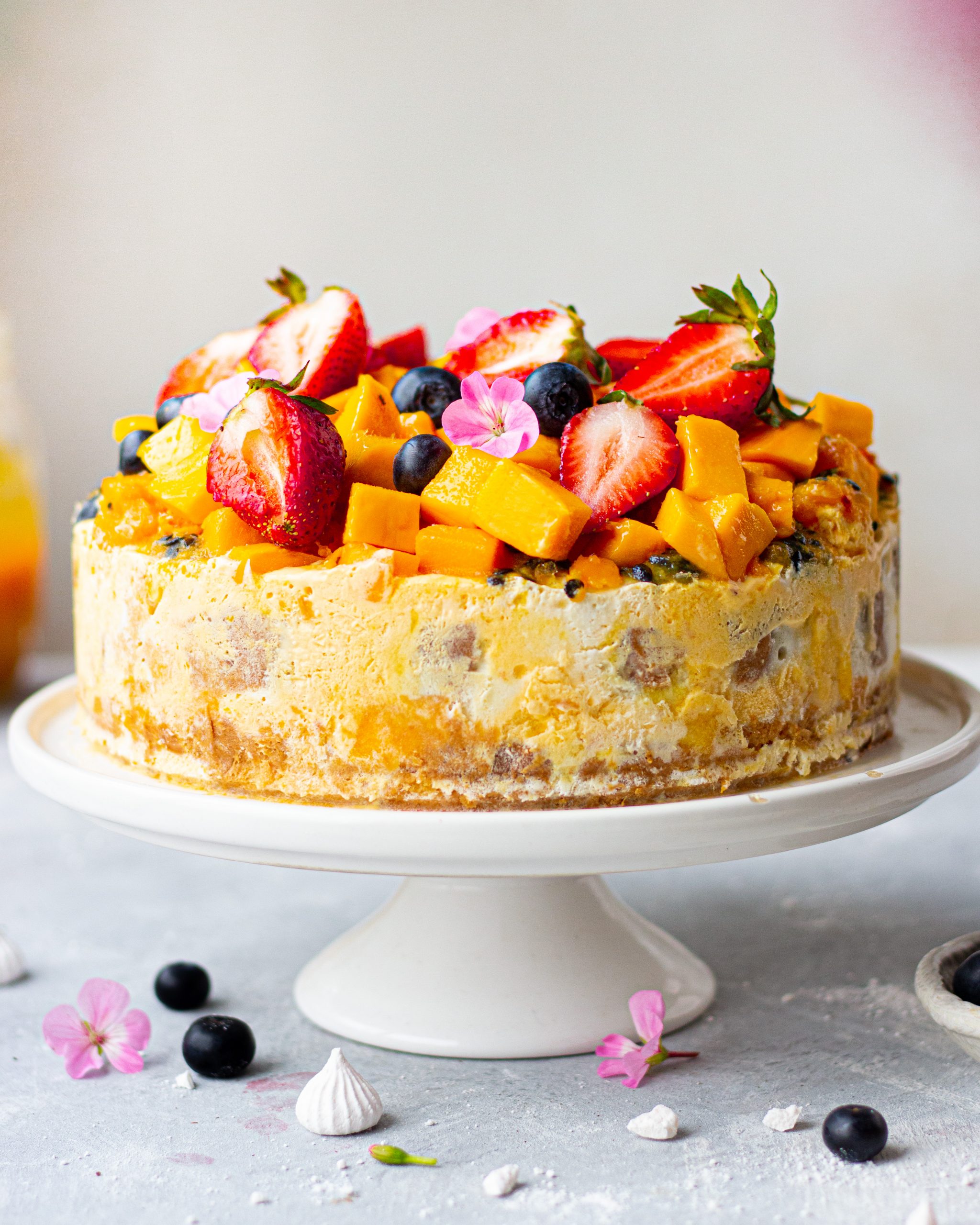 Elements of Mango Ice Cream Cake
This awesome mango ice cream cake has three elements which give it the structure it needs –
The base – I make the base of my Mango Ice Cream Cake with rusks dipped in mango juice. Using rusks for the base is a great hack because once you soak the rusks in mango juice, they resemble the texture of a sponge cake and saves you so much time!
The vanilla ice cream layer – The second layer is my favorite part of this cake! I use store-bought, softened vanilla ice cream for this layer and fold some cubed mangoes in it. And in goes this layer on top of the rusks. There's only one word for this dessert – DIVINE!
Second layer of the base – I wanted this mango ice cream cake to have a lot of texture in every bite, otherwise what is the point of a cake? And let's not forget, this is my birthday cake! So I add one more layer of rusks dipped in mango juice before the final layer.
Mango Ice Cream – Since it's a MANGO ice cream cake, it should have mango in every layer right? The mango ice cream brings this recipe together beautifully and makes it by far my most favorite mango dessert ever. If you know me, you'd know that I love classic flavors in ice creams and mango just happens to be one of them.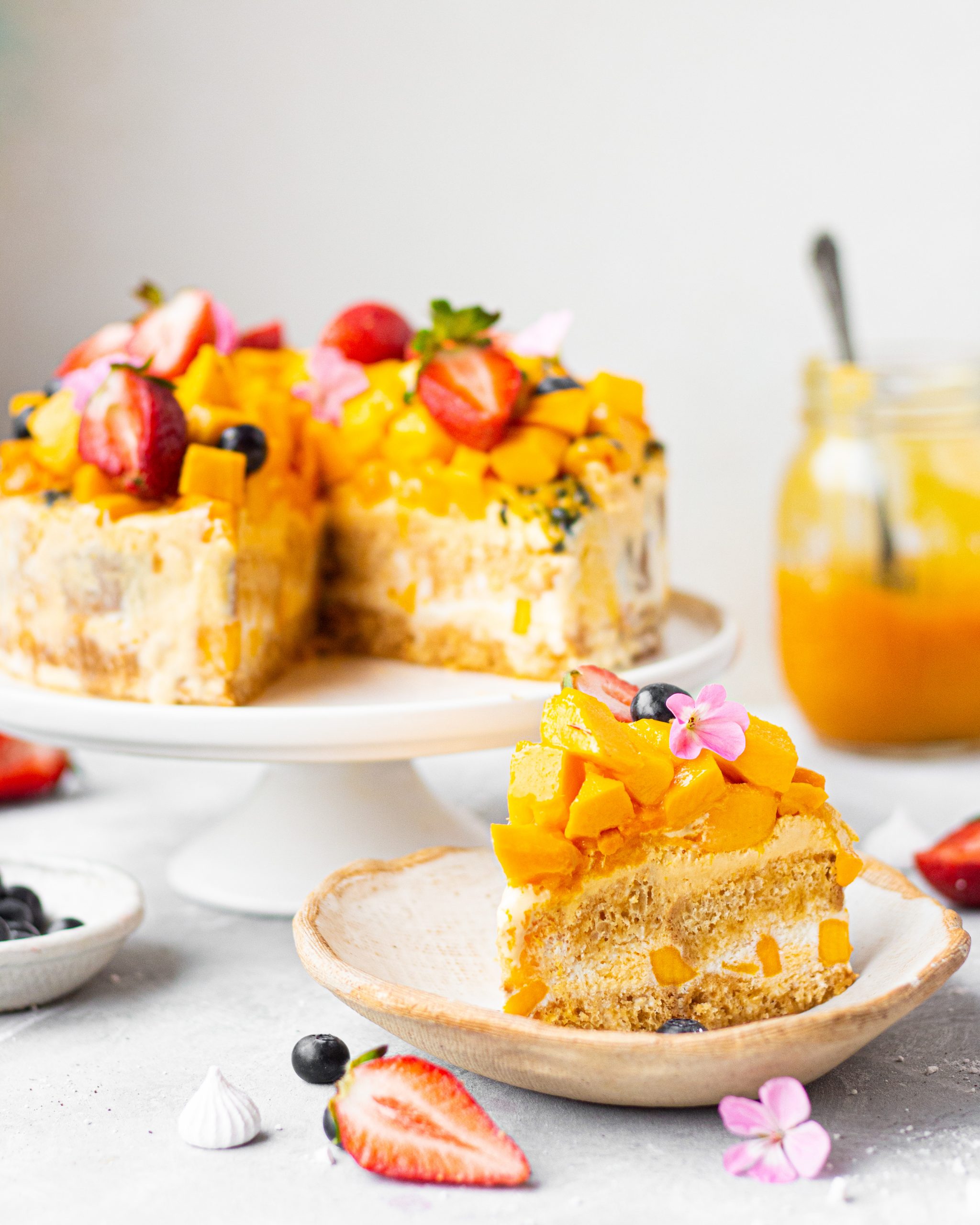 Ingredients required to make mango ice cream cake
The best thing about this recipe is that it uses minimal, easily available ingredients to form this glorious celebratory dessert. Before you start working on the recipe, make sure you have the following ingredients –
Rusks – I use rusks to build the base for this recipe. Without the rusks, this cake is basically just ice cream and mangoes. Upon soaking in the mango juice, the rusk gives a texture of a sponge cake and this goes so perfectly with the creamy ice cream! But if you don't have rusks, you can use store-bought cake or even home-made vanilla cake to make this recipe.
Vanilla and mango ice cream – I use vanilla ice cream for the second layer of this mango ice cream cake. Any store-bought vanilla and mango ice cream work for this recipe but make sure you use the best quality ones you can get your hands on for a delicious cake!
Fresh Fruits – Now this is totally up to you. I use fresh mangoes, strawberries, blueberries and passion fruit puree to top my mango ice cream cake but you can use absolutely anything – coconut, whipped cream or any fresh fruit you like.
Tips of demoulding Mango Ice cream Cake
Building the mango ice cream cake may seem easy, but it still needs you to be careful about demoulding the cake so that you don't mess the beautiful structure of this cake-
For making the mango ice cream cake, two important tools for you to have is a springform pan and an offset spatula. Springform pan makes sure that the edges of the cake are smooth and makes it so much easier to demoed the cake- you just have to open the lock and lift! The offset spatula helps you in spreading the ice cream layer evenly on the base and helps in making look super aesthetic.
Before starting work on the mango ice cream cake, make sure you have enough space in the freezer so that once your cake is ready, you don't have to wait for space- otherwise you may end up completely melting your ice cream!
If you feel that your ice cream cake is stuck to the 6 inch springform pan, then you can quickly run a cold knife around the edges to loosen the cake up a little. Just make sure you do this smoothly as to not spoil the look of the cake!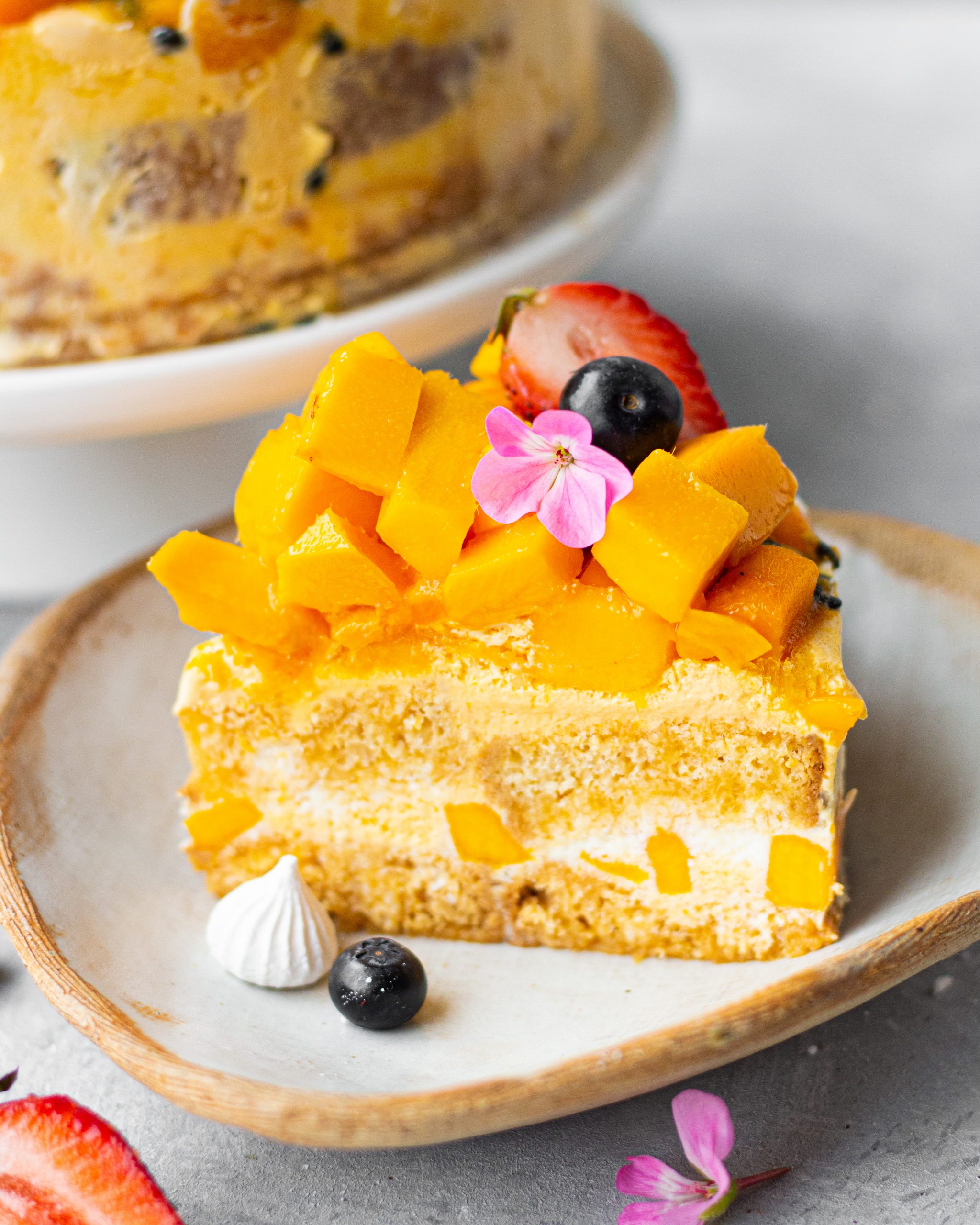 How to decorate Mango Ice Cream Cake?
This has to be everyone's favorite part where all that is left to do is decorate the cake, make it look pretty and then slice and eat! I used some beautiful fresh mangoes, strawberries, blueberries and passionfruit puree to garnish my cake and it ended up looking super cute! As it was a celebratory cake for my birthday, it made the occasion even more perfect!
But you can use any garnish you wanna use- more than a recipe, this cake is all about innovating and experimenting what works best for you. So go crazy with flavors and looks!
Other mango recipes on the blog
There you go, that's the awesome dessert I made to celebrate my birthday! It's so easy to make, no-bake and the best part about this recipe is that you can choose any flavor of ice cream you want and any biscuit / cake you like as the base. The sky is your limit when it comes to experimenting with this mango ice cream cake. You can ever garnish with anything you like, like I chose a good combination of colors and freshness by adding fruits.
If you like this recipe, make it to celebrate my birthday with me and do tag me on Instagram / Facebook using #bakewithshivesh. Happy Baking!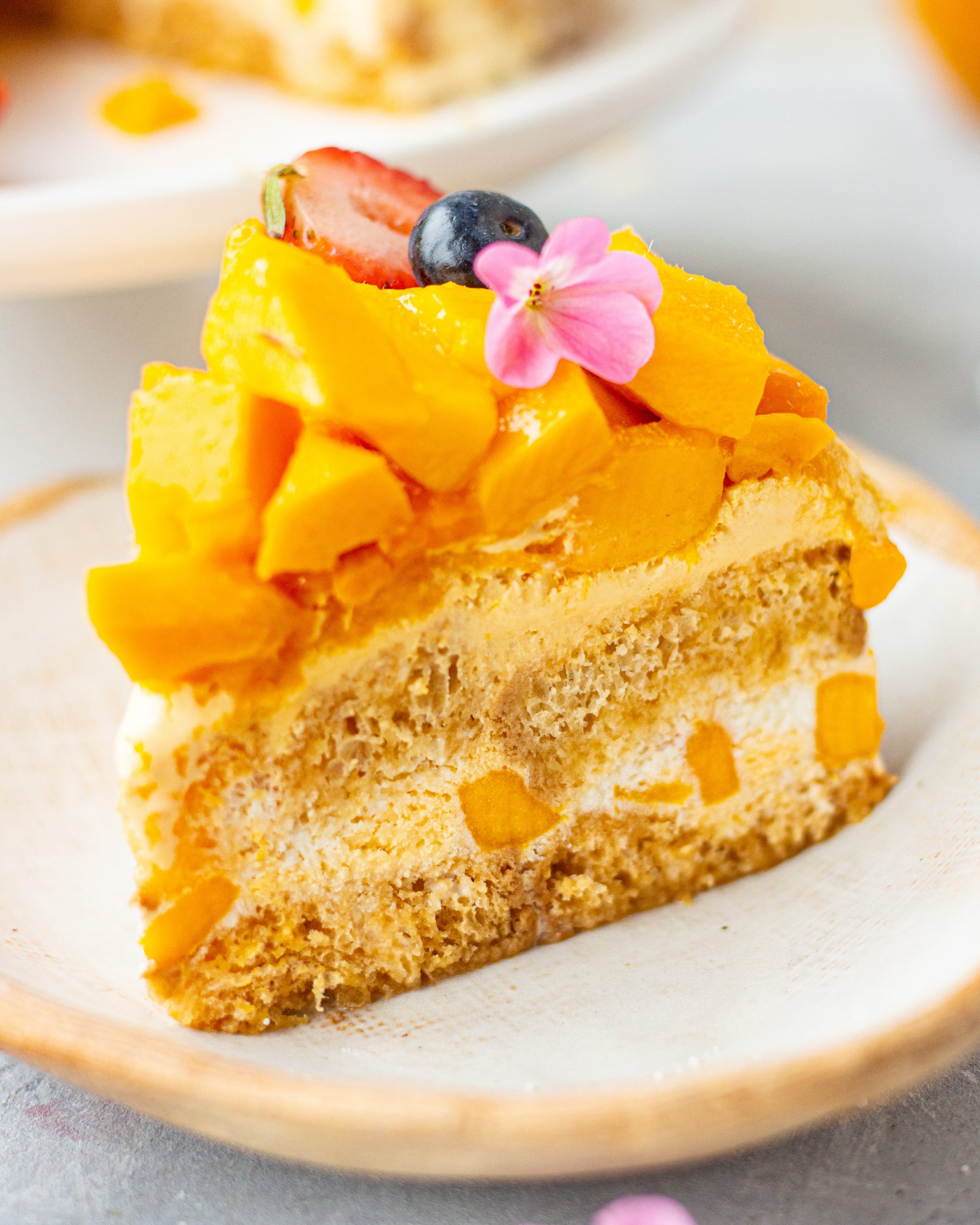 Mango Ice Cream Cake Recipe
Mango Ice Cream Cake
Ingredients
1.5 cups mango juice
20 rusks
2 cups vanilla ice cream
1 cup mango cubes
2 cups mango ice cream
Fresh mangoes
Blueberries
Strawberries
Passionfruit purée
Instructions
Prepare a 6 inch springform pan.
In a shallow bowl, pour some mango juice.
Take the rusks and soak them individually in the mango juice.
After soaking, arrange them in the springform pan. Make sure you pack the empty spaces with small pieces of soaked rusk to get an even layer.
In a separate bowl, take vanilla ice cream and soften it using a spatula.
Fold in the mango cubes into the softened vanilla ice cream.
Using an offset spatula, spread this ice cream into an even layer on top of the rusk base.
Take some more soaked rusks and place them evenly on top of this vanilla ice cream layer.
For the final layer, soften some mango ice cream in a bowl.
Using an offset spatula, spread the softened mango ice cream in an even layer of top of the second rusk base.
Freeze the mango ice cream cake overnight.
Demould the cake and garnish with fresh mangoes, blueberries, strawberries and passionfruit purée. Serve cold!