Last year, I made a Boozy Chocolate Cake for the holiday season, that I posted on my Instagram recently and the nostalgia made me want to make another boozy dessert! If you ask me, I think Christmas is incomplete without making something boozy.
But let's face it, the cold weather also makes you feel lazy and do nothing but snuggle up with a warm cup of coffee and a good movie. So today, we're making my no-fuss Christmas Rum Balls- which are super easy, delicious, and will kick start your holiday season!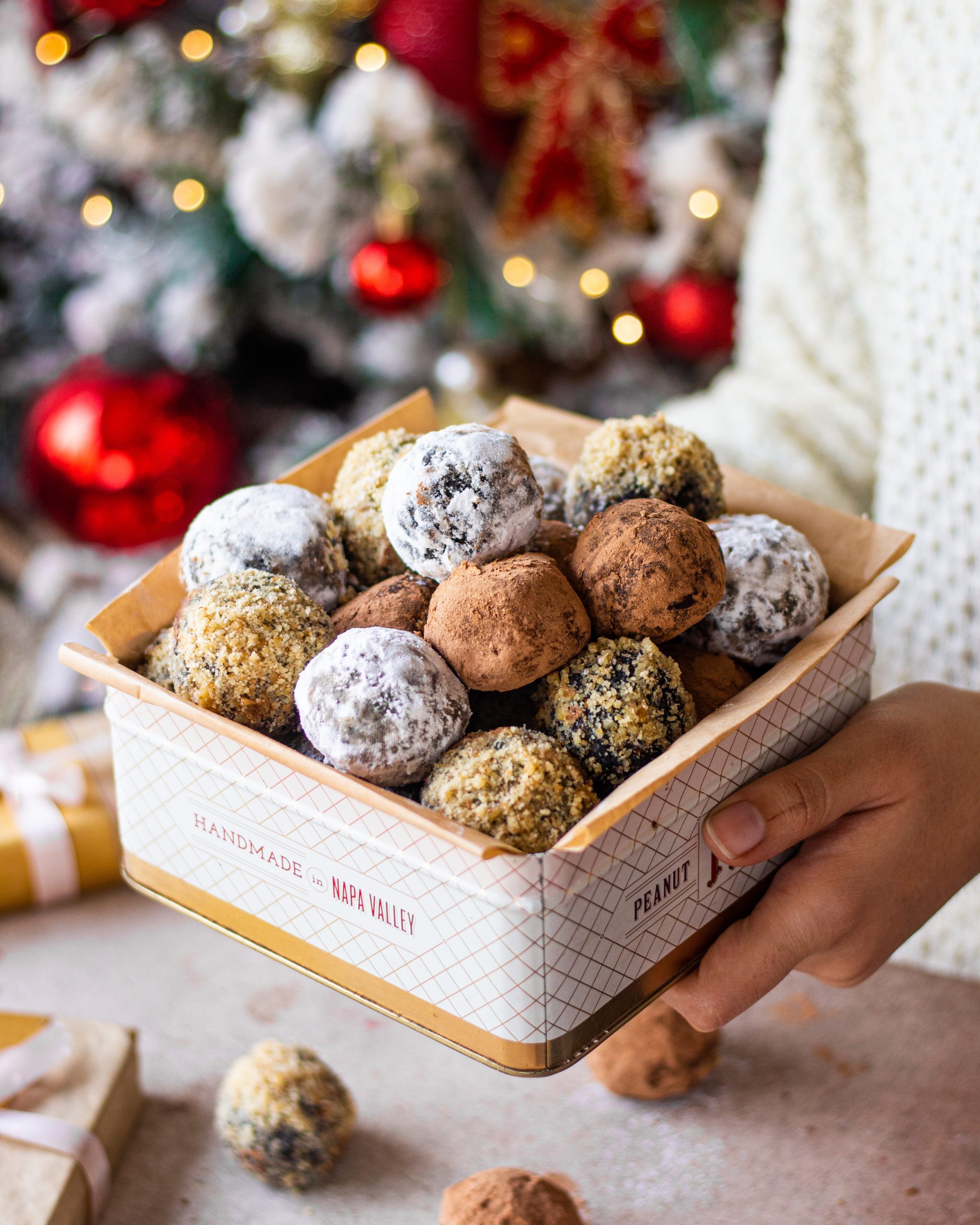 What are rum balls?
I'm sure that by now, you know about truffles and are head over heels in love with them! Rum balls are a truffle-like confectionery cake flavoured with chocolate and rum. They are roughly the size of a golf ball and often coated in chocolate sprinkles, desiccated coconut, or cocoa. As their name implies, these cookies contain rum. Because they are not baked, the alcohol flavour and kick are not lost during preparation. This cookie is especially popular during the holiday season.
Rum balls are a popular Christmas treat all over the world. There are many different ways to make rum balls, as recipes vary from region to region and family to family. All rum balls must include chocolate and rum, but the rest of the ingredients vary in kind, form, and amount.
To make rum balls, the cake material is crushed and mixed with fat, cocoa and a moist binding ingredient, such as jam or condensed milk. Other optional ingredients can also be added, such as nuts. When the mixture holds together firmly, it is rolled into balls and then coated.
Ingredients for Christmas Rum Balls
Leftover cake – For these rum balls, I had a chocolate cake in my fridge that I'll be using but you can use any cake you prefer and if you don't have it at home, you can get any dry cake available near you. Even Britannia cake works.
Powdered sugar – Make sure you only use powdered sugar and not castor/granulated sugar for these rum balls. We don't want our rum balls to taste grainy!
Pecans & Pistachios – I love the flavor of pecans and pistachios with these rum balls. But you can use any dry fruits you like for these rum balls. I would specifically recommend using walnuts if you have a bitter taste for nuts!
Honey – A good quality honey/ golden syrup helps the rum balls to bind together and makes everything stick well together.
Vanilla essence – My Sprig Vanilla extract happens to be my elixir when it comes to baking and I cannot tell you how much vanilla enhances the taste of these rum balls! So go ahead and add a generous amount of vanilla to make these.
Rum – And finally, the star ingredient of these Christmas Rum balls! I absolutely love the flavor of rum when combined with a cake, nothing says Christmas louder than boozy desserts. But if you don't want to make these balls with alcohol, I've suggested options in the article below!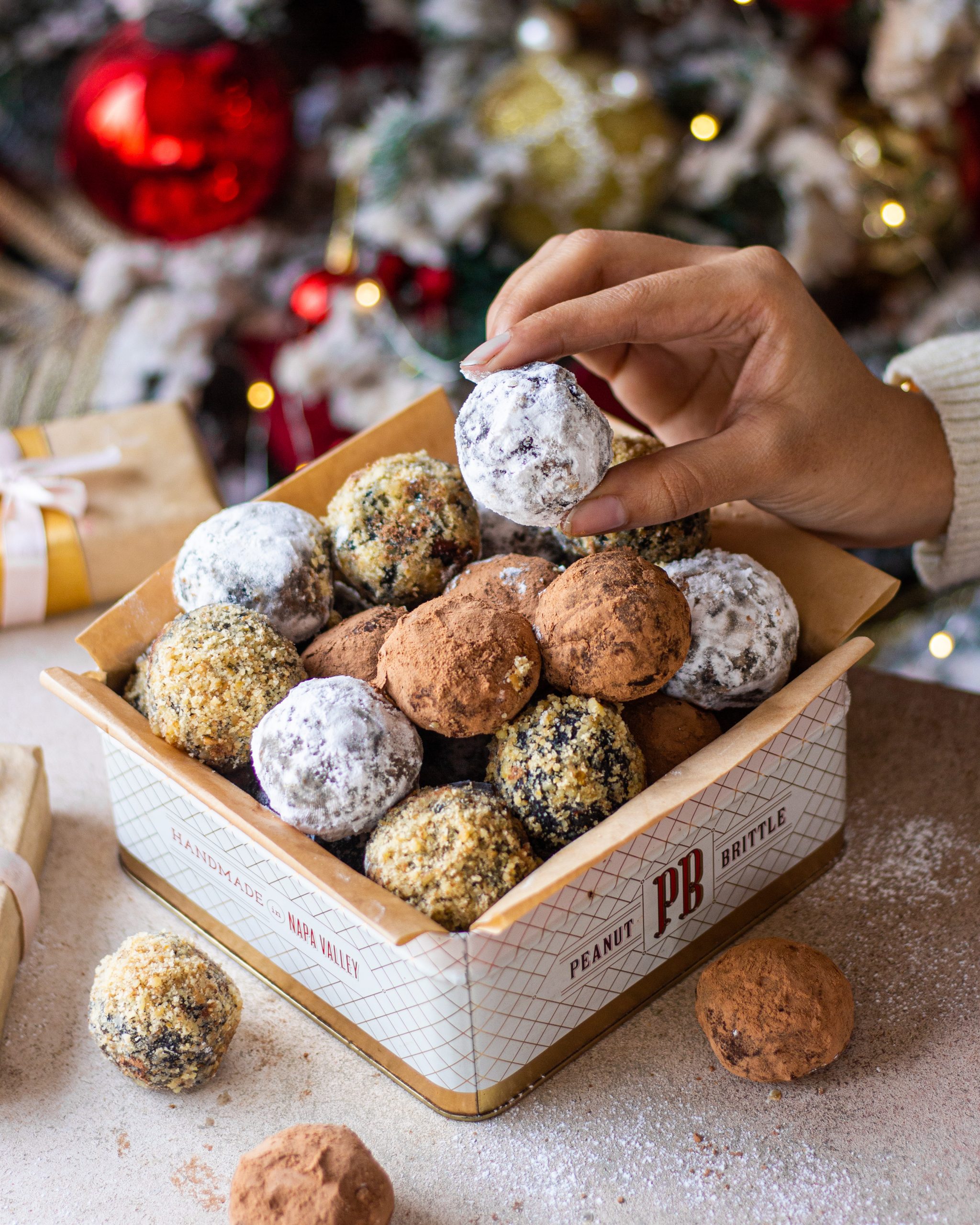 Tips for making Christmas Rum Balls
Making these Christmas rum balls is fairly easy but here are a few tips that will help you get through the entire process in a jiffy!
If you end up adding too much liquid or your dough is too soft, you can add any dry ingredient of your choice or even add some extra cake to make sure that your dough holds together well.
I recommend using a dry cake than a frosted cake because the frosting part of the cake will make you mixture more moist. But if you only have a frosted cake at home, make sure you use only the sponge part of the cake for your rum balls.
Refrigerate your rum balls dough in the fridge for some time so that it has some time to dry out in the fridge. This will make your rolling process much easier.
Dark rum is the preferred choice for this recipe, as it enhances the taste of these balls.
Gifting ideas for Christmas Rum Balls
These Christmas Rum Balls make for the perfect gift for your friends and family over the holiday season. You can gather some beautiful, rustic gifting boxes from your house, add some parchment paper to it and use it for gifting purposes! You can also gift these rum balls in a big glass jar and add beautiful Christmas themed decoration to them! A little extra hard work goes a long way and I'm sure that the person who receives them will appreciate you for all the hardwork that you've done. So go ahead and spread some extra cheer this holiday season.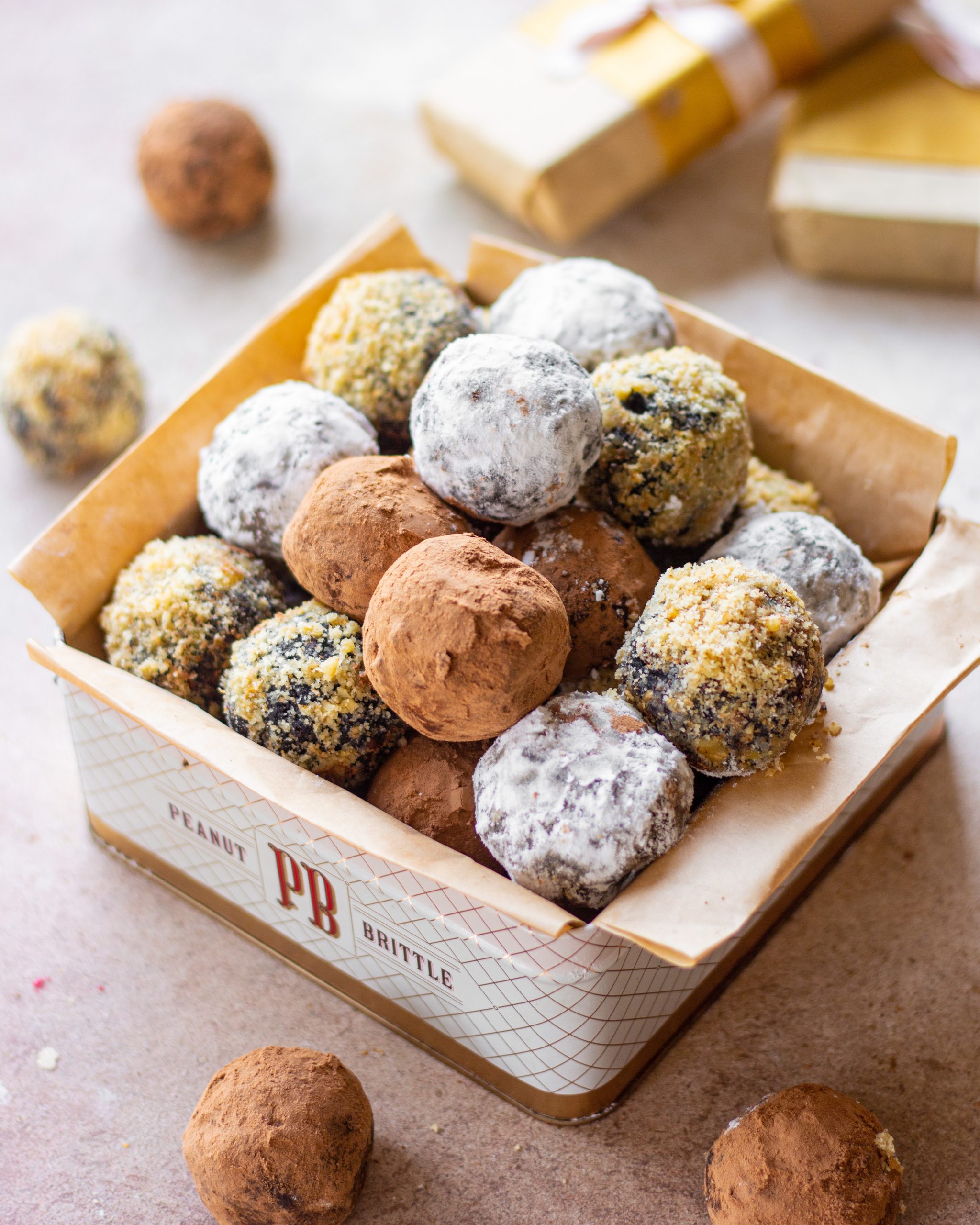 How to make these balls non-alcoholic?
If you don't prefer having alcohol in your desserts or just not a big fan of its taste in general, don't fret because I have three different yet beautiful truffle recipes for you. You can make my Oreo Truffles , Fudge Balls or Decadent Chocolate Truffles.
And if you're looking for an even better christmas treat, I posted an eggless plum cake recipe on my youtube channel recently. Do check that out.
More Holiday recipes on the blog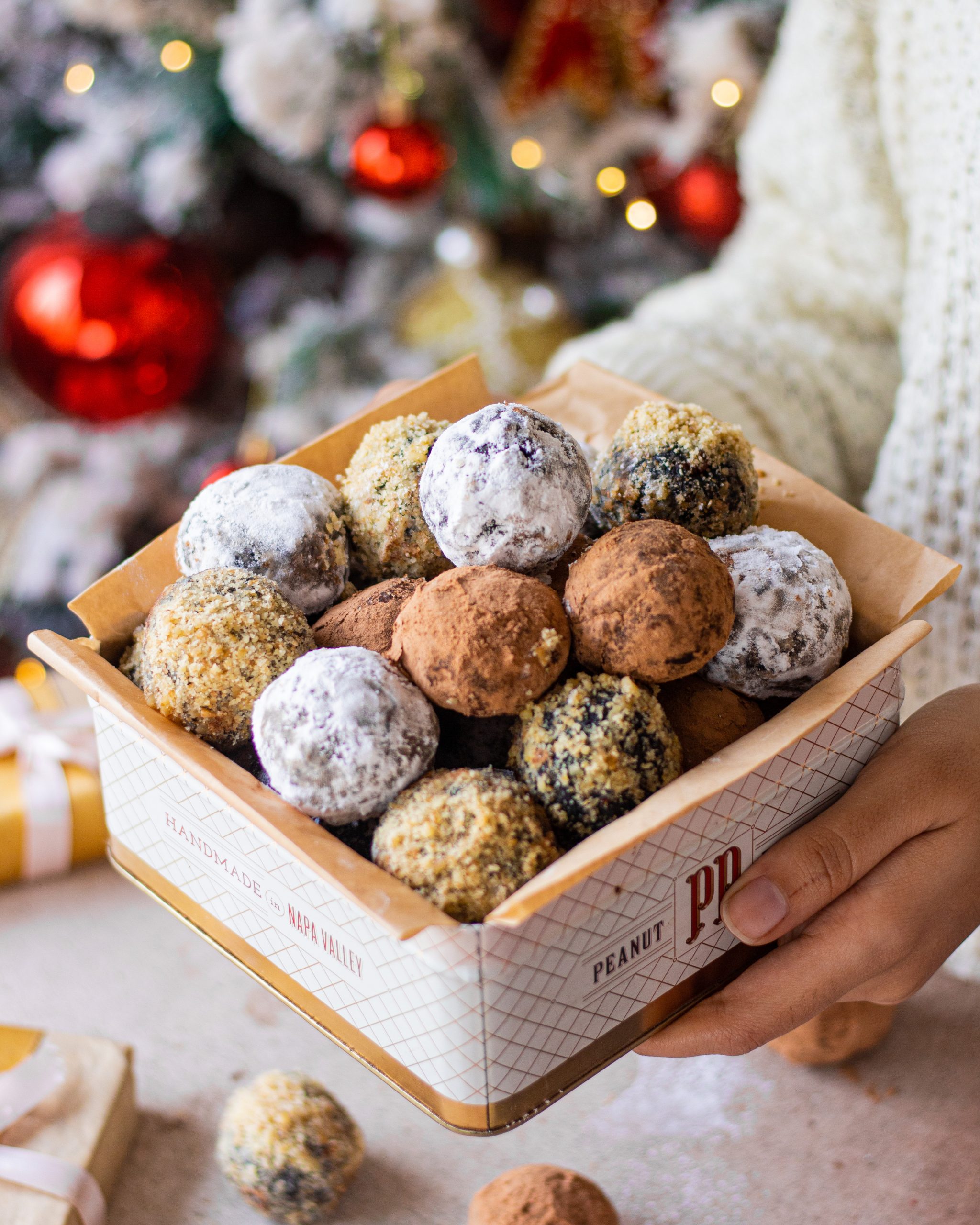 Christmas Rum Balls Recipe
Christmas Rum Balls
Ingredients
3 cups cake crumbs
¾ cups icing sugar
1 cup chopped pecan nuts
¼ cup chopped pistachios
3 tbsp honey
1 tsp vanilla
¼ cup rum
½ cup cocoa powder
For rolling
Cocoa powder
Icing sugar
Crushed walnuts
Instructions
In a bowl, add your crushed cake crumbs, icing sugar, cocoa powder, pecan nuts and pistachios.
Mix this well until everything is combined.
Into this mixture, add your wet ingredients like honey, vanilla and rum. Mix to combine.
Shape into equal sized balls.
Roll them into a topping of your choice - cocoa, icing sugar or crushed walnuts.
Refrigerate for 10-15 minutes and serve!
If you made this during the holiday season or in any season, don't forget to share a photo with me on my Instagram! Use the hashtag #Bakewithshivesh. Happy Holidays!