Whenever I think of Christmas and the beloved holiday season, Gingerbread cookies come to mind. They are so adorable to look at and absolutely delicious to eat. Added bonus, the aroma of the winter spices while baking makes the entire process even better!
Making and decorating gingerbread cookies is something I do almost every year. It's almost like a tradition and I wanted to share the tradition with you this holiday season in hopes that you'll enjoy the process as much as I do! If you happen to make these gingerbread cookies, I would love to see how you decorate them and gift them to your loved ones. So tag me on Instagram and don't forget to use #Bakewithshivesh. Let's get creative!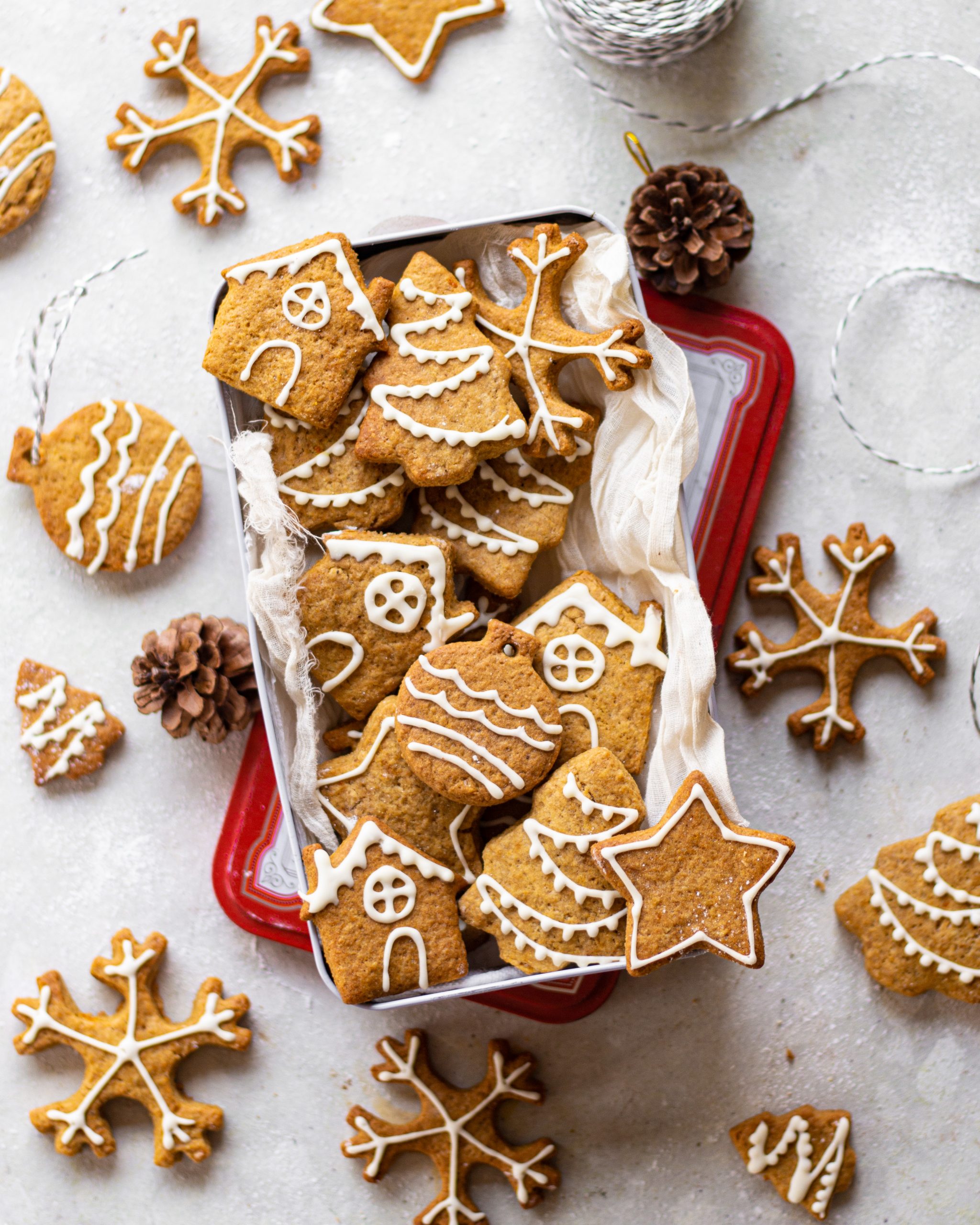 Ingredients for making Gingerbread Cookies
I know a lot of us skip out on making gingerbread cookies for Christmas because it's slightly difficult to get your hands on the ingredients that traditional recipes call for. But this recipe uses ingredients that are already there in your kitchen and it is so easy to make! Let's talk about some of the important ingredients used in these gingerbread cookies-
Brown sugar & jaggery – These are two of my favorite ingredients for these cookies as they add the perfect depth of flavor and also the dark brown color to the cookies while baking in the oven. So make sure you don't skip these two ingredients!
Winter spices – I add ginger powder, cinnamon, and ground cloves to my cookie dough because obviously, they are the best winter spices that add flavor as well as a hint of warmth to your cookies! If you don't have any of these spices, you can skip it or substitute it with any other spice you want. You can even get whole spices from your local grocery store, grind them, and use it for your cookies.
Orange zest – This is my super ingredient for making these cookies. When incorporated with the sugar, it takes the cookies to a different level altogether. If you don't have orange zest, don't worry, you can skip it but I would highly recommend adding it to enhance the flavor of these cookies.
Tips to help you make the perfect Gingerbread cookies
Make sure to use softened butter. If your butter is not softened, your sugars won't mix. Your sugar and butter mixture is the very base of your cookies.
To get softened butter, place it in a bowl and pop it in the microwave. Micro in intervals of 10-10 seconds until it is just softened. Be cautious to not melt it. Melted butter gets very different results.
Do not disturb the cookies while they bake. You know they are done when they gain that beautiful golden-ish color or when the edges turn brown.
If you don't have any particular spice/orange zest, you can skip it or substitute it with anything you want.
Put the dough to rest in the fridge for at least 30-45 minutes before making it. If this step is overlooked, your cookies will spread far too much.
Halfway through the baking process, you can turn the tray around so that all the cookies have an even brown color.
Allow the cookies to cool down before consuming / icing. They're soft when fresh out of the oven and can break.
I use royal icing for icing these Christmas Gingerbread cookies but you can use anything. Even white chocolate works.
How to bake Gingerbread Cookies in the microwave?
If your microwave has a convection mode, you can also bake these cookies in it! Cookies do not really have disappointing results. They do not have strict guidelines for temperatures and other baking rules. To bake these cookies in the microwave, preheat until 180 degrees celsius. Place the cookies evenly on your tray, and allow to bake for 15-17 minutes only. Again, microwaves differ, so keep a sharp eye out for the golden edges.
PS- If your microwave does not accept a flat tray, take that round cake tin out and evenly place your cookie dough onto it. You might take a longer time to bake a sufficient batch of cookies, but you will succeed!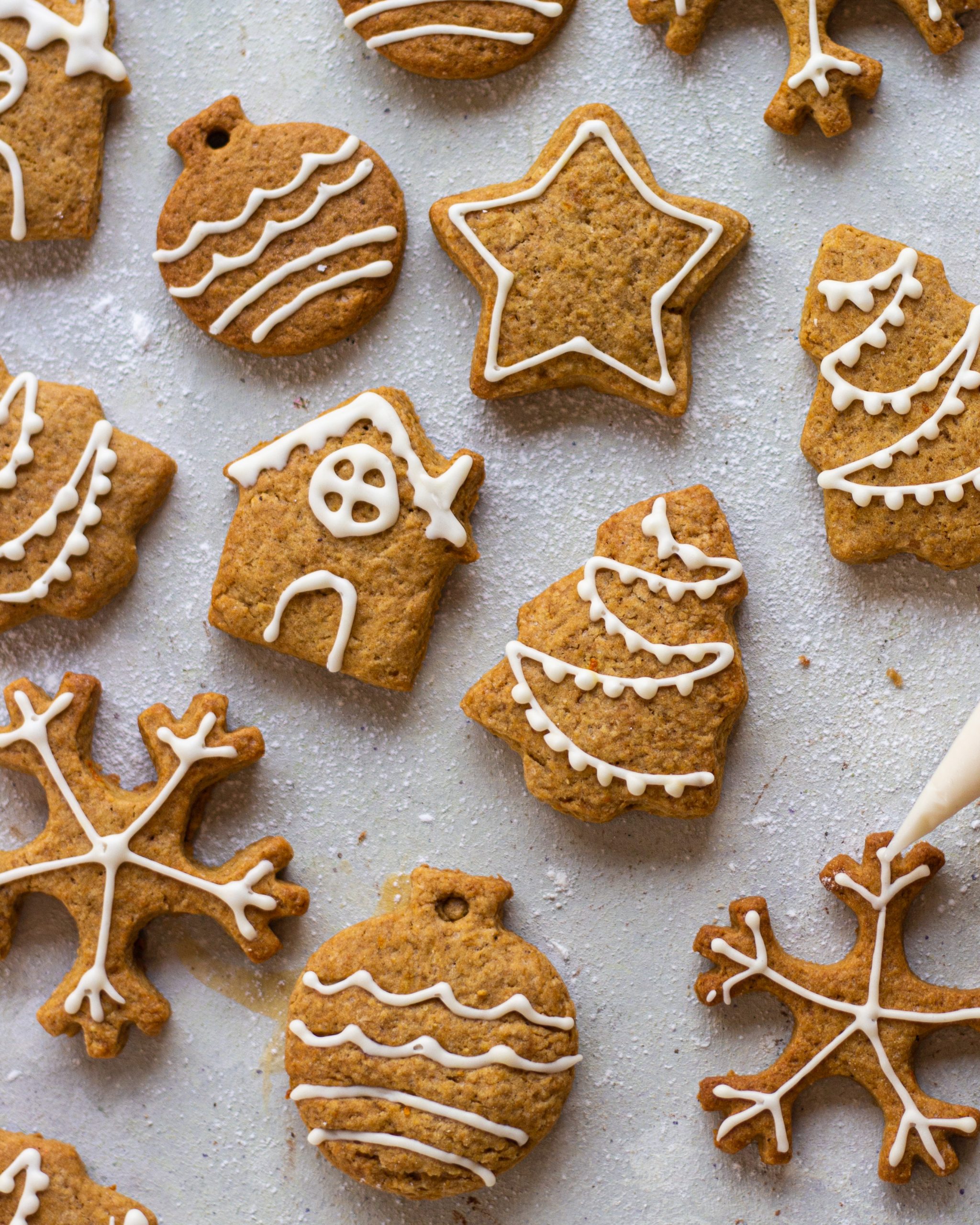 Icing the gingerbread Cookies
Gingerbread cookies are traditionally decorated using beautiful royal icing that is made with egg whites (sometimes even meringue powder), sugar, and gel food color. It's easy to make, sets quickly and since we're being traditional this year, this is what we made for our cookies!
The process is really simple-
Beat egg whites in a large bowl using a whisk or a spoon
Add sifted icing sugar, half a cup at a time. Whisk well.
Keep adding sugar until you achieve the desired consistency. If the icing is still runny, add more sugar.
Add any color you want to, we kept it white and snowy!
Gingerbread cookies for gifting
These stunning gingerbread cookies make for the best gift during the holiday season because they are cute to look at and who doesn't like receiving edible gifts! You can wrap them up nicely using a Christmas theme gift wrapping paper and here's another idea- if you happen to have the ornament cookie cutter with a hole in it, you can put a string through it and make the cutest Christmas tree decoration out of it! If you don't have this cookie-cutter, don't worry. Make the hole using a skewer or a straw when the cookie is still warm and you're sorted! This year, since we'll be celebrating Christmas at our homes with close family and friends, gifts have become an important part of the celebration. And nothing gets better than gifting these Gingerbread cookies and letting your loved ones know how much you appreciate them.
For more such edible Christmas gifting ideas, do check out my article on the same.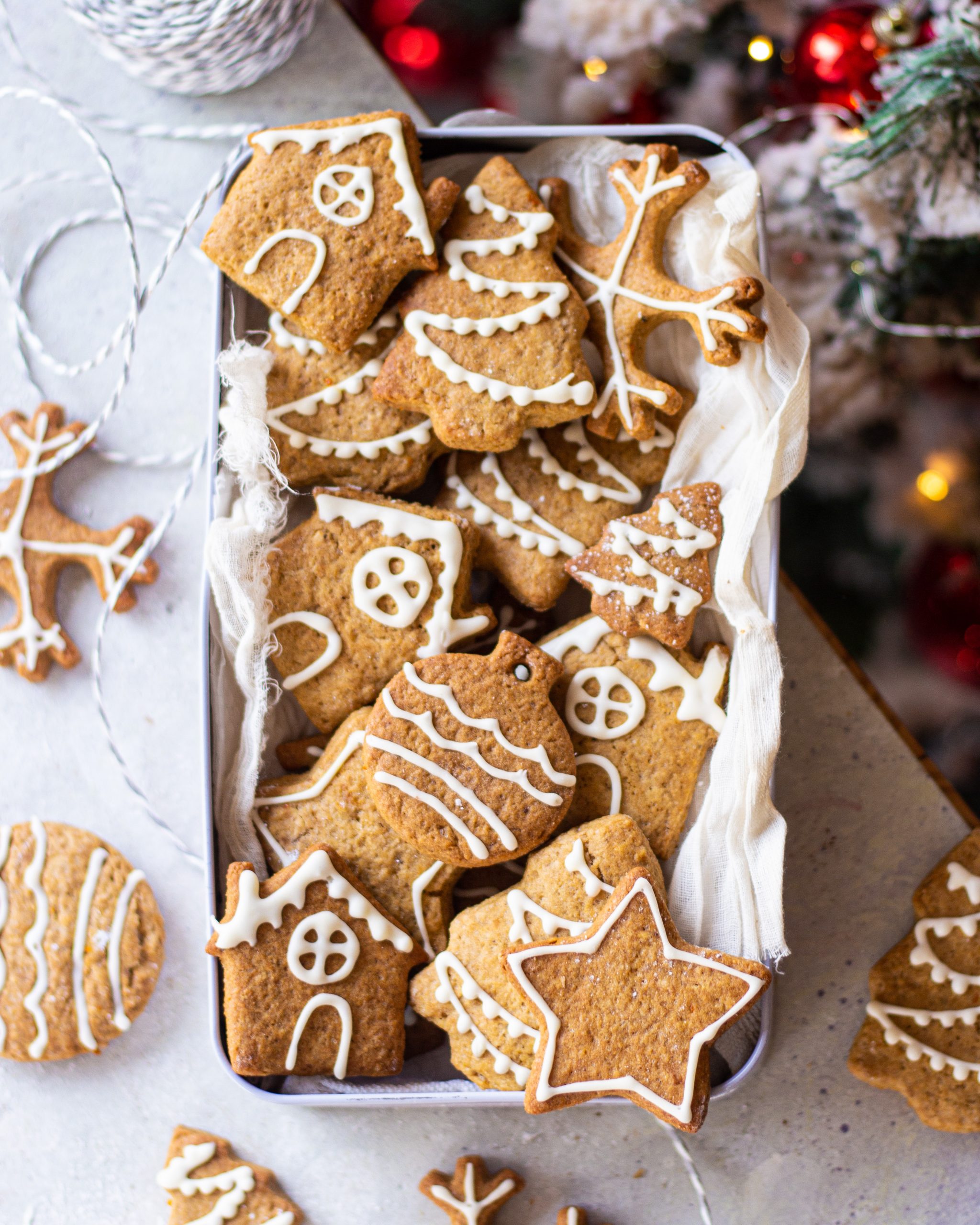 More Christmas Recipes on the blog
Eggless Gingerbread Cookies Recipe
Eggless Gingerbread Cookies
Ingredients
For the cookies
1 cup maida
1 cup atta
½ tsp baking soda
1 tsp baking powder
¼ tsp cinnamon
¼ tsp ginger powder
⅛ tsp ground cloves
½ cup softened butter
½ cup brown sugar
¼ cup jaggery
1 tsp orange zest
1 tsp vanilla
3 + ½ tbsp warm milk
For icing
1 egg whites
1.5 cups icing sugar, sifted twice
or melted white chocolate
Instructions
Pre-heat the oven to 170*C
Cream the butter with brown sugar and jaggery until fluffy. Stir in vanillaa and orange zest.
Add in maida, atta, baking powder, baking soda and the spices and mix well.
Add the warm milk (add more or less as per your dough) and mix until the dough comes together.
Cling wrap the dough and refrigerate for 10-15 minutes until it is tough enough to work with.
Roll out the dough between two sheets of parchment paper, into a ¼ of an inch thick base.
Use a cookie cutter to cut the dough into the desired shape.
Bake for 10-12 minutes until the edges become golden-brown. Let them cool completely before trying to lift them off the tray.
Icing-
Beat egg whites in a large bowl using a whisk or a spoon
Add sifted icing sugar, half a cup at a time. Whisk well.
Keep adding sugar until you achieve the desired consistency. If the icing is still runny, add more sugar.
Ice your cookies and let it set for 5-10 minutes. Enjoy!