I can't believe it is already May 2020. We've all been at home for quite some time now and there is nothing to distract us from the weather changes. May means summer and summer means keeping yourself hydrated and refreshed at all times! What better way to do this than by making some home-friendly summer drinks that are not only delicious, but also complete flavor bombs!
Summer or winter, I always, without a doubt, start my day with a big glass of orange juice or a fruit smoothie so I completely understand the importance of refreshing drinks. It can give a great boost to you right in the morning and get you set for the day. Today I am sharing three flavors of summer drinks with you all and I know you'll love all of them! 
Pineapple Lemonade, Frozen Peach Cocktail and the Orange – Mango Soda are the three flavors I chose to keep myself and my family happy in the summer weather. All of these require locally available ingredients and are super quick to make.
Tips to make the Perfect Summer Coolers
Good Quality Fruit Only
Whether you are making a pineapple lemonade or a mango-orange soda, always remember to use the best and the freshest fruit possible. Since the fruit is the star ingredient in most summer coolers, you have to ensure you're buying sweet ones. If your fruit is not ripe enough or is tasteless, the final taste of your drink will also be effected.
It is Okay to Play Around with the Ingredients 
In simple recipes like summer coolers, it's completely okay to play around with a few ingredients and swap out a few. We all have our flavor preferences and we all will enjoy drinking something if it tickles our taste buds the way we like it. 
Serve them as fresh as possible
Some coolers require a certain number of hours as a rest period to ensure that all the flavors merge well together. After those few hours, it is best to serve the coolers as soon as possible because you do not want all the fresh fruits you used to lose their fresh factor.
Ingredients used for my three summer drinks flavors
The three refreshing flavors I chose are : Pineapple Lemonade, Orange- Mango Soda and Frozen Peach Cocktail and ingredients required for all of these are very easily available so no worries there!
Pineapple Lemonade Summer Drink
For this cooler, all you need is fresh pineapple, lemon juice, honey or simple syrup and water. This is a just a four ingredient drink and it is so fresh and so delicious. If you are a fan of pineapples, you need to make this cooler as soon as possible and be ready to fall in love. 
I bought a whole pineapple and cut it at home. Cutting pineapple is not the easiest and can be tricky so if you find pre cut pineapple, feel free to use that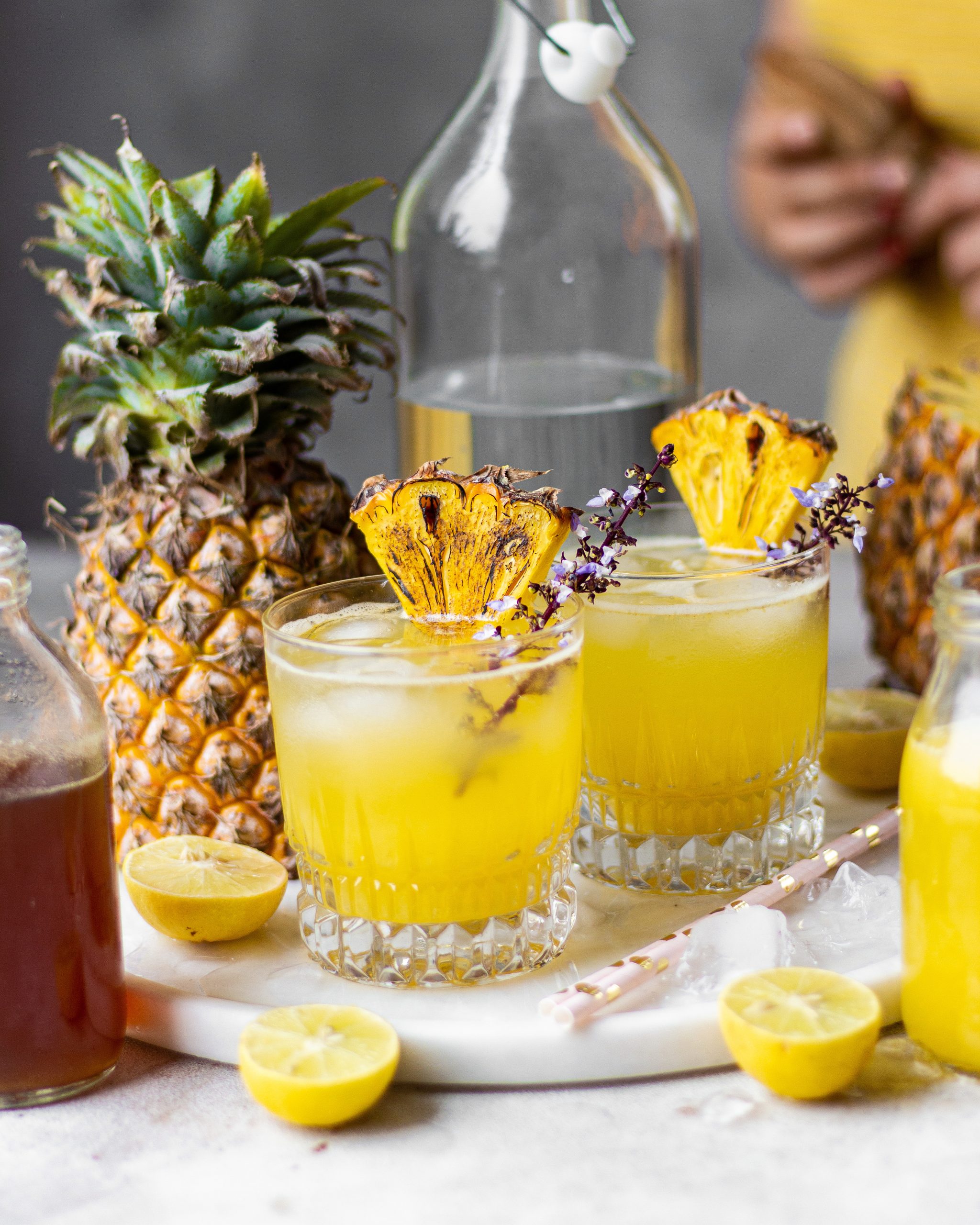 Frozen Peach Cocktail
I am calling this one a frozen peach cocktail because I cut up fresh peaches and then froze them. These were later blended with more crushed ice. I love the icy texture of peaches in this one and that is why I would urge you all to use freeze peaches beforehand.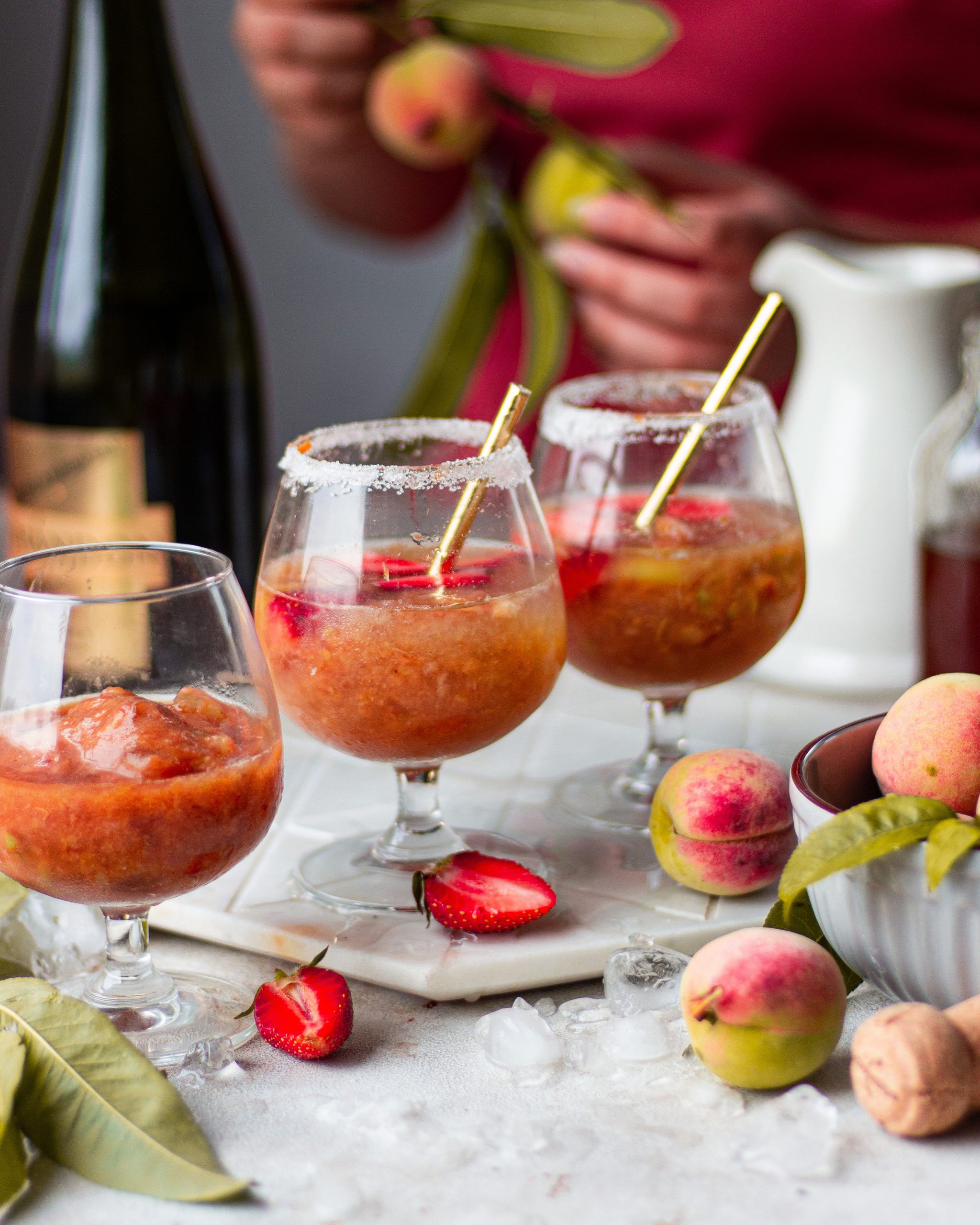 I wanted to make this into a cocktail so I used some sparkling wine. If you prefer non alcoholic drinks, you can put soda instead. In the end, I added some strawberry for extra flavor but if you do not have strawberries at hand, you can always use some fresh slices of peach.
Orange – Mango Soda
This mango orange soda is THE drink of the season because it's got mangoes! Every time mangoes are in season, I make sure that I make the most of them and using mangoes to make this drink is a sure shot way of doing that.
Apart from the best mangoes, you just need some fresh orange juice, honey syrup and soda to finish this drink.  I think out of all three, this one is my personal favorite.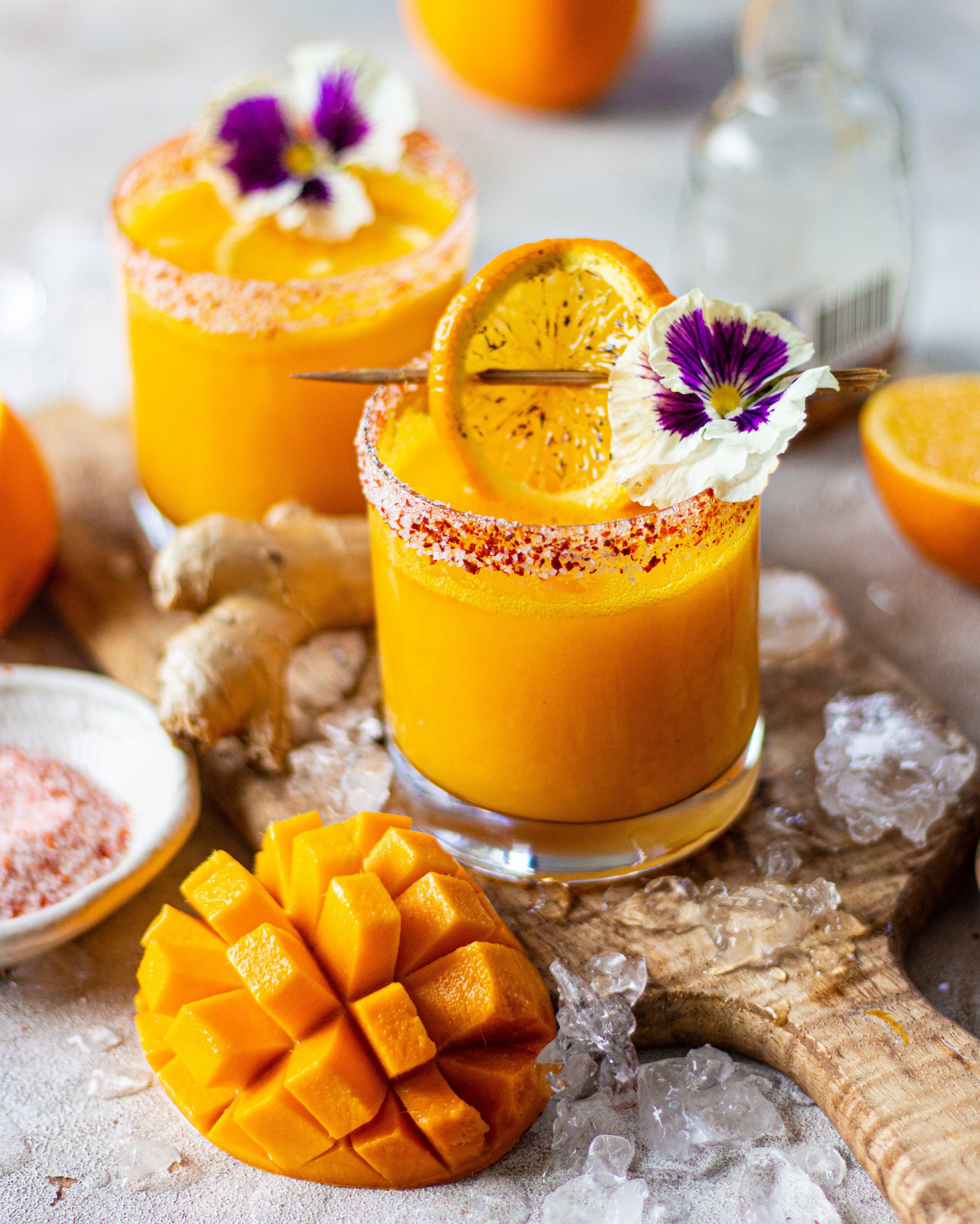 My summer is incomplete without summer coolers and that is why I have so many more recipes already on the blog! Some of my favorite are Peach and Coconut Cooler, Cherry Rosemary Cooler, and the Blackberry and Lemon Cooler

Summer drinks & coolers - 3 ways!
Ingredients
PINEAPPLE LEMONADE
½ pineapple
¼ cup lemon juice
2-3 tsp simple syrup/ honey syrup
2 cups water
FROZEN PEACH COCKTAIL
8-10 frozen peaches
1 cup crushed ice
2 tsp simple syrup/ honey syrup
Sparkling Wine/ Soda
Strawberry Slices
ORANGE - MANGO SODA
½ cup orange juice
2 mangoes
2 tsp simple syrup/ honey syrup
Sparkling water (Soda)
Instructions
To make the pineapple lemonade, you need to cut pineapple in medium sized chunks and blitz them in a food processor.
To that, add in lemon juice and then the honey syrup/ simple syrup. Combine this well.
Lastly, add water to the mixture.
Serve this with some ice and charred pineapple. Enjoy!
To make the frozen peach cocktail, take a food processor add in frozen peaches and crushed ice. Blitz this together and set it aside
To this add simple syrup/ honey syrup and blitz again.
Add the frozen peach mixture to your glasses and pour some sparkling wine or soda over this.
Drop in some fresh strawberry slices or some fresh peach slices and serve it immediately.
To make the orange - mango soda, cut cubes of fresh mango, add in orange juice and blitz this together. Add in honey syrup/simple syrup to this mixture.
Fill ¼th of your serving glass with this mixture and top it off with sparkling water. Enjoy!
Make all of these summer drinks or just one of these for your summer house party with the family and don't forget to share pictures with me on my Instagram handle @shivesh17.