Summer drinks & coolers - 3 ways!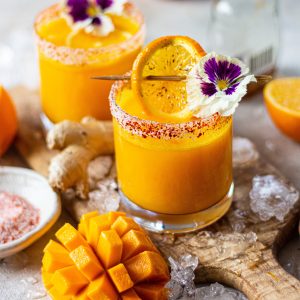 PINEAPPLE LEMONADE
½ pineapple
¼ cup lemon juice
2-3 tsp simple syrup/ honey syrup
2 cups water
FROZEN PEACH COCKTAIL
8-10 frozen peaches
1 cup crushed ice
2 tsp simple syrup/ honey syrup
Sparkling Wine/ Soda
Strawberry Slices
ORANGE - MANGO SODA
½ cup orange juice
2 mangoes
2 tsp simple syrup/ honey syrup
Sparkling water (Soda)
To make the pineapple lemonade, you need to cut pineapple in medium sized chunks and blitz them in a food processor.
To that, add in lemon juice and then the honey syrup/ simple syrup. Combine this well.
Lastly, add water to the mixture.
Serve this with some ice and charred pineapple. Enjoy!
To make the frozen peach cocktail, take a food processor add in frozen peaches and crushed ice. Blitz this together and set it aside
To this add simple syrup/ honey syrup and blitz again.
Add the frozen peach mixture to your glasses and pour some sparkling wine or soda over this.
Drop in some fresh strawberry slices or some fresh peach slices and serve it immediately.
To make the orange - mango soda, cut cubes of fresh mango, add in orange juice and blitz this together. Add in honey syrup/simple syrup to this mixture.
Fill ¼th of your serving glass with this mixture and top it off with sparkling water. Enjoy!
Recipe by
Bake with Shivesh
at https://bakewithshivesh.com/summer-drinks-coolers-3-ways/