This is probably my most favorite season of the year when everyone I know is indulging in mangoes, mango shakes, and mango desserts. And rightly so, because it is such a versatile fruit! You can do absolutely anything with it and it would taste as delicious.
Recently, I found an incredible way of using some mangoes I had kept frozen- a light and creamy smoothie bowl. A smoothie bowl is the best way to use any leftover fruits you have and this mango smoothie bowl legit feels like tropical summer in a bowl. So let's get into the recipe.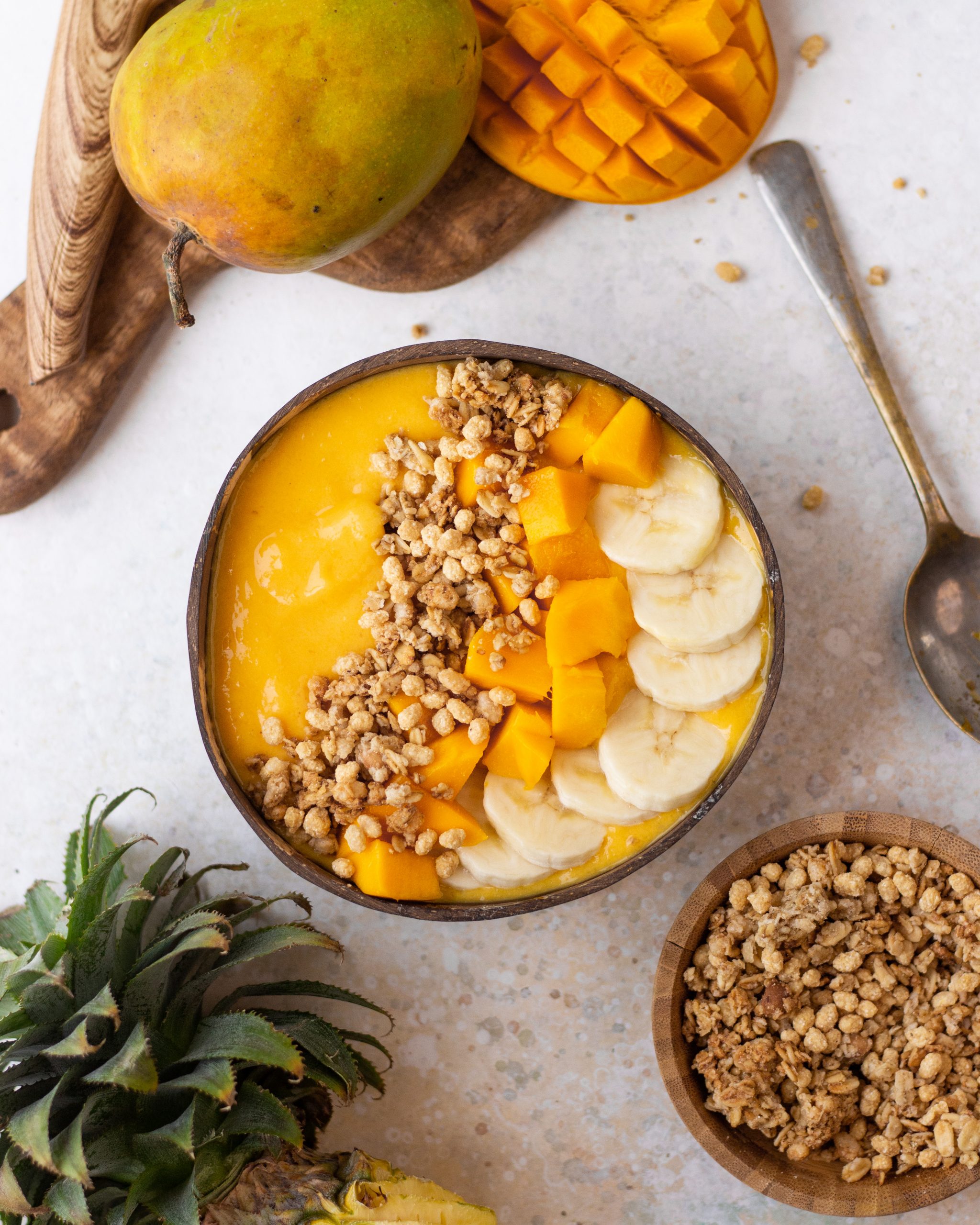 Difference between smoothie and milkshake
Almost everyone likes smoothies and milkshakes. These two treats are generally considered as one and the same. However, they are very different in making and texture. The dairy products used in milkshakes are usually combined with fruits, ice cream and syrup, while cocktails are exclusively made from fruits mixed with additional ingredients such as milk, yogurt or seeds. A smoothie is a complete meal on its own because it's tummy-filling and rich in supplements. It's actually a great option for people who cannot consume milkshakes due to lactose intolerance – you can make my mango smoothie simply with the fruits and skip the milk. You can also make smoothie bowls with yogurt and fruits!
Can we use fresh fruits for mango smoothie bowl?
Yes, you can use fresh fruits for the mango smoothie bowl but I would always recommend you to use fruits that have been frozem for some time.  I know it's hard to resist freshly made, fresh fruit smoothies. They are sweet, cool, and contain such healthy, colorful ingredients. I have used frozen mangoes, frozen pineapples and frozen bananas for this recipe because frozen fruits give such a thick, creamy texture which you probably won't get in a fresh fruit smoothie. This is a match made in heaven because it actually feels like summer in a bowl.
What should I use to sweeten my mango smoothie bowl?
This mango smoothie bowl uses frozen fruits as the base, which adds a good base sweetness, but you can add any sweetener you like. I recommend blending a smoothie with no added sweetener and then try it. If you want it to be sweeter, then add honey or maple syrup to taste. Normally, I don't need to add anything because my fruits are sweet as it is! Another natural choice for sweetness is pitted Medjul dates. Add one or two of these and let the blender complete the task. How awesome your smoothie will be!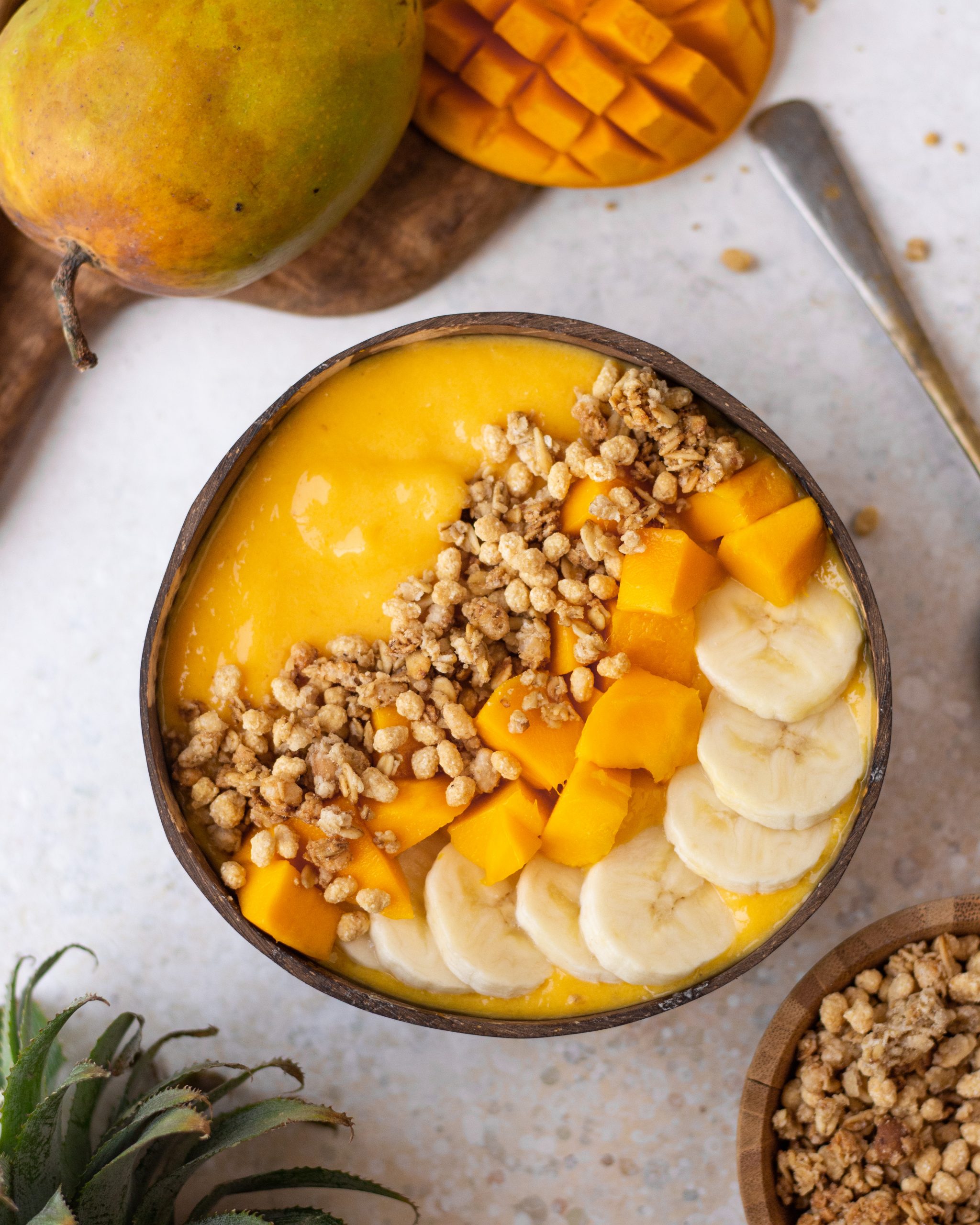 Can I make this smoothie bowl without blender?
Since this smoothie requires frozen fruits, it's important for you to have a food processor/blender for making this recipe. So unfortunately, this recipe cannot be made without a blender.
Toppings for mango smoothie bowl
I top this mango smoothie bowl with fresh bananas, mango, and granola for that delicious crunch! But you can top it with whichever fruit you want, the options are endless! You can use fresh seasonal fruits, seeds of choice like chia seeds, flax seeds or even nut butter like almond butter would taste so delicious with this smoothie bowl. Another good topping with some fresh, desiccated coconut! Granola is my all-time favorite thing to snack on so I use granola for topping my smoothie bowl.
How can I make this recipe vegan?
To make this mango smoothie bowl vegan, you will have to substitute your milk. There are vegan milk brands out there, you can use almond or soy milk for this recipe or you can skip the milk altogether and make your smoothie bowl entirely with fruits.
I hope y'all love making this delish mango smoothie bowl! If you make it, do tag me on Instagram using #bakewithshivesh.
Other mango recipes on the blog
I absolutely love baking with mango and sharing these recipes with you. So here are some more of my mango recipes –
Mango Smoothie Bowl Recipe
Mango Smoothie Bowl
Ingredients
1 cup frozen mangoes
1 cup frozen pineapples
1 frozen banana
⅓ cup milk
Toppings of choice
Instructions
In a blender, add frozen mangoes, frozen pineapples, frozen bananas and milk.
Blend everything till it's smooth in consistency.
Pour the smoothie in a bowl and garnish with toppings of choice. Serve cold!