Delhi summer has finally sung by and is here to stay. With the high temperatures and hot wind, there is only one thing that can give me solace and peace of mind- POPSICLES. Now I think we have all established here that I am not a big summer fan, but I do really really appreciate the beautiful juicy seasonal fruits that it brings. Talking about popsicles, especially homemade popsicles does briefly remind me of last year and all of staying at home making everything at home, from scratch. 
Really hoping that the world heals quickly of all this and we can get back on with our lives and call things normal. Until then I would like you to master the art of homemade popsicles, so let's do that!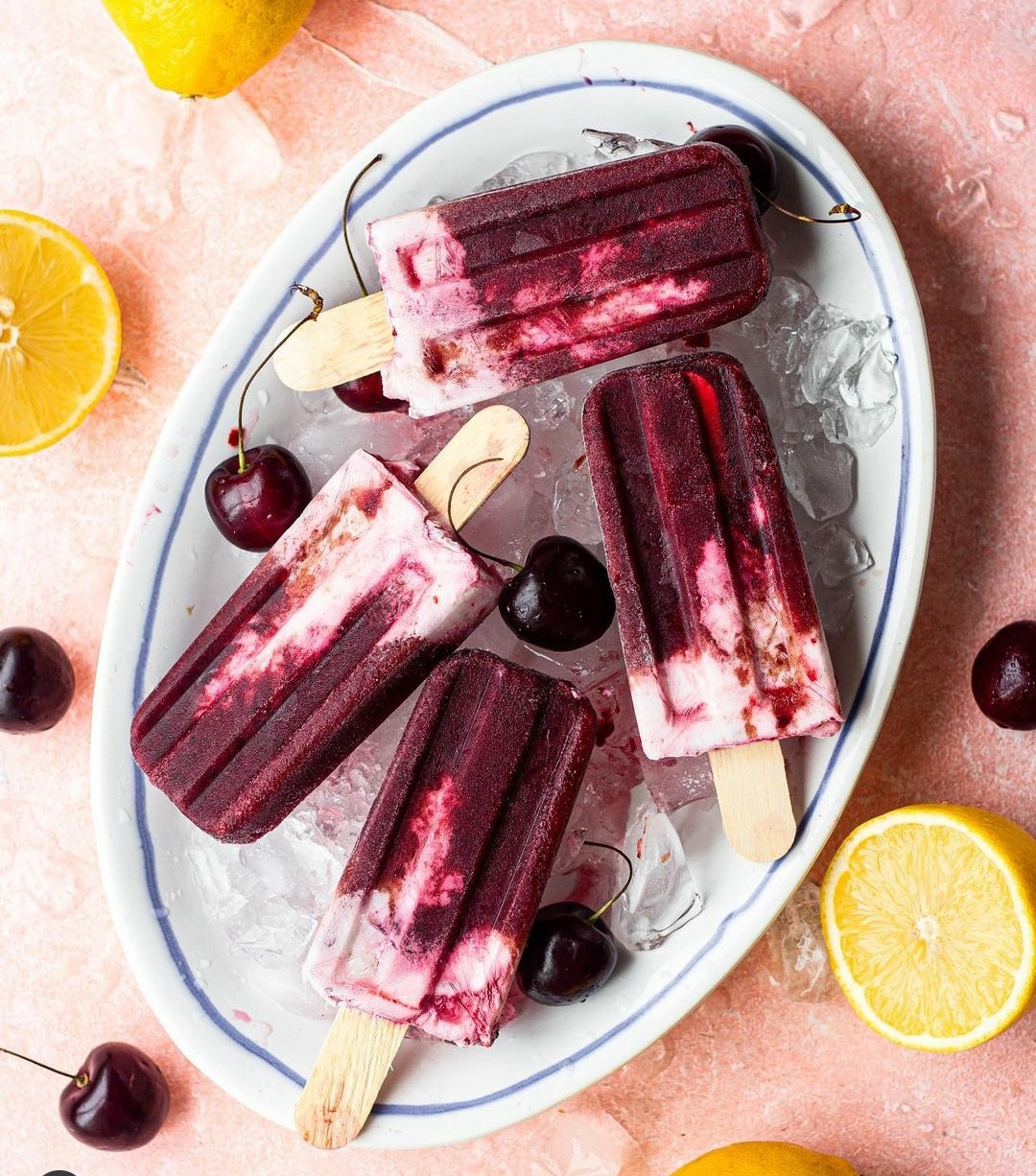 Why homemade popsicles?
I know that it is very easy to go on and grab a pack of premade frozen popsicles. You don't have to spend time making it, you don't have to wait for them to set in the freezer, there is no clean-up. BUT, the store-bought popsicles will make fake promises to you and I am not about that life anymore. I do not want a healthy treat to be loaded with sugar, fake fruit juices, food coloring. When I can easily replicate it at home with the freshest of ingredients that are really good for the body, skin, and gut.
Tips for making the best home-made popsicles
While making any sort of homemade popsicles there are 4 key things to keep in mind:
Are you going to use fresh juice? Pureed? Chopped for texture? A blend of fruits?
I would say all the work is just so great. The fruit component will be a major part of our popsicle and the flavor decider as well. So you can either do freshly squeezed fruit juice like orange and grapefruit or blended fruit purees like pineapple, watermelon, or berries. You can even use infused coconut water. Also key is to add some sort of citruses like lime and lemon to prevent the popsicles from being icy.  Like the options are endless and that is what makes it so fun.
To elevate your homemade popsicles you need to add a creamy element of some sort. Now the creaminess doesn't need to come from dairy only. You can use bananas, avocado, coconut milk, or even cashews. The same principle of adding creaminess you apply in smoothies can be applied here. If you are willing to incorporate dairy, go ahead with yogurt or even a dash of sweetened fresh cream.
I love using liquid sweeteners for my homemade popsicles just because it is very easy to mix everything in together. You can use everything from honey, maple, date syrup, or even agave. You can also add in regular or brown sugar, however, it will be better if you can make a simple syrup out of it first and then add it to the rest of your popsicle ingredient. 
This is my favorite element so far, I love a good balance of textures. The creaminess of homemade popsicles combined with the textural crunch of these additives. I love adding chocolate chips to my strawberry milkshake popsicles. Coconut flakes to my pineapple popsicles, chopped fresh fruit, or granola are also absolutely great when added to any popsicle. 
Which mould to use for making homemade popsicles?
It is so great that these fun popsicle moulds are just a click away from us now, you can easily purchase them online and start your own army of homemade popsicles. I really prefer the ones that come with reusable sticks so that I don't have to buy more every time for every use.  
However, if you feel lazy sometimes, I do feel that a lot of times. I simply chuck my popsicle mixture into a large dish and freeze that as a whole and eat it as I would eat ice cream.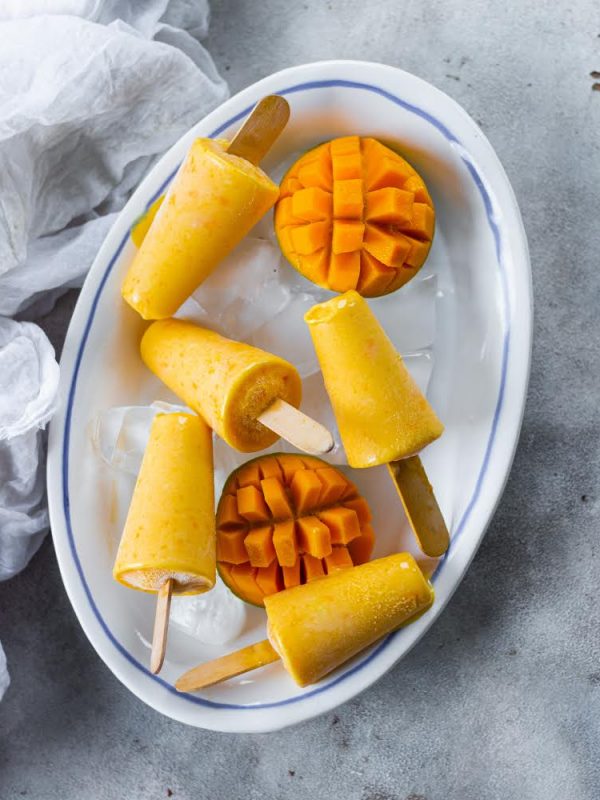 Freezing time for homemade popsicles
I know waiting seems the longest especially when you are making something so delectable but trust me you have to let these homemade popsicles rest in the freezer for at least 8 hours or preferably overnight. Telling from my past experience (read FAIL) demolding popsicles that have not set properly can not only be a disappointment but also create a huge huge mess. haha! So have a little faith and patience and allow your popsicles some resting time in the freezer.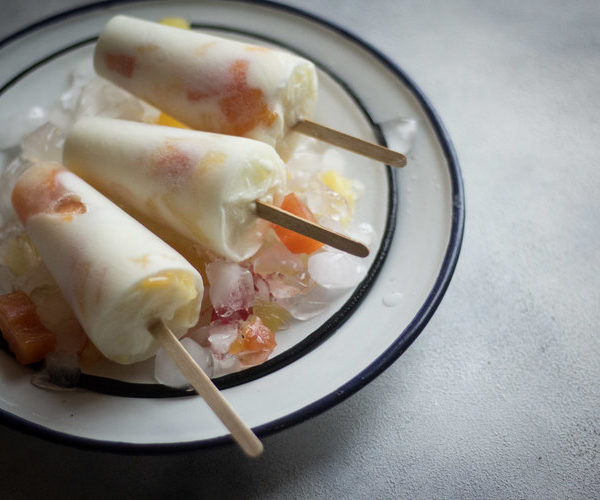 Some of my tried and tested popsicle flavors
Yogurt popsicles– so creamy and delicious
Mango kulfi – perfect for the upcoming mango season

Black forest popsicles- the ultimate combination of cherries and chocolate 

Cherry coconut popsicles- perfect summer cooler

Mango pineapple popsicles- best of both worlds

Orange soda popsicles- so fresh and yummy

Watermelon kiwi- sweet and texturally perfect 
If you try any of my recipes, do not forget to share pictures with me on my Instagram @shivesh17. Happy baking!