I turned 25 a couple of days back and to celebrate the day with my family, I made a delicious and epic chocolate butter cake. If you've been following me since quite some time, you'd know how much I adore chocolate! I can have it as is, but it definitely tastes better in a cake when it is combined with a chocolate fudge frosting and oh! Some macarons. Yes, we went totally fancy and enjoyed it a bit too much.
This Chocolate Butter Cake is all kinds of warm, fuzzy (slightly fancy) hugs in a cake. It starts with a chocolate butter sponge which is rich and just the perfect amount of chocolatey. Topped with my favorite frosting ever – a luscious chocolate fudge frosting and then garnished with some beautiful pink dark chocolate ganache macarons. It couldn't possibly get chocolatier than this, could it? So let's get into the recipe.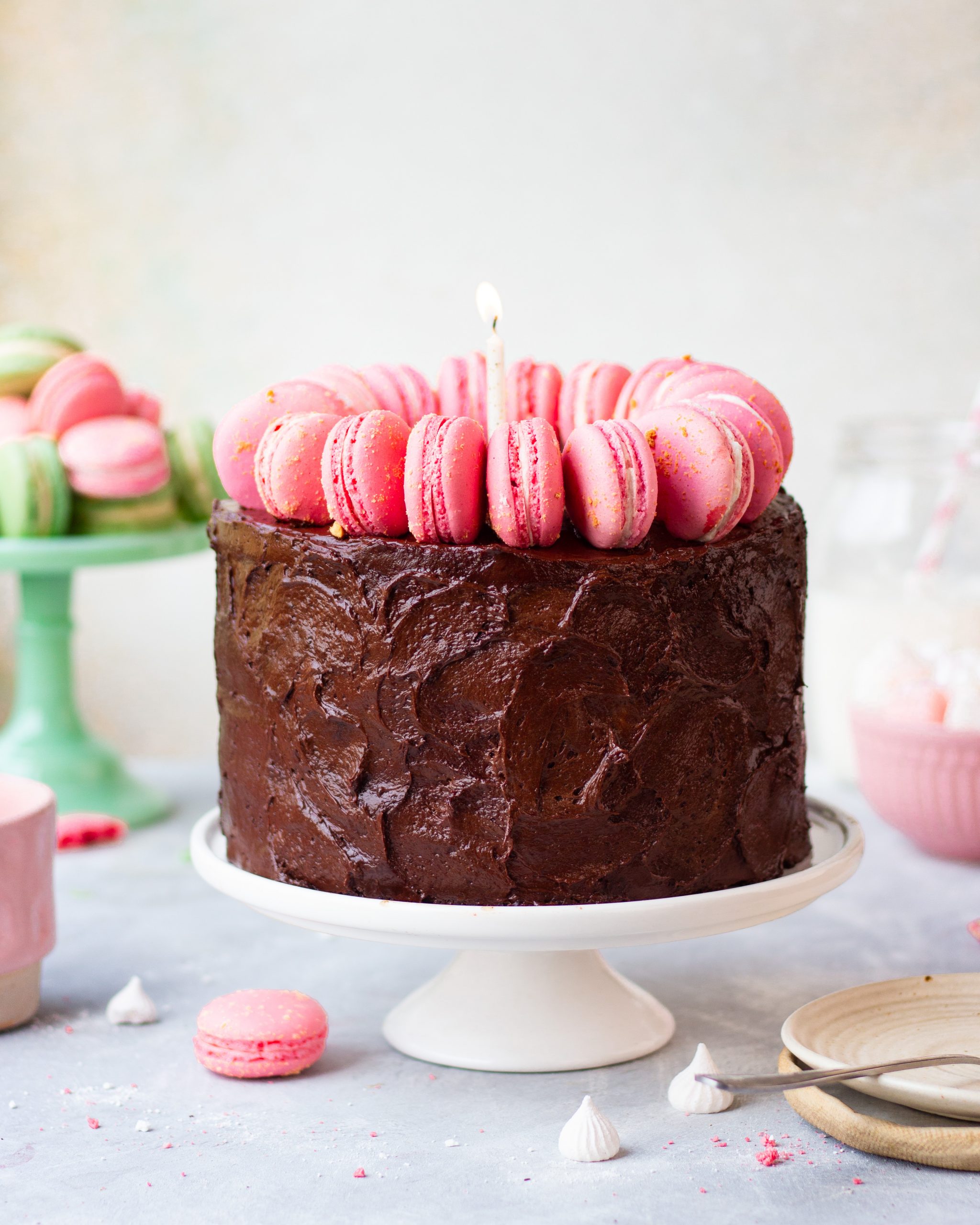 Elements of Chocolate Butter Cake
My Chocolate Butter Cake has a total of four elements which are easy to prepare if you know the structure of the cake. It honestly saves me so much time when I write down my recipes and the elements beforehand. When I'm aware of what the next step is going to be, I can save so much time by working continuously without getting confused! This is why, I always recommend you to read the recipe first, before you start working on it.
Chocolate Butter Sponge – For this recipe, I make a rich, buttery and soft chocolate sponge. It's my back to basics chocolate cake recipe, but I swap the oil with a generous amount of butter. The result is a rich and moist cake which tastes like a pound cake, but even better! The marriage of butter and chocolate is a match made in heaven.
Coffee Soaking Syrup – I soak my chocolate butter cake in a coffee soaking syrup, which is made with two simple ingredients – coffee and water. I use Nescafe instant coffee for my syrup. I used coffee because coffee enhances the flavor of chocolate and takes it to a different level. Soaking your cake is a very important step as it softens the cake and keeps it moist.
Chocolate Fudge Frosting – My favorite thing about this cake is this ultimate chocolate fudge frosting. It takes more ingredients than a normal dark chocolate ganache but results in a creamy, rich and luscious frosting which is to die for. My mouth is literally watering right now and I know yours is too. Go and make this chocolate fudge frosting asap.
Eggless macarons – Macarons are one of those pastry items that the majority of the people are afraid of making. They are definitely a bit tricky to make and it might take you a few trials to get them right but once you do, the satisfaction is so worth it. I top my chocolate butter cake with eggless macarons, the recipe for which you can find here.
Tips for Chocolate Butter Cake
Here are a few notes before you get started –
When you're combining wet and dry ingredients in the cake, make sure you do-not over-mix. Mix only until everything is well combined. If you over-mix, you will end up knocking out all the air, resulting in a dense cake. A good quality spatula helps immensely in mixing of the ingredients.
Use the best quality ingredients you can your hands on – good maida, good cocoa powder, baking powder and baking soda that work. You know the drill by now!
For the chocolate fudge frosting, I used fresh cream by Amul which is easily available in all grocery shops across India
I used dark chocolate in the frosting. You can use milk chocolate instead of dark chocolate.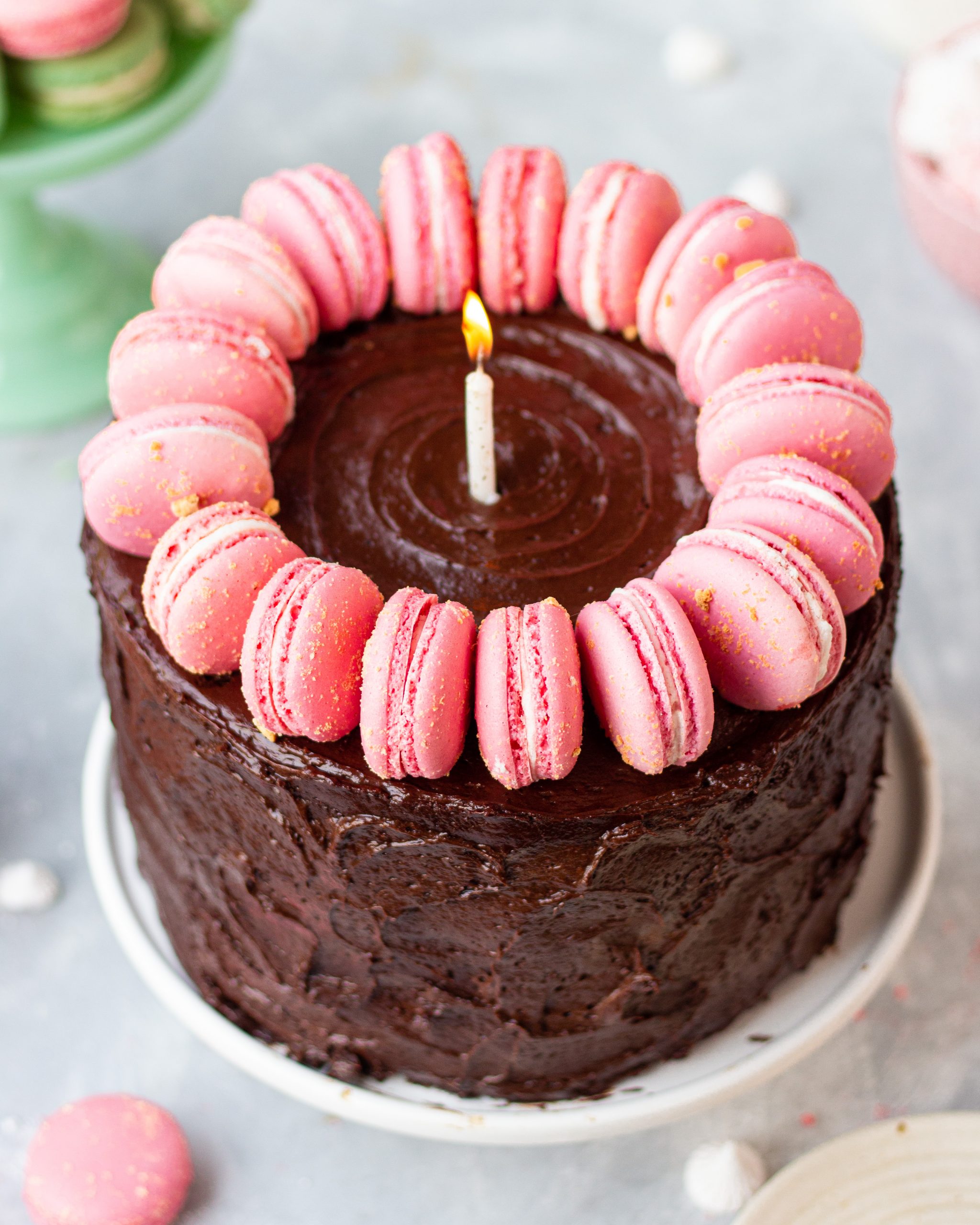 Chocolate Fudge Frosting – the recipe you need in your life
This is by far the best frosting recipes I have ever made. I think it's evident, because I make it A LOT! I do love a ganache, but even the smoothest of ganache ends up looking slightly dull when refrigerated. Comes to the rescue this ultimate, shiny frosting. It uses some simple ingredients like cocoa, chocolate, vanilla, icing sugar, cream and butter but nonetheless, it's really simple to whip up.
Whenever you are making chocolate fudge frosting, it is extremely important to use softened butter. This ensures that your butter and sugar whip up easily and nicely, resulting in a stable frosting. If you use cold butter and try to whip that with your sugar, it will take you ages to reach the desired consistency. On the other hand, if you use melted butter, your butter and sugar will never whip up to a stable consistency and you will have an extremely runny frosting.
Once your frosting is ready, make sure you cover it and store it in the refrigerator. This is a really important step that will make the frosting much more stable and pipeable. Refrigerating it will make sure the chocolate sets and when you are using it to top off your desserts, it will maintain its shape and consistency.
Garnishing for the Chocolate butter Cake
This was a celebration cake, so obviously it had to be fancy! I made a batch of eggless beautiful pink macarons to garnish this cake. Macarons are meringue based pastries that are made out of almond flour, egg whites and sugar. These pastries are then sandwiched using various fillings. French macarons are one of the most popular confectionery items throughout the world. They are made with patience, precision and technique. Now because macarons are so sensitive to make, people almost always make them with egg whites. Egg whites whip up beautifully and can be used to make a stable meringue which is crucial to the structure of a macaron. But for these eggless macarons, I used aquafaba.
If you don't want to go through the hassle of making macarons, you can totally skip it and keep it naked. Or you can be creative and decorate the cake with anything you have in your kitchen pantry – sprinkles, berries or even edible flowers. Baking is all about being creative and having fun while you're at it!
Other chocolate recipes on the blog
Chocolate Butter Cake Recipe
Chocolate Butter Cake
Ingredients
CAKE
3 cups (360 g) all purpose flour (maida)
1 + ½ cups (180 g) cocoa powder
1 tsp (6 g) baking soda
2 tsp (8 g) baking powder
1 + ½ cups (339 g ) butter
3 cups (600 g) castor sugar
4 eggs / 2 cups (570 g) Greek Yogurt
1 tsp (5 ml) vanilla extract
1 + ½ cups milk (360 ml) + 2 teaspoon white vinegar (10 ml)
a pinch of salt
CHOCOLATE FUDGE FROSTING
1 cup butter (226 g) (softened)
½ cup (50 g) cocoa powder
2 cups (260 g) icing sugar
2 tsp (10 ml) vanilla
1 cup (175 g) chocolate, melted
1 cup (230 ml) fresh cream (warm)
Instructions
Pre-heat the oven to 180*C. Grease 3 8-inch pans with butter and line them with parchment paper.
In a bowl, take milk and add vinegar to it. Set aside.
Whisk cocoa, flour, salt, baking soda and baking powder into a bowl.
In a large bowl, beat butter and sugar until the mixture is light and pale- about 3-4 minutes.
Add eggs, one at a time and mix well after each addition. If you're making an eggless version, add yogurt instead of eggs and mix well.
Beat in vanilla.
Fold the flour mixture into the wet ingredients alternating with milk, starting and ending with flour mixture. Mix only until everything is well combined and there are no flour pockets in the batter.
Pour the batter into the 3 pans equally and bake at 180*C for 25-30 minutes or until a skewer inserted in the center comes out clean.
For the frosting, in a bowl, add in butter and sift in icing sugar and cocoa powder.
Whip this mixture till you get a fluffy and light mixture.
Add in vanilla and beat it in as well. Once all of this is combined, warm your cream and mix that in as well.
Next, melt your chocolate and let it cool down slightly before you add it into the frosting mixture.
Once cooled down, just combine everything using your whisk. Give it a good mix and you will see your frosting be thick but slightly liquidy.
Refrigerate the frosting for 30-40 minutes.
Once the cakes have cooled down, assemble the cake.
To make a soaking syrup, add 3 tbsp instant coffee to 1 cup of water and mix.
Take a layer of cake and soak it with the coffee syrup.
Generously top the layer of chocolate cake with the chocolate fudge frosting. Place another cake layer on top of it and repeat the process until all the layers are done. Remember to frost the outside of the cake as well.
Decorate with macarons.
Enjoy!
If you like this recipe and happen to make it for a celebration, do tag me on
Instagram
/
Facebook
and use #Bakewithshivesh. Happy Baking!