Every summer at my home sees a tradition of making popsicles and ice creams of different flavors and how not- there's absolutely nothing better than a home-made popsicle. It's not just the bonding activity of deciding which flavor the fam would love but also the beauty of the process that makes it awesome. And then of course, when everybody sits together after a meal to enjoy them, that feeling is indescribable. I know you agree!
Two of my most favorite things about summer are mangoes and lassi. Of course, I had to combine the two to come up with the most delicious popsicle one can have. It's cold, it's tangy because of all the yogurt that goes in and it is oh so creamy! My family absolutely loved these mango lassi popsicles and I know yours will too! So let's get into the recipe.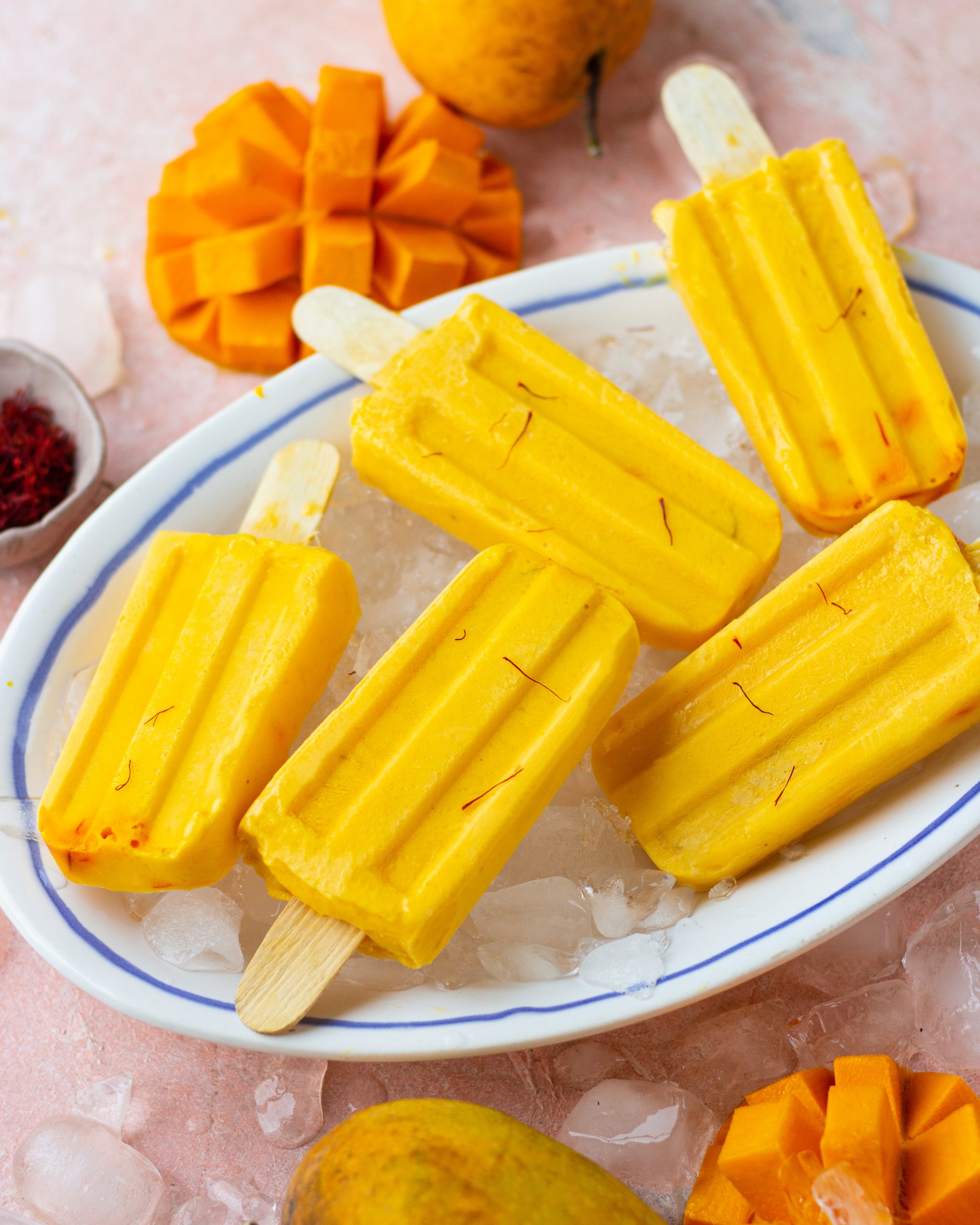 What is lassi?
Lassi is a popular traditional dahi (yogurt-based) drink or regional name for buttermilk in India. Lassi is a blend of yogurt, water, spices and sometimes fruit. Namkeen (salty) lassi is similar to dough, while sweet and mango lassis are like milkshakes. However, lassi should not be confused with Chaas. Chaas is a similar drink of a thinner consistency.
Lassi is usually taken after a meal or with a meal. It is said to have many health benefits, as it improves digestion and strengthens immunity. It can provide your body with calcium, vitamin D and many essential vitamins. Not to forget, it's extremely good for you in summers as it keeps you hydrated for long durations!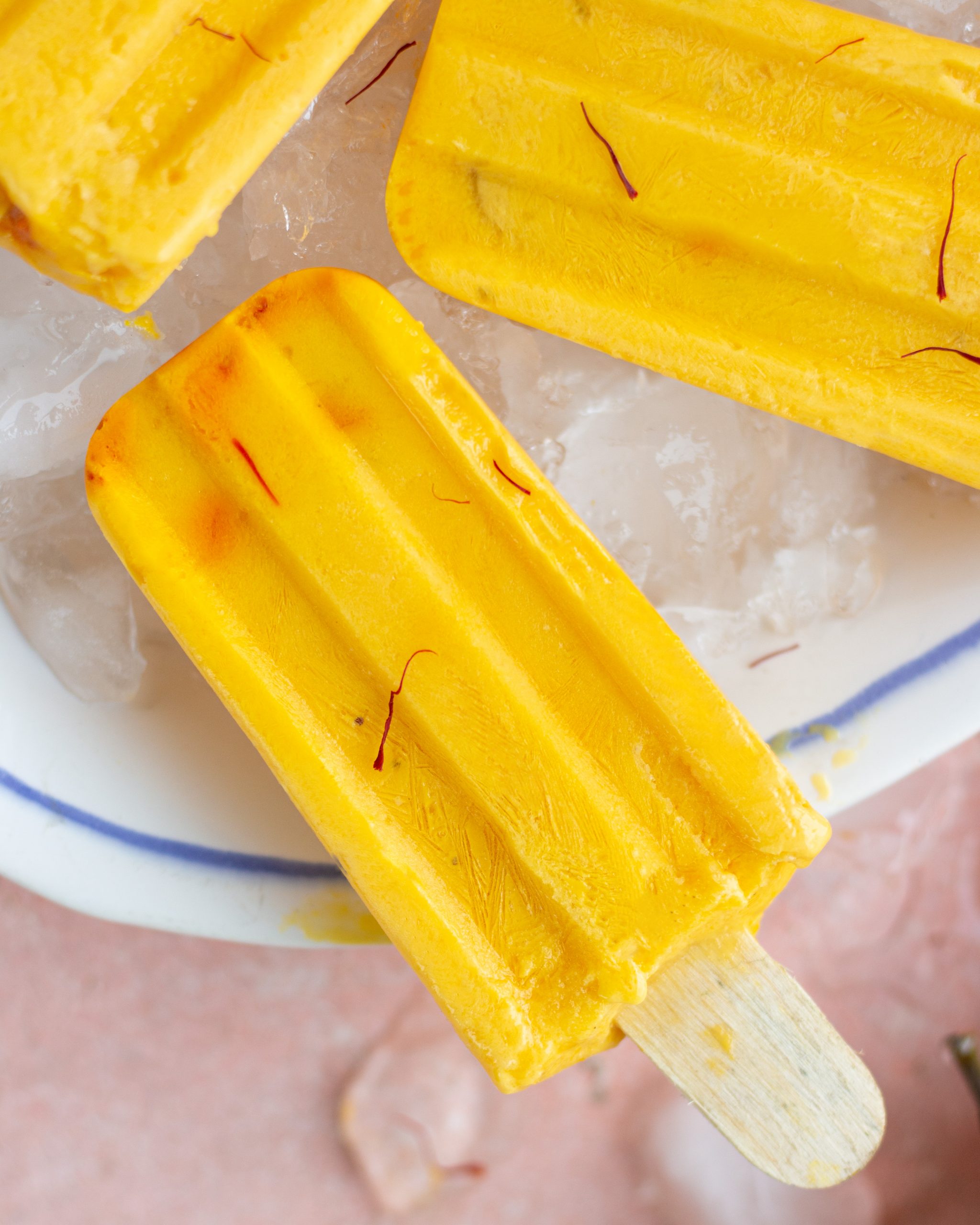 INGREDIENTS FOR MANGO LASSI POPSICLES
In this lockdown I have only been sharing recipes that require ingredients that are readily available for everyone. This recipe is so basic that I am confident you all will be able to re create the mango lassi popsicles at home. To make these mango lassi popsicles, all you need are fresh mangoes, dahi, water, honey and some optional spices like cardamom powder and saffron. That's it! The most basic and lockdown friendly ingredients.
Keep in mind that I have added 3-4 tablespoons of honey in my recipe. You can also add caster sugar / brown sugar.  But if you use brown sugar, the color of the mango puree might change slightly and not remain bright yellow.
The amount of honey or sugar that you add will definitely depend on the sweetness of the mangoes. If you think that your mangoes are perfectly sweet then please feel free to not add any honey into this recipe at all!
The dahi that I used for this recipe is home-made dahi. You can also use store-bought dahi or even Greek Yogurt, they'll work just fine!
Fresh mangoes are the ingredient you just cannot miss for this recipe! The juiciness and sweetness of fresh mangoes is to die for. I recommend you to use only fresh mangoes for this recipe and not frozen ones.
The ingredients that take this recipe up a notch are the spices. I use cardamom powder to get that traditional lassi flavor and kesar, because we want our popsicles to be beautifully yellow! Not to forget, they give such a nice, subtle flavor to our mango lassi popsicles.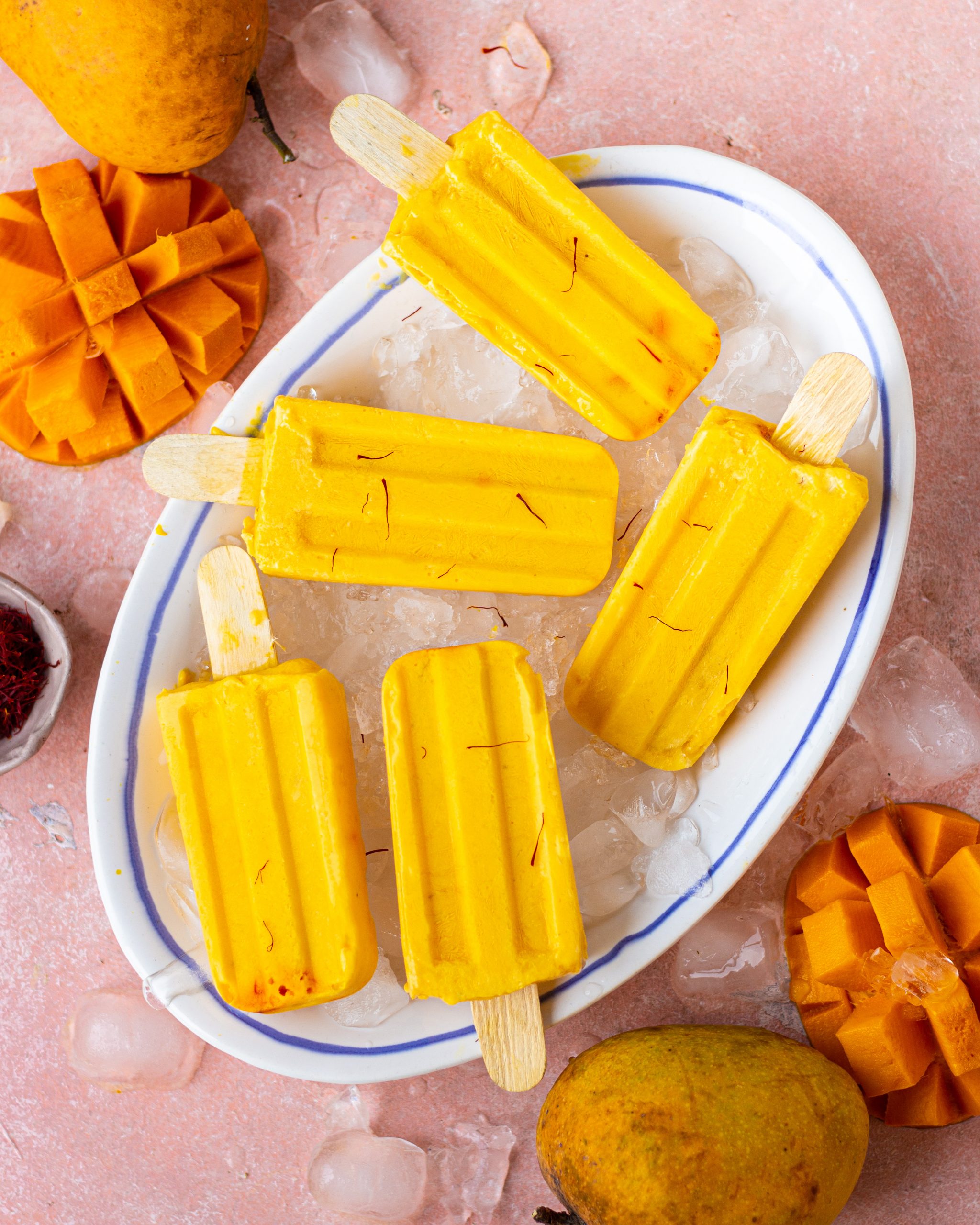 Tips to make the best mango lassi popsicles
While making any sort of homemade popsicles there are 4 key things to keep in mind:
Are you going to use fresh juice? Pureed? Chopped for texture? A blend of fruits?
I would say all the work is just so great. The fruit component will be a major part of our popsicle and the flavor decider as well. So you can either do freshly squeezed fruit juice like orange and grapefruit or cubed fruit like the mangoes in these mango lassi popsicles. You can even use infused coconut water. Also key is to add some sort of citruses like lime and lemon to prevent the popsicles from being icy. In this recipe, yogurt prevents that from happening. Like the options are endless and that is what makes it so fun.
To elevate your homemade popsicles you need to add a creamy element of some sort. Now the creaminess doesn't need to come from dairy only. You can use bananas, avocado, coconut milk, or even cashews. The same principle of adding creaminess you apply in smoothies can be applied here. If you are willing to incorporate dairy, go ahead with yogurt or even a dash of sweetened fresh cream.
I love using liquid sweeteners for my popsicles just because it is very easy to mix everything in together. You can use everything from honey, maple, date syrup, or even agave. You can also add in regular or brown sugar, however, it will be better if you can make a simple syrup out of it first and then add it to the rest of your popsicle ingredient.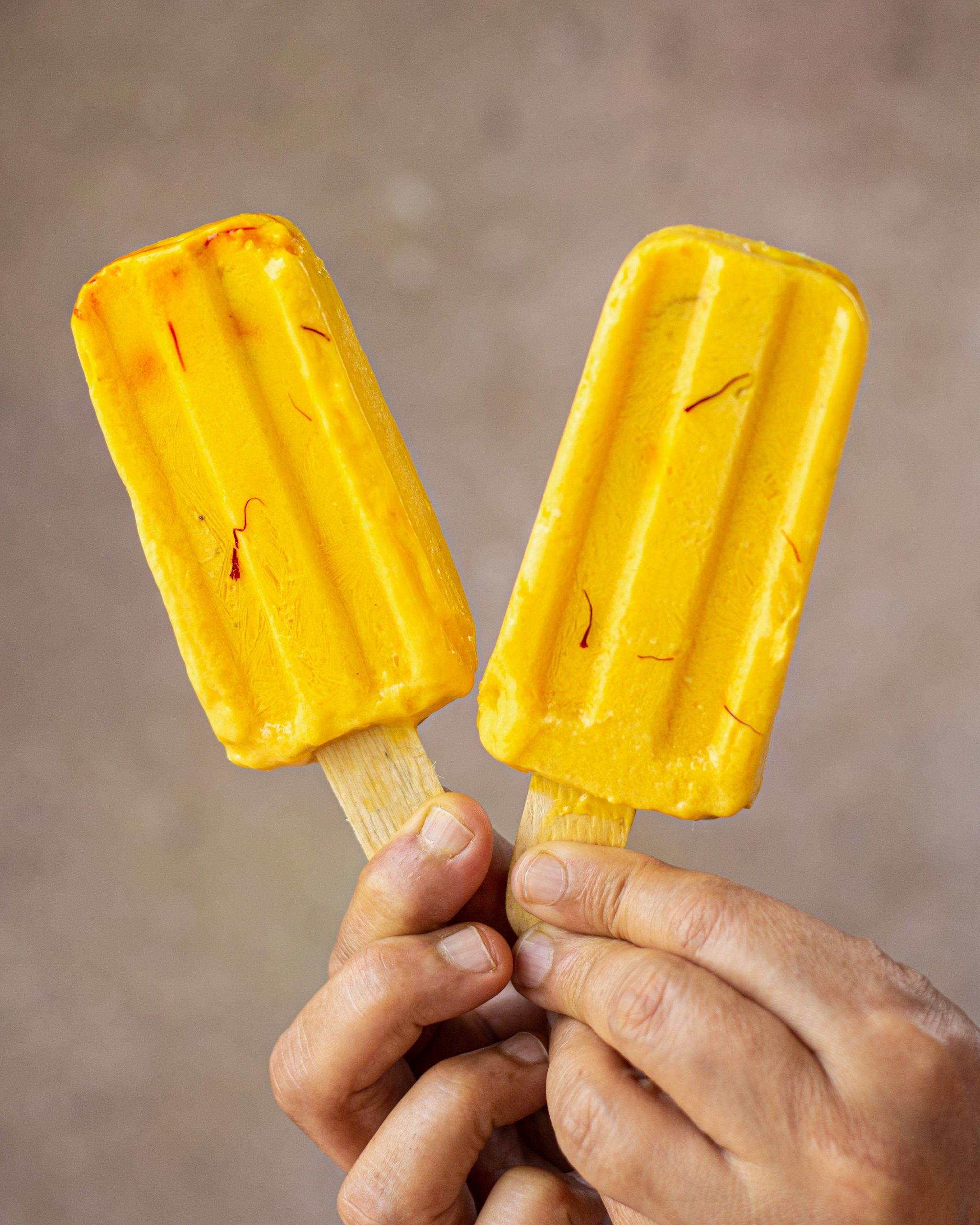 WHICH MOULD TO USE FOR MAKING HOMEMADE POPSICLES?
It is so great that these fun popsicle moulds are just a click away from us now, you can easily purchase them online and start your own army of mango lassi popsicles. The popsicle mould that I used for this recipe is not available on Amazon anymore but I found the perfect replacement for you guys, here. I really prefer the ones that come with reusable sticks so that I don't have to buy more every time for every use.
However, if you feel lazy sometimes, I do feel that a lot of times. I simply chuck my popsicle mixture into a large dish and freeze that as a whole and eat it as I would eat ice cream.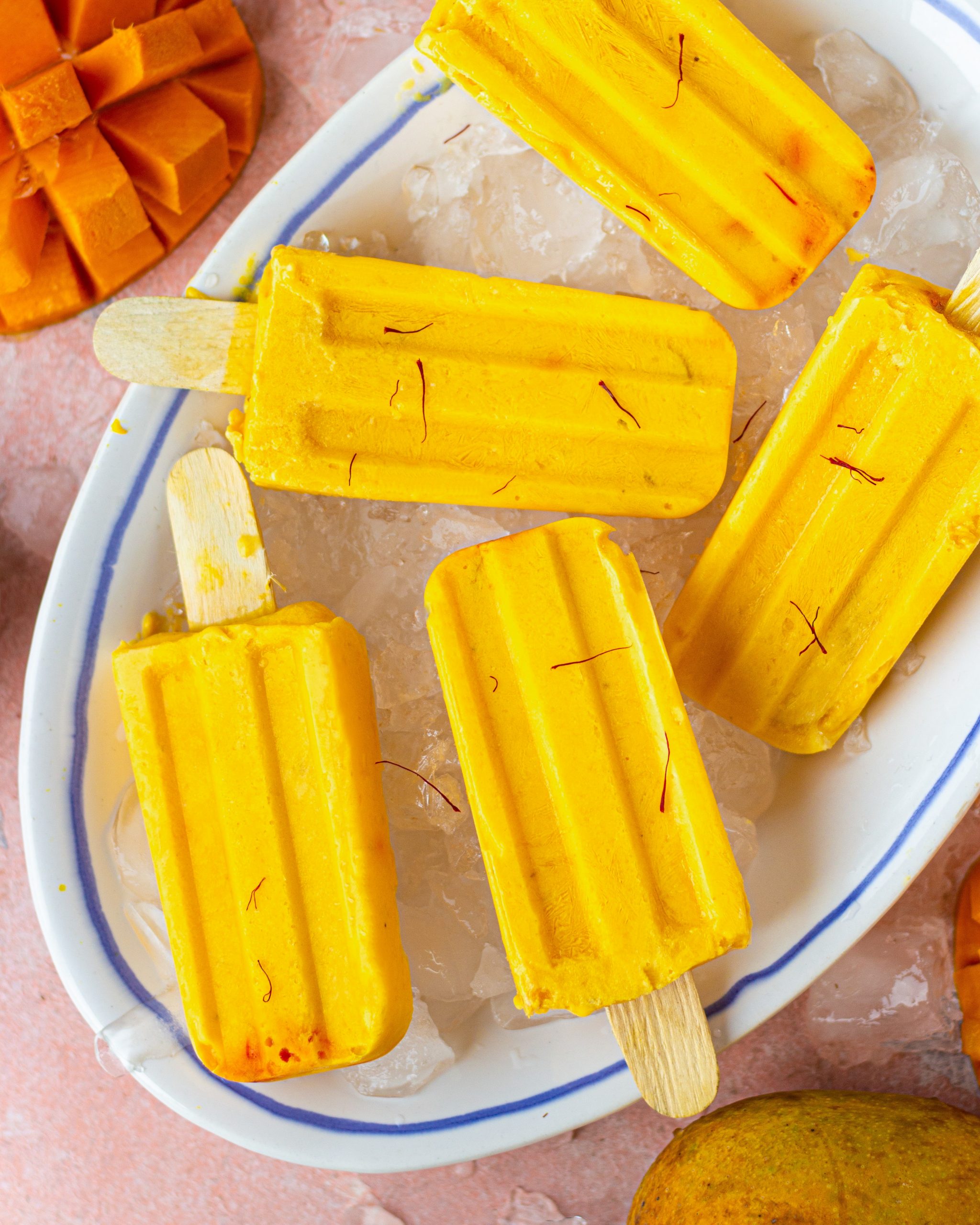 How to not let ice crystals affect your mango lassi popsicles
This is probably the most common problem that I have seen with home made cream-based popsicles. Icy popsicles is caused by ice crystals forming in the mixture when it's kept to freeze. If you have too much water in the mixture or your freezing time is too long, you'll end up with very icy popsicles.
For this recipe, using dahi / yogurt is what makes it creamy and prevents it from becoming icy. You can actually see this visually while making the recipe. When there's less water in the mango lassi, the mixture looks thicker. So, remember, if you want creamy popsicles, add only the amount that is mentioned in the recipe. Less water means smaller ice crystals and less icy popsicles!
FREEZING TIME FOR MANGO LASSI POPSICLES
I know waiting seems the longest especially when you are making something so delectable but trust me you have to let these mango lassi popsicles rest in the freezer for at least 8 hours or preferably overnight. Telling from my past experience (read FAIL) demolding popsicles that have not set properly can not only be a disappointment but also create a huge huge mess. haha! So have a little faith and patience and allow your popsicles some resting time in the freezer.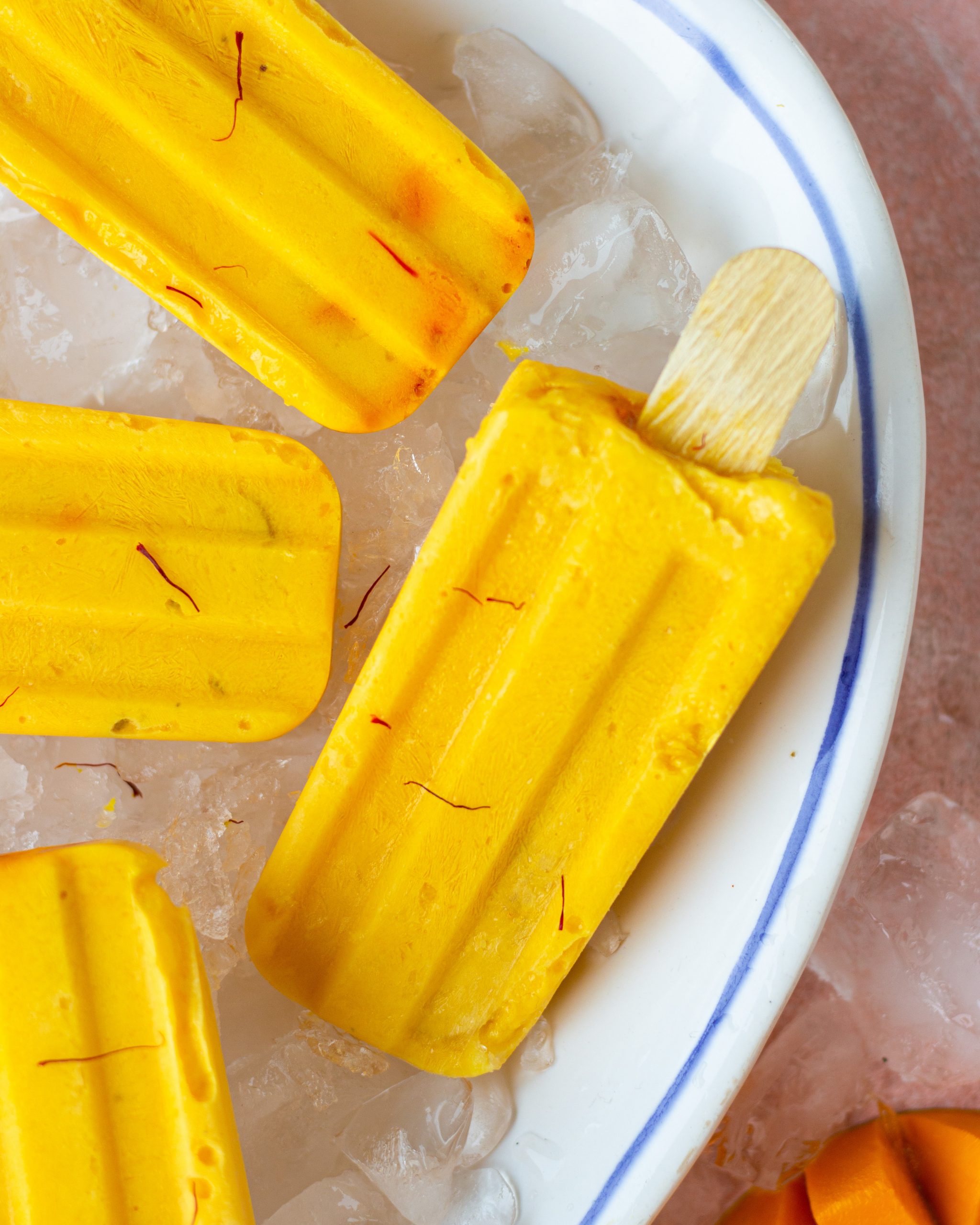 Other popsicle recipes for the blog
Mango lassi popsicles recipe
Mango Lassi Popsicles
Ingredients
1 cup cubed mangoes
1 cup yogurt / dahi
¼ cup water / milk
¼ teaspoon cardamom powder
½ teaspoon saffron strands
3-4 tablespoons honey
Instructions
In a blender, add cubed mangoes, yogurt, water, cardamom powder, saffron and honey. Blitz everything together till your mixture is a smooth consistency.
Pour the mango lassi into popsicle moulds or any other moulds that you might want to use. Cover the mould with foil and after making a slit, stick in ice cream sticks.
Refrigerate for 8 hours or overnight for best results!
If you like this recipe and happen to make it at home, do tag me on
Instagram
/
Facebook
and don't forget to use #Bakewithshivesh. Happy baking!