Chocolate Butter Cake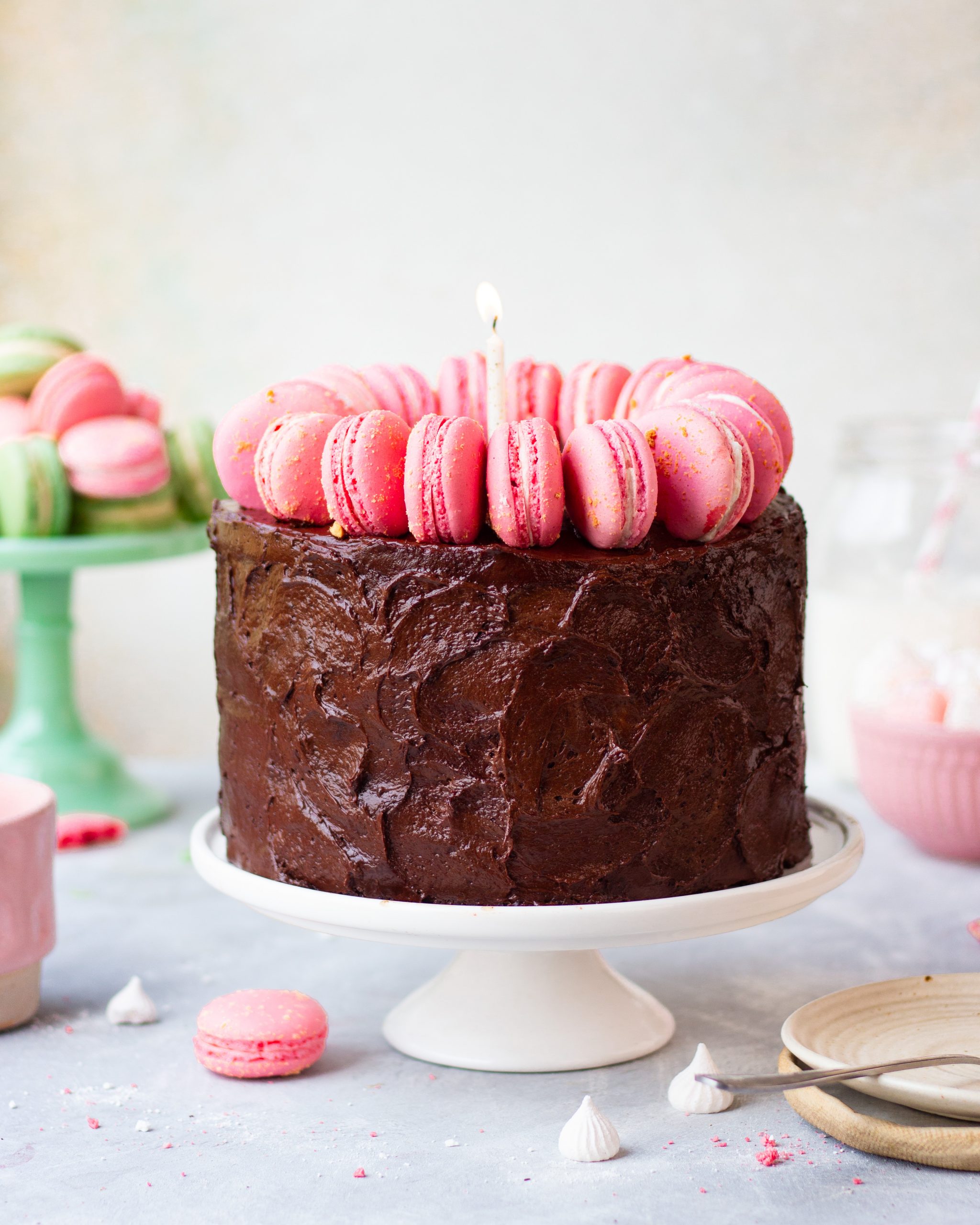 3 cups (360 g) all purpose flour (maida)
1 + ½ cups (180 g) cocoa powder
1 tsp (6 g) baking soda
2 tsp (8 g) baking powder
1 + ½ cups (339 g ) butter
3 cups (600 g) castor sugar
4 eggs / 2 cups (570 g) Greek Yogurt
1 tsp (5 ml) vanilla extract
1 + ½ cups milk (360 ml) + 2 teaspoon white vinegar (10 ml)
a pinch of salt
1 cup butter (226 g) (softened)
½ cup (50 g) cocoa powder
2 cups (260 g) icing sugar
2 tsp (10 ml) vanilla
1 cup (175 g) chocolate, melted
1 cup (230 ml) fresh cream (warm)
Pre-heat the oven to 180*C. Grease 3 8-inch pans with butter and line them with parchment paper.
In a bowl, take milk and add vinegar to it. Set aside.
Whisk cocoa, flour, salt, baking soda and baking powder into a bowl.
In a large bowl, beat butter and sugar until the mixture is light and pale- about 3-4 minutes.
Add eggs, one at a time and mix well after each addition. If you're making an eggless version, add yogurt instead of eggs and mix well.
Beat in vanilla.
Fold the flour mixture into the wet ingredients alternating with milk, starting and ending with flour mixture. Mix only until everything is well combined and there are no flour pockets in the batter.
Pour the batter into the 3 pans equally and bake at 180*C for 25-30 minutes or until a skewer inserted in the center comes out clean.
For the frosting, in a bowl, add in butter and sift in icing sugar and cocoa powder.
Whip this mixture till you get a fluffy and light mixture.
Add in vanilla and beat it in as well. Once all of this is combined, warm your cream and mix that in as well.
Next, melt your chocolate and let it cool down slightly before you add it into the frosting mixture.
Once cooled down, just combine everything using your whisk. Give it a good mix and you will see your frosting be thick but slightly liquidy.
Refrigerate the frosting for 30-40 minutes.
Once the cakes have cooled down, assemble the cake.
To make a soaking syrup, add 3 tbsp instant coffee to 1 cup of water and mix.
Take a layer of cake and soak it with the coffee syrup.
Generously top the layer of chocolate cake with the chocolate fudge frosting. Place another cake layer on top of it and repeat the process until all the layers are done. Remember to frost the outside of the cake as well.
Decorate with macarons.
Enjoy!