Anyone who knows me and or follows my work knows that you can't keep me away from cookies for a long amount of time. I think these caramel filled chocolate cookies are my new favorite and they might just be yours too! 
My caramel filled chocolate cookies are easier to make than you think and are an absolute treat to eat! The chocolate shell and the oozy caramel centre makes my mouth water even when I think about it!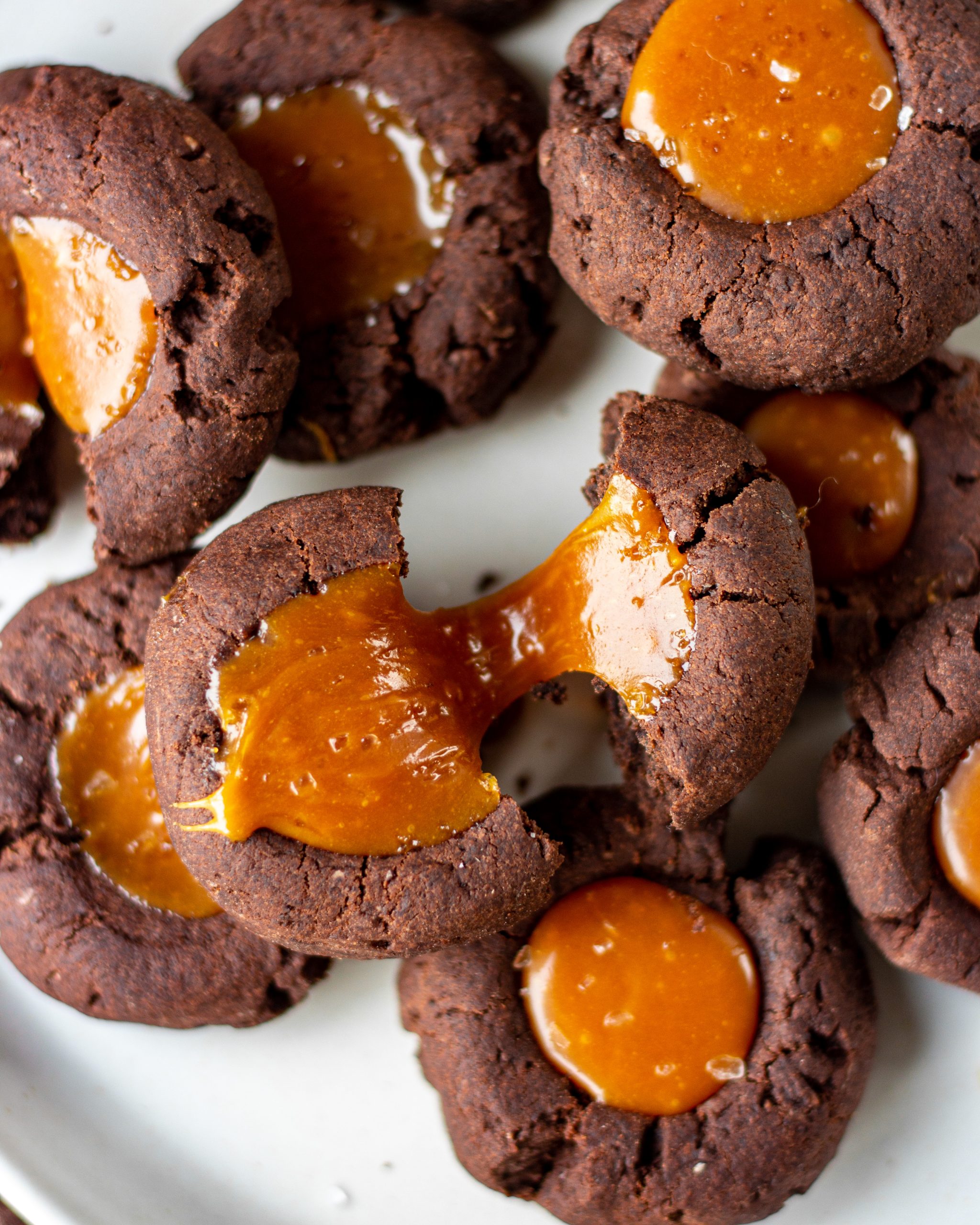 Components for the caramel filled chocolate cookies
Chocolate shell 
Now the shell is super easy to make. It requires very minimal ingredients like all purpose flour, cocoa powder, icing sugar and milk. With just 4 ingredients, you will have a lovely chocolate shell ready to bake. 
While making the shell, you might need to adjust the quantity of the milk, depending on which brand of cocoa powder and all purpose flour you are using. So while adding milk, start little by little and keep going till your dough comes together. You only need to add enough milk to make the dough form a ball and stay intact even if the dough is a little dry. 
For this recipe, I used cocoa powder and icing sugar from Weikfield. You can use the same brand if you like as their products are available all over the country, at both online platforms and local markets. 
Caramel filling
The filling that takes this cookie to the next level is this epic caramel filling. I know making caramel seems intimidating to a lot of you but you need to trust me when I say that it is actually a very simple thing to make. 
Again, ingredients that you need for it are minimal and very easily available. They include granulated sugar, water, butter and fresh cream. All you need to do is cook these ingredients on a stove top and your caramel will be ready.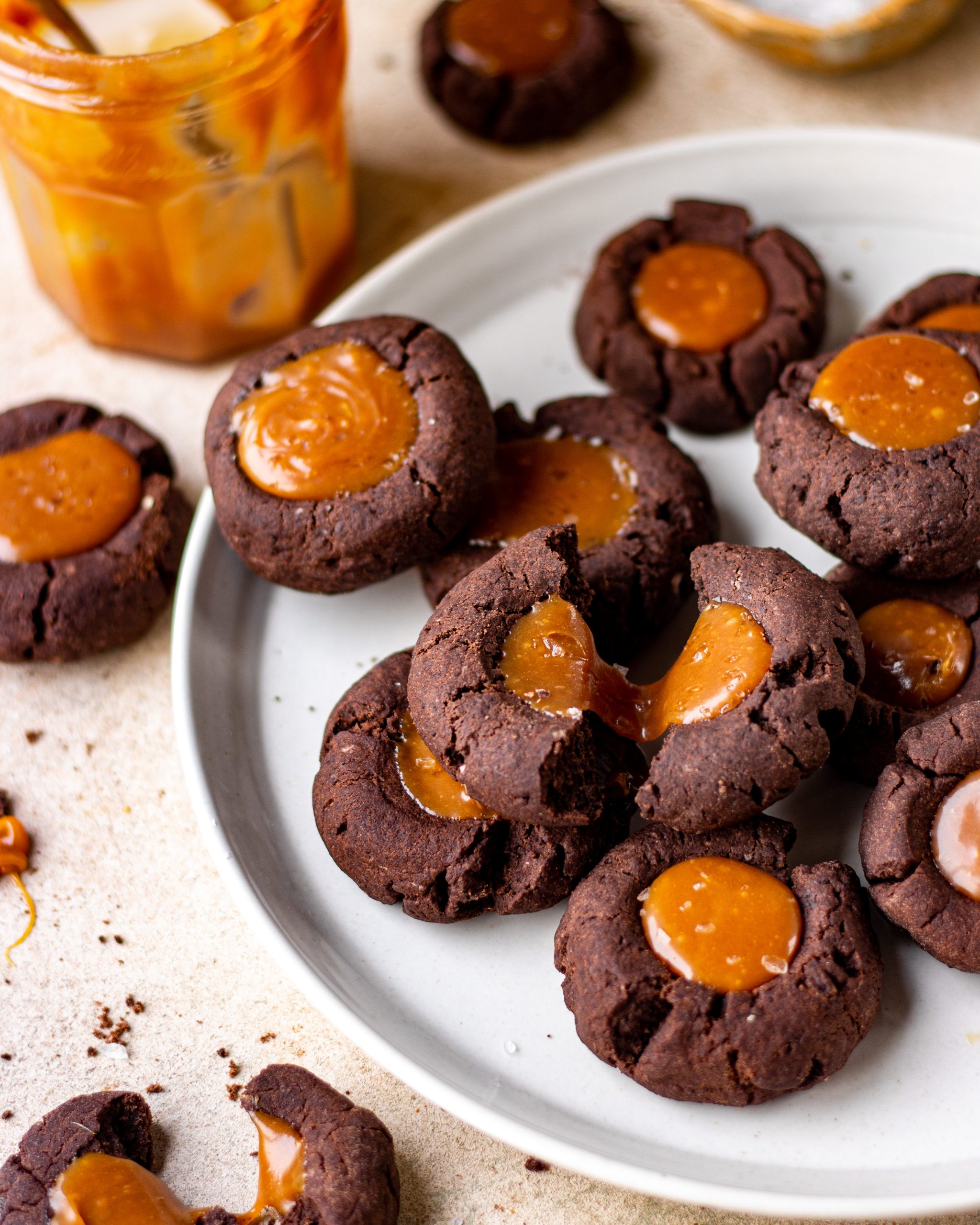 How to make the caramel filling
It is easy to make caramel but it is also very easy to mess it up and end up with either burnt sugar or a seized caramel. Read through the following points carefully and your caramel making session shall be a success. 
Take a saucepan that does not burn easily and can handle heat for longer durations. 

Take a saucepan big enough to fit the amount of granulated sugar required for the recipe, in one single layer. There should be no layering of sugar. It should be spread evenly across the surface of your pan. 

Cook the sugar on low heat throughout. If you increase the heat, chances of burning the caramel become much higher. 

Don't mix the sugar and water too much. Let it melt undisturbed on its own. If needed, little swirl the pan around to make things even. 

Wait for the caramel to reach golden amber color before you add cream in it. And make sure to add warm cream. If you add cold cream, the temperature of the pan will change drastically and your caramel will seize. 

Caramel will sizzle once you add cream in it. Be careful while adding the same. 

Don't forget to add butter in the end. You can do this off heat also. Adding butter adds to the richness and beautiful consistency of the caramel. 
For measurements, use this caramel recipe.
Tips to help you make the best caramel filled chocolate cookies
While making the dough, be careful of the amount of milk you are adding. Add milk in batches and adjust quantity as per need. 

If needed, you can refrigerate the dough for 30 minutes before baking. 

To make an indent in the cookies, first make a sphere, then using a ½ teaspoon measuring spoon, make an indent in the centre of the cookie. 

Let the cookies cool down completely before you add caramel filling in them. 

I love to sprinkle some sea salt on top of the caramel, but if you want, you can totally skip that step. 
Can caramel filled chocolate cookie be made in the microwave
If your microwave has a convection mode, you can also bake these cookies in it! To bake these caramel filled chocolate cookies in the microwave, preheat until 180 degrees Celsius. Place the cookies evenly on your tray, and allow to bake for 15-17 minutes only. Depending on the brand and size of the microwave, the timings might differ so keep a sharp eye out for the golden edges!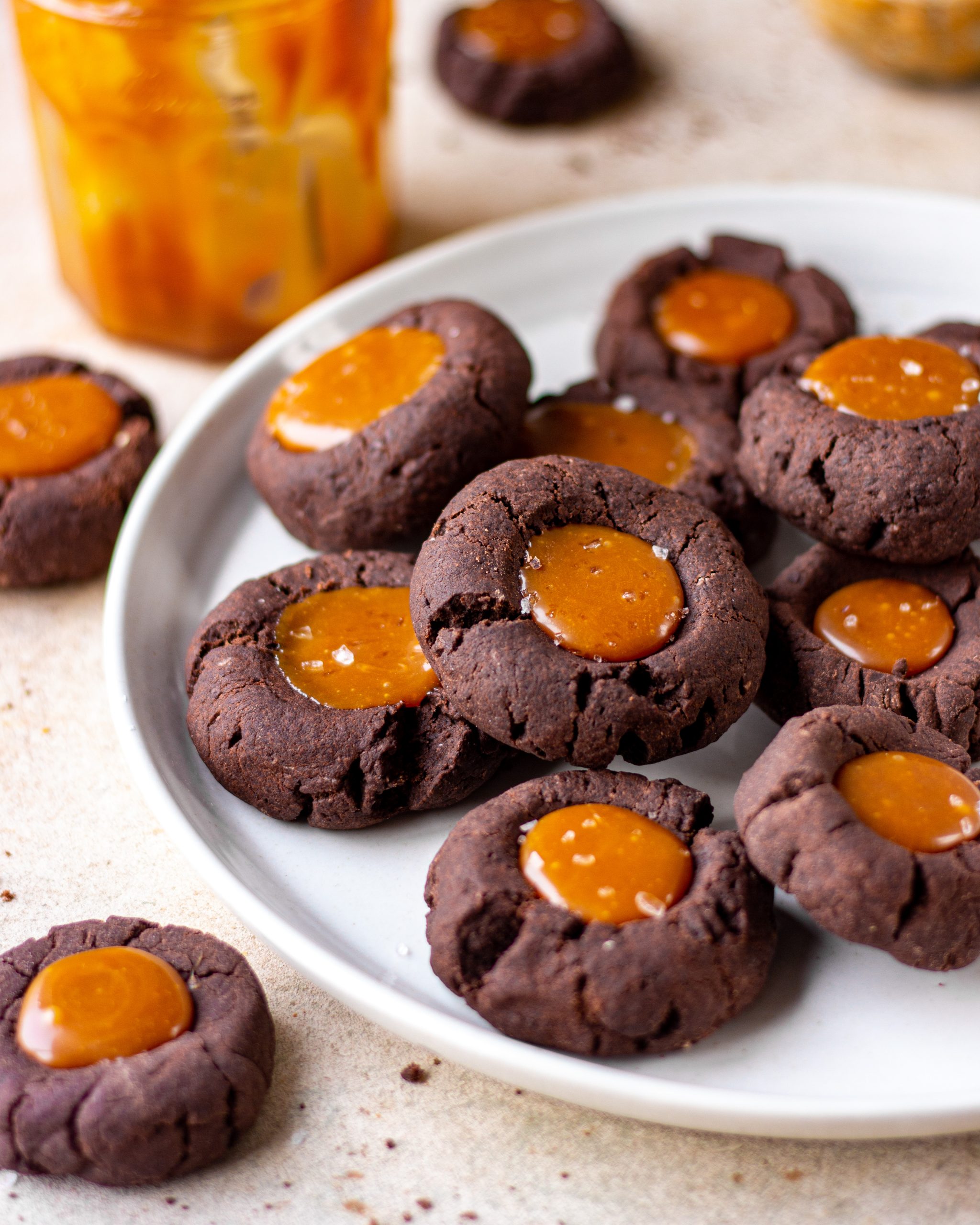 PS- If your microwave does not accept a flat tray, take that round cake tin out and evenly place your cookie dough onto it. You might take a longer time to bake a sufficient batch of cookies, but you will succeed!
More cookie recipe on the blog
Chocolate chip and pecan cookies
Healthy chocolate chip cookies 

caramel filled chocolate cookies
Ingredients
½ cup (100gms) butter
1 cup (120gms) all purpose flour
½ cup (60gms) cocoa powder
½ cup (50gms) icing sugar
½ tbsp (7ml) milk
Caramel (for filling)
Instructions
In a bowl beat icing sugar and butter until pale and fluffy.
In the same bowl add in all purpose flour and cocoa powder. Combine all ingredients together.
To bring the dough together, add milk.
Let the dough rest for 30 minutes. Once rested, form small balls and make an indent in the center of each ball.
Bake at 180C for 12-15 minutes.
Let the cookies cool down completely and then fill the centers with caramel.
Serve and enjoy!