A silky, smooth caramel sauce is like a dream come true which goes perfectly with so many things! It is the perfect companion for your desserts. I don't know about you, but I always have a jar of caramel stacked in my fridge. 
I know caramel can seem a bit intimidating to make and if you are scared of making it then you have landed at the right place. We will talk all about how to make the perfect caramel sauce at home and take you through each step. 
It is actually a lot easier than you think and the ingredients used are very basic. There are different kinds of caramel but we will mainly focus on wet caramel. Read the tips carefully and you will be sorted for making the perfect caramel sauce whenever and wherever you need it. 
Types of caramel 
What a lot of you might have heard is that there are 2 types of caramel – Dry and Wet. Dry caramel refers to the one made without dissolving your sugar into water. It is chewy and is used for layering and tray bakes. Wet caramel on the other hand makes use of water to cook the sugar evenly and is best for drizzling over desserts.  
In addition to these two widely known kinds of caramel,  there's also a third kind called Hard Caramel. It is snappable and is used for making brittles and sugar shards.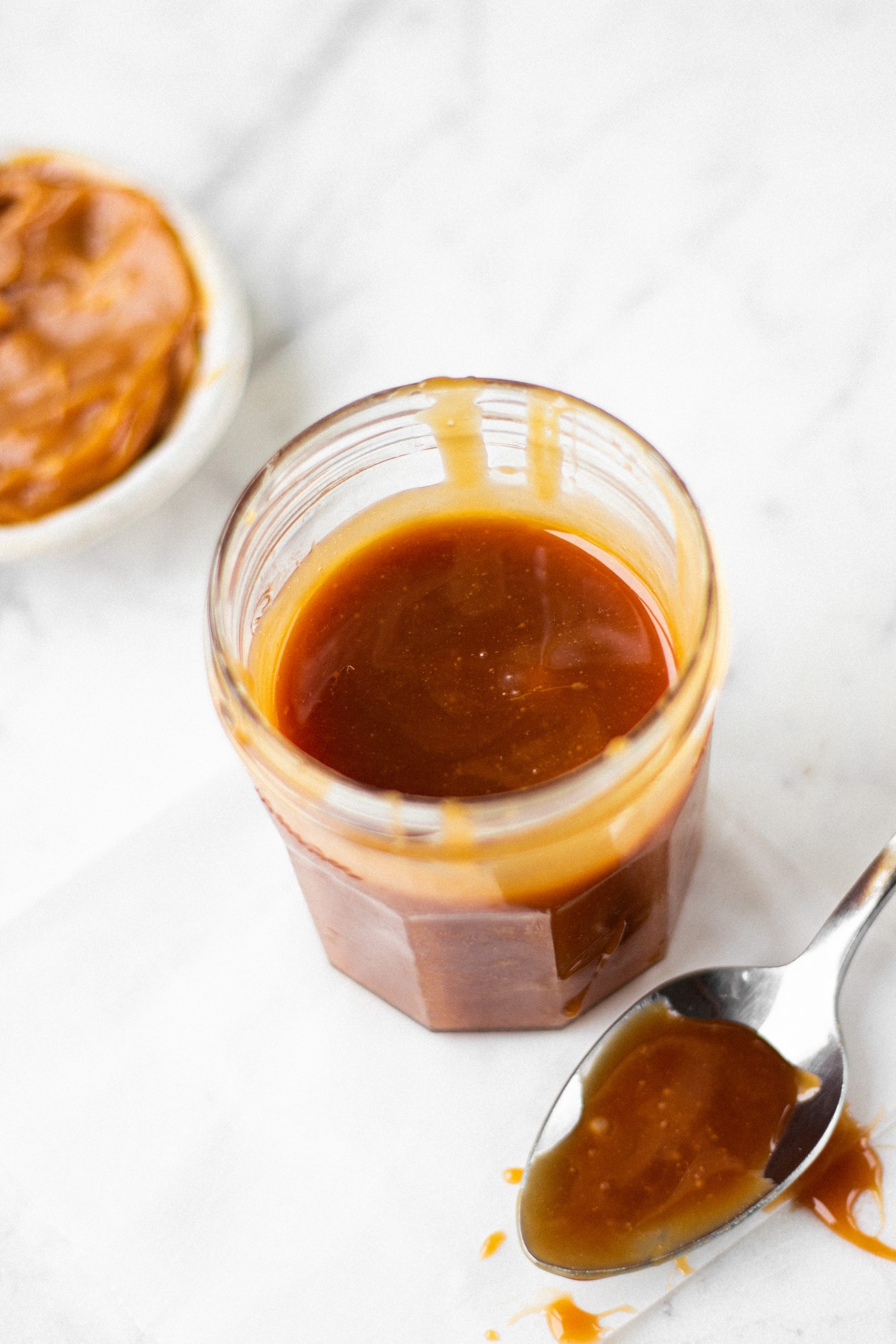 Ingredients tips for the best caramel sauce
You will only need basic ingredients to make this caramel sauce. This includes sugar, fresh cream or heavy cream, butter and some additional flavorings like vanilla or salt. Whether you need water or not depends on the type of caramel you are making. 
Never use powdered/icing sugar 
While making caramel, it is best to use granulated sugar or castor sugar. Powdered sugar contains impurities like cornflour that inhibit caramelization. This means that chances of your caramel burning are much higher if you use powdered/icing sugar. 
Use either salted or unsalted butter 
You can use any butter you prefer while making caramel. I use regular salted butter but you can just as well use unsalted butter. Keep in mind, if you are using salted butter then you might not want to add more salt as an additional flavoring as it might make the caramel too salty. 
Both fresh and heavy cream can be used 
Do not fret over which kind of cream to use for making the best caramel sauce at home. Both work equally well. The only and a very important thing you need to keep in mind is always add warm cream into your caramel. If you add cold cream, you will seize your caramel and all efforts will be wasted. 
Additional flavorings can always be added 
A simple caramel sauce can always be upgraded into flavors you love. One way to do this is to add vanilla, or salt. You can also add cinnamon, some zests, and really whatever you want to experiment with. The best time to add these flavorings is after the caramel has been cooked and is cooling down. 
Equipment needed for making caramel sauce 
Just like the ingredients, the equipment that you need is also very basic. 
Heavy bottom saucepan with a wide surface 
First thing that you need to make any sort of caramel is a heavy bottom saucepan since it distributes heat better and prevents your sugar from burning easily. Also, it is very important that you use a pan with a wider surface area. This will make sure that your sugar is spread in one even layer. If the pan is too small and your sugar granules are overlapping, your caramel will definitely seize. 
Pastry brush 
At times while sugar is cooking it starts to crystallize. One way to prevent this is by brushing the edges of your pan with water so always keep a bowl of water and pastry brush handy.
Hand blender for emulsifying (optional) 
Many people blend or emulsify their caramel sauce after it is cooked. This is done to ensure that the fat from the butter doesn't separate from the sugar and the caramel remains silky, and smooth. I use the method of cooking my caramel on low after everything is added to it instead of using a hand blender. Watch the Youtube video attached to see a demonstration.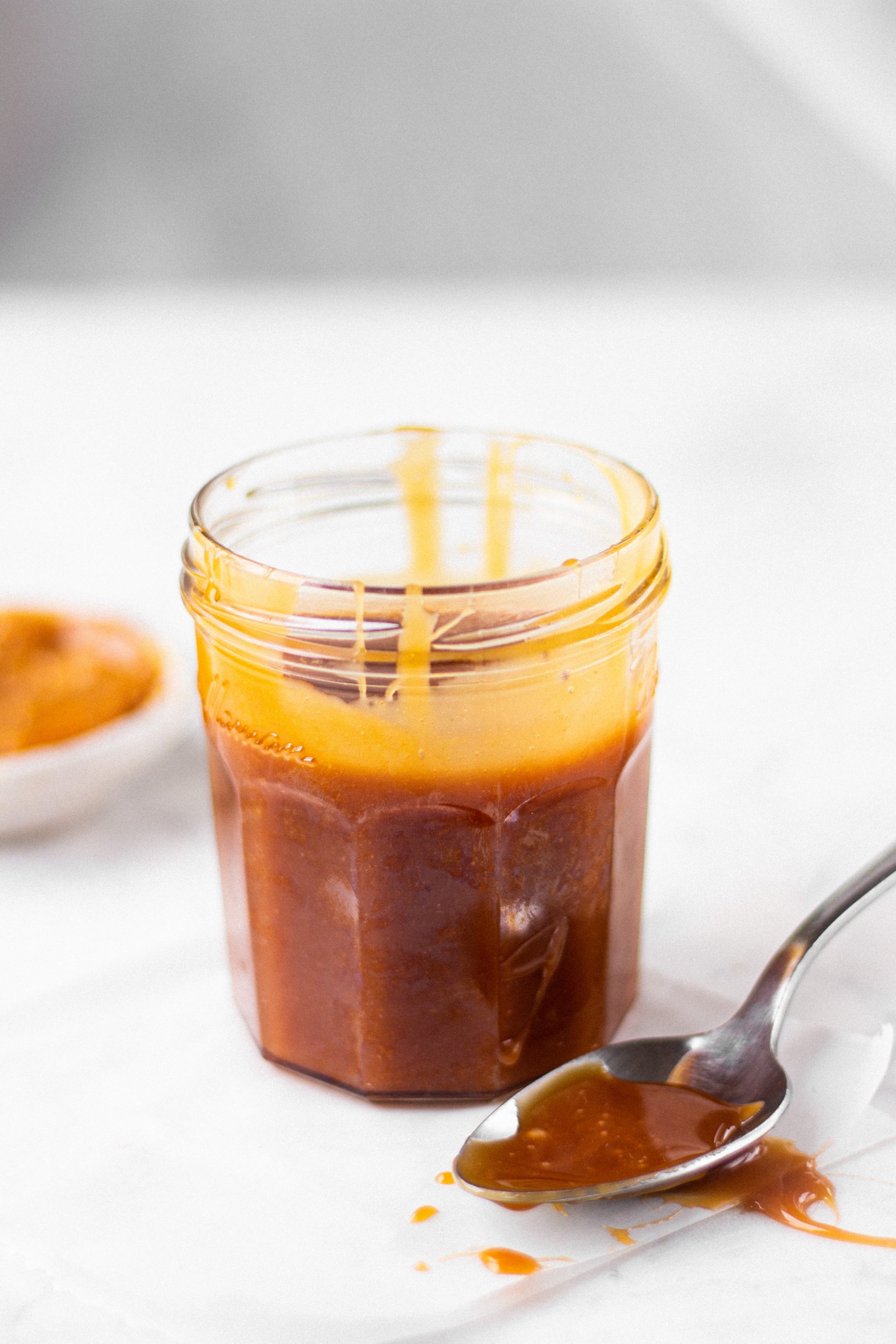 Process of making the best caramel sauce 
In a heavy bottom sauce pan, first add in granulated sugar and water.  Water helps the sugar melt nicely and more evenly and helps ensure that your caramel doesn't burn. Continue cooking this on a low-medium heat without stirring. Instead of stirring, the best way to treat your sugar-water mixture is to tilt the pan from side to side. The reason we don't stir our caramel is because sometimes, as the sugar-water syrup boils, sugar starts to form back into crystals, which turn hard and cloudy. Moving the sugar can help bring these crystals together and when they do, it's called crystallization.
While the caramel is cooking, you should always keep a close eye on it as it is reaching the perfect amber color. Once it reaches amber color, it is very easy to burn your caramel. The sugar is at a very high temperature and continues to cook even when the heat is turned off. 
Once caramel is off the heat, you need to add in warm cream. While adding cream, caramel will bubble vigorously so please be careful and mix it nicely and slowly. Next, you will turn the heat back on medium low and add 2 tablespoons of butter into it and mix all of it really well. Once the butter is mixed, you will turn off heat and let the caramel cool completely. After it has cooled, transfer it to a jar, cover it and store it in the refrigerator. 
How to prevent crystallization 
There are a few ways in which you can save your caramel from crystallizing. 
Adding a little acid, such as lemon juice or cream of tartar, helps the sugar-water mixture stay fluid. 

Make sure you have perfectly clean equipment and ingredients. If your sugar looks like it may have impurities (like coffee granules, spices or even stray crumbs) then you can't use it for making caramel. I would suggest opening a new sugar packet. 

Crystallization can be prevented by brushing the edges of your pan with water so always keep a wet brush handy.
Additional tips to keep in mind
You need to be very careful while making caramel. Since you're dealing with very hot temperatures, I'll suggest having all your ingredients and equipment ready to use and having an organized work space that lets you carry on the process safely and smoothly. 

Always cook your caramel on low medium heat. We want the sugar to cook nicely and evenly. If you increase the heat, it will cook the sugar too fast and burn it. 

The perfect amber color is very important to the final result of the caramel sauce. One trick to check whether your caramel is amber color or not is to dip a spoon in and drip a little bit of caramel on a white plate to see the true color. Don't take it off the heat if it's too transparent or not a deep enough brown. 

If you want to make a thicker caramel sauce, you need to cook the sugar for longer and add in less cream. But if you want a thinner caramel sauce, you will need to cook the sugar for less time and add in more cream. 
These are all the tips and tricks you need to make the best caramel sauce at home. I hope you read each point carefully and are getting very excited to try this recipe out! 
This caramel sauce can be used in a million ways! You can make a drip out of it and use it to decorate your cakes, pour it over ice creams, fill in your cupcakes, make milkshakes, you can make desserts such as cheesecakes, cakes, frostings, really the possibilities are endless! Some ways I used it include Snicker Brownies with Salted Caramel, Chocolate Caramel Cookies, and Caramel Pecan Tart. 
Use my recipe to make the best caramel sauce at home and share your pictures with me on my Instagram @shivesh17. Happy baking! 

How to make the best caramel sauce at home
Ingredients
1 cup of granulated sugar
⅓rd cup of water
¾th cup fresh cream (warm)
2 tbsp butter
Instructions
In a heavy bottom saucepan set on low medium heat, add in granulated sugar and water.
For even cooking, if need be, you can tilt your pan from side to side rather than stir the mixture. Cook this slowly till it reaches the perfect amber color.
Once it reaches amber color, turn off the heat and add in warm cream. The mixture will sizzle and bubble up as you add cream. Use a wooden spoon to mix it in and be careful.
Put the pan back on low medium heat and add in butter. Cook this for a minute or so while mixing the caramel with a spoon. Make sure the butter is well incorporated and turn off the heat.
Let the caramel sauce cool down a little and then transfer it to a jar or a bowl and let it cool down completely.
Use immediately or store it in the fridge for 10-15 days.