It's quarantine time for months and we are all stuck in our houses. Apart from wallowing over the perimeter we are confined in, we are also missing some good outside food. I know that so many of you are probably googling 'milkshakes near me'- but why? Why would you risk your lives and spend so many bucks on something SO easy and SO yum? Amongst all the Nutella recipes in the world, my favorite has to be this Nutella Milkshake! It's super easy, super yum, ready within minutes, and a super hit with everyone!
Did you know that chocolate acts as a wonderful mood booster? In the times we are living in right now, we all know we can use some chocolate and especially some Nutella. Lately, all my recipes have becomes super lockdown and quarantine friendly. This Nutella Milkshake is specially designed with things you have lying around. You can also find the video above and I know you will end up craving for more and more! It honestly time to stop searching for 'milkshakes near me' and start making this Nutella Milkshake!

Tips to elevate that Nutella Milkshake experience
The milk
It literally starts with the milk. Keeping chilled milk ready for your Nutella Milkshake is going to take it to another level. Also, what happens with chilled milk is it does not break down the cold temperature of the ice cream. Rather, it supports the icecream and brings about a perfectly cool and super delicious Nutella Milkshake.
The icecream
The ice cream has to be soft. Not too hard and not too runny. Just soft enough that you can easily glide a spoon into it. To see the consistency, you can see the video above. It will help you understand the icecream bit in a better way.
Don't add ice
A lot of people add ice to their milkshakes not realizing that all it does is water the Nutella Milkshake down. Ice also obviously melts afterward so as you are drinking your milkshake, it has watered down terribly and has become more or less undesirable. Do not do this mistake with your milkshakes or the consistency will become too liquidy.
How to make a milkshake without a blender?
This milkshake is too forgiving. You can simply use a hand mixer instead of a milkshake maker or a processor and it will come out just right! I would suggest you mix it until everything seems to have come together and a little extra minute for the fluffy goodness on top! Too yum to be true, no? This Nutella milkshake is honestly too forgiving and you do not have to fret a lot over it. Trust me, it will turn out to be heavenly!

Making Vegan Nutella Milkshake
To make this milkshake vegan, you will have to, unfortunately, substitute each and every ingredient! There are vegan chocolate spreads out there, if you don't get that, you can easily make one on your own! The internet has endless Vegan Nutella recipes. Plus, since you are a vegan, you might also be very well aware of vegan ice cream brands. Get some nice vanilla vegan ice cream and this Milkshake will be done within seconds. I would personally recommend almond milk over any other to make a Vegan Nutella Milkshake.
Storing Nutella Milkshake
Although I would forever advise everyone to please consume milkshakes as soon as you make them. Why? Because the ice-cream completely melts down and the milkshake does not end up being that creamy. But, if you have to store it, place it in the fridge in a tight container and you're pretty much sorted!
More Nutella recipes from the blog
If you do make this recipe, please don't forget to tag me on Instagram!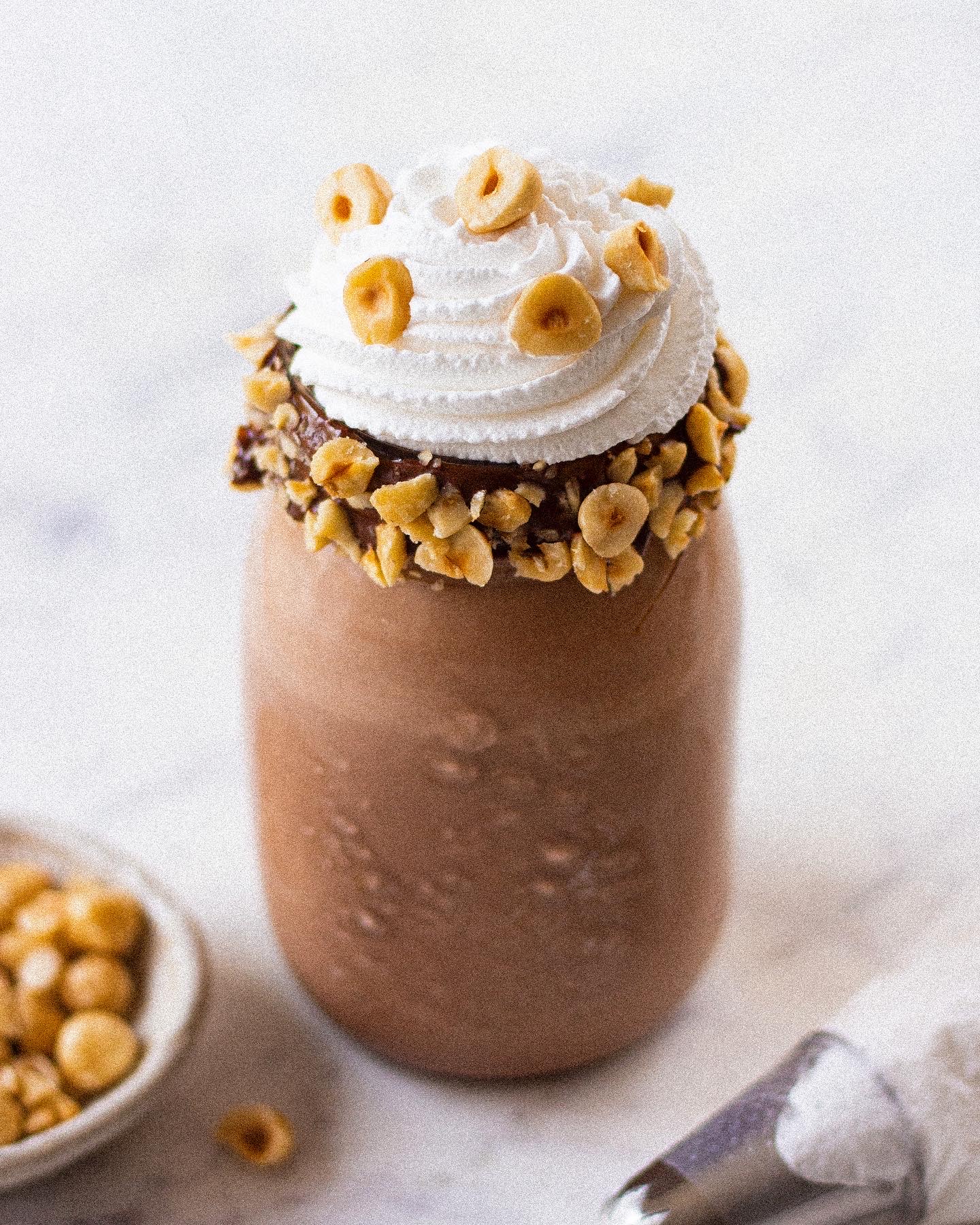 Nutella Milkshake recipe
Epic and easy Nutella Milkshake recipe
Ingredients
1 cup chilled milk
5-6 tablespoons Nutella
5 large scoops of vanilla ice cream
Whipped cream & hazelnuts for top
Instructions
In a processor, blend together the milk, nutella, and soft vanilla ice cream.
Blend for 3-4 minutes until everything comes together.
In a mason jar or alternatively, in a glass, take some more nutella and cover the glass rim with it. Stick on some roasted hazeluts.
Pour the milkshake into the glass jar.
To make the whipped cream, whip the cream to stiff or heavy peaks and frost it over the nutella milkshake!
Serve cold and enjoy!