Eggless chocolate cupcakes is an absolute must have recipe! Whether it is last minute birthday baking plans, or midnight cravings, the cupcakes are bound to save the day. These eggless chocolate cupcakes are so soft, fluffy, and all about the chocolate flavor. This is a full proof recipe that I know you are going to be obsessed with once you try it out. 
The process of making these is extremely simple and they come together in minutes! I love piping some vanilla buttercream on top of my cupcakes but you can eat these with your favorite frosting or even just as is! But honestly, if you decide to top these off with some whipped chocolate ganache, you will be in chocolate heaven. I promise. 
Ingredients needed for eggless chocolate cupcakes 
I am using vegetable oil instead of butter. Oil based desserts are much lighter and have a fluffier sponge. They also have a longer shelf life than desserts made from butter. 

Superfine sugar is the same as caster sugar and that is what I have used in this recipe. I would advise you to not use granulated sugar in dessert recipes. It has big sugar chunks which never fully dissolve into your dessert and you end up with sugar chunks in the end. 

Yogurt is a very important ingredient in this recipe because it is responsible for adding structure and texture to the eggless chocolate cupcakes. In a normal recipe, this would be done by eggs. Now I know a lot of you are always wondering whether to use Greek yogurt or not. I always use normal homemade yogurt/dahi. Sometimes homemade yogurt can be too watery. If that is the case you should separate the thick yogurt portions and use that. In times of when homemade yogurt is just slightly watery, you can use it just as is. There is no need to strain it. Hope you don't rush to the market to buy Greek yogurt the next time you need to use yogurt in a recipe, haha!

For my dry ingredients I used all purpose flour, cocoa powder, salt, baking soda, and baking soda. Whenever I am making an eggless dessert, I make sure to sift in my dry ingredients. What this does is, make the dry ingredients that you are adding slightly lighter and therefore incorporates more air into your batter. A decent amount of air is needed in eggless desserts to help them get a better rise. 

The last ingredient that I add is milk. Remember, whenever you are adding liquids to your batter, it should be room temperature or warm. Adding cold liquid makes it harder to incorporate into the batter and can lead to uneven mixing of ingredients. Milk softens the cupcake and helps us reach the ideal cupcake texture.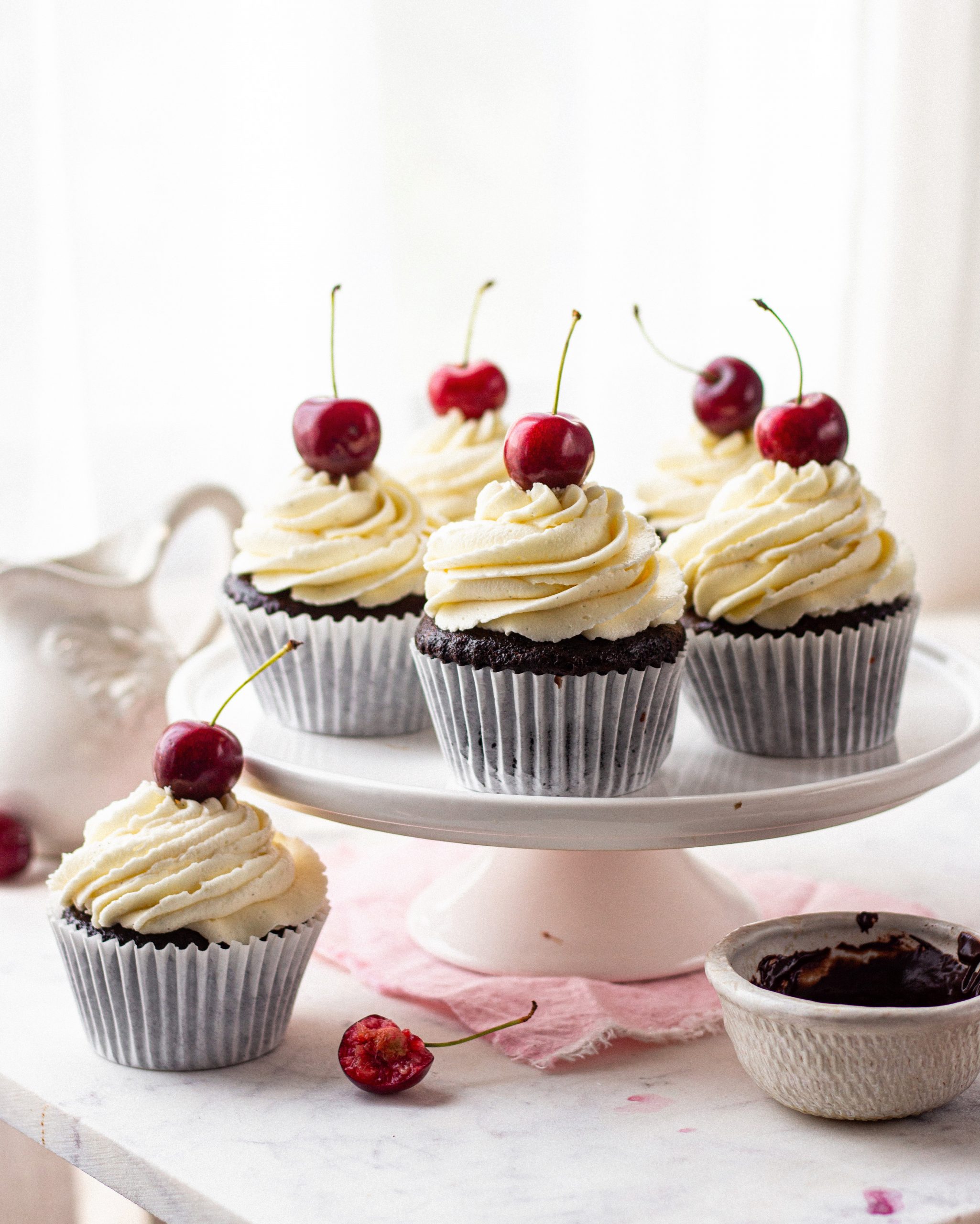 Tips to make perfect eggless chocolate cupcakes 
Making cupcakes is fairly easy and it seems like anyone can bake them. But even then, there are things that can go wrong with your eggless chocolate cupcake. You need to keep a few tips in mind to make sure you get the perfect fluffy and moist cupcake. 
Do not over mix the batter 
Mixing of the batter causes gluten in the flour to develop, that gives your cupcakes their texture. More gluten development due to over mixing leads to a denser texture. While making eggless chocolate cupcakes, you also need to be careful while mixing dry ingredients so that you do not knock out air from the batter. Air will help form a soft and fluffy cupcake in the end. This is why, rather than mixing fast, you can try to fold in the dry ingredients into the wet ingredients. Folding helps retain as much air as possible. 
Invest in good quality cupcake liners
It might seem insignificant, but cupcake liners are kind of a big deal you guys! Do your liners become greasy and almost translucent when you take your eggless chocolate cupcakes out of the oven? Or, does the liner stick to the cupcake? If either is the case, you are using the wrong kind of cupcake liners. I suggest you buy ones made of parchment paper or just look for 'grease-proof' on the packaging. You can also make your own cupcake liners by making folds in the baking paper you have. Watch some videos online and learn how to do this. It is really easy. 
Fill the pan properly
Ensure that you are putting in the same quantity of batter in every liner. Filling by estimation may result in uneven looking eggless chocolate cupcakes, that are not pretty to frost. I like using an ice-cream scoop to measure the batter. Scoop the batter in the centre of the cupcake liner. Ideally, you should be filling up to 2/3rd of it, giving the batter enough space to rise.
Frost the whole cupcake
 When you are baking your eggless chocolate cupcakes ahead of time, they tend to dry out. To prevent this situation, frost the entire visible surface of the cupcake. The frosting acts as a seal, retaining the moisture in your cupcake and not letting it dry out. Also, extra frosting harms no one!
Allow them to cool completely before frosting
Now this might sound obvious, but let your eggless chocolate cupcakes cool completely before you frost them. Leave them out on the wire rack to come to room temperature. The slightest heat can melt your frosting, resulting in what would look like a sloppy cupcake! 
If you follow this recipe, share your pictures with me on my Instagram @shivesh17. Happy baking!

Eggless chocolate cupcakes
Ingredients
¾ cup vegetable oil
1 + ¼ cup superfine sugar
1 cup yogurt/ hung curd
1+ ½ cup maida
¾ cup cocoa powder
1tsp coffee powder (optional)
A pinch of salt
1 tsp baking powder
½ tsp baking soda
¼ cup milk, room temp
Instructions
Preheat your oven at 180 degree celcius and line your cupcake tray with cupcake liners.
In a bowl add in oil and sugar. Make sure to whisk these two really well, till the mixture becomes light and pale.
In the same bowl add in yogurt. Mix this in as well.
Put a large sieve over the same bowl and sift flour, cocoa powder, salt, baking powder, baking soda, and coffee powder. Adding in coffee powder is completely optional. You can choose to leave it out.
Once sifted, fold in dry ingredients into the wet ingredients and mix just till there are very small flour pockets left.
Now add in milk, mix everything really nicely and ensure there are no lumps in the batter.
Using an ice cream scoop, fill ¾th of each cupcake liner and bake these at 180 degree celcius for 20-25 minutes.