Honestly, I have observed that we are now overloaded with healthy and quick recipes on the blog. But this is it. I have been missing out on some calories and these snicker brownies are here to save my day. Not my diet- for sure. Haha! Now, these snicker brownies are as a celebratory post because we hit a 100K on Youtube! I am so grateful for your endless love and your affection. Nothing would have ever been possible without you guys.
You have, although, loved my brownies the most. So, the best way according to me, to celebrate this moment is by posting another brownie recipe. For all you brownie lovers, these snicker brownies are going to knock your sock off! They're delicious, gooey, heavenly, and they melt in the mouth. Read on how to make the best of them while I go and grab another slice of these snicker brownies!
Check These Similar Brownies Recipe: Chikki Brownie Bites, Red Velvet Brownies, Oreo Cheesecake Brownie, No Bake Brownies, Healthy Chickpea Brownies.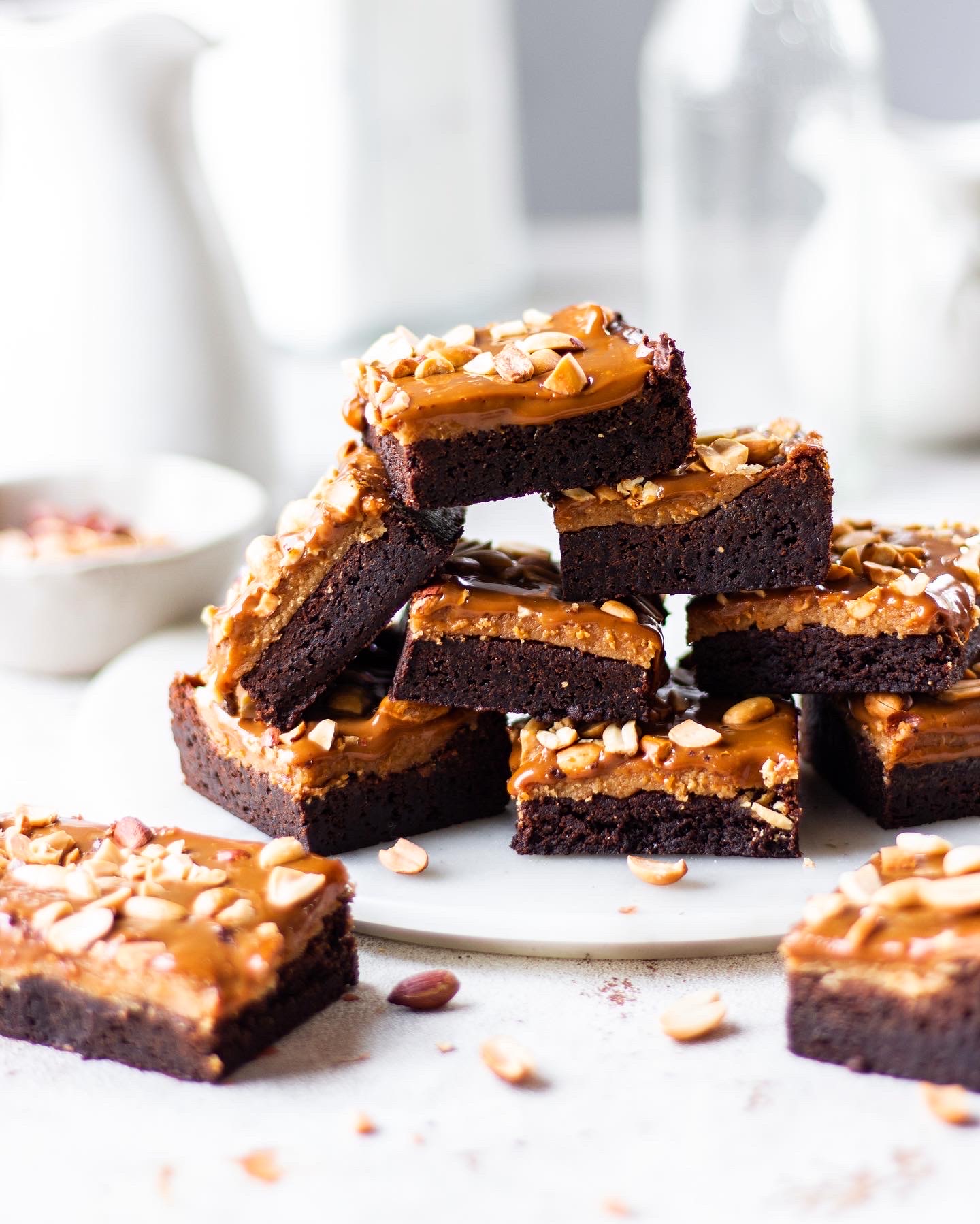 Tips for the best snicker brownies ever
These snicker brownies have three amazing layers of sweet goodness. The first layer are gooey brownies. They literally bring a death to your diet BUT SO WORTH IT! The next level is some crunchy peanut butter with marshmallows. And, the last, best layer is the salted caramel. I have lastly topped these with some roasted peanuts. Can I count this as my fourth layer? Haha.
Following are some tips you should definitely follow to nail these snicker brownies:
The brownie layer for these snicker brownies
Use only dark chopped chocolate. Do not use cadbury dairymilk or a cadbury silk. This is candy chocolate- unstable for baking. Know more about best chocolate for baking.
Please use the double-boiler method to melt chocolate and butter if you are new to baking.
Sift the dry ingredients for the brownies to get a nice, consistent, and airy batter.
Use parchment paper to get out the perfect snicker brownies!
The Peanut butter layer
To prevent burning marshmallows, add the water to the saucepan.
Make sure you are mixing peanut butter well with the marshmallows for a uniform mixture.
Add icing sugar only for a stable peanut butter mix.
Let the brownies cool completely before you layer your peanut butter mixture. Also, please allow the peanut butter mixture to come down to room temperature to avoid burning.

Ingredients for these snicker brownies
 Use only dark chocolate, like I previously mentioned. If you try baking with compound chocolates like dairy milk, your brownies will be stiff and they will burn too. You can use bourneville or amul chocolate.
I have used Amul salted butter and thus, have missed out on adding more salt. You can add a pinch of salt to your brownie batter.
Make sure you are using caster sugar or powdered sugar only. Using granulated sugar and not mixing it well will leave small bits of caramelised sugar in your recipe.
I have used Skippy Peanut butter for the second layer Of these snicker brownies. They have the best peanut butter and a lot of variations too!
You can use maida and marshmallows of any brand!
The salted caramel is from sprig but the following recipe has a way to make your own caramel.
Recipe for these snicker brownies
Snicker Brownies- with salted caramel
Ingredients
Layer one- Brownies
1 cup ( 175gm) dark chocolate, coarsely chopped
½ cup (113gm) butter
1 cup (200gm) caster sugar
½ cup (60gm) all purpose flour
1 tsp (4gm) baking powder
3 tbsp ( 23gm) cocoa powder
2 eggs or 1 cup (285gm) Greek yogurt
Layer two-Peanut butter and marshmallows
Layer two -
½ cup marshmallows
2-3 tbsp water
½ cup peanut butter
2-4 tbsp icing sugar
For the caramel
220gms granulated sugar
120ml water
245ml heavy cream
4 Tbsp butter
Instructions
Brownies
Butter an 8" square pan and pre-heat your oven to 180C.
In a saucepan set over low heat, melt butter and chocolate. Let it cool.
Combine sugar and eggs ( or Greek yogurt). Add the cooled chocolate mixture.
Add in the flour, cocoa powder and baking powder. Fold in the walnuts
Transfer the batter to the baking dish.
Bake at 180C for 30 minutes-35 minutes. Let the brownies cool completely before you try and cut them.
Peanut butter layer
In a saucepan, add marshmallows to melt. Add the water to avoid burning.
Add in the peanut butter once the marshmallows have melted.
Mix to form a thick mixture.
Take it off heat and add the icing sugar.
Allow to cool completely.
For the caramel
In a saucapan, add granulated sugar and water on high heat.
Don't mix until the color appears.
When a golden color appears, pay attention.
When a denser color appears, take it off heat and add the cream and butter.
Assembling the layers
Over the cooled brownies, spread the peanut butter layer.
Then, add the cooled caramel.
Top with some roasted peanuts and serve!