Snicker Brownies- with salted caramel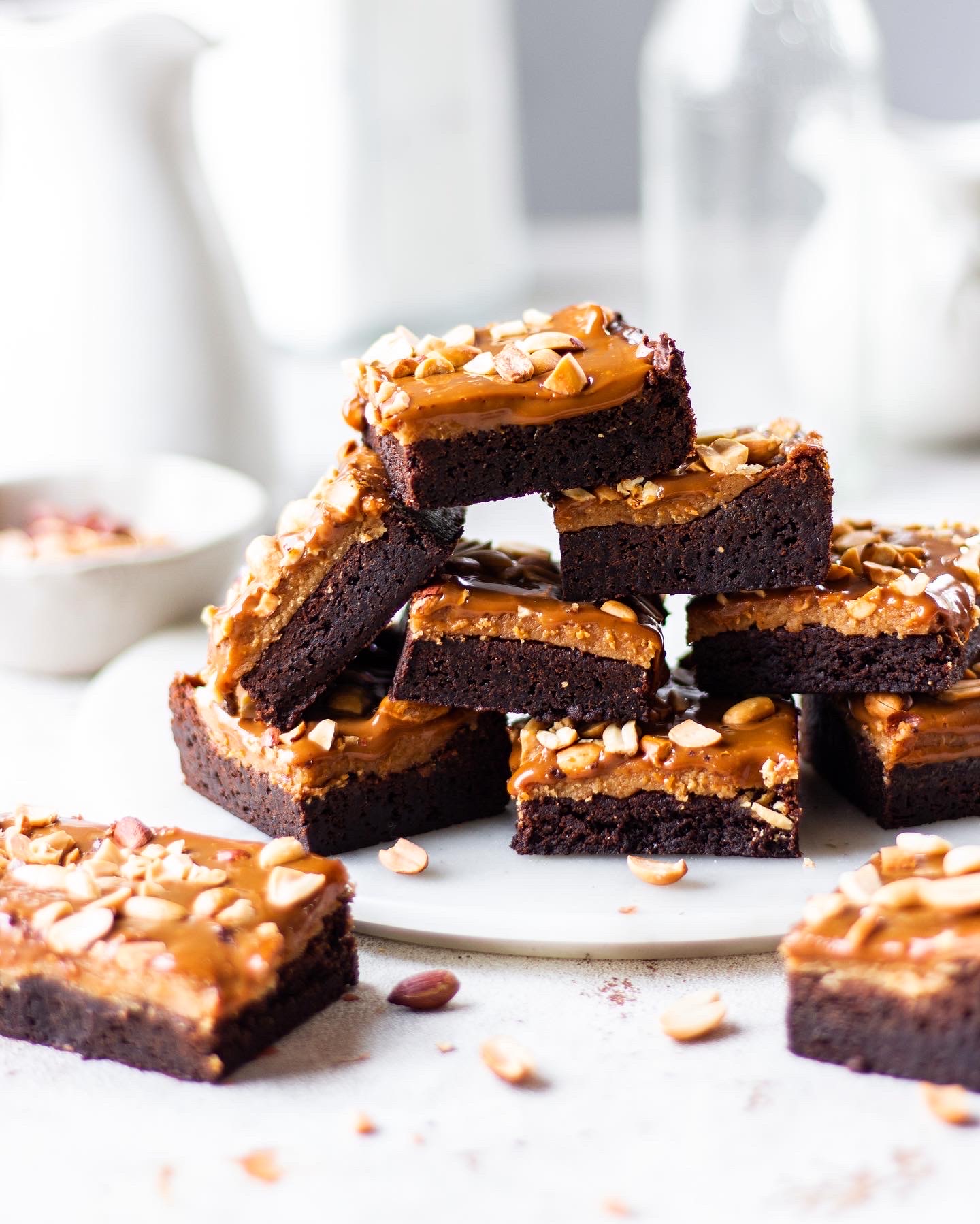 1 cup ( 175gm) dark chocolate, coarsely chopped
½ cup (113gm) butter
1 cup (200gm) caster sugar
½ cup (60gm) all purpose flour
1 tsp (4gm) baking powder
3 tbsp ( 23gm) cocoa powder
2 eggs or 1 cup (285gm) Greek yogurt
Layer two -
½ cup marshmallows
2-3 tbsp water
½ cup peanut butter
2-4 tbsp icing sugar
220gms granulated sugar
120ml water
245ml heavy cream
4 Tbsp butter
Butter an 8" square pan and pre-heat your oven to 180C.
In a saucepan set over low heat, melt butter and chocolate. Let it cool.
Combine sugar and eggs ( or Greek yogurt). Add the cooled chocolate mixture.
Add in the flour, cocoa powder and baking powder. Fold in the walnuts
Transfer the batter to the baking dish.
Bake at 180C for 30 minutes-35 minutes. Let the brownies cool completely before you try and cut them.
In a saucepan, add marshmallows to melt. Add the water to avoid burning.
Add in the peanut butter once the marshmallows have melted.
Mix to form a thick mixture.
Take it off heat and add the icing sugar.
Allow to cool completely.
In a saucapan, add granulated sugar and water on high heat.
Don't mix until the color appears.
When a golden color appears, pay attention.
When a denser color appears, take it off heat and add the cream and butter.
Over the cooled brownies, spread the peanut butter layer.
Then, add the cooled caramel.
Top with some roasted peanuts and serve!
Recipe by
Bake with Shivesh
at https://bakewithshivesh.com/snicker-brownies-with-salted-caramel/