Who does not love pancakes? I don't think I have ever come across anyone who does not go gaga over a pancake breakfast. But if somehow you're reading this and you're not a pancake fan, I am sure this recipe of the best healthy chocolate pancakes will change your mind!
No wonder pancakes are so popular all over the world. They are so so easy to make and they come together in minutes! Watching the bubbles form and flipping them one by one just adds to the pancake fun. Growing up, I saw so many Hollywood movies with morning pancake scenes. They always make them look so festive, fluffy, and yummy. Honestly, I think it is this glorification of a simple American breakfast that attracted me towards it in the first place. But now that I am already attracted, I have no complaints because I totally understand the glorification. But what makes a pancake breakfast better? A healthy version of the same!
Traditionally pancakes are made with all purpose flour and sugar. Not such a healthy breakfast right? This is why my recipe for the best healthy pancakes is sure to bring you the best of both worlds. It's not only eggless but also refined flour and refined sugar free.

Ingredients for the best healthy pancakes
Since we're in a lockdown, we are all eating more than we normally would in a day, right? I mean I am definitely snacking all day long and I cannot help myself. This is why it is important to make sure that I incorporate healthy substitutes in whatever I can.
The flour
Like I said before, traditionally pancakes are made with all purpose flour and sugar. For my healthy pancakes, I decided to replace all purpose flour with whole wheat flour (atta) because that is much healthier and everyone at home has whole wheat flour!
The cocoa powder
And instead of adding chocolate chunks or choco chips, I am adding raw cocoa powder for the chocolate flavor. Cocoa powder is also really good for your health! Cocoa can enhance your mood and make you feel less tired. It is also a good source of fiber and helps lower blood pressure.
The sweetness
Instead of using refined sugar, I used jaggery. You can use coconut sugar also. Jaggery is a great natural sweetener to use because it is packed with antioxidants and minerals and acts as a great source of detoxing! It is also easily available so it is definitely a win-win!
The add-ons
Now I know, I made a milk chocolate drizzle for these pancakes and served it with ice cream, so much for keeping it healthy, haha! But you can definitely leave these things out if you want to keep it a hundred percent guilt free pancake treat. If not a melted chocolate drizzle, these pancakes would go great with some peanut butter. I mean chocolate and peanut butter is a great combination, right?
Tips to get the best healthy pancakes
1. Always use room temperature ingredients
When it comes to eggs, milk and butter, I always ensure that they are at room temperature. This will help combine all your ingredients evenly.
2. Never Overmix your pancake batter
Over-mixing will lead to formation of gluten which will make your pancakes dense and chewy instead of light and fluffy. If you have a few lumps in your pancake batter, that is completely okay. When you cook your batter, these lumps will melt away.
3. Let your batter rest
Once your pancake batter is ready, it is always advisable to let your pancake batter rest for 5-10 minutes. This helps the baking powder and soda to get activated and a rested batter will always lead to better and lighter pancakes than a non rested batter.
4. Do not skip the buttermilk
If a pancake recipe calls for buttermilk, always incorporate it. Buttermilk is what makes the pancake super fluffy. Usually buttermilk is made with milk and vinegar. If you don't have vinegar, you can always substitute it with lemon juice.
5. Get the quantity right
It's very important to make sure you're dropping the equal amount of batter on the pan for each pancake. That way you'll be able to assure that all your pancakes are of the same size. I prefer using a ladle to measure and pour my batter. If you're making smaller pancakes, using an ice-cream scoop could be a great idea.
6. THE RIGHT PAN AND PATIENCE-
Always use a heavy bottomed, non-stick pan to make your pancakes. You don't want to burn them. Also, always keep your flame on medium low while making pancakes. Be patient and let your pancakes take their own sweet time. If you're impatient with your pancakes and flip them before time, you run the risk of encountering under-cooked pancakes.
7. THE PERFECT FLIP FOR THE PERFECT FLUFF-
Flip your pancakes only when the underside is brown and the bubbles on the top have popped. Also, don't flip it immediately in one go. Always lift the edge slightly with the spatula before an entire 180 degree flip. Remember that in doing so, you have to be as gentle as lifting a sleeping baby out of its cradle.
8. BE READY FOR THE NOT-SO-PERFECT FIRST ONE-
Whether you're making pancakes or crepes, the first one will never be perfect. Don't let that disappoint you! It'll keep getting better as you figure out the temperature of the pan and consistency of your batter.
9. ENJOY THEM-
Pancakes are best enjoyed warm with butter and maple syrup. Maybe a scoop of vanilla ice cream , if you're feeling indulgent. However , I like to make my pancakes even more interesting by trying it with fun combinations like berry preserve and whipped cream. Pancakes with chocolate syrup, nutella and chocolate chips are every chocolate lover's dream come true. Alternatively, if you are a man of more tropical taste buds, I might add that pancakes can also be served with your favourite fruits. But when we're trying to keep things healthy, a dollop of peanut butter or a drizzle of honey instead of maple syrup works beautifully too! Adding some fresh fruit on top for some crunch and tartness is never a bad idea.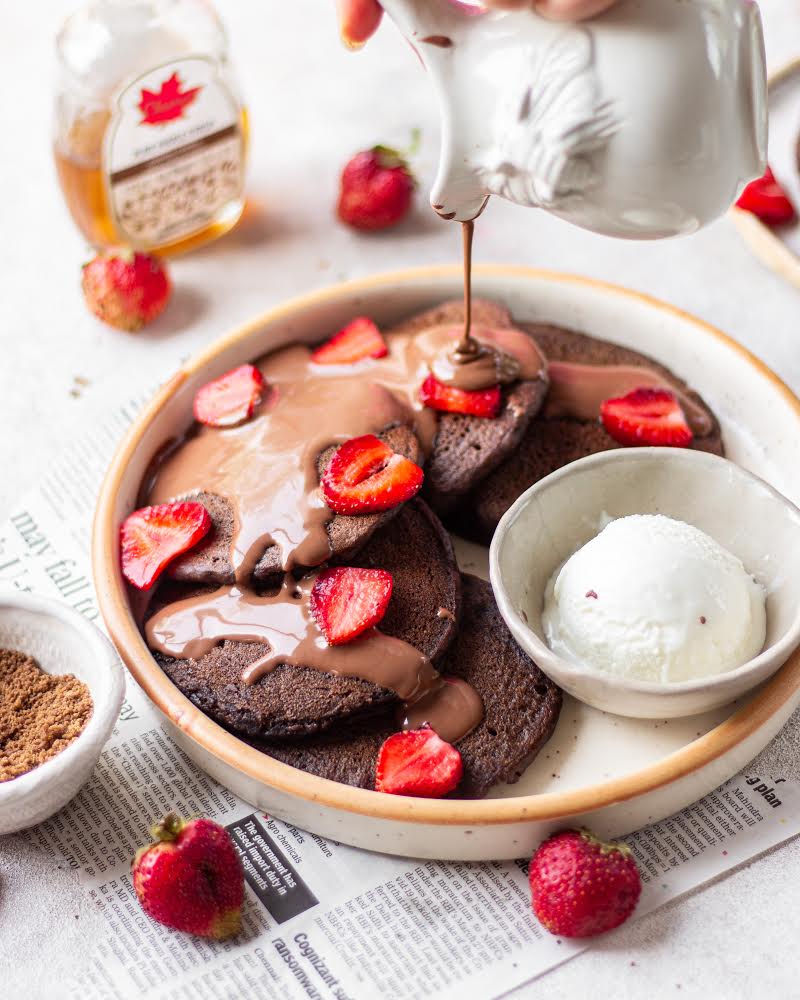 More pancake recipes
I have said this before and I'll say it again, a meal of pancakes is basically happiness piled on top of more happiness. It's a dose for all those Monday blues as well as the perfect snack for a lazy Sunday. You can rarely go wrong with pancakes, because they are just so easy to make, and a fresh batch that makes your home smell like vanilla or cinnamon is good news for everyone. I've shared a few pancake recipes on the blog. Take a look:
Oats and Banana Pancakes- No Sugar!
If you make any of these, do not forget to share a picture with me on my instagram. Happy baking and happy pancaking!
RECIPE for these healthy chocolate pancakes
Best Healthy Chocolate Pancakes
Ingredients
1+1/2 cup milk
1 tbsp white vinegar / lemon juice
1+ ¾ cup whole-wheat flour
1 tsp baking powder
½ tsp baking soda
¼ cup cocoa powder
¼ cup coconut sugar/ jaggery powder/ Demerara sugar
⅓ cup hot water
¼ cup vegetable oil / melted butter
Instructions
In a bowl, add milk and vinegar to make buttermilk. Rest for 5 minutes.
In a separate bowl, add whole wheat flour, baking powder, and baking soda. Add cocoa powder and coconut sugar, Mix until nicely combined.
Add the milk mixture into the dry ingredients,
Add in the hot water and vegetable oil.
Give everything a good mix to gain a nice pancake batter.
On a non-stick pan, add vegetable oil and add about ¼ cup of the batter. Let the pancakes cook slowly. When you see bubble, flip the pancakes carefully.
Serve with chocolate sauce and strawberries.