I love everything about crepes, from making them to eating them! They're super simple to make, delicious to eat, and incredibly versatile! This Diwali, I bring to you this recipe for eggless crepes that you should definitely make for breakfast this Diwali season! I have infused my crepes with saffron and have paired it with a coconut jaggery filling! The best part about these crepes is that you can experiment with a variety of flavours like rose and pistachio, saffron and flaked almonds, or any other idea you may have!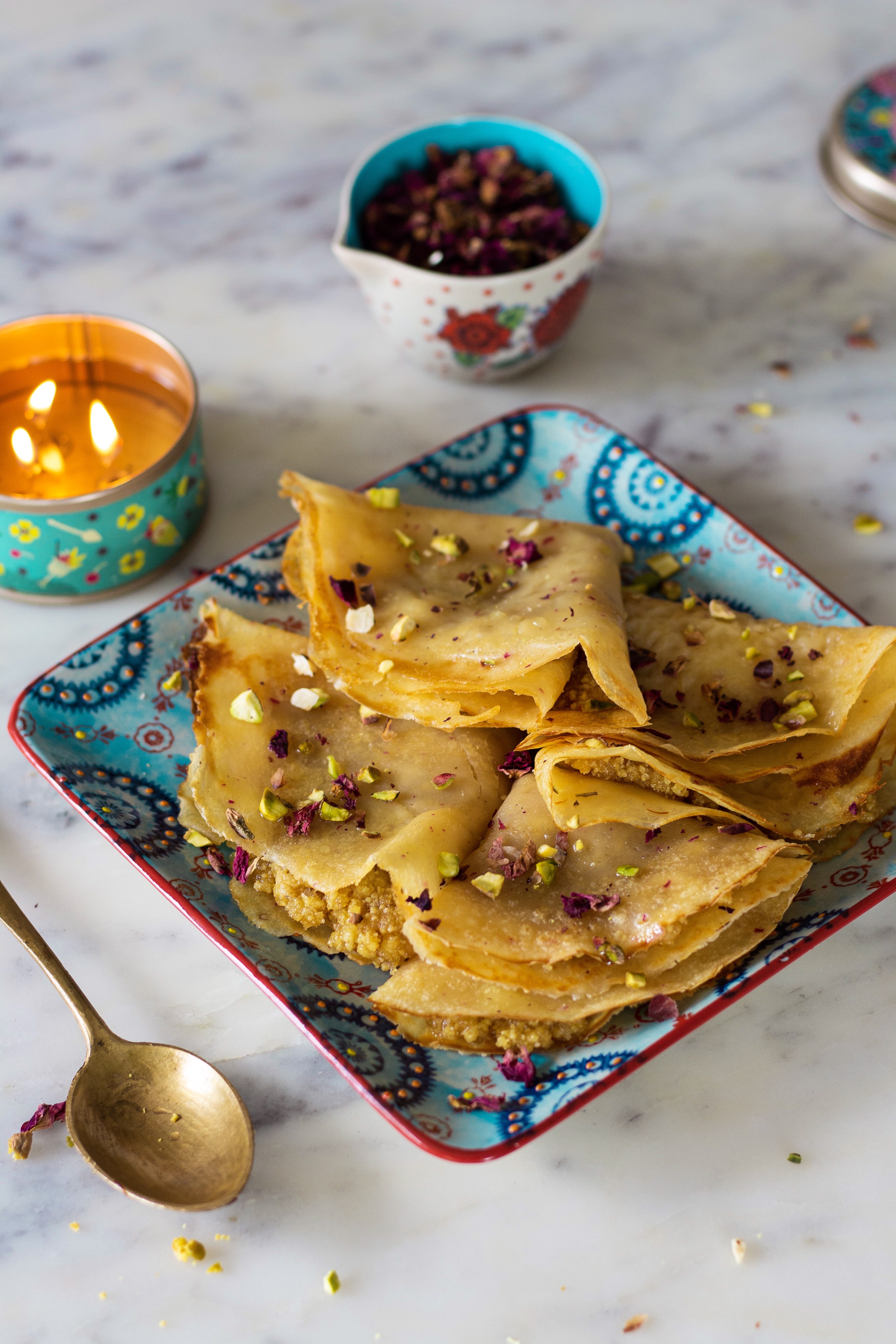 Making the crepes batter
The batter for crepes, unlike a pancake batter, is relatively runny. You also have an option of either making it by hand, or simply running all ingredients in a food processor. Be sure to chill your batter before using it though. Chilling the batter gets rid of any air bubbles that might appear as holes in your crepes. 
Tips to make crepes
If the batter is too thick, do not be afraid to add more milk. It should be a runny batter.

 

Use a non stick pan. This ensures that the crepes don't stick to the pan and come off easily.

 

Lightly grease the pan before pouring the batter on it.

 

Spoon the batter onto the pan and swirl it around for it to completely coat the surface with a thin layer.

 
Eggless Saffron Crepes
Ingredients
For the batter
1 + ¼ cup milk
6-7 strands saffron
1 cup flour
1 tablespoon caster sugar
¼ cup butter, melted
For the filling
¾ cup khoya
2 tablespoons milk
½ cup jaggery
1 teaspoon cardamom powder
½ cup desiccated coconut
Chopped dry fruits, to garnish
Dried rose petals, to garnish
Instructions
Warm up the milk and add saffron to it. Let it stay for 15 minutes.
In a large bowl, combine flour, caster sugar and melted butter.
Add milk to the dry ingredients and mix until the batter is lump free.
Refrigerate the crepes batter for 60 minutes.
Grease a non stick pan over medium-high heat and spread the batter on the pan to form a thin crepe. Cook on both sides till the edges are slightly golden.
To make the filling, cook khoya, milk and jaggery over medium heat.
Add cardamom powder and desiccated coconut. Cook till oil separates.
Place the filling onto the crepes and fold into triangles.
Garnish with chopped dry fruits and dried rose petals.