Nothing feels more refreshing and reinvigorating than the aroma of a fresh cup of coffee. And truly, what is better than a soft, light, spongey coffee walnut cake to go along with your cuppa? I absolutely am in adoration of all desserts that are light and just blissful. I think nothing speaks better for a baker than how melt-in-the-mouth their cake is. This coffee walnut cake makes you taste a bit of a fluffy, flavorful cloud on each bite. It will make you fall in love with it just how much I am!
This classic coffee walnut cake is an extremely elegant cake. I love how forgiving it is and trust me, I loved playing with the ideas for its decoration and presentation. Even though I am not gaga over coffee, the aroma of coffee that hugs you when you get down to baking this cake can actually make you forget your worries for a while. They say it right, no? Baking is actually therapeutic! Haha. There are rich tones of coffee, mixed with the soft crumbliness of the walnuts in almost every bite of this coffee walnut cake. Plus, it is so easy that you would get down to baking it every second day. The best part? The weather that goes hand in hand with this lovely batter has just started! I am sure that this coffee walnut cake will be your knight in shining armor at every party or gathering this winter!
Tips for the perfect luxury coffee walnut cake
Since I have paired this coffee walnut cake with some heavenly chocolate buttercream, the following are some tips you can keep in mind while baking the cake.
For more queries, you can also go through my Tips and Tricks articles, specifically my new article- Baking Tips 2.0! 
Tips for the cake batter
Tips for the chocolate buttercream
Baking Coffee Walnut Cake in the microwave
Looking for an a classic coffee walnut cake recipe in the microwave?  All you have to do while baking the batter in the convection microwave at 180 degrees for a minimum of 25 minutes or until a skewer comes out clean.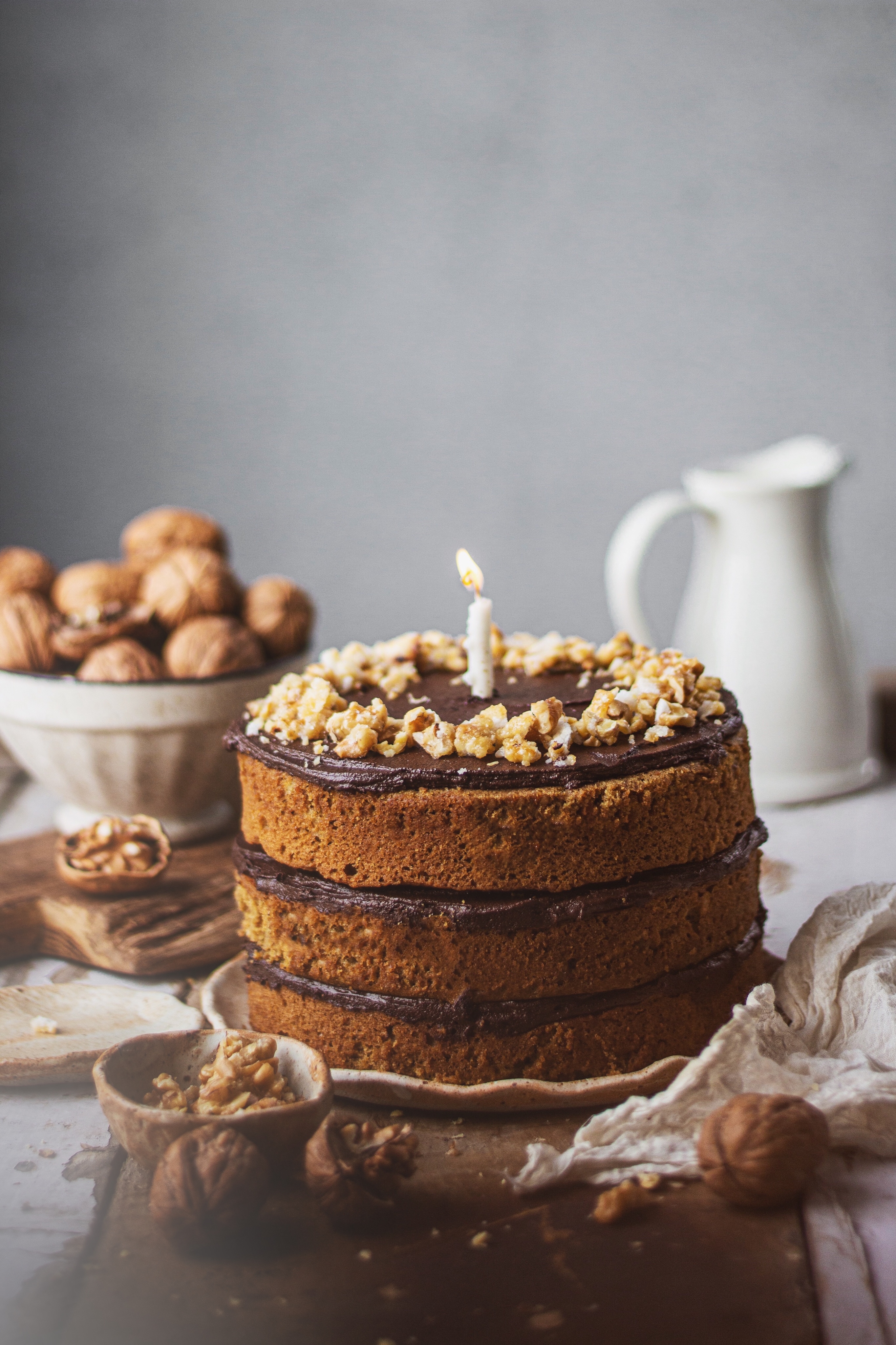 Classic Coffee Walnut Cake Recipe
Coffee Walnut Cake
Ingredients
FOR THE CAKE
2+1/4 cup flour
2 teaspoon baking powder
½ teaspoon baking soda
2 teaspoon cinnamon powder
1+1/4 cup butter
¾ cup castor sugar
¾ cup lightly packed brown sugar
4 eggs
1.5 teaspoon vanilla extract
½ cup milk
2 tablespoon instant coffee powder + 1 tablespoon water
¾ cup chopped walnuts
FOR THE FROSTING-
1 cup butter
2.5 cups icing sugar
½cup cocoa powder
2 teaspoon vanilla extract
Instructions
Preheat the oven at 180 degrees and
Line three 6 inches pans with parchment paper.
In a bowl whisk together the flour, baking powder, baking soda and cinnamon powder.
In a separate bowl beat the butter, brown sugar and castor sugar together until light and fluffy.
Add the eggs one by one, beat well after each addition.
Add the vanilla extract and mix.
Mix the coffee powder and water together to form a slurry and add it to the butter mixture.
Gently fold in the dry ingredients and mix until everything is well combined and there are no large air pockets in the batter. Add the milk so you have a uniform batter.
Add the chopped walnut into the batter and mix.
Transfer the batter into the prepared pans and bake at 180 degrees for 25-30 minutes or until a skewer inserted comes out clean.
To make the butter cream, beat the butter using a stand mixer or a hand mixer until smooth and fluffy.
Sift the icing sugar and cocoa powder and mix well.
Add the vanilla extract and mix.
Frost the cake with the chocolate buttercream and serve.
More walnut recipes:
More coffee recipes: