Coffee Walnut Cake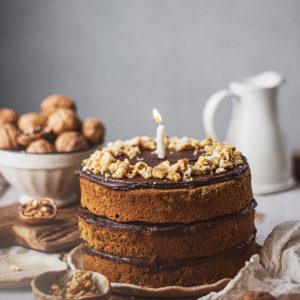 2+1/4 cup flour
2 teaspoon baking powder
½ teaspoon baking soda
2 teaspoon cinnamon powder
1+1/4 cup butter
¾ cup castor sugar
¾ cup lightly packed brown sugar
4 eggs
1.5 teaspoon vanilla extract
½ cup milk
2 tablespoon instant coffee powder + 1 tablespoon water
¾ cup chopped walnuts
1 cup butter
2.5 cups icing sugar
½cup cocoa powder
2 teaspoon vanilla extract
Preheat the oven at 180 degrees and
Line three 6 inches pans with parchment paper.
In a bowl whisk together the flour, baking powder, baking soda and cinnamon powder.
In a separate bowl beat the butter, brown sugar and castor sugar together until light and fluffy.
Add the eggs one by one, beat well after each addition.
Add the vanilla extract and mix.
Mix the coffee powder and water together to form a slurry and add it to the butter mixture.
Gently fold in the dry ingredients and mix until everything is well combined and there are no large air pockets in the batter. Add the milk so you have a uniform batter.
Add the chopped walnut into the batter and mix.
Transfer the batter into the prepared pans and bake at 180 degrees for 25-30 minutes or until a skewer inserted comes out clean.
To make the butter cream, beat the butter using a stand mixer or a hand mixer until smooth and fluffy.
Sift the icing sugar and cocoa powder and mix well.
Add the vanilla extract and mix.
Frost the cake with the chocolate buttercream and serve.