Winters in Delhi are really beautiful. Now, as we stand on the synapse of winter and spring, we should bid adieu to the season properly. And so, this delicious recipe of Date and Walnut Bars! I love the combination of dates and walnuts. The fact that dates are semi-sweet but have such a unique taste, it's amazing. I feel that the best part about dates is that they don't really have an overpowering taste. Walnuts, on the other hand, have to be my favorite type of nuts. Again, they too possess a unique, intense flavor. Furthermore, they certainly add a nice and beautiful texture to any dessert. In desserts where walnuts happen to be the main ingredient, they play their part really well and always complement the other protagonist.
Now, these Date and Walnut Bars have a multitude of textures and present such a blast of flavors. I love biting into desserts with multiple balance textures. Like how you have classic cheesecakes with the jam topping, creamy middle part, and the biscuit base. These Date and Walnut Bars present to you a solid yet creamy chocolatey upper layer with a crunchy and chewy bottom part. You are instantly hit with the beautiful balance between semi-sweet chocolate, dates, and walnuts. Not only this, these Date and Walnut Bars are also super healthy. If you want to make it with fewer calories, you can totally skip the chocolate part. Trust me, these Date and Walnut Bars will be equally delicious even without the upper layer of chocolate.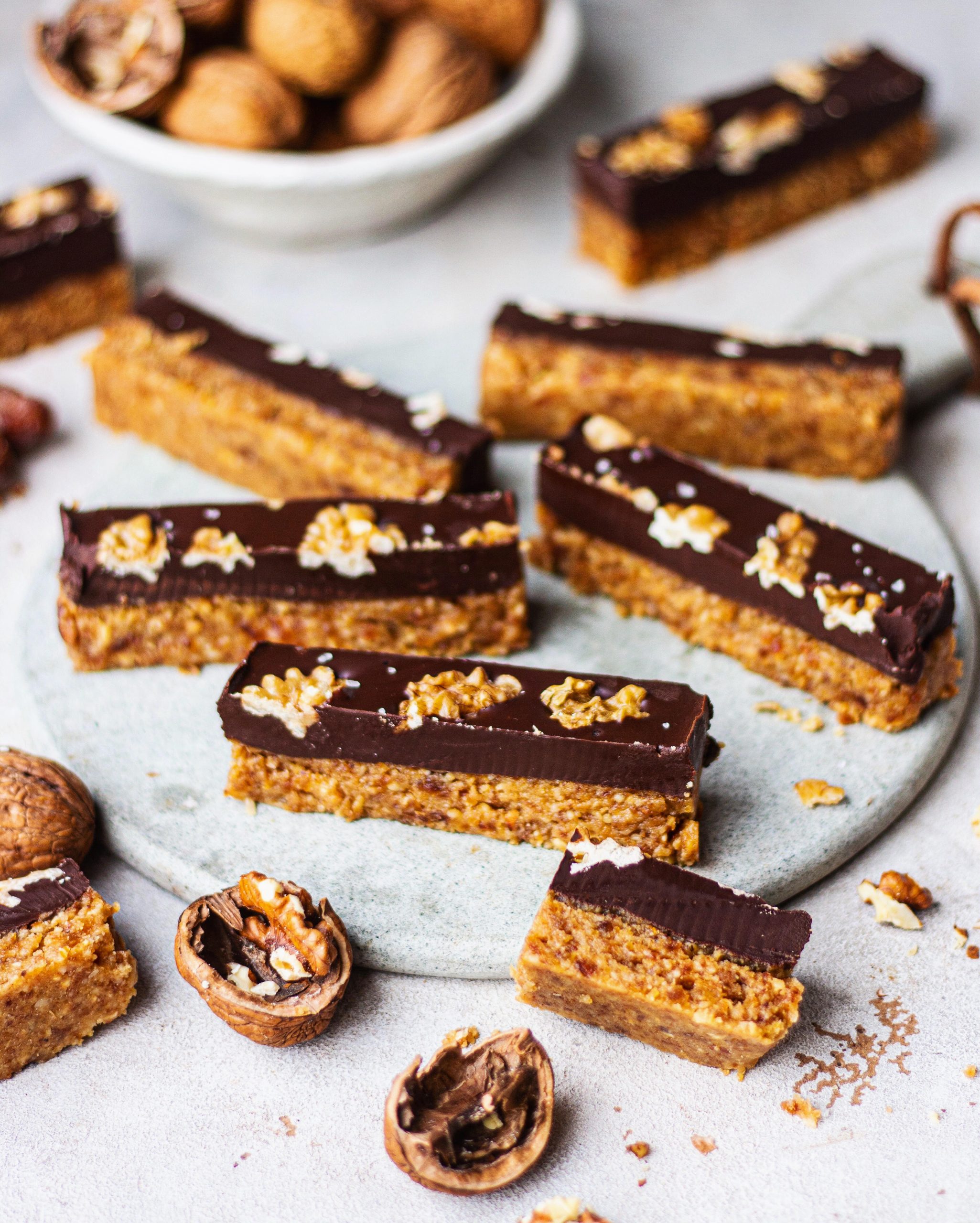 Ingredients of these Date and Walnut Bars
The ingredients of these Date and Walnut bars are not that tricky or twisted. Just make sure of the following to get the right balance of flavors and the perfect dessert!
Choose unflavoured vegetable oil for the best results. We do use brands like Saffola or Sundrop. However, for healthier results, you can use Extra virgin olive oil.
Using good quality walnuts is really important for a dessert like this. These bars actually rest on walnuts and dates to give off the major flavors. If you go for stale or low-quality walnuts, it changes everything because of a rather bitter taste.
Now, using dates of rather good quality is also important. Low-quality dates are super-sweet or have too many harmful additives.
The best peanut butter for all your desserts, according to me, is from the brand Skippy. They have delicious and natural tasting Peanut Butter.
For the vanilla extract, I would never recommend using anything other than Sprig brand.
Lastly, we have used dark chocolate in this recipe. Dark chocolate is actually really healthy for you and is even recommended by dieticians to have in an SOS dessert emergency. While you can use Bournville too, we have used Amul 55% dark chocolate to have a beautifully balanced dessert.
Health benefits of Dates and Walnuts
Most of the calories in dates come from carbs. The rest are from a very small amount of protein. Despite their calories, dates contain some important vitamins and minerals in addition to a significant amount of fiber. Dates also contain several vitamins and minerals, in addition to fiber and antioxidants. Including dates in your diet is a great way to increase your fiber intake too! Lastly, compared to similar types of fruit, such as figs and dried plums, dates appear to have the highest antioxidant content.
Like other nuts, most of the calories in walnuts come from fat. This makes them an energy-dense, high-calorie food. However, even though walnuts are rich in fat and calories, studies indicate that they don't increase obesity risk when replacing other foods in your diet. In fact, walnuts are the only nuts that contain significant amounts of ALA. ALA is considered especially beneficial for heart health. It also helps reduce inflammation and improve the composition of blood fats. Now you know that my Date and Walnut bars are packed with flavors and a hell lotta nutrition!
Date and walnut bars recipe
Date and Walnut Bars- with chocolate!
Ingredients
1 tablespoon vegetable oil, plus more for brushing pan
1¾ cups walnut pieces
2 cups chopped dates
¼ cup natural peanut butter
2 teaspoons pure vanilla extract
¼ teaspoon salt
¾ cup Amul 55% dark chocolate
Flaky sea salt
Instructions
Brush a 9-by-5-inch loaf pan with oil and line with parchment, leaving a 2-inch overhang on long sides.
In a food processor, pulse 1½ cups walnuts, dates, peanut butter, vanilla, and salt until finely chopped and the mixture holds together.
Transfer to a parchment-lined pan and lightly knead to pack together
Refrigerate until firm for 20 minutes.
Meanwhile, melt chocolate with oil.
Take the nut mixture and press into loaf pan. Drizzle with chocolate.
Sprinkle with remaining ¼ cup walnuts and flaky salt.
Refrigerate until firm, for at least 2 hours.
To serve, let stand at room temperature 10 minutes, then remove from pan using parchment before slicing