I'm honestly not the biggest coffee fan but I do enjoy a big slice of a rich coffee cake.
When Vero sent me this sleek coffee machine, all I could think of was a coffee cake! I took the machine out and immediately got started. Since I'm not a coffee fan, I don't make it too often but using the Vero coffee machine was super easy. My favorite part was the milk frothing jar. Although I used black coffee for this coffee cake, I made sure I made coffee for everyone at home since using that frothing jar was fun, hehe. The machine came with capsules of a number of exquisite blends. I used seven seeds coffee to make an espresso. Feel free to experiment with the coffee of your own choice.
You can read more about the Vero coffee machine here!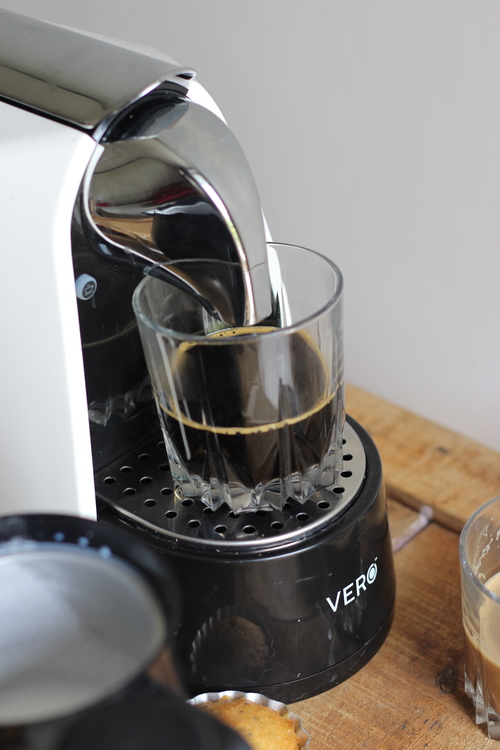 Nailing this classic Coffee Cake recipe
This is a very easy and moist coffee cake recipe. There is hardly anything that could go wrong here, trust me.
While I used a bundt cake tin to make this decadent coffee cake but you can also use a 9″circular tin. Furthermore, I decided to top this rich and moist cake with whipped cream but white chocolate ganache would certainly be a good idea too. There is a dark chocolate ganache recipe on the blog. Just substitute with white chocolate and you'll have the perfect white chocolate ganache.  Above all, you can finish with some crushed walnuts and you're good to go!
How to make moist coffee cake
Baking is an art, my friends, and one that is not rocket science. Trust me, baking is the most therapeutic activity one can indulge in. Just remember some basic tips here and there, and you're good to go. To know more, you can refer to the Baking Tips for Beginners blog on the website.
In order to make moist coffee cake, just follow the following basics:
Always and most certainly remember to fold the flour carefully. If you're a novice, make the figure '8' while mixing the dry ingredients with the wet ones.
If it seems like refrigerating the cake will make it dry and hard, add a layer of sugar syrup very carefully to ensure long-lasting moistness.
Make sure the cake has cooled down properly before you top it with the ganache. If you let the cake cool down before adding the ganache, you will consequently get a well-done and moist cake.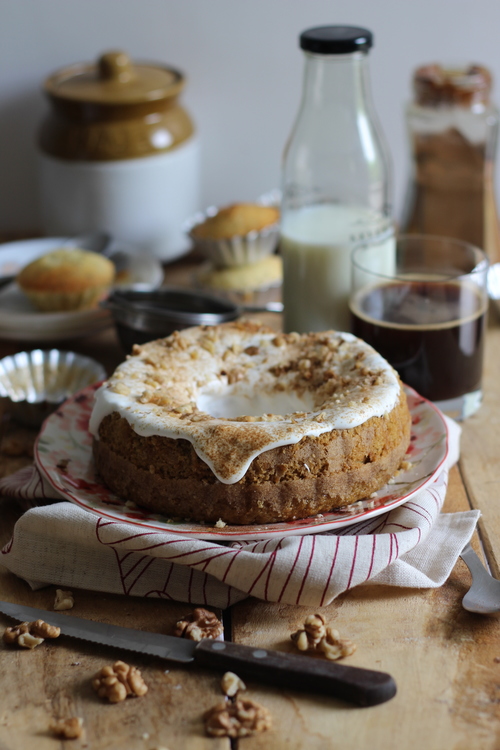 Coffee Cake Recipe
Coffee cake with whipped cream
Ingredients
2 cups all purpose flour (maida)
2 tea-spoons baking powder
1 + ½ cup castor sugar
1 cup vegetable oil
4 eggs
1 cup black coffee/ espresso, hot
¼ cup crushed walnuts
Instructions
Lightly brush your cake pan with oil/ butter and dust with all-purpose flour. Pre-heat your over to 180C.
In a medium bowl, combine all-purpose flour and baking powder. Whisk until well combined.
In a large bowl, beat sugar and oil until the mixture becomes light and pale, for about 5-7 minutes.
Add eggs, one by one, mixing well after each edition.
Now add the dry ingredients to the wet ingredients in three batches, alternating with coffee. Do not over mix.
Using a spatula fold the walnuts into the batter. Reserve some for the top.
Pour the batter into the prepared cake pan.
Bake at 180C until a toothpick inserted into the centre of the cake comes out clean. This might take about 30-40 minutes.
Once the cake has cooled, top with whipped cream and crushed walnuts