If you love pancakes then you know that one struggle that every pancake lover faces is how to get the perfect smooth top and how to make your pancakes fluffy. I am here to tell you that the prayers have been answered and I have a foolproof recipe that will get you the fluffiest eggless pancakes every Sunday! 
I love a pancake weekend breakfast. It's sweet, it's filling, and it literally takes 10 minutes to make. And oh! You only need a handful of ingredients. Let us dive into the details and see what all we need to make this recipe and what all things we need to keep in mind. 
Ingredients for fluffiest eggless pancakes 
Like I said, one of the best things about these pancakes is that they require minimal ingredients. This includes flour, milk powder, sugar, milk, baking soda, vinegar, and oil. 
Which flour to use 
I like to keep it simple for these pancakes and use basic all purpose flour. All purpose flour is light and not dense and it helps with the smooth texture of the pancakes. If you want, you can replace all purpose flour with either whole wheat flour or oat flour but both of these flours are dense and will definitely change the texture of the pancake. 
Every flour absorbs liquid differently. So if you do substitute all purpose flour with another flour, keep in mind that you might have to add more or less liquid to maintain the same batter consistency. Whole wheat flour for example, absorbs a lot more liquid than all purpose so you will have to increase the quantity of the liquid ingredients accordingly. 
What is being used instead of eggs 
As mentioned, these fluffy pancakes are eggless and instead of eggs, they have milk powder in them. Milk powder can act as a great egg substitute even in other recipes of cakes, and muffins. 
In addition to adding great structure to the pancakes, milk powder also adds a lovely sweet taste. So really, add milk powder whenever you can. It tastes great in desserts and all things sweet. 
Baking soda for browning
Did you know that baking soda actually helps with the perfect brown top of pancakes? Well now you do! Baking soda is alkaline in nature. It reacts with acetic ingredients and helps with the even browning of every pancake. YAY. 
Milk and vinegar for the fluff 
This recipe calls for both milk and vinegar and the process calls for mixing the two together and letting the milk curle for 5 minutes. This curdled milk is called buttermilk and is a great way to make desserts more fluffy. 
Buttermilk is actually used in a plethora of recipes all over the world and many people think that it is a special ingredient that they need to go out and buy. So another problem solved! Also, please note that if you do not have vinegar at home, you can easily replace it with lemon juice and still make buttermilk at home. Replace the vinegar with equal parts of lemon juice and let the milk curdle. 
The other ingredients that are in the recipe include sugar for sweetness and sunflower oil for good texture and a smooth batter. If you do not have sunflower oil, you can use any flavourless oil that you might have including vegetable oil and or soya bean oil.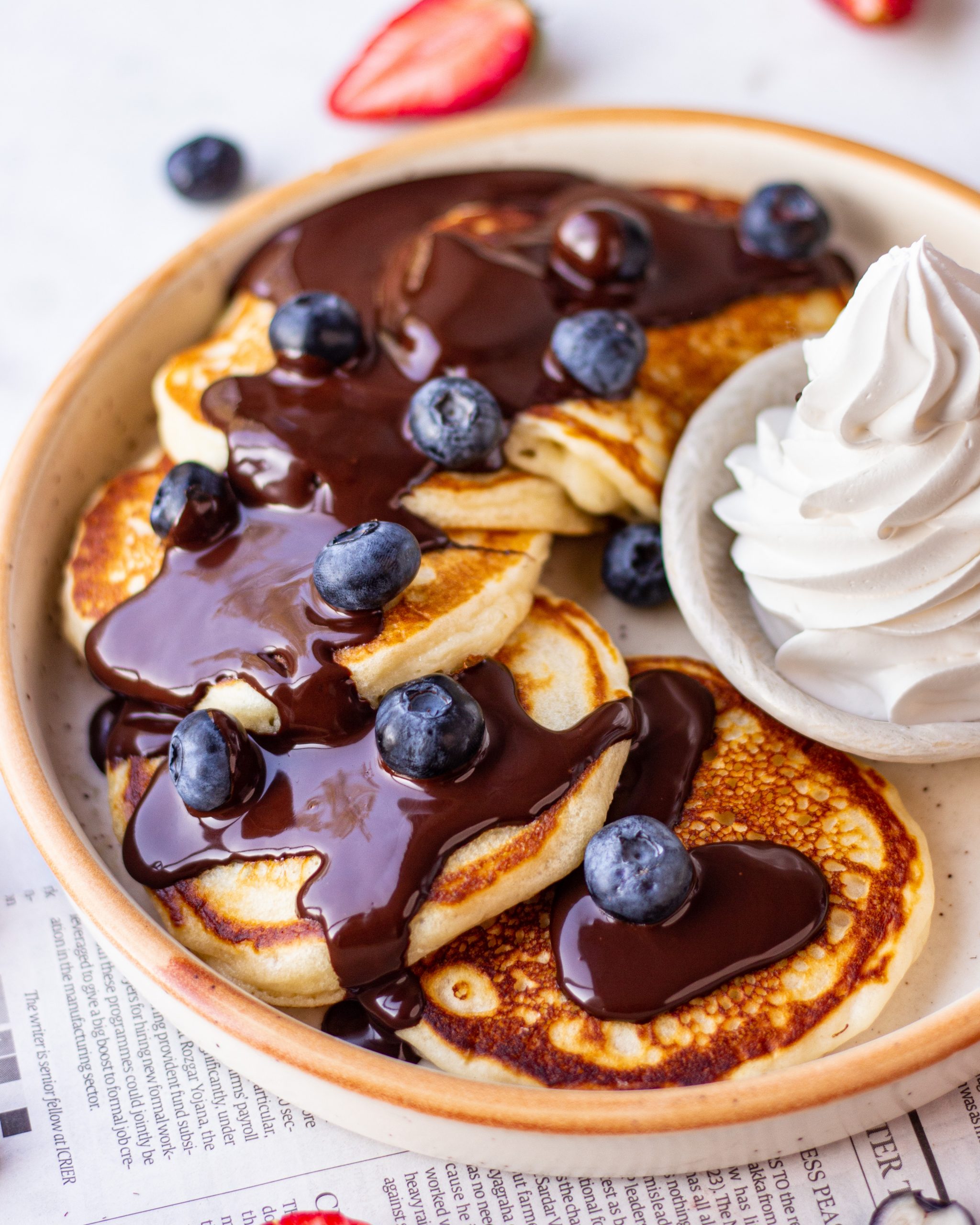 Tips to keep in mind for fluffiest pancakes 
Never Overmix your pancake batter 
Over-mixing will lead to formation of gluten which will make your pancakes dense and chewy instead of light and fluffy. If you have a few lumps in your pancake batter, that is completely okay. When you cook your batter, these lumps will melt away. 
Let the buttermilk rest 
Whenever you are making buttermilk at home, always remember to let the liquid mixture rest once you  have mixed milk with either vinegar or lemon juice. The acid takes some time to react and then curdles the milk. So just be a little patient and you will have fluffy pancakes in the end. 
Even pancakes for the perfect stack 
It's very important to make sure you're dropping the equal amount of batter on the pan for each pancake. That way you'll be able to assure that all your pancakes are of the same size. I prefer using a ladle to measure and pour my batter. If you're making smaller pancakes, using an ice-cream scoop could be a great idea.
Let your batter rest 
Once your pancake batter is ready, it is always advisable to let your pancake batter rest for 5-10 minutes. This helps the baking powder and soda to get activated and a rested batter will always lead to better and lighter pancakes than a non rested batter.
Use the right pan
Always use a heavy bottomed, non-stick pan to make your pancakes. You don't want to burn them. Also, always keep your flame on medium low while making pancakes. Be patient and let your pancakes take their own sweet time. If you're impatient with your pancakes and flip them before time, you run the risk of encountering under-cooked pancakes.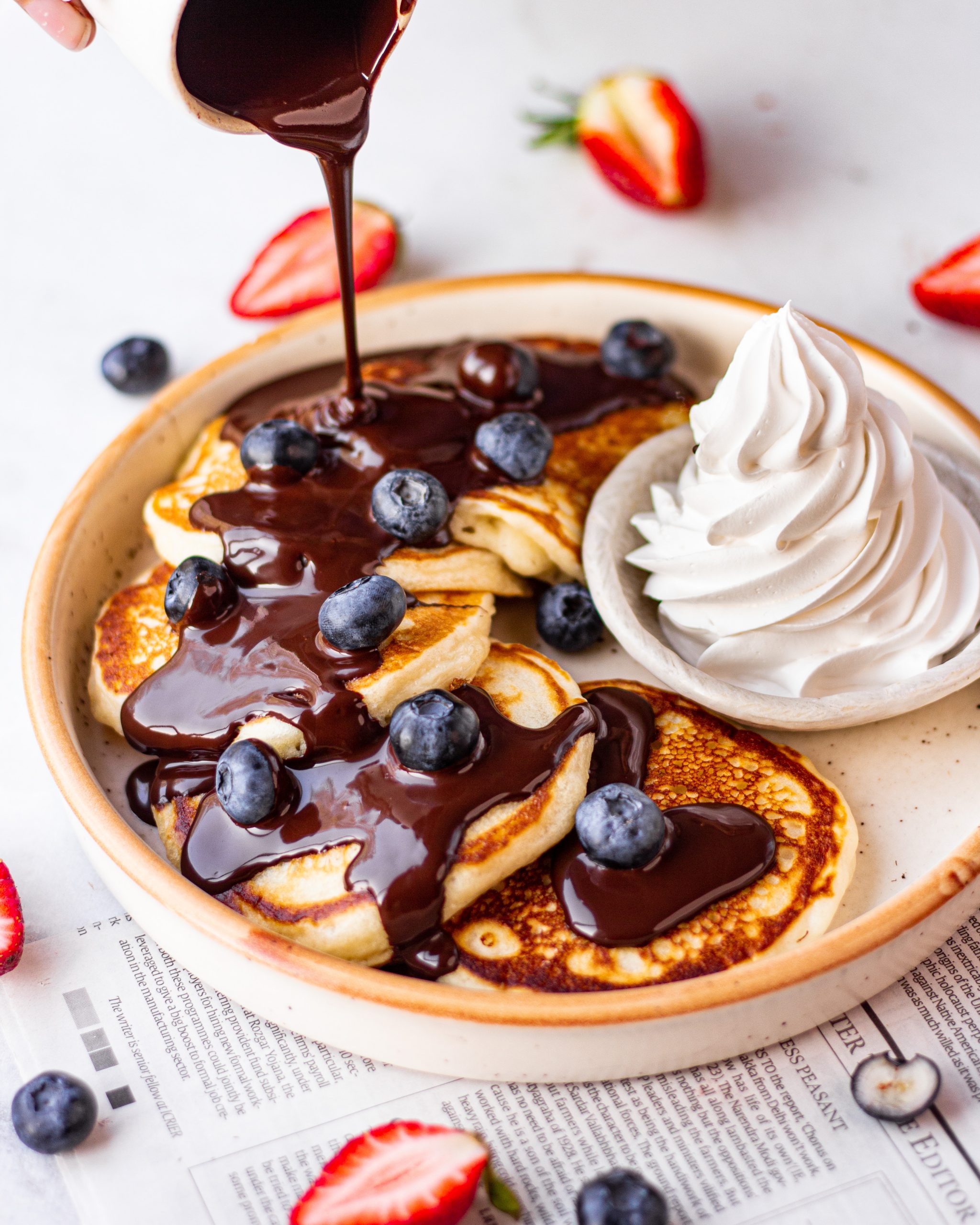 Toppings for the fluffiest eggless pancakes 
I loved topping my pancakes with a generous drizzle of dark chocolate, fresh blueberries and the perfect seasonal topping- strawberries! You can go crazy here and add whatever you want. You can also eat them as is, they are super yum. 
A light drizzle of honey or maple syrup is definitely a win, or maybe some whipped cream and chocochips? I am getting super hungry by just talking about these toppings and the fluffiest pancakes ever! 
I love to see your recreations of my recipes. Share your pictures with me on my Instagram @shivesh17. Looking at your pictures always brings a huge smile on my face. 
If you love making pancakes you can also check out other pancake recipes on the blog. Fried Nutella Pancake sandwich, Best Healthy Chocolate Pancakes, and Oat and Banana Pancakes. Happy munching! 

Fluffiest eggless pancakes
Ingredients
¾ cup (93gms) all purpose flour
4 tbsp (30gms) milk powder
2 tbsp (15gms) caster sugar
½ tsp (1.5gms) baking soda
½ cup + 2 tbsp (150ml) milk
1.5 tsp (5ml) vinegar
2 tbsp (30ml) oil
Instructions
In a bowl, add milk and vinegar to make buttermilk. Rest for 5 minutes.
Take a separate bowl, add all purpose flour, baking soda, milk powder and sugar. Mix until nicely combined.
Add the milk mixture into the dry ingredients along with oil.
Give everything a mix to gain a smooth pancake batter.
On a non-stick pan, add vegetable oil and add about ¼ cup of the batter. Let the pancakes cook slowly. When you see bubbles on top, flip the pancakes carefully.
Serve with chocolate sauce and strawberries.