If you follow me on my Instagram stories, you'd know that I make cookies almost every other week. I love a good, gooey melt in mouth cookie. It has the power to turn a bad day better in a matter of minutes. Cookies are so versatile- you can make them with sugar, brown sugar, jaggery or anything you want. Moreover, you can mix anything into a cookie dough, chocochips, cranberries, walnuts or some yum toasted cornflakes. The world is your oyster when it comes to a cookie dough! And what is better than a cookie? A giant pizookie!
But a cookie is an indulgence. It has sugar, flour and a whole lot of butter. So I came up with a slightly healthy version of a giant oats and walnut skillet cookie for you. It is refined sugar free, has rolled oats and is still absolutely delicious!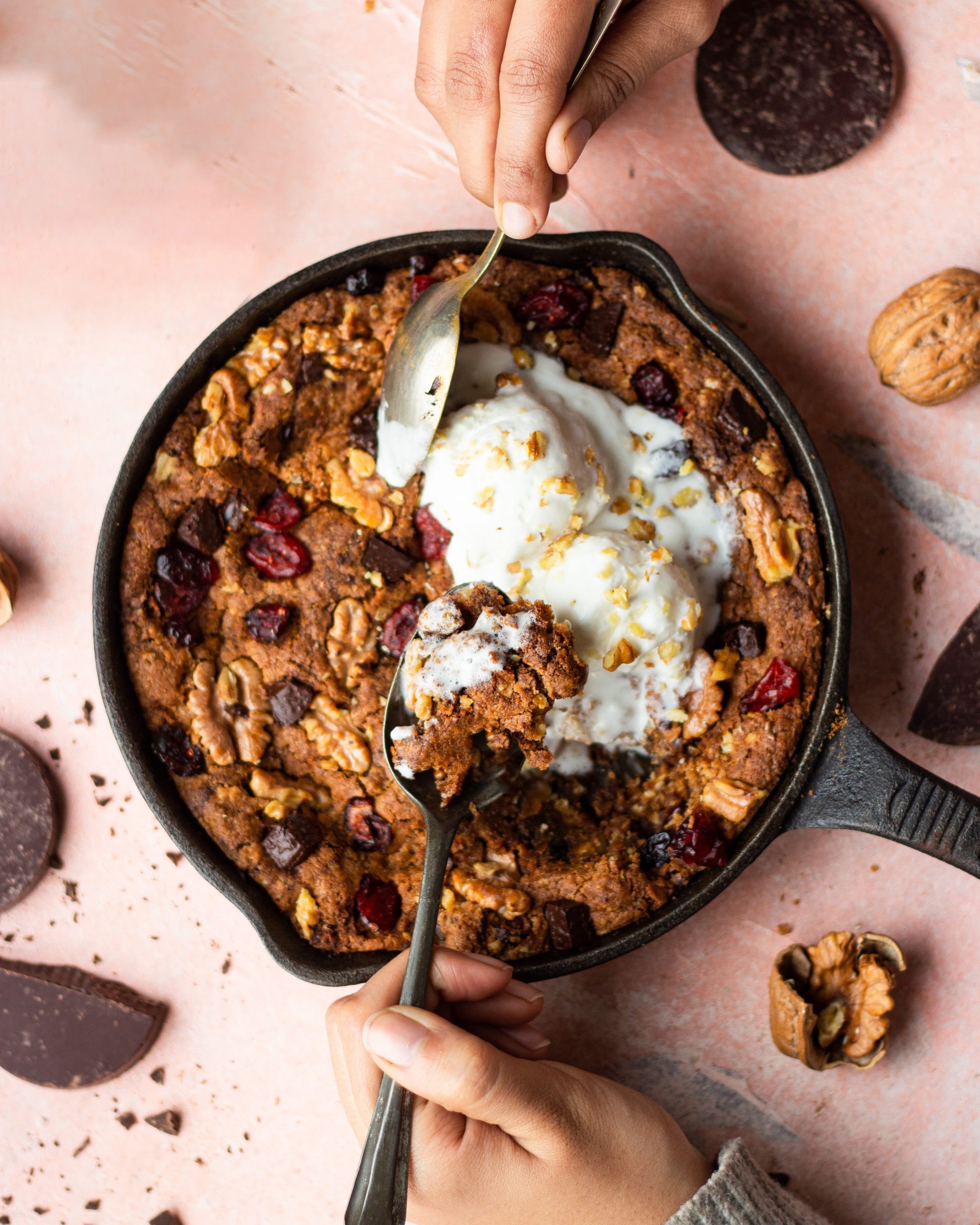 What is a pizookie?
Yes, it's exactly what it sounds like haha! It's a cookie served in a skillet / pizza pan topped with a good scoop of ice cream. When it comes to toppings, you can top your pizookie with anything you want. Any flavor of ice cream, nuts, berries will only elevate the taste of your pizookie and take it to a whole new level. Whenever I make this oats and walnut pizookie at home, it becomes a family affair and everyone at home comes together with their spoons to dig into this wholesome dessert! It's the perfect party starter and simple enough for a movie night with friends. It serves at least 5-6 people and comes together in minutes. What more would you want from a cookie?
Ingredients in my oats and walnuts skillet cookie
This oats and walnut skillet cookie has some very simple ingredients that you will find in your kitchen pantry easily –
Jaggery – Let's face it, nobody likes consuming refined sugar on a daily basis. And jaggery comes to the rescue. The flavor of jaggery is so wholesome and subtle at the same time. You can add it to anything you want as a replacement of sugar and it tastes absolutely perfect in this pizookie!
Rolled oats – This is one another healthy addition to this cookie dough. Adding rolled oats makes this taste like a giant oatmeal cookie and I don't think we mind that!
Toppings – I add chopped walnuts, chocolate chunks and cranberries to this cookie dough because I love the flavor of these things in the cookie. But you can add anything you have in hand- chocochips, almonds or colorful sprinkles!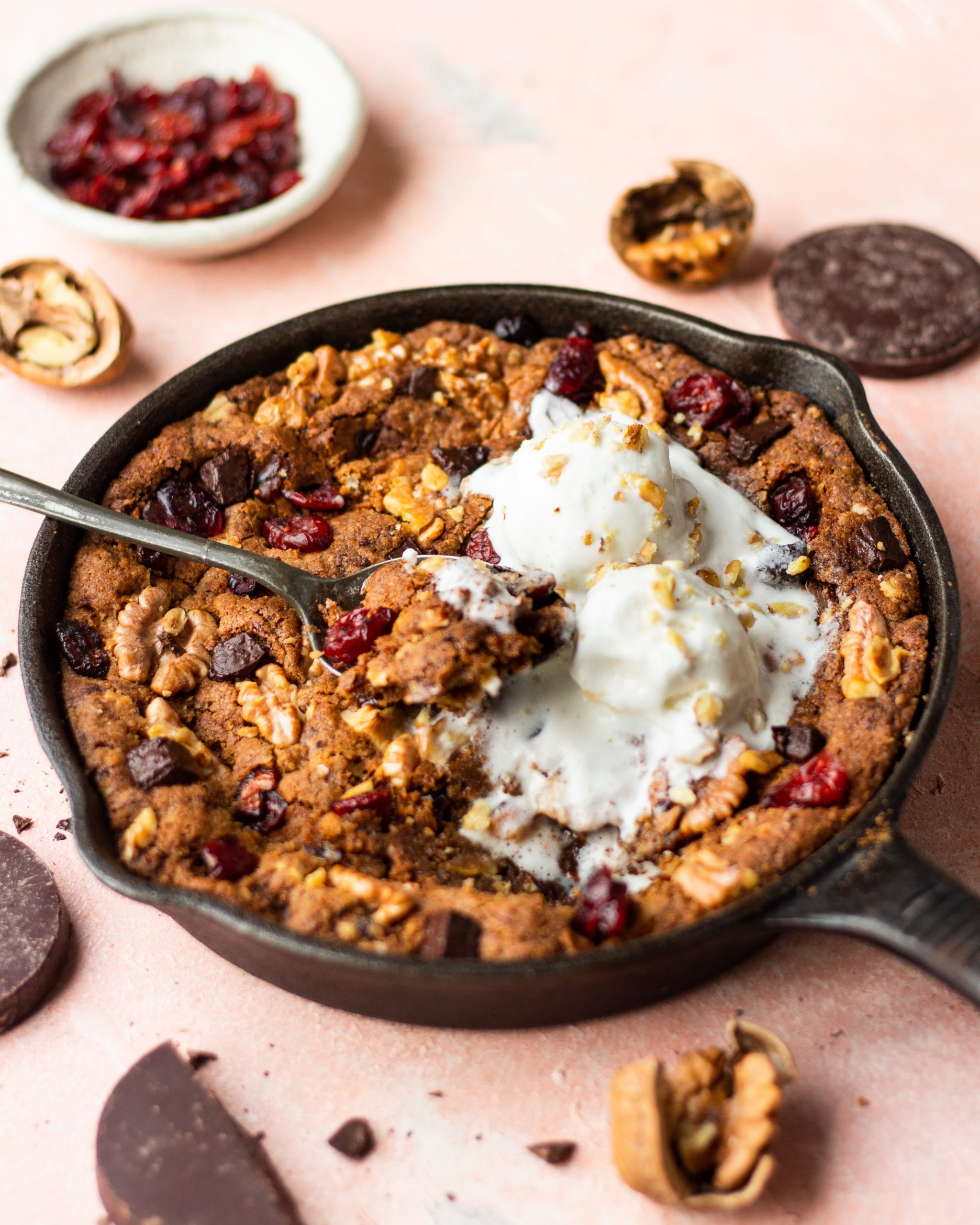 Can I make this oats and walnut skillet cookie without skillet?
I would recommend making this in a skillet because it gives the cookie nice, crisp edges on the sides but if you don't have a skillet, you can make this cookie in a round pan / baking dish that you have. Just be careful that it is oven-safe for use!
TIPS TO KEEP IN MIND WHILE MAKING THE oats & walnuts skillet cookie
Use softened butter. If your butter is cold, microwave it for 10-12 seconds.
I used the regular Amul butter. If you're using unsalted butter, add a pinch of salt.
The skillet cookie might look uncooked in the centre but do not continue to bake it once the edges are golden-brown. It will continue to cook as it cools.
This recipe makes an eight inch skillet cookie. You can half or double the ingredients if you want to make a bigger/ smaller batch.
Other cookie recipes on the blog
Oats and Walnut Skillet Cookie Recipe
Oats and Walnut Skillet Cookie
Ingredients
½ cup butter, softened
1 cup jaggery
2tbsp milk
1 cup all-purpose flour
¼ cup rolled oats
½ tsp baking soda
¼ cup chocolate chunks
¼ cup cranberries
¼ cup walnuts
Instructions
Pre-heat your oven to 180C
Using an electric mixer, combine butter with jaggery until mixed well.
Beat in the milk.
In a separate bowl, mix together flour, baking soda and rolled oats.
Add the dry ingredients to the butter mixture and mix until blended.
Add chocolate chunks, walnuts and cranberries. Using a spatula or a whisk, carefully mix them into the batter.
Spread the dough on a skillet. Generously sprinkle with sea salt. Place the skillet on the baking tray and bake for 15-20 minutes or until the edges of the pizookie become golden brown.