'Tis the season of strawberries and it's my most favorite season of the year! Strawberries are one of the most versatile berries and there's so much you can do with them. Make a cake out of 'em or a nice thick smoothie- the options are endless.
Since lockdown, many of us have become a little more conscious about our health. We try to be aware of the food we're consuming and if refined ingredients in our food can be replaced with healthier alternatives. Considering this, I tweaked my whole wheat strawberry cake on the blog to be even healthier and I bring to you my whole-wheat ghee jaggery strawberry cake!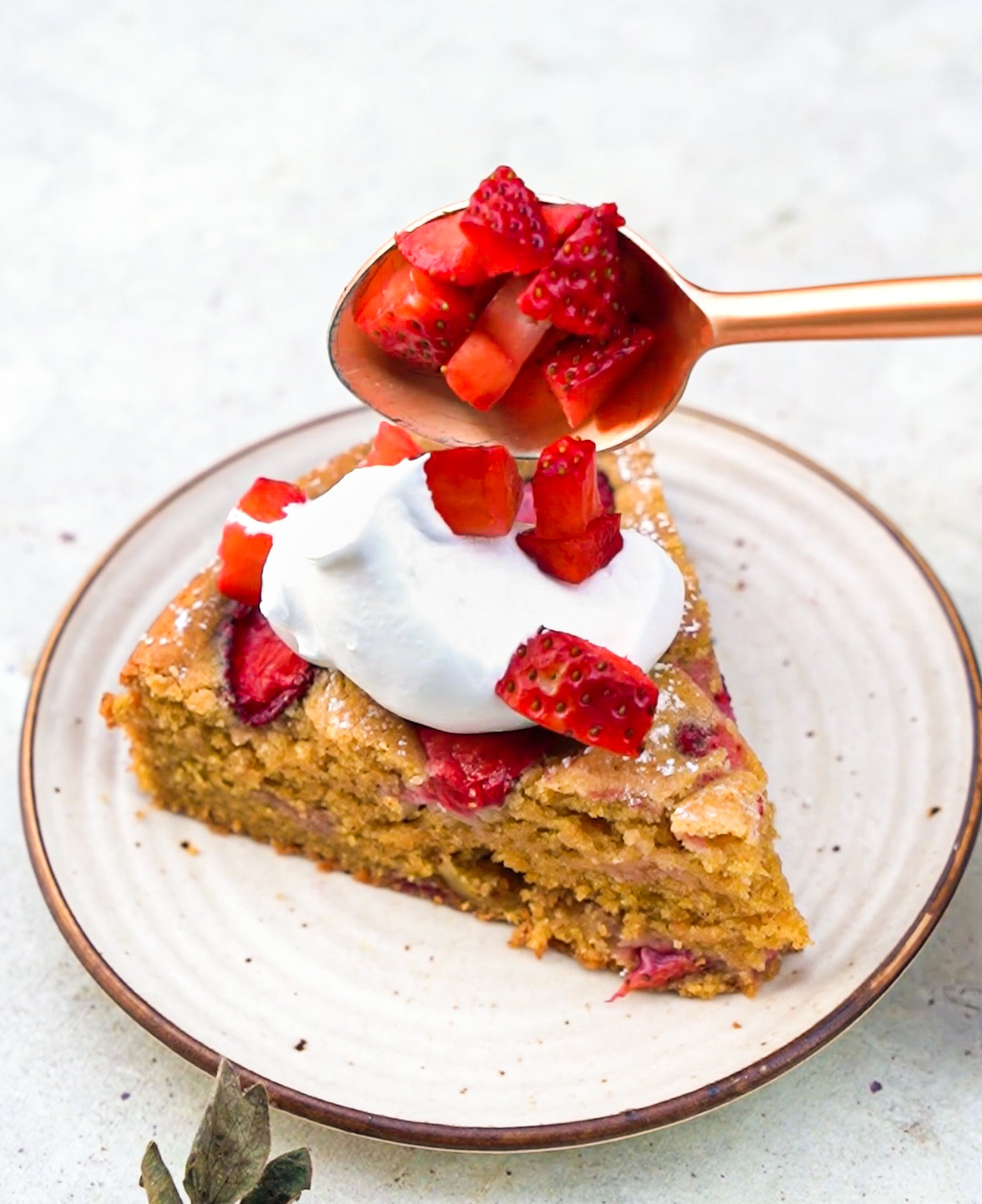 Important ingredients in whole-wheat ghee strawberry cake
I came up with this recipe of whole wheat ghee and jaggery strawberry cake because so many of us are unsure about consuming refined products in our desserts and this cake is perfect if you like a guilt-free indulgence! It doesn't have refined flour, refined oil or refined sugar. I use whole wheat flour, jaggery and ghee to make this cake and it's still absolutely delicious! The strawberries add a fresh tartness to the cake and are just the perfection addition. I chose to add ghee and jaggery to this cake because they tend to keep you warm in winters and they make the cake more wholesome than it already is.
Health Benefits of Ghee
Like any clarified butter, ghee is composed almost entirely of fat, 62% of which consists of saturated fats. It is also rich in oxidized cholesterol. But ghee has many health benefits, like –
Ghee is free of potentially unhealthy additives, preservatives and trans fats. Thanks to its pure form and low moisture content, ghee is shelf-stable and can stay fresh for up to a year without refrigeration. While it's not an application for the general public, some families in India have aged ghee that has lasted more than 100 years.
While ghee has a high concentration of fat, it's high in monounsaturated Omega-3s. These are the same fatty acids found in foods like salmon that have been discovered to promote a healthy heart and cardiovascular system. A study conducted on men in a rural area of India found that those who consumed larger quantities of ghee had a lower chance of coronary disease and reduced levels of serum cholesterol.
Since ghee is formed by removing milk solids, it contains only trace amounts of milk sugars (lactose) and proteins (casein), making it suitable for most people with dairy allergies. Ghee also fits into the popular Paleo diet, which is based on the types of foods eaten by early humans and excludes dairy products.
Health Benefits of Jaggery
Not only is jaggery better than refined sugar, but it has a number of benefits for your body and overall health-
 It prevents constipation by aiding digestion. It activates the digestive enzymes in our body, thus helps in proper digestion of food. That's why many people prefer eating jaggery after a meal.

It acts as a detox, as it helps cleanse the liver by flushing out nasty toxins from the body.

Jaggery is loaded with antioxidants and minerals like zinc and selenium, which help prevent free-radicals (responsible for early ageing). It helps boost resistance against infections, hence building stronger immunity.

Jaggery acts as a natural sweetener and provides energy over an extended period of time. Even factory-made honey has been deemed unhealthy because it gets ripped of its nutrients. That's when jaggery steps in!
TIPS ON INGREDIENTS USED FOR EGGLESS WHOLE WHEAT GHEE STRAWBERRY CAKE
This eggless whole wheat ghee strawberry cake uses very simple ingredients and comes together in less than 15 minutes. Follow these few tips to make sure you never go wrong with your cake:
Instead of caster sugar, I'm using jaggery powder for this cake. Make sure you use one which has a pure flavor of jaggery!
I prefer using melted and a good quality ghee as it enhances the flavor and complements the flavor of jaggery in this cake. I use Mother Dairy Ghee.
Make sure you use the best quality strawberries you can get your hands on. I source my fresh strawberries from INA market in Delhi, but you can also check out places like Food Hall, Modern Bazaar, etc. for good quality ingredients.
If you want some quick tips on how to bake a cake perfectly, you can check out my article on Baking tips for beginners.
TIPS TO MAKE EGGLESS WHOLE WHEAT STRAWBERRY CAKE IN MICROWAVE
To make this whole wheat ghee strawberry cake in the microwave, reduce the baking time by 25%. So, in the microwave, this cake will take only 22-25 minutes at 180*C. Everything else remains the same.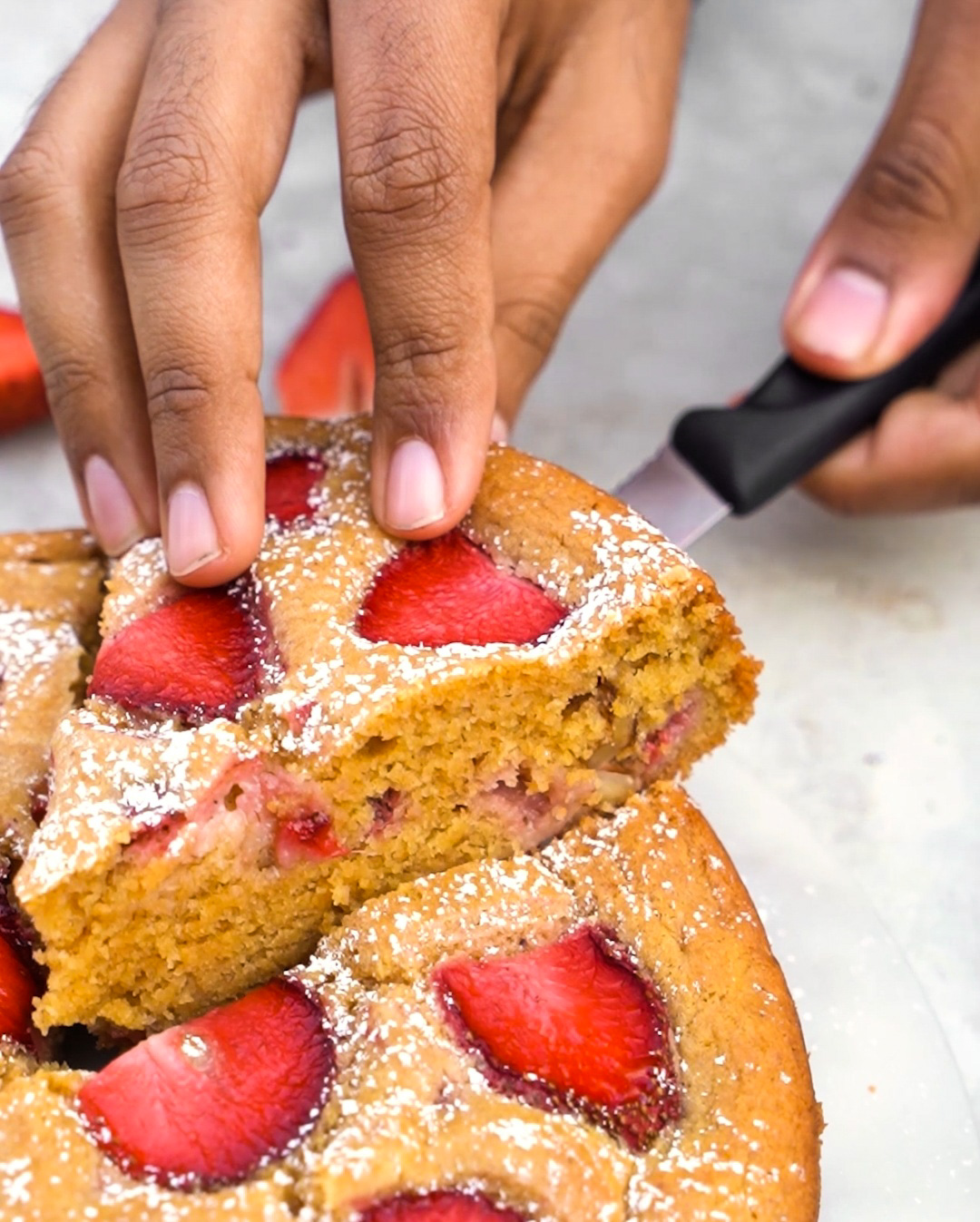 HOW TO MAKE WHOLEWHEAT GHEE STRAWBERRY CAKE AT HOME
This brings me to another very important ingredient of this simple strawberry cake- yogurt!  I use a normal market bought yogurt for this recipe but you can also use homemade yogurt. Just get rid of all the extra water and use only thick yogurt for this recipe.
Other strawberry recipes on the blog
You haven't enjoyed your winters if you haven't baked with an insane amount of strawberries! Check out some of the strawberry recipes on my blog –
Whole-Wheat Ghee Strawberry Cake Recipe
Whole-wheat Ghee Strawberry Cake
Ingredients
1 cup yogurt
½ teaspoon baking soda
1+1/2 cup whole wheat flour
1 teaspoon baking powder
1 cup jaggery
½ cup ghee
1 teaspoon Vanilla Extract or Vanilla beans
9-10 sliced strawberries
⅓ cup milk
And 1 tablespoon lemon juice
Instructions
Pre -heat the oven to 180 degree C and line an 8 inch round cake pan with parchment paper.
In a bowl add the yogurt and sprinkle baking soda over it and set it aside to foam up.
In a separate bowl add the flour and baking powder and whisk together.
Whisk together jaggery and ghee in a separate bowl until pale and well combined.
Now pour the yogurt mixture to the ghee and jaggery mixture and mix well.
Add the vanilla extract.
Gently fold in the flour and mix until everything is well combined there are no large flour pockets in the batter. Do not over mix at this stage.
Add the milk gradually. Add the lemon juice.
Transfer the batter to the prepared cake pan and place sliced strawberries on top.
Bake at 180C for 30-35 minutes or only until a skewer inserted in the center comes out clean.
If you like this recipe, do make it and don't forget to tag me on 
Instagram
and use #Bakewithshivesh. Happy baking!