I do not think this dessert needs any introduction because the title says it all! First of all, it is a brownie (YAY), which means it obviously has chocolate and do you know what makes a chocolate brownie better? Strawberries, yep.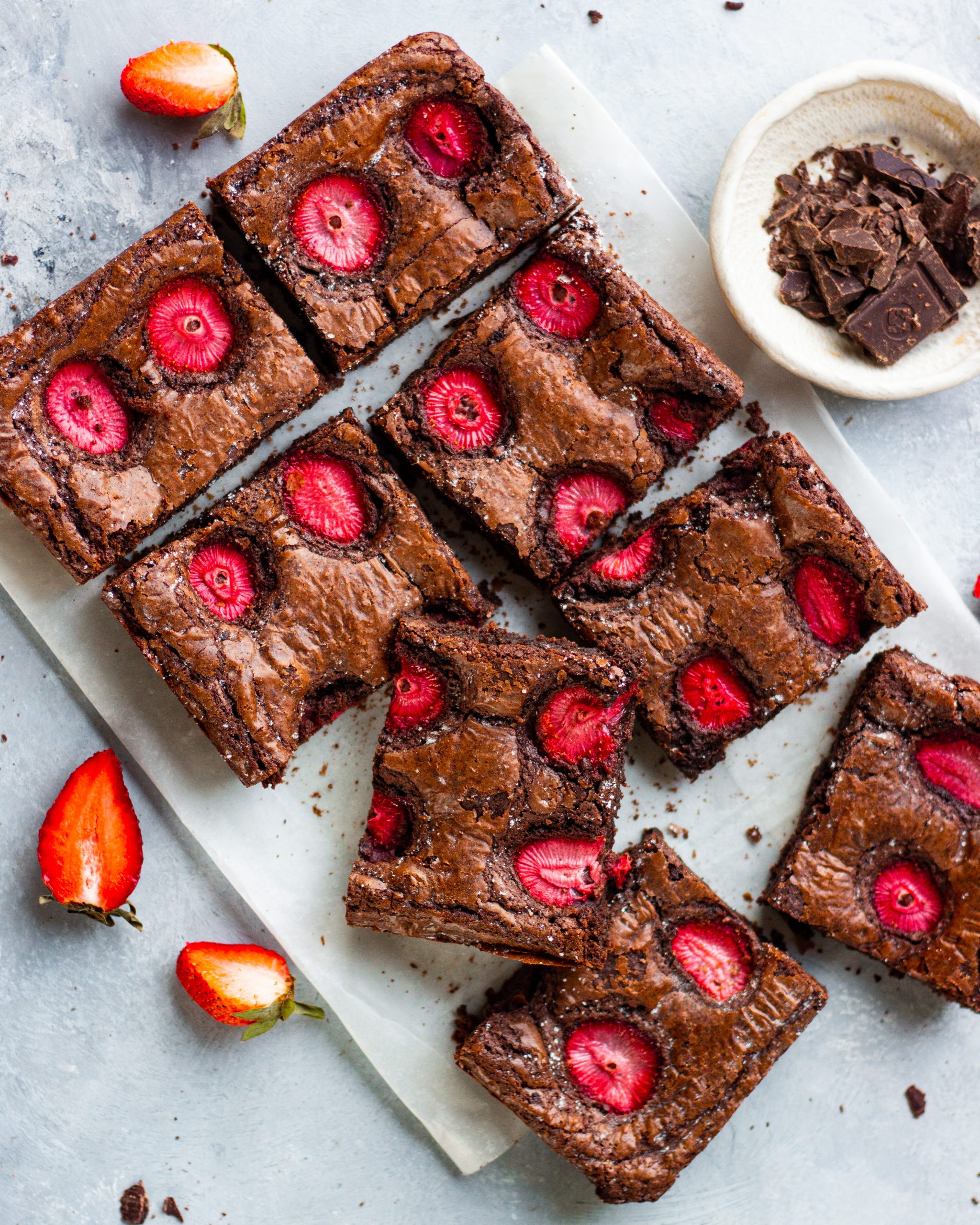 It is simple, it is fudgy and oh my god, it is to die for. Winter is about eating and eating and eating your favorite desserts and huddling under big and fuzzy sweaters. So the next time you want to make an epic dessert for your night in, these chocolate strawberry brownies need to be on your to bake list. 
Flavors of chocolate strawberry brownie 
One of the most classic flavor combinations is chocolate and strawberry. Combine these two in any dessert and you are for sure going to end up with an epic dessert. 
It is no secret that I absolutely love making and eating brownies. They are so indulgent to eat and at the same time, so easy to make. One main ingredient in brownies is chocolate and I love using dark chocolate in my brownies. It makes sure my brownie is not too sweet and is perfectly decadent. Very commonly available dark chocolate is Amul and Morde. You can also use brands like Colocal, Vanleer and or Vanhouten. 
Strawberries are the perfect fruit that can be used to amp up a chocolate dessert like a brownie. They are not only yum but are an excellent source of Vitamin C, potassium, and Vitamin B9. They are also rich in antioxidants and have heart health benefits and help control blood sugar levels. 
I love that strawberries are sweet and have a very slight tang. For my chocolate strawberry brownie, all I did was slice the strawberries in circles and place them on top of the brownie batter after I had evenly spread the brownie batter in my pan.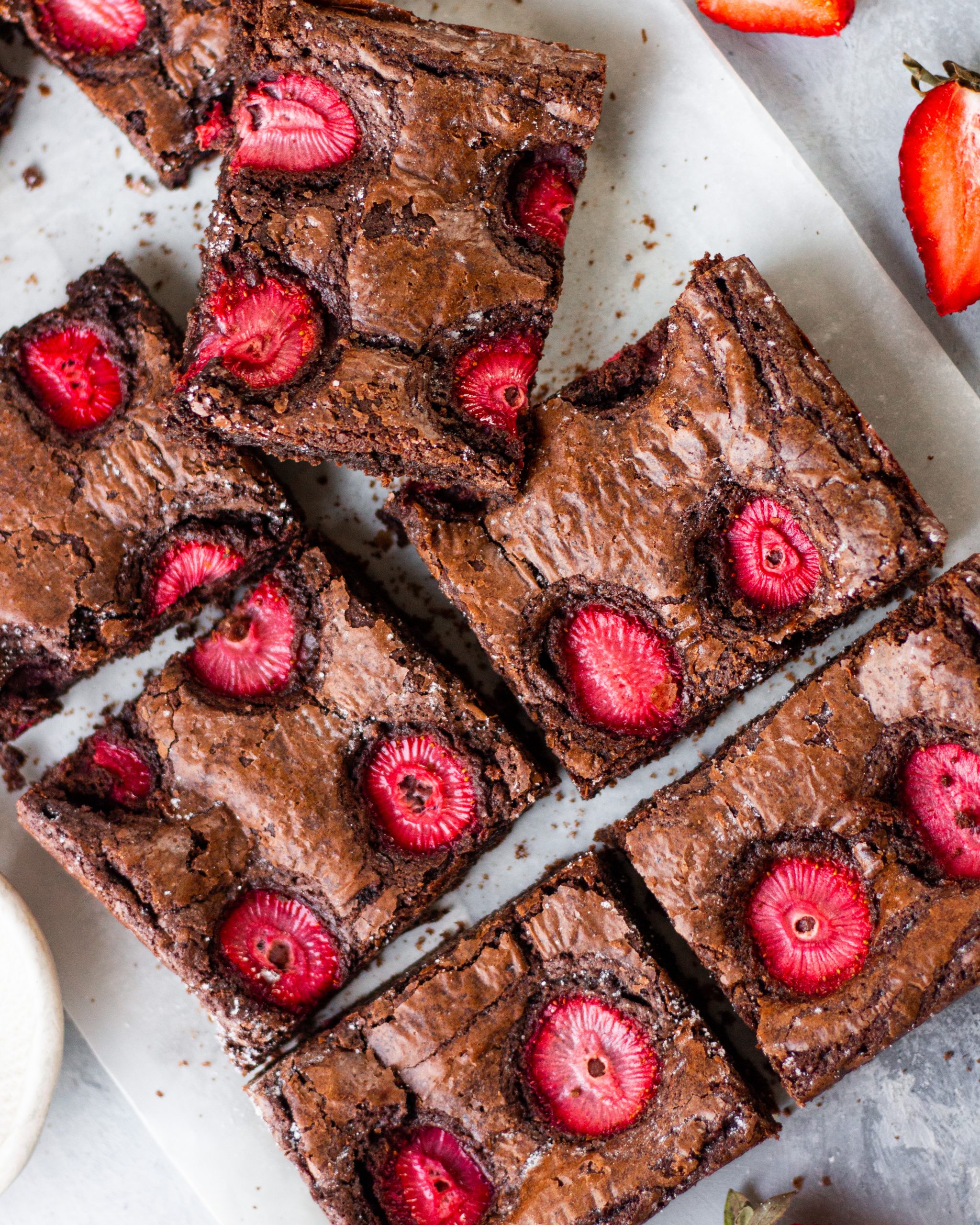 Ingredients for the chocolate strawberry brownie 
Butter 
I always use regular salted butter in my desserts. If you want, you can use either salted or unsalted. Just make sure to add a pinch of salt if you are using an unsalted butter. Adding salt makes sure that the flavor of chocolate will shine through. 
Chocolate 
I recommend using dark chocolate. If you want, you can also use milk chocolate but this will make your brownies much more sweet. It is very important to use chocolate and not compound. So keep an eye for the same. 
Caster Sugar 
I like keeping it simple and adding just caster sugar into my brownies. I know a lot of people who love to add a mix of both caster and brown sugar. You can do the same in this recipe if you wish. Just add the same total quantity of sugar and keep it half caster and half brown. Brown sugar adds chewiness to your brownies. 
Eggs
These are what is adding structure to the brownie. Whip your eggs and sugar really nicely for that perfect crinkly top that everyone raves about in brownies. 
All purpose flour 
I used basic maida but you can use a combination of almond flour and oat flour if you are not a fan of using maida. 
Cocoa powder 
I love using the Weikfield cocoa powder for my brownie. It is natural cocoa powder which means it is not so overpowering and also gives me the beautiful brown color that I love in my brownies. 
Baking powder 
I like my brownies to have a bit of a lift and some height. If you want, you can skip on this ingredient. 
Icing sugar 
This just makes every dessert look so dreamy and pretty! I love dusting some icing sugar on top of my brownies. The contrast of brown, red, and white looks super cute and appealing.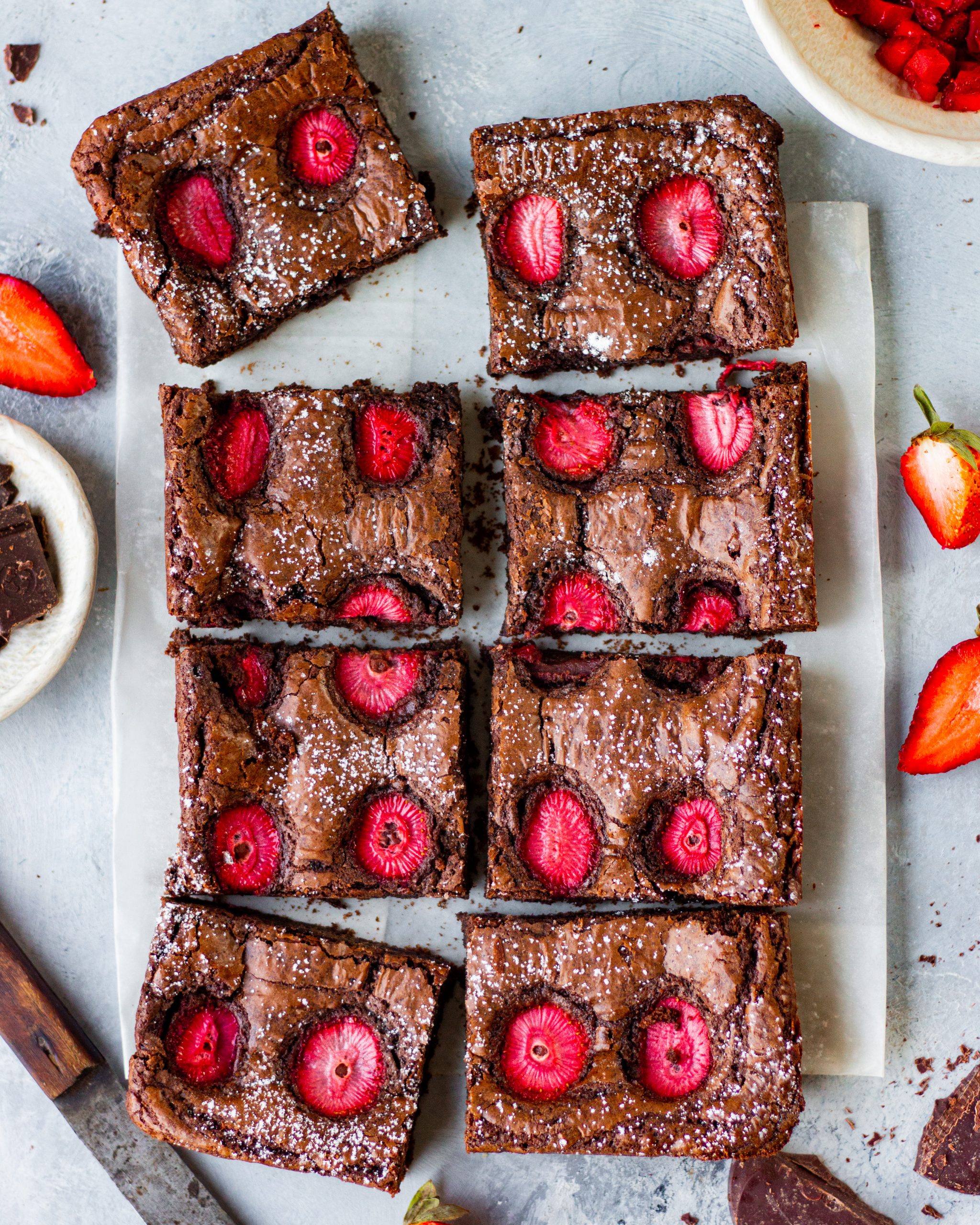 Things to take care of while making chocolate strawberry brownies 
Make sure to use good quality chocolate. The best brownies are always made with the best quality ingredients so if you can, splurge a little on the best quality chocolate you can get your hands on.
While making brownies, make sure to use caster sugar and not granulated. The large chunks of granulated sugar don't melt into the batter and leave you with sugar chunks in your final brownie. If you are using powdered sugar instead of castor sugar, make sure to sieve it before whisking away the brownie batter.
One of the most common mistakes that people make while baking brownies is overbaking them. In order to have that perfect amount of fudginess in your brownies, you need to bake it for the exact amount of time that's mentioned in the recipe so that you don't end up with hard, inedible brownies. 
I absolutely love making brownies and there are so many brownie recipes on my blog! If you are looking for a healthier brownie, you need to try out my Healthy Gluten Free Quinoa Brownies. If you are looking for a twist, the Red Velvet Cheesecake Brownies are a must try! 
You can follow my work on my Instagram, @shives17. Happy Baking!
Chocolate strawberry brownie
Ingredients
1 cup ( 175gm) dark chocolate, coarsely chopped
½ cup (113gm) butter
1 cup (200gm) caster sugar
½ cup (60gm) all purpose flour
1 tsp (4gm) baking powder
3 tbsp ( 23gm) cocoa powder
2 eggs
strawberry slices
Instructions
Butter an 8" square pan and pre-heat your oven to 180C.
In a saucepan set over low heat, melt butter and chocolate. Let it cool.
Combine sugar and eggs. Add the cooled chocolate mixture.
Add in the flour, cocoa powder and baking powder. Combine well.
Transfer the batter to the baking dish and on top spread strawberry slices.
Bake at 180C for 30 minutes-35 minutes. Let the brownies cool completely before you try and cut them.