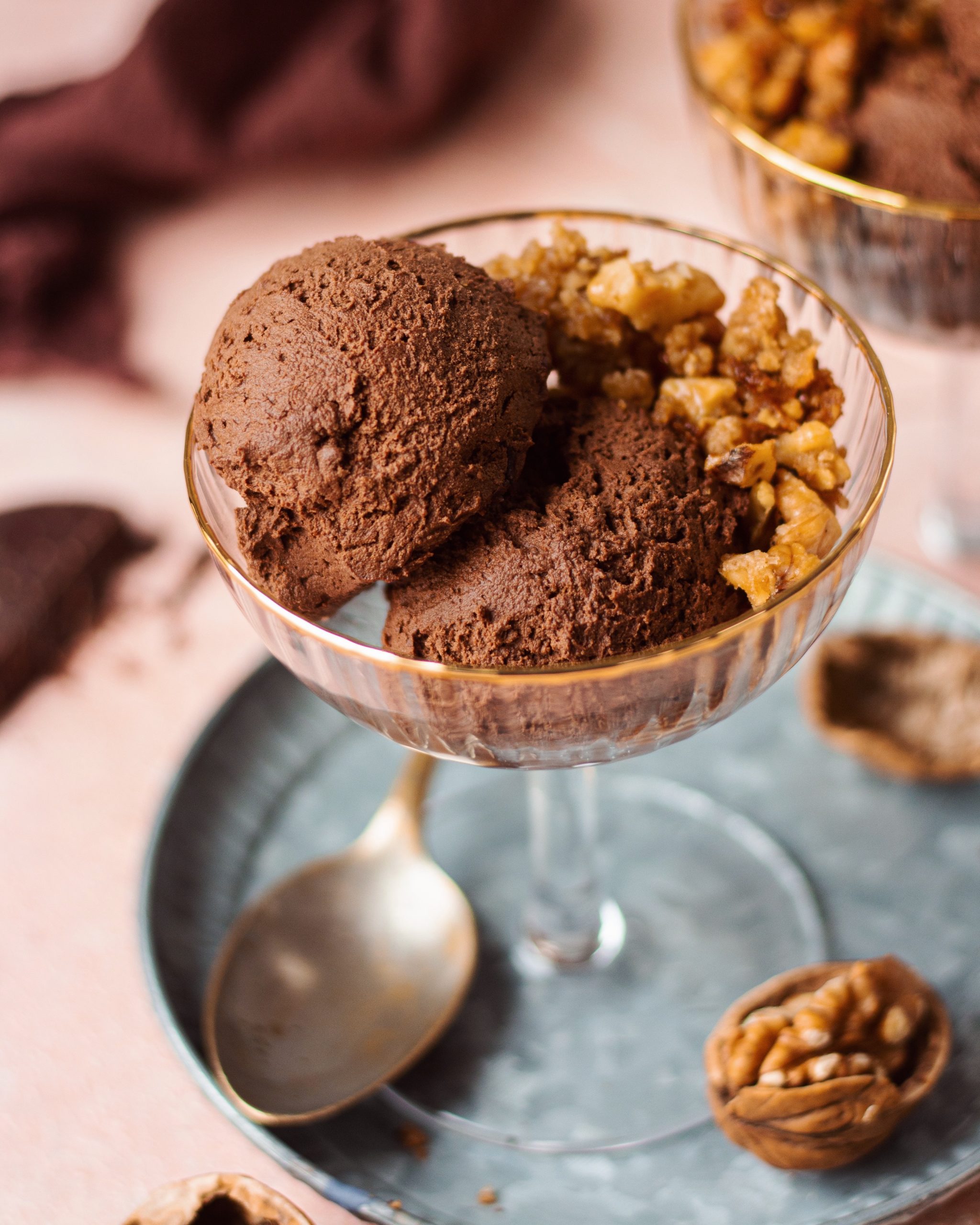 When I tell you I genuinely love mousse, I am not lying. It is a dessert made in heaven. So chocolatey, super creamy and airy. Textures and mouthfeel are major for me, it gives a whole new meaning to a dessert. Now I have tried a lot of different mousse recipes in the past, be it indulgent or healthy, easy or intricate. But this 2 ingredient mousse that I am about to share with you all will have your mind blown away. Yes! It is just 2 ingredients that you need to create this aerated beauty of a chocolate mousse.
Technically this recipe was invented by chef Heston Blumenthal who just very magically created mousse using just 2 ingredients- chocolate and water. I mean what a freaking genius. I did not have high expectations thinking that it is just water being mixed in with chocolate and no cream or dairy. But oh boy! Have I been happily proved wrong? So let me make you feel the same way and show you how you recreate this gorgeous easy chocolate mousse recipe. 
Ingredients for easy chocolate mousse
Chocolate
The first thing you need to recreate this easy chocolate mousse is chocolate and not just any chocolate. For this recipe to work successfully, a good quality cooking chocolate is a must. There are so many different brands available now like- Callebaut, Van Houten and Vanleer. Even though these chocolates would be appropriate for a recipe like this that totally depends on the chocolate, I know that these chocolates can be expensive and a little hard to find in your local grocery stores. Which is exactly why I experimented a bit here and used a chocolate that is so readily to all us which is Amul. 
For my easy chocolate mousse I have used 55% dark chocolate, I absolutely love how this chocolate is a perfect balance of sweet and bitter. You can experiment with other varieties that Amul has, be it milk, sugar free or 99% dark chocolate. Only thing to keep in mind is to use a chocolate that has cocoa butter and cocoa solids so that they can replicate a couverture chocolate in our mousse. 
Water 
Next up and also the final ingredient needed is some regular drinking water. It amazes me so much how without any creamers or dairy this easy chocolate mousse comes to life and oh so beautifully with just water. We would be using boiling water here that you can heat up over your stove or in a kettle. Just be very careful when boiling water and the steam and the water itself can burn you, so take supervision and help whenever needed. 
The process 
Once we have our chopped chocolate ready in a heat proof bowl, we are going to be pouring our boiling water over it. Then using a spatula we are going to give this a stir until the chocolate starts melting. 

Once all the chocolate has completely melted we are now going to place this bowl over an ice bath. This will allow our melted chocolate and water mixture to thicken. While that happens we will also aerate it at the same time using an electric mixer. Constantly whipping it until a light and airy mousse is achieved. You can also use a hand whisk if you do not have an electric whisk on hand, but this may take a lot longer and a lot of arm strength. 
Tips to make this easy chocolate mousse perfect
Chop the chocolate in small equal sized chunks. This might seem time consuming but makes the whole process of melting the chocolate so easy. Equal sized chunks will not only melt faster but also evenly.

Bring the water up to a boil. We need the water to be boiling and absolutely hot to melt our chocolate. If the water is lukewarm or not hot the chocolate won't melt, and you will have a lumpy chocolate sludge on your hands.

Using an ice bath. This is a crucial step in order to bring the temperature of the chocolate and water mixture up. You can easily create a water bath by adding in ice cubes, cold water and a pinch of water in a bowl. 

Constantly stirring the chocolate and water mix when over an ice bath. Allowing the mixture to rest and stand still will lead to the chocolate setting on the rims of the bowl which we do not want. Constantly allowing the chocolate to move and cool down is the only way to achieve a perfectly airy and smooth chocolate mousse.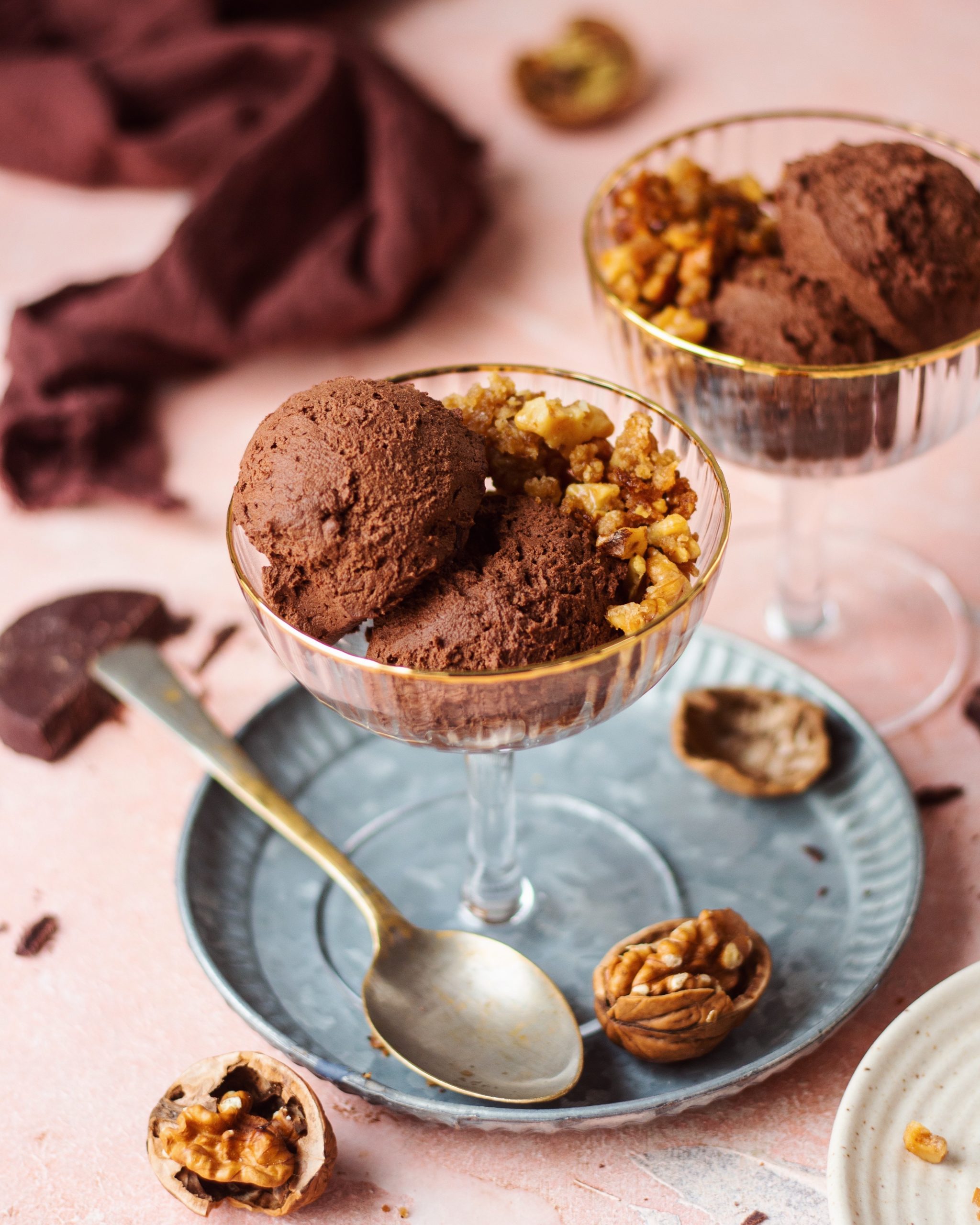 Add some crunch: walnut crumble 
Now the mousse on itself is god send, but I am a very textural person. I need the smooth and silky, but also the crisp and crunchy. Hence to complement this gorgeous mousse we paired it with a super easy walnut crumble.
Ingredients for the crumble
Walnuts – walnuts have the perfect amount of nuttiness to sweetness and add a great crunch to just about anything. However you can easily replace them with almonds here. 

Butter – as always I prefer using salted butter for any and all of my recipes. It is the perfect way to balance the sweetness in your desserts with just a dash of salt.

Brown sugar – now you can definitely use regular sugar here but brown sugar just adds that extra punch of caramel-y flavour and colour that I absolutely love. 

Flour – to bring everything together I have used all purpose flour here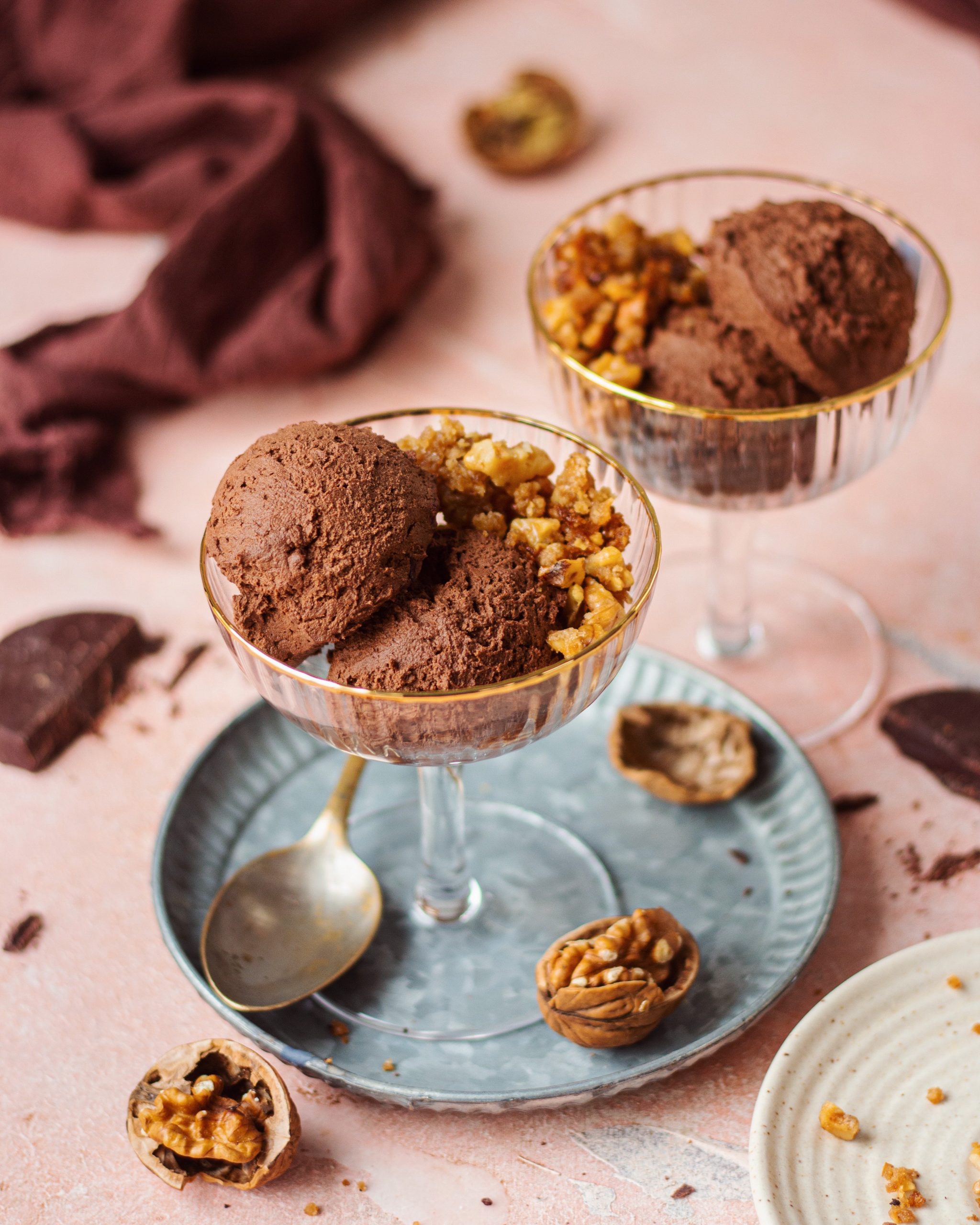 If you like my recipes, you can follow my work on Instagram as well! Find me at @shivesh17
You need to be accurate with measurements for this recipe, this is why it is important to follow the gram measurements.

Easy Chocolate Mousse - 2 ingredient mousse recipe
Ingredients
For mousse:
143 gm chocolate, chopped
117 gm hot water
For walnut crumble:
¼ cup (25gm) walnuts, chopped
2 tsp (9gm) brown sugar
1.5 tbsp (13gm) flour
1.5 tbsp (21gm) butter, cold
Instructions
In a heat proof bowl add chopped chocolate and pour hot boiling water over it. Using a spatula give everything a good mix until the chocolate has dissolved completely.
Place the bowl with the chocolate mixture over an ice bath, and start whisking using an electric whisk for about 3-5 minutes until a light and fluffy chocolate mousse like texture is achieved. Transfer the mousse to the serving glass of your choice.
For the crumble, preheat your oven at 160C.
In a bowl add walnuts, brown sugar, flour and cold cubed butter. Using your hands gently rub the butter into all the ingredients until the mixture resembles sand.
Transfer the crumble to a baking tray lined with parchment paper and gently pat the crumble down to flatten it.
Bake for about 8-10 minutes or until the crumble is golden brown.
Top the mousse with the walnut crumble and enjoy!