We're already in the second month of 2021 and Valentines is just around the corner! I love how valentines is all about love and dessert and every year it gets me super excited. With valentines, comes lots of red velvet desserts. I wanted to get on the wagon and share one of my go to recipes for red velvet cupcakes. These are eggless and are so so soft, you will absolutely love them. 
In my opinion, red velvet cupcakes are incomplete without a cream cheese frosting on top. It is hands down one of my favorite frostings ever and once you make it, you'll definitely agree with me.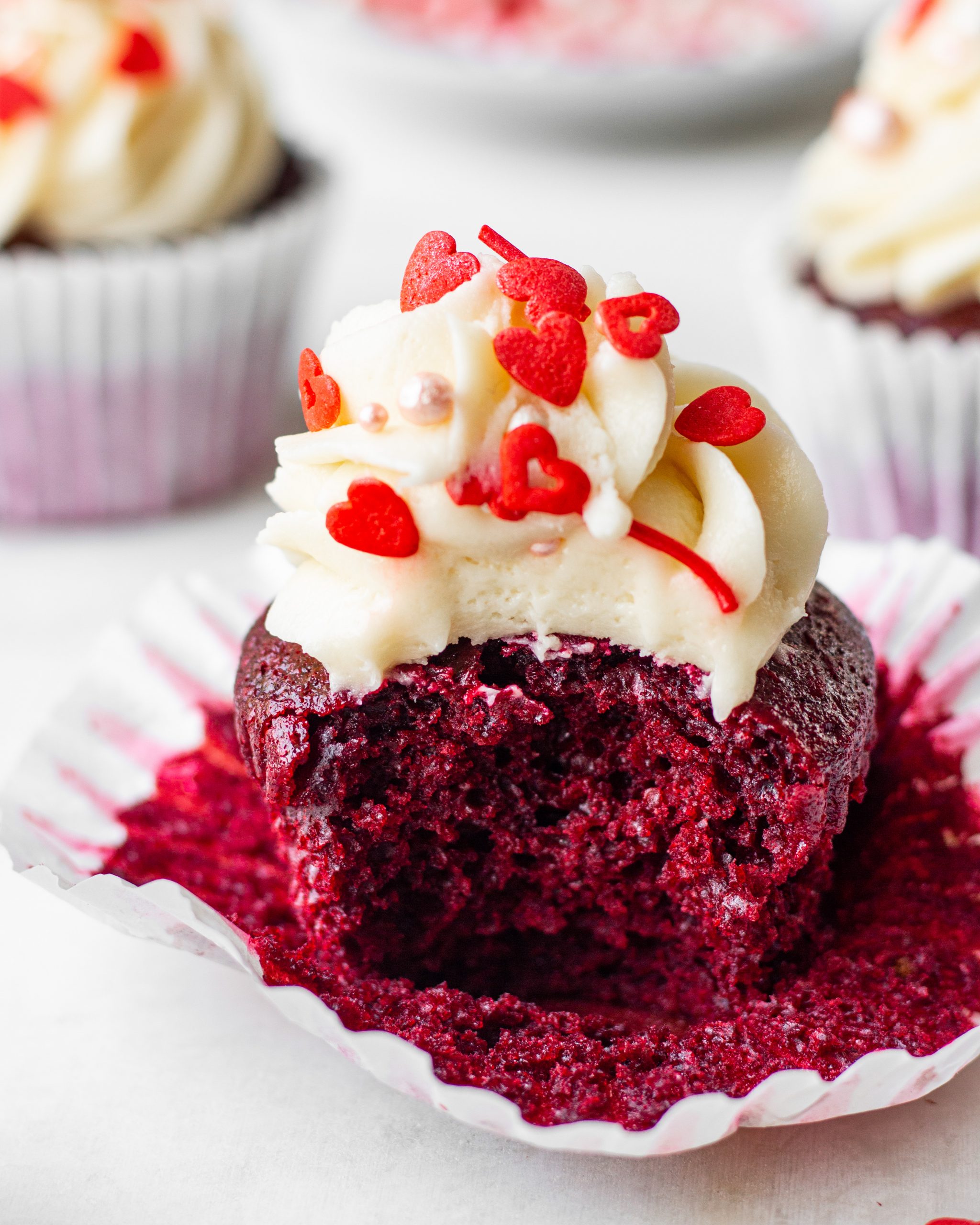 Flavor notes of the red velvet cupcakes 
Any and everything red velvet always receives so much of love. It's something that brings a smile on everyone's face. Whether you are eating a red velvet cake, cupcake, waffles or even cheesecake, you will notice that red velvet has a very mild chocolate taste. This is why all red velvet recipes have a small amount of cocoa powder in them. 
In addition to the mild chocolate flavor, red velvet desserts also have an acidic taste. This taste is achieved by the incorporation of buttermilk in anything red velvet. Buttermilk is nothing but a combination of regular milk and white vinegar. You mix these two ingredients together and let the milk curdle. The curdling is what forms the buttermilk and adds an acidic taste to red velvet desserts and also adds a moist texture. 
Cream cheese is also slightly acidic in taste. This is why red velvet and cream cheese is such a classic combination and the two things go really well together. By adding cream cheese in the form of a frosting, you are also adding a great mouthfeel to your desserts. This is why I would always recommend always pairing red velvet desserts with a delicious cream cheese frosting.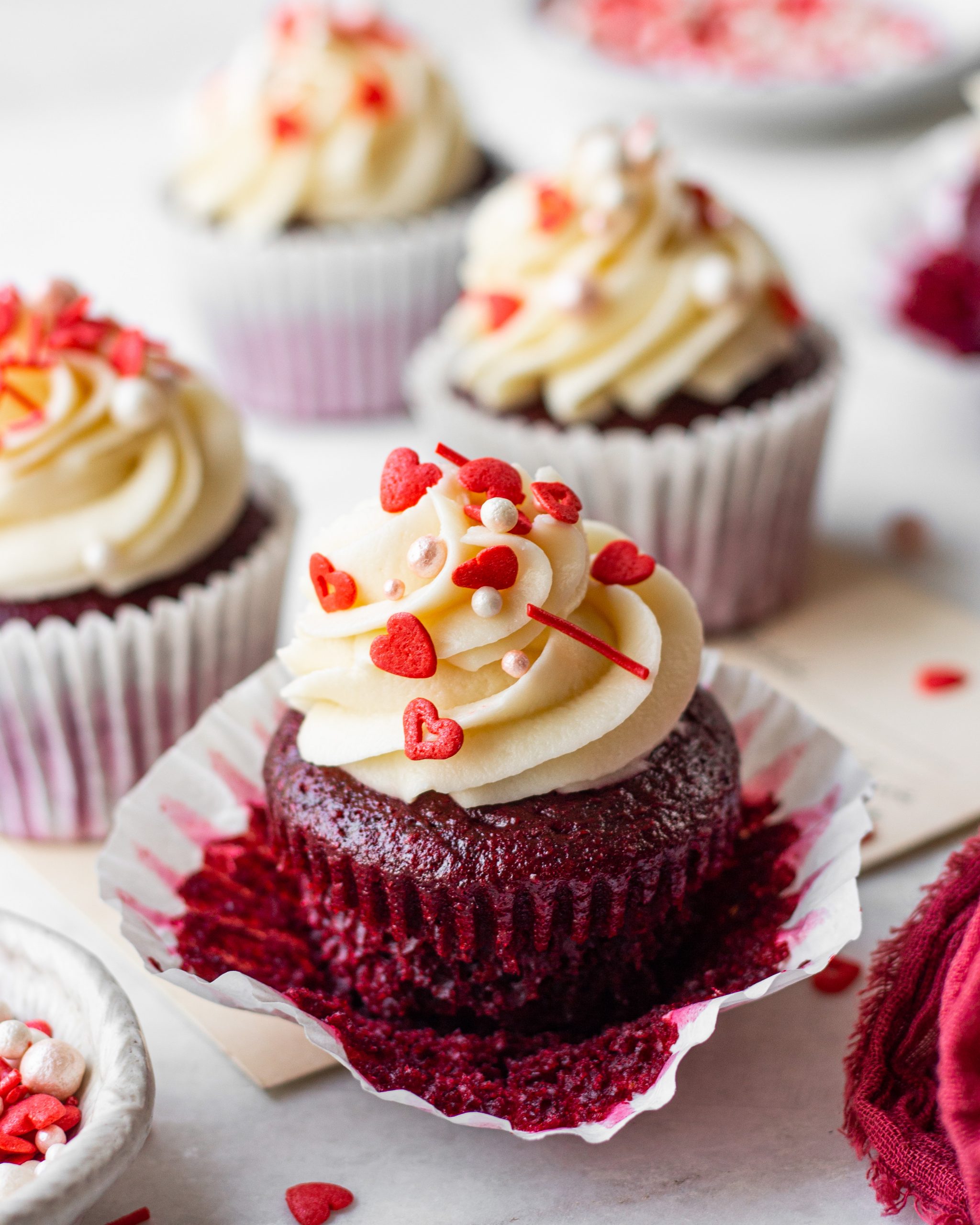 Tips to get perfect red velvet cupcakes 
Do not skip on making the buttermilk. It only calls for two ingredients- milk and vinegar and it only needs 5 minutes of patience. If you do not have vinegar at home, you can very easily replace that with an equal quantity of fresh lemon juice. 

For even and clean cupcakes, you need non-stick cupcake liners. Do your liners become greasy and almost translucent when you take your cupcakes out of the oven? Or, does the liner stick to the cupcake? If either is the case, you are using the wrong kind of cupcake liners. I suggest you buy ones made of parchment paper or just look for 'grease-proof' on the packaging.

Overfilling the cupcake liners is a more mistake than you might think. Filling by estimation may result in uneven looking cupcakes, that are not pretty to frost. Ensure that you are putting in the same quantity of batter in every liner. I like using an ice-cream scoop to measure the batter. Scoop the batter in the centre of the cupcake liner. Ideally, you should be filling up to 2/3rd of it, giving the batter enough space to rise.

Different cupcake recipes might lead to a different amount of rise of the cupcake. Some actually rise a lot and only require you to fill around 1/3rd of the liner. Whenever you are trying a new cupcake recipe, and it does not mention how much of each cupcake liner to fill, I would recommend doing a trial bake of one single cupcake to see how much it is rising. 

Now this might sound obvious, but let your cupcakes cool completely before you frost them. Leave them out on the wire rack to come to room temperature. The slightest heat can melt your frosting, resulting in what would look like a sloppy cupcake!

When you are baking your cupcakes ahead of time, they tend to dry out. To prevent this situation, frost the entire visible surface of the cupcake. The frosting acts as a seal, retaining the moisture in your cupcake and not letting it dry out. Also, extra frosting harms no one!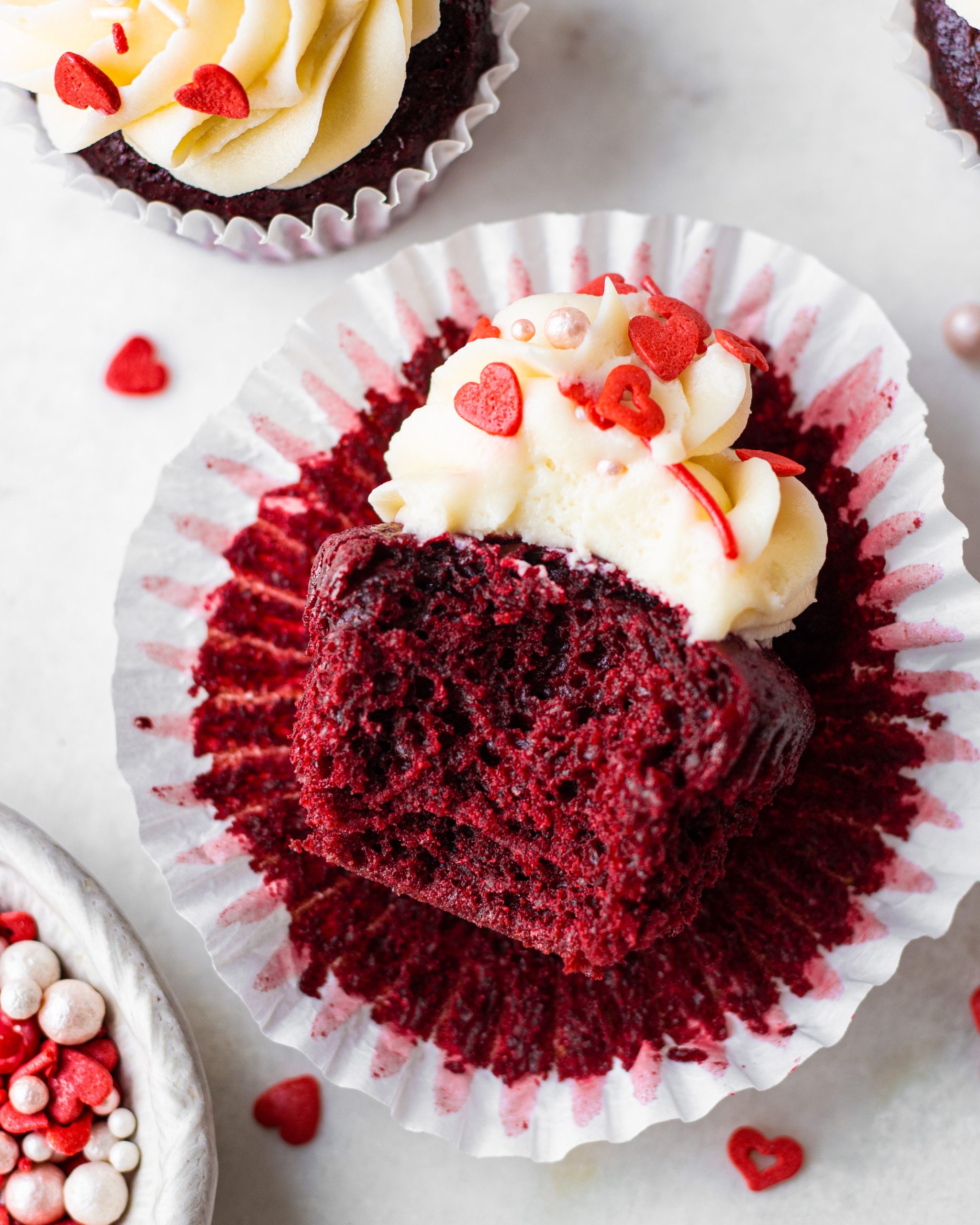 Tips for the perfect cream cheese frosting 
Always and always use only softened cream cheese 
Whenever you are making cream cheese frosting, one of the first steps will be to whip up your cream cheese. If you use cold cream cheese, it will be so hard to touch and impossible to whip up. If you use warm and or melted cream cheese, it'll be too hot and that also won't whip up. Softened cream cheese is ideal because it is malleable and when you whisk it, it will eventually whip up. 
Always use softened butter 
As with the cream cheese, butter also needs to be softened. You need to be able to work with it in order to whip it and mix it. Softened ingredients get mixed in really well and create smooth fillings and frostings. 
Use icing sugar 
There are three kinds of white sugar: caster, granulated, and icing. Icing sugar is the one in powdered form and the reason we use icing sugar in most frosting is because it gets mixed in really nicely. 
Since it is already a powder, it gets incorporated with other elements like butter and cream cheese and creates a homogenous mixture. If you were to use caster sugar or granulated sugar instead, the big sugar granules would never dissolve and you would end up with a lumpy and grainy frosting instead of a smooth and silky one. 
Do not over whip the frosting 
If you over whip cream cheese frosting, it will definitely split. Once that happens, there is no going back. While whipping, make sure to do so only till the frosting form some peaks and can hold its shape 
Refrigerate the frosting 
A lot of times as we are baking, the kitchen and our environment can get really hot. This plays with the structure and the temperature of the frosting too. If your frosting starts to get too sloppy, you can cover it up and just let it cool down in the refrigerator for 15 minutes. Once cooled, you can continue working with it and you will see that when chilled, it holds its shape very nicely. 
Piping the frosting 
I used a piping bag and an open star tip to pipe the frosting on my cupcakes. If you do not have piping bags and or piping tips, you can simply use a spoon to add dollops of the cream cheese frosting on top of the cupcake. Later, you can use the back of the spoon to spread the frosting around the edges and neaten it out.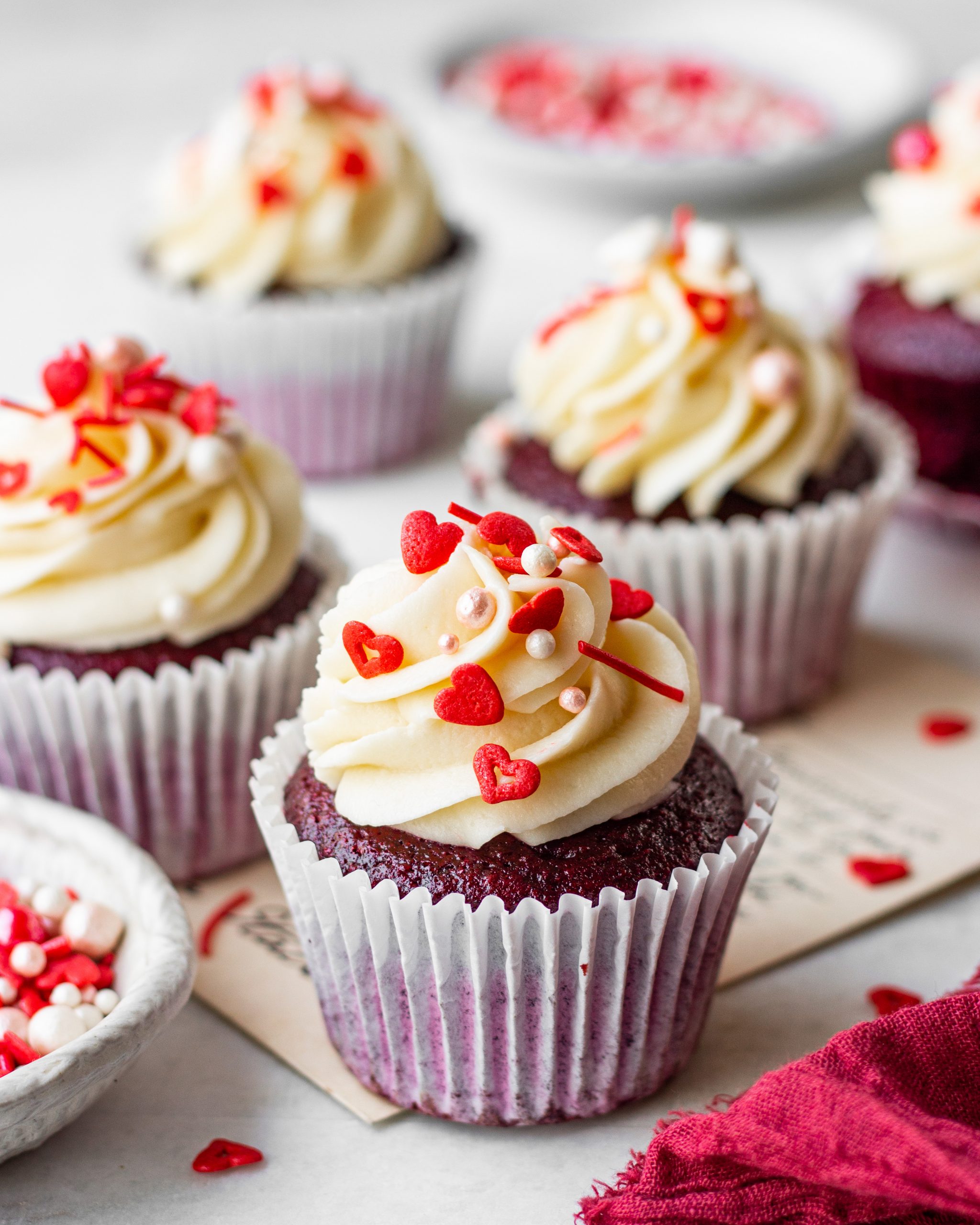 Homemade cream cheese frosting for red velvet cupcakes 
I know a lot of us struggle to find cream cheese at our local markets and so many of you shared this concern with me. I have a recipe that will allow you to make your own cream cheese at home! You only need a few ingredients like cream, milk and vinegar. How cool is that! You can find all details and the recipe in my article  How to Make Cream Cheese at Home. 
Hope you'll make these cupcakes and have a wonderful Valentine's Day. Don't forget to share your pictures with me on my Instagram @shivesh17. Happy baking and happy valentine's day!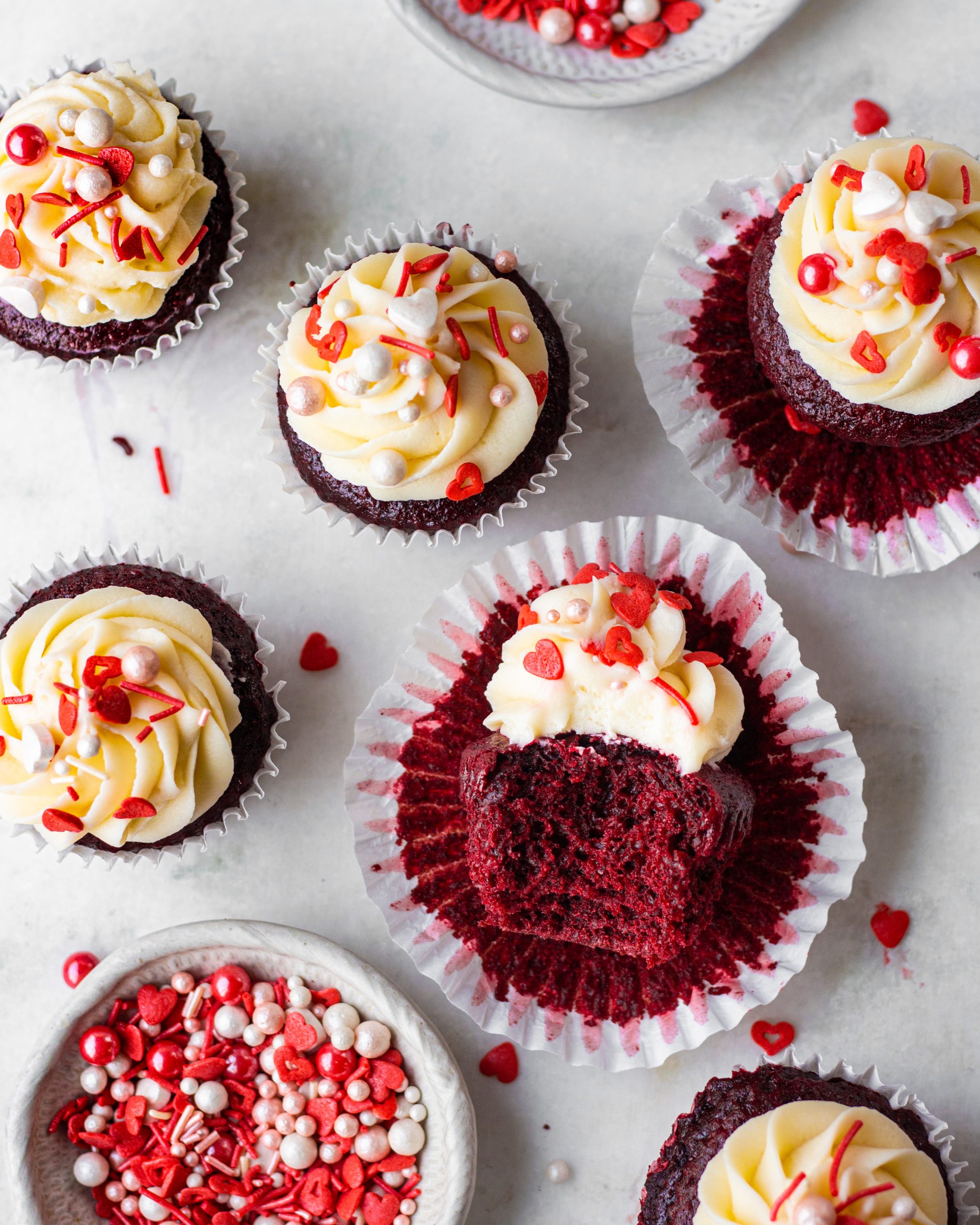 Red velvet cupcakes - valentine's special
Ingredients
¾ cup (180ml) milk
1 tbsp (15ml) vinegar
½ cup (50gms) caster sugar
¼ cup (60ml) oil
½ tsp (1.5ml) vanilla
2 tbsp (30gms) yogurt
¾ cup (180gms) flour
1 tbsp (7.5gms) cocoa powder
½ tsp (1.5gms) baking soda
1 tbsp (15ml) red fod color
For frosting
1 cup (200gms) cream cheese
½ cup (100gms) butter
¼ tsp (0.75ml)vanilla essence
1+ ½ cup (195gms) icing sugar
Sprinkles (to top)
Instructions
Preheat your oven at 180 degree celcius and line your cupcake tray with cupcake liners.
In a bowl add in oil and sugar. Make sure to whisk these two really well, till the mixture becomes light and pale.
Now add in vanilla yogurt. Mix this in as well.
Add in red food color and buttermilk and mix that in.
Put a large sieve over the same bowl and sift flour, cocoa powder and baking soda.
Once sifted, mix in dry ingredients into the wet ingredients and mix just till there are very small flour pockets left.
Using an ice cream scoop, fill ¾th of each cupcake liner and bake these at 180 degree celcius for 20-25 minutes.
Let them cool down completely.
For frosting
In a bowl add in softened butter and softened cream cheese. Using an electric whisk, whip the two together for 2 minutes.
Add in vanilla and whip again for a minute or so.
Sift in icing sugar and whip everything for another 2 minutes or until you see the frosting hold shape.
Transfer frosting into a piping bag with an open star and and pipe the frosting on top of the cooled cupcakes.
Sprinkle some sprinkles for decoration and enjoy!