Red velvet cupcakes - valentine's special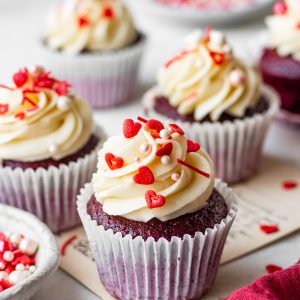 ¾ cup (180ml) milk
1 tbsp (15ml) vinegar
½ cup (50gms) caster sugar
¼ cup (60ml) oil
½ tsp (1.5ml) vanilla
2 tbsp (30gms) yogurt
¾ cup (180gms) flour
1 tbsp (7.5gms) cocoa powder
½ tsp (1.5gms) baking soda
1 tbsp (15ml) red fod color
1 cup (200gms) cream cheese
½ cup (100gms) butter
¼ tsp (0.75ml)vanilla essence
1+ ½ cup (195gms) icing sugar
Sprinkles (to top)
Preheat your oven at 180 degree celcius and line your cupcake tray with cupcake liners.
In a bowl add in oil and sugar. Make sure to whisk these two really well, till the mixture becomes light and pale.
Now add in vanilla yogurt. Mix this in as well.
Add in red food color and buttermilk and mix that in.
Put a large sieve over the same bowl and sift flour, cocoa powder and baking soda.
Once sifted, mix in dry ingredients into the wet ingredients and mix just till there are very small flour pockets left.
Using an ice cream scoop, fill ¾th of each cupcake liner and bake these at 180 degree celcius for 20-25 minutes.
Let them cool down completely.
In a bowl add in softened butter and softened cream cheese. Using an electric whisk, whip the two together for 2 minutes.
Add in vanilla and whip again for a minute or so.
Sift in icing sugar and whip everything for another 2 minutes or until you see the frosting hold shape.
Transfer frosting into a piping bag with an open star and and pipe the frosting on top of the cooled cupcakes.
Sprinkle some sprinkles for decoration and enjoy!
Recipe by
Bake with Shivesh
at https://bakewithshivesh.com/red-velvet-cupcakes-valentines-special/