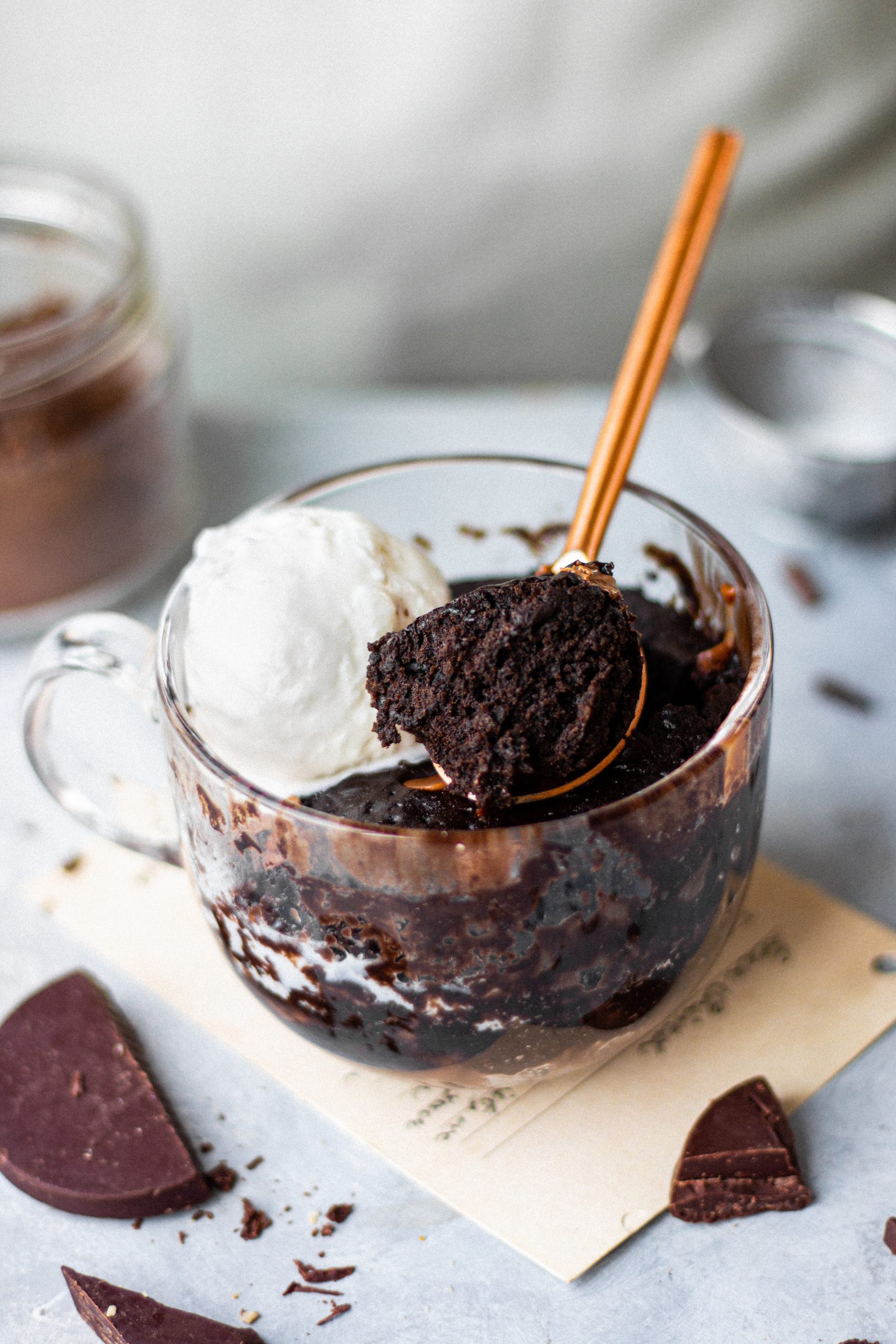 Nothing is better than a double chocolate dessert. I am all in for other flavours be it plain jane vanilla or fruity goodness but the chocolate hits differently especially when its double chocolate. And to make this double chocolate flavour even more accessible and easy we are making my double chocolate mug cake. It is going to be super easy to make and even easier to devour. We are going to flavour our mug cake with both cocoa powder and chocolate chips for the double chocolate punch. Enjoy this double chocolatey goodness with a warm cup of beverage and oh my, you will instantly be in a happy town!
Mug cakes are the quickest desserts to prepare, with the most basic pantry ingredient and minimum tools needed. This recipe is completely safe to recreate since we are making it in a microwave and if you are a young adult trying to 'bake' a lovely dessert just for yourself or your loved ones this recipe is about to become your go to! So let's dive in. 
Equipment you need for the double chocolate mug cake
A microwave safe mug
You can use any mug or even a small bowl that is microwave safe. One thing to keep in mind is that this recipe has been designed for a 500ml capacity mug, so if the mug that you are using is smaller please adjust the recipe accordingly. Using a smaller mug with the full recipe might lead to overflowing of the batter and creating a huge mess in your microwave, trust me on this I am telling you from past experience! Haha! 
Something to mix with
You do not need any fancy mixers, all you need is a hand whisk. A hand whisk will allow our double chocolate mug cake ingredients to mix thoroughly with each other. Now even if you do not a hand whisk, you can simply also use a fork to yield similar results. Since there is so intricate creaming of oil and sugar happening a fork will work just fine. 
That's it on the equipment list, you do not even need an extra bowl to mix the batter in, simply just dump all of your ingredients in your serving mug, mix and microwave!!
 Ingredients of the double chocolate mug cake
Flour: The all purpose flour is basically your Maida. Using any brand's Maida works well for this double chocolate mug cake.
Cocoa powder: We have used Hershey's cocoa powder for the perfectly rich chocolatey taste, you can also use Cadbury's cocoa powder.
Baking powder: this will act as a leavening agent in our double chocolate mug cake. I use weikfield.
Milk: i have used regular toned milk but any kind of milk will work. You can use almond milk or soy milk- to make this double chocolate mug cake vegan and it will taste equally amazing!!
Oil: I always prefer sunflower oil. I avoid using strongly flavoured oils like mustard or sesame cause of the strong taste they tend to leave behind.
Sugar: I have used caster sugar for this recipe, however this is a very forgiving mug cake and you can substitute caster sugar with powdered sugar or brown sugar also.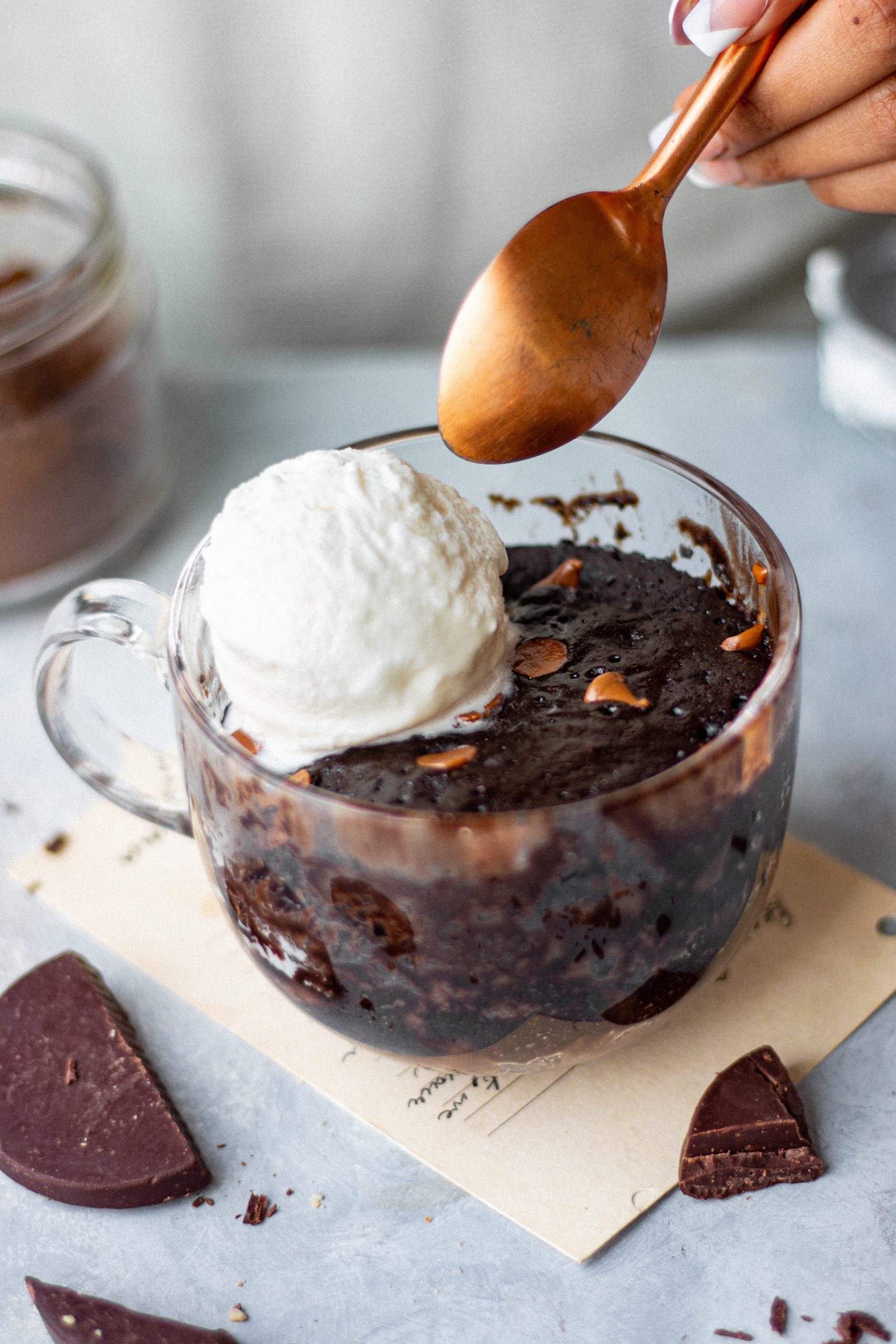 Microwave cooking instructions
We are going to be making this double chocolate mug cake using the regular microwave reheating function. Which means please only use glass or ceramic wear that is microwave safe. Do not use steel or cheap quality plastic that can be hazardous for your health and quite dangerous to use also. 
The cooking time will differ from one microwave to the other. I tried to microwave it for 90 seconds first and discovered that the outside is perfectly cooked but the inside and the middle was still raw. Which is why I cooked it for an additional 30 seconds. Making the full cooking time to come at 120 second or 2 minutes.  I recommend that after the 90 seconds mark you try and insert a skewer into the centre and see if the mug cake needs more cooking and work accordingly.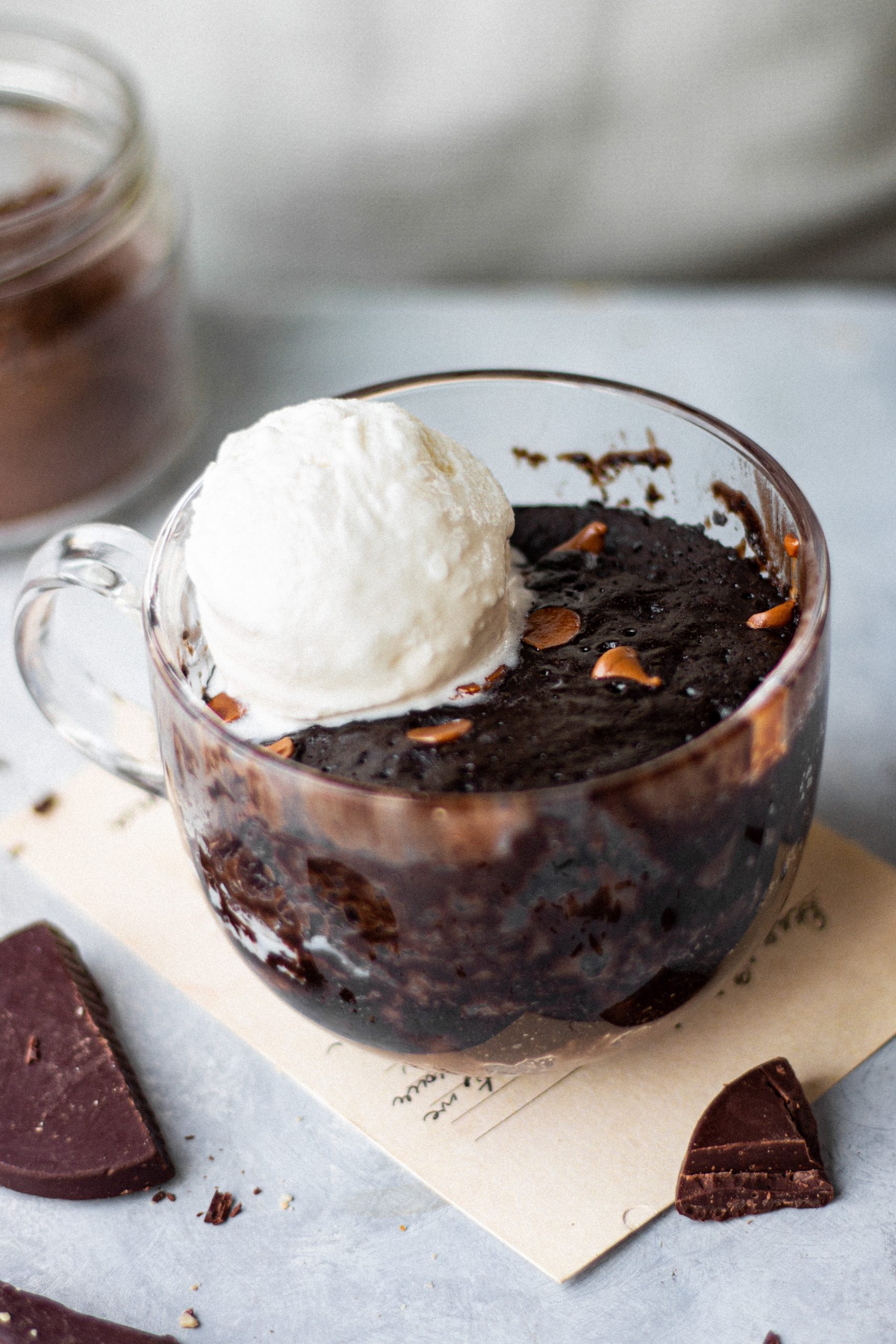 Other mug cakes on the blog
double chocolate mug cake
Ingredients
¼ cup maida
2 tbsp cocoa powder
3 tbsp sugar
½ tsp baking powder
6 tbsp milk
3 tbsp oil
½ tsp vanilla
Chocolate chips
Instructions
In a microwave safe mug/bowl add in the dry ingredients- maida, cocoa powder, sugar and baking powder. Give this a good mix using a whisk or a fork.
Then add in the wet ingredients- milk, oil and vanilla. Make sure to scrape the bottom and mix everything well.
Top the mug cake batter with chocolate chips and microwave for 90-120 seconds and dig right in!!