Holi is here and I know a lot of you are super excited for it! Unfortunately, we're still living in a world where there's a pandemic so we won't be able to celebrate Holi like we always do but we can always keep up the high spirits by trying different things and celebrating the festival of colors in our own little ways. One thing festivals are incomplete without is of course, dessert! These super simple thandai custard cups are for sure going to make your Holi a little more special. 
These thandai custard cups are so easy to make. They've got layers of crushed biscuits, a smooth thandai custard, and some gorgeous gulab jamun on top. I mean, how decadent does that sound! 
Let me take you through all the layers and components of this dessert individually. 
The biscuit base for thandai custard cups
I love any dessert with a buttery biscuit base. It really adds so much flavor, texture and little bit of decadence to any dessert. For the base, all you need is crushed biscuits and melted butter. Combine the two together, place them at the bottom of the jar and push them down to form a tight base and then refrigerate it so that the butter can firm up a little. 
For the base, you can use any biscuits you like. I love using digestive biscuits. They are so easily available and go perfectly with other flavors in the dessert. Butter also you can use any. I always use amul salted butter.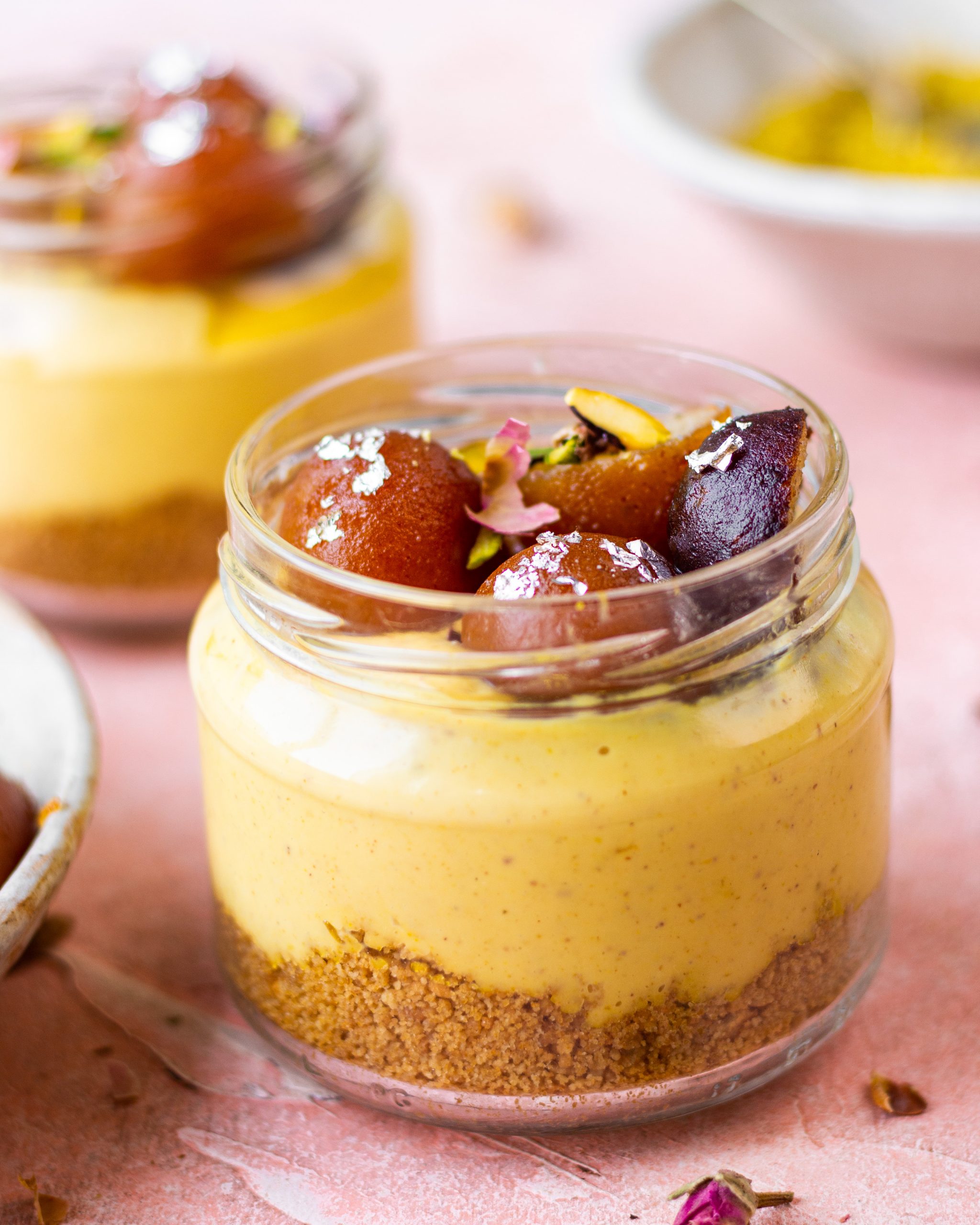 Thandai custard filling 
All the holi flavors are packed in our second layer which is the custard. You know I love playing around with custard and making desserts from it. And I know you love it too because my recipes like the Banoffee Biscuit Pudding have received a lot of love from all of you. 
For the thandai custard filling here, I infused the milk I used in my custard with my homemade thandai powder. It is made with a mix of cashews, almonds, pistachios, and walnuts. And it includes spices like cardamom, haldi, and black pepper. All you need to do is blitz everything in a food blender till it reaches a powder like consistency. For the full recipe, you can check out my article on thandai powder. 
So for the filling, you will need some custard powder, milk, sugar, and thandai powder. If you do not want to make the full thandai powder you can simply infuse the milk you will use for the custard with some cardamom powder, haldi, and saffron. 
Gulab jamun topping for thandai custard cups
I know i know, it might seem a bit extra to add gulab jamun over the thandai custard cups but they just look so cute on top and add such a great taste and texture! You can use any gulab jamun you like. I got my hands on some dark brown gulab jamuns and some classic cylindrical ones. I sliced them into the size and shape I wanted and placed them on top of the custard filling.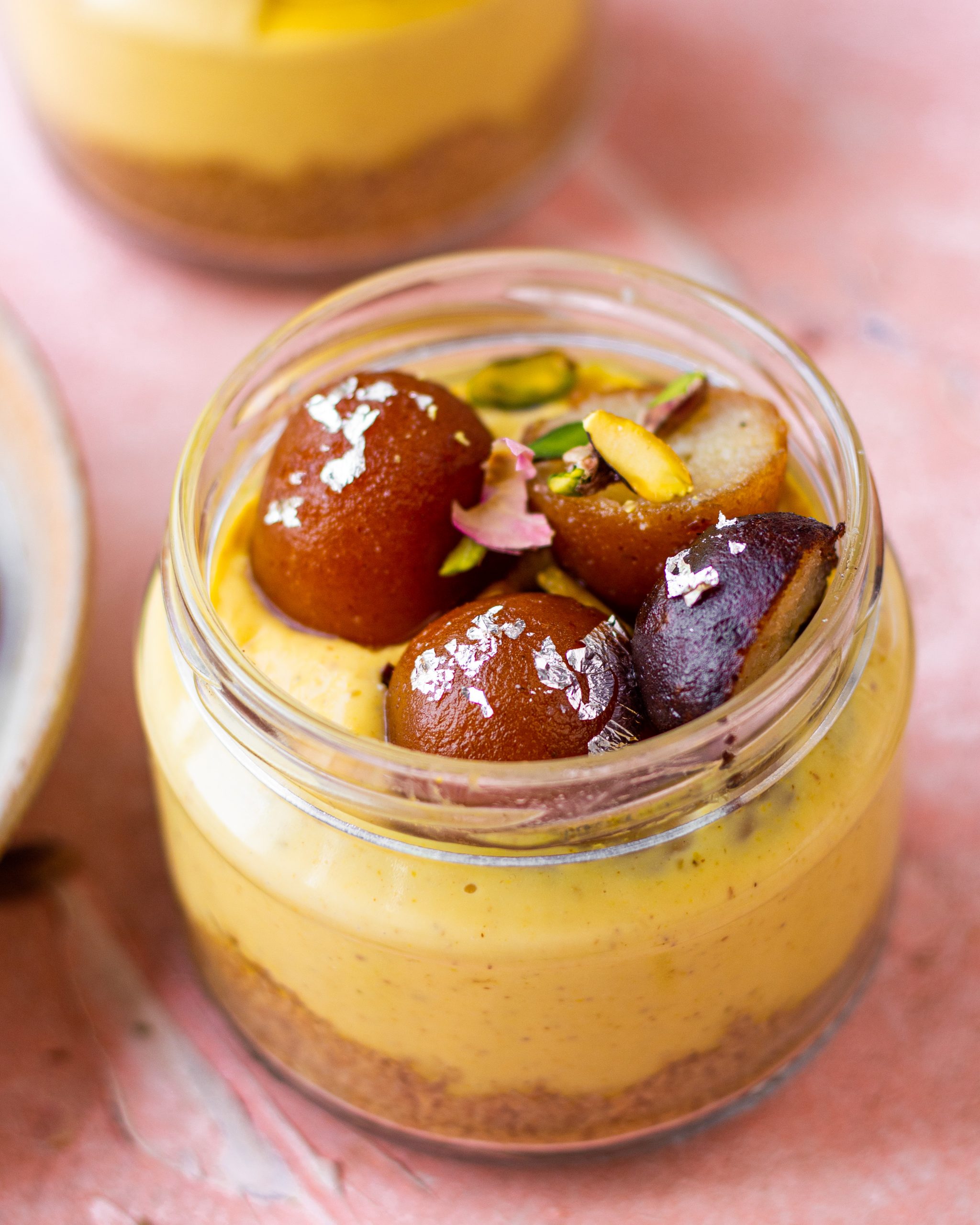 Points to keep in mind for the custard filling 
Majority of each cup is filled with the custard filling. While making custard, there are a few things you need to take care. 
Use a custard powder you like 
I always love to use weikfield's custard powder. It is so readily available and gives great results in terms of texture and taste. You can buy any custard powder that is available or any that you like. Make sure its the basic flavor and not any other flavors. 
Be careful about the quantity of custard powder 
Each box of custard powder will have instructions about how much milk and custard powder to add together. Please follow the quantities of both written in this recipe and not on the box. This is because we are making layered dessert and we need to make sure our custard is thick enough to hold its shape and the weight of other things. 
Keeping these points in mind, the quantity of the custard powder was decided so make sure to follow the recipe correctly. 
Keep stirring the custard while cooking 
You want to make sure that your custard is limp free and doesn't stick at the bottom of your pan. So make sure to keep stirring the custard till it becomes thick. 
Don't undercook your custard 
It is possible that the custard might take some time to cook. One trick to know whether the custard is cooked or not is that you watch the pot carefully and wait for the custard to reach a boil. Once you see a few bubbles on top and the custard coats the back of your, you will know it is fully cooled. 
Let the custard cool down completely 
You have to let the custard cool down completely. If you pour hot custard into the prepared jars, it will create a lot of steam, re melt the butter and biscuit base and create a slight mess. Once the custard has reached a boil, take it off the heat and cover it with cling wrap in a way that the cling wrap is actually touching the surface of the custard. This prevents the custard from forming a skin on top and this way of putting the cling wrap is called contact wrap.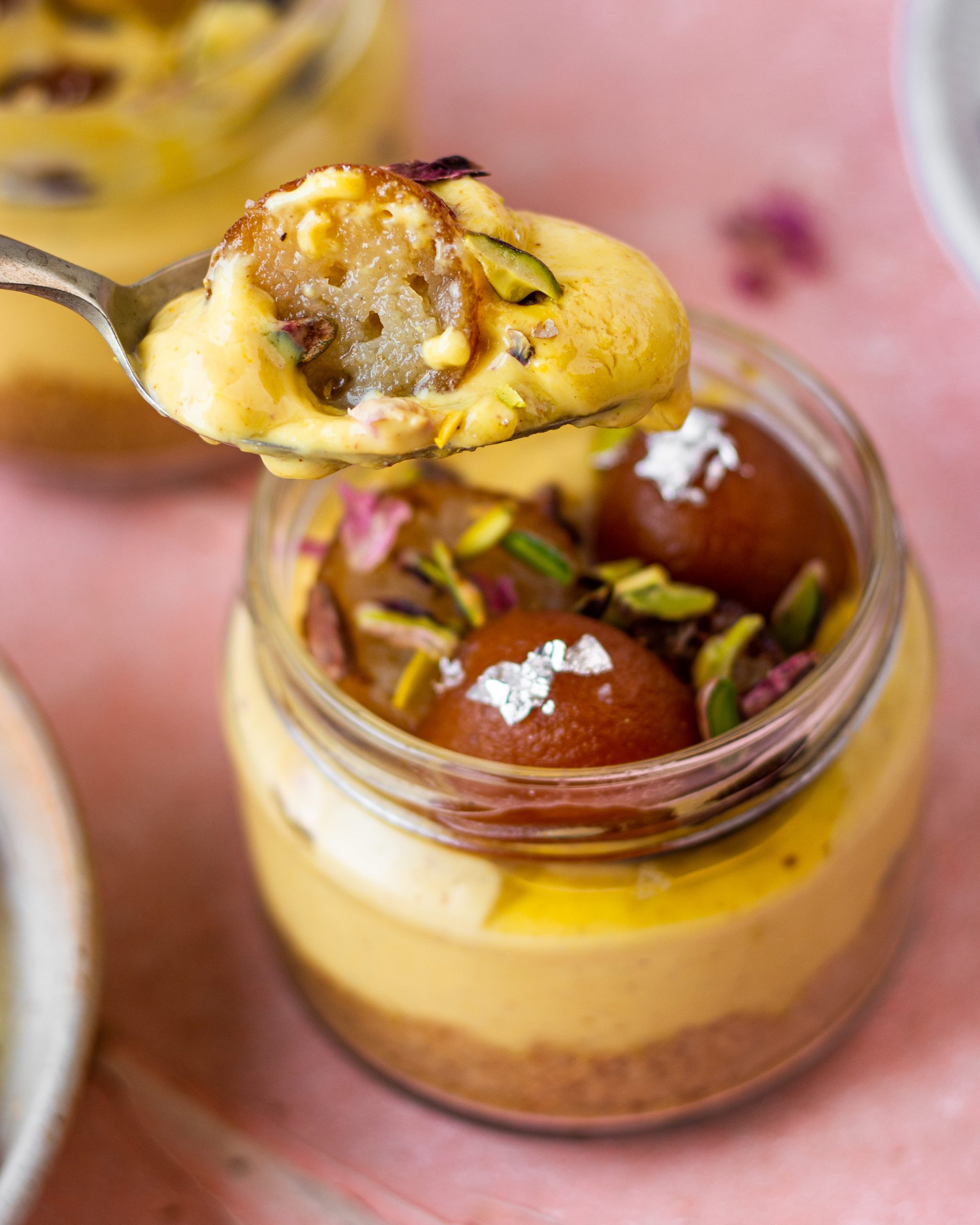 Other ways to garnish thandai custard cups 
I went for the ultimate topping by garnishing these cups with some delicious gulab jamun but of course you can garnish these cups your way. Some whipped cream on top would be another great way to add some more texture and also lightness to these thandai custard cups. 
You can also choose to just let the cups be as is and just sprinkle some crushed nuts on top. If you want to add a little bit of color, adding rose buds or dried rose petals also looks super cute and festive.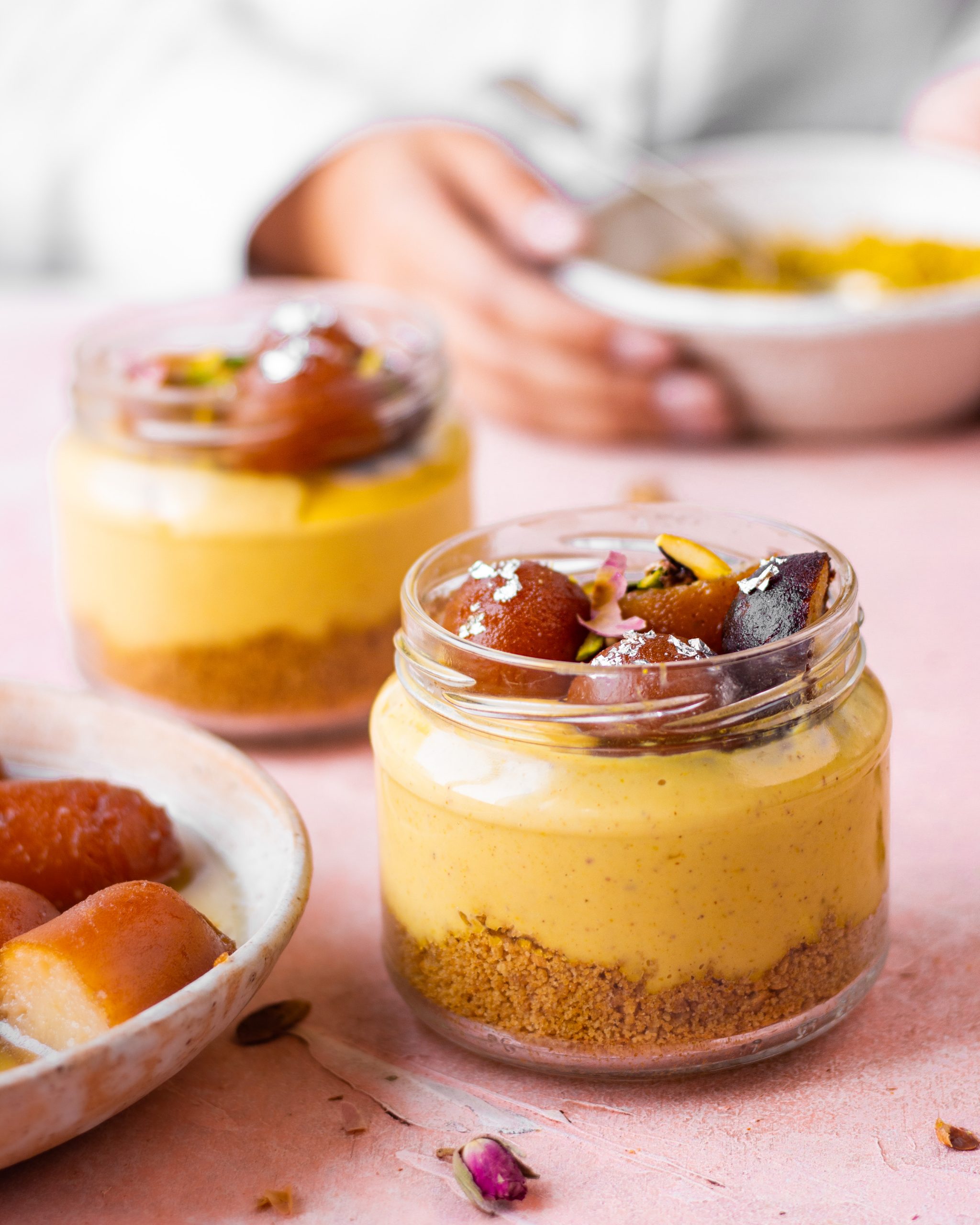 I hope this recipe will add more happiness to your holi celebrations and whoever you make this for will devour it completely. If you make this recipe, do not forget to share your pictures with me on my Instagram @shivesh17. Happy baking and a very happy holi! 

thandai custard cups: Holi special!
Ingredients
For the base
2 cups (240gms) crushed biscuits
6tbsp (90gms) melted butter
For the filling
4tbsp (60gms) custard powder
¾ cup (180ml) milk
4tbsp (50gms) sugar
1 + ¼ cup (300ml) milk
3tbsp (45gms) thandai powder
Instructions
In a food processor blitz some digestive biscuits till they crush down into fine crumbs and measure out 2 cups. Add melted butter to the crushed biscuits and combine the two making sure all the crumbs are well coated with butter.
Take your serving jars and put 4-5 tablespoons of the biscuit mixture in each. Pat the mixture down with your spoon and refrigerate the jars for 10-15 minutes.
To make the custard, in a small bowl combine custard powder and ¾ cup milk. Give this a good mix and set it aside.
In a saucepan over medium heat add in 1 and ¼ cup milk, thandai powder and sugar. Bring this to a slight boil and then pour in the custard and milk mixture into the saucepan. Keep whisking till the mixture comes to a boil and becomes thick.
Cover the top with cling wrap and let the custard cool down at room temperature.
Once cooled, pour it into the prepared jars and garnish with gulab jamun slices or as you wish.
Enjoy!