A little something for summer months is my super simple eggless pineapple cake that you definitely need to make for your family! 
It's such a classic cake with super simple ingredients, and the most simple steps. I know we've all loved a pineapple and cream cake that's light, airy, fluffy and so yum! It's time to recreate one of your own now and surprise your friends and family 😀 
Ingredients for eggless pineapple cake
Maida 
For our dry ingredients, we're definitely using all purpose flour. I didn't want to experiment with any other flour like whole wheat flour because this is an eggless cake and I wanted to use a flour that helps achieve a light sponge. In eggless recipes, I always sieve my dry ingredients to incorporate more air. So make sure to do the same if you want a fluffy cake. 
Milk
Milk adds softness to baked goods. It makes them perfectly moist too. I used regular toned milk. You can use any milk you like. 
Vinegar and lemon juice 
In this eggless recipe we're using both vinegar and lemon juice. The acidity from both will again help with the perfect texture for the cake and make sure our eggless cake tastes and looks just as good as a cake made with egg. 
Caster sugar 
Caster sugar for sweetness but if you're trying to use healthier alternatives in your baking, then you can use jaggery instead. 
Vanilla essence
Vanilla essence always adds great flavor to any cake. For this eggless pineapple cake, if you can get your hands on some pineapple essence, that would also work great! Just remember, specific flavored essence can be slightly stronger than vanilla so you don't want to add too much of it. 
Fresh pineapple 
This is what we use to make the perfect pineapple compote! I absolutely love the texture of this compote in between the layers of my pineapple cake. It adds great pineapple flavor and an additional texture. 
Whipping cream 
You can't have a pineapple cake without some whipping cream. I love using Rich whipping cream but you can use any you have and or prefer. I used the whipping cream to layer it between my two cake layers.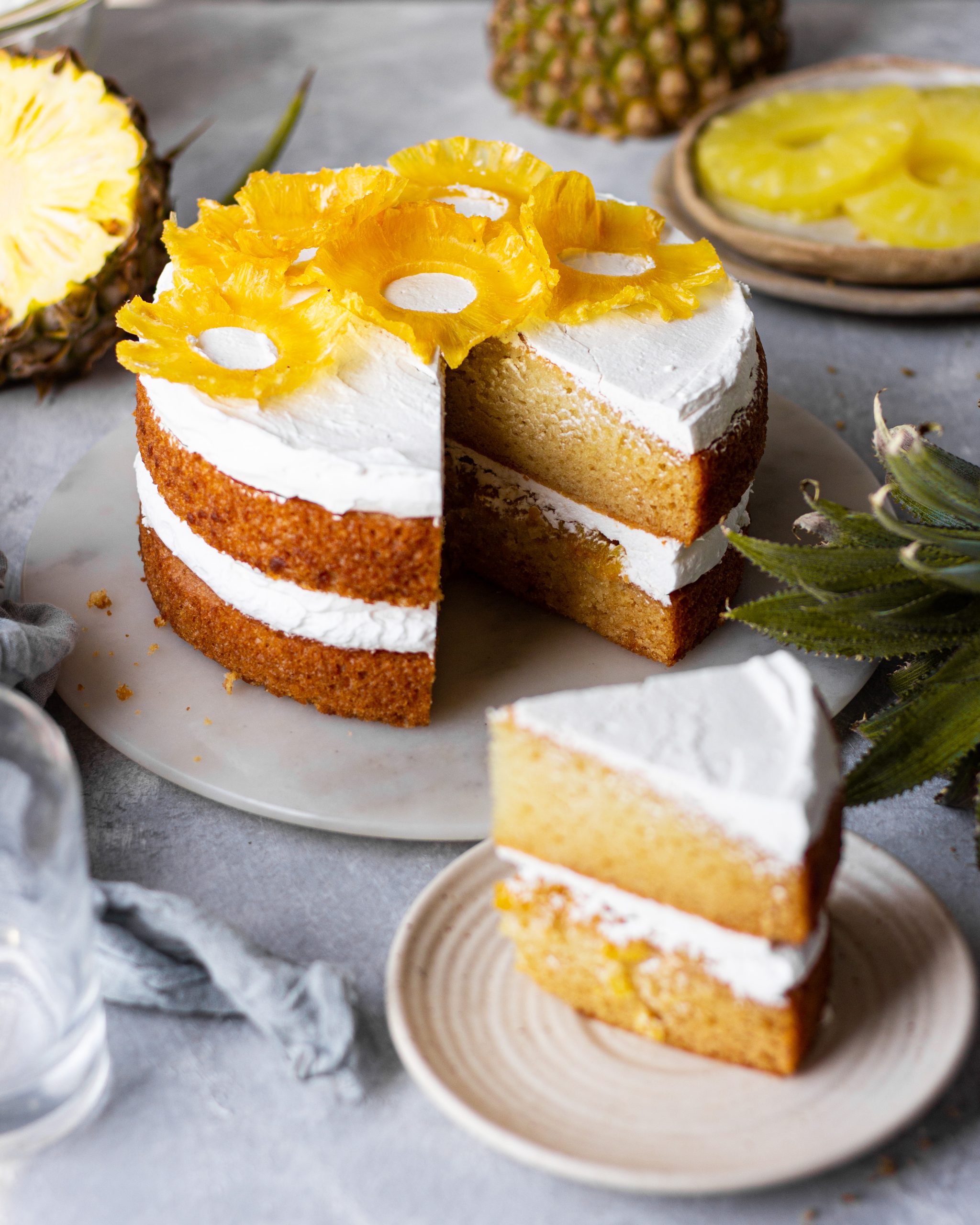 Pineapple compote for the eggless pineapple cake 
This has to be my favorite part of the eggless pineapple cake. A compote only sounds fancy but is actually super easy to make and makes use of the most basic ingredients one can imagine. 
A compote is simply made with a mix of fresh fruit, water, and sugar. That is it. 3 ingredients cooked on a stove top till the sugars in the fruit break down and create a mushy almost jam like consistency. Just by adding some sugar and some water and slowly cooking the fruit, there is so much flavor that gets added. I absolutely love it!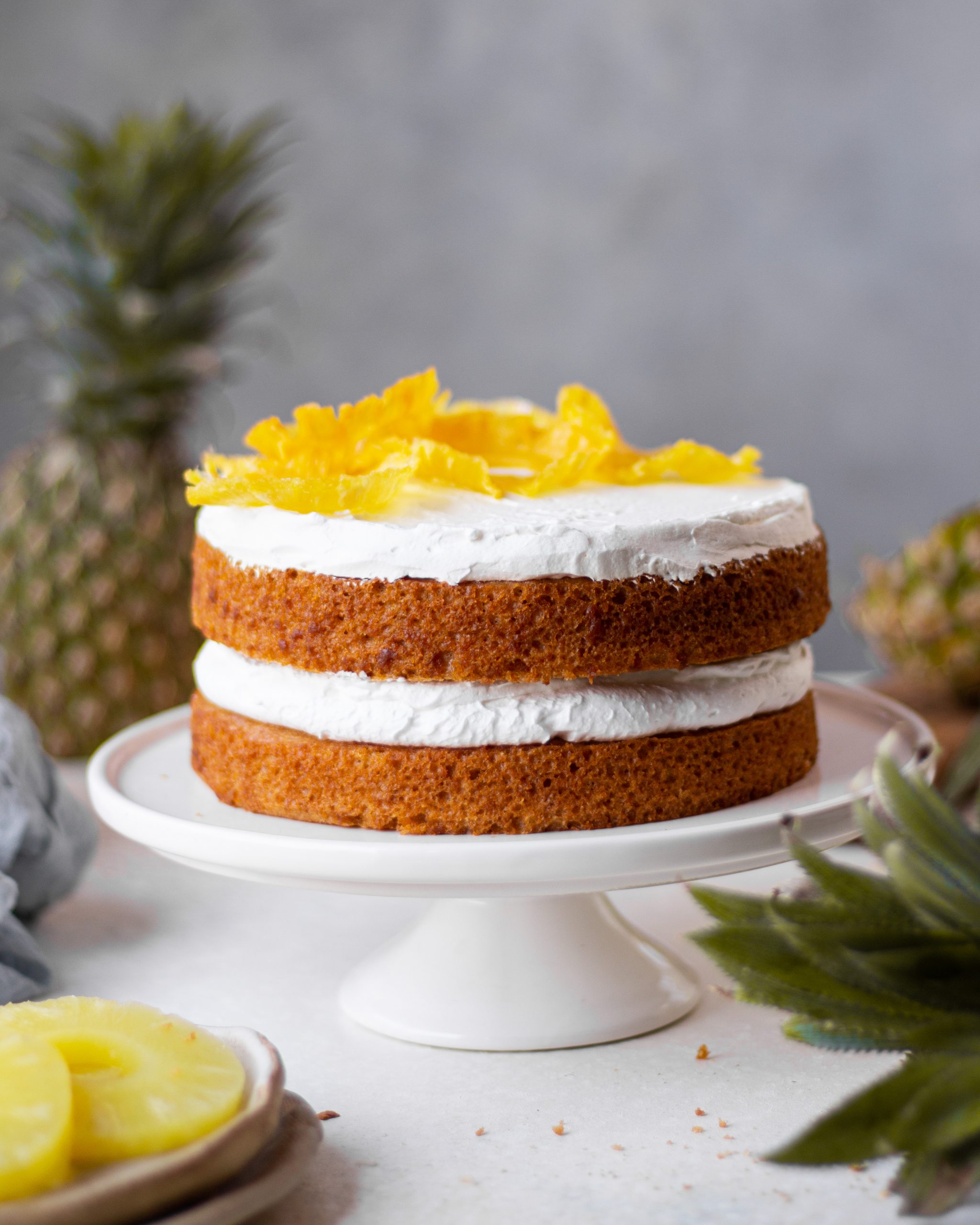 Tips to make the perfect compote 
Whatever fruit you are using for the compote, make sure to chop it in small chunks. Smaller chunks will cook and break down easier and faster than big chunks. 

You can use any sugar you like. With pineapple, both brown and white work wonderfully. I chose white because ultimately this has to be used in a layered cake and it keeps the yellow color of the pineapple intact. If i had used brown, my compote would have been of a much darker shade. 

Always cook the compote on low medium heat. This cooking process cannot and should not be rushed. The fruit needs some time to break down so make sure to maintain medium low heat till you reach the desired consistency. 

Store the compote in an airtight container for up to 1 week. Use it for a sweet breakfast topping or on other favorite desserts. 
Layering the eggless pineapple cake 
Alright so this cake has layers of our sponge cake, whipped cream, and the gorgeous pineapple compote. On top of each cake layer I also brushed some pineapple syrup but you can brush it with some simple syrup instead. 
This recipes makes a two layered 8inch cake. Pipe whipped cream just on the edges of the cake and fill the center with the compote, spreading it evenly in one thin layer. Then put some more whipped cream on top of the compote and cover the entire surface with it. Then put the second cake sponge on top and put some more whipped cream on top and garnish as you wish!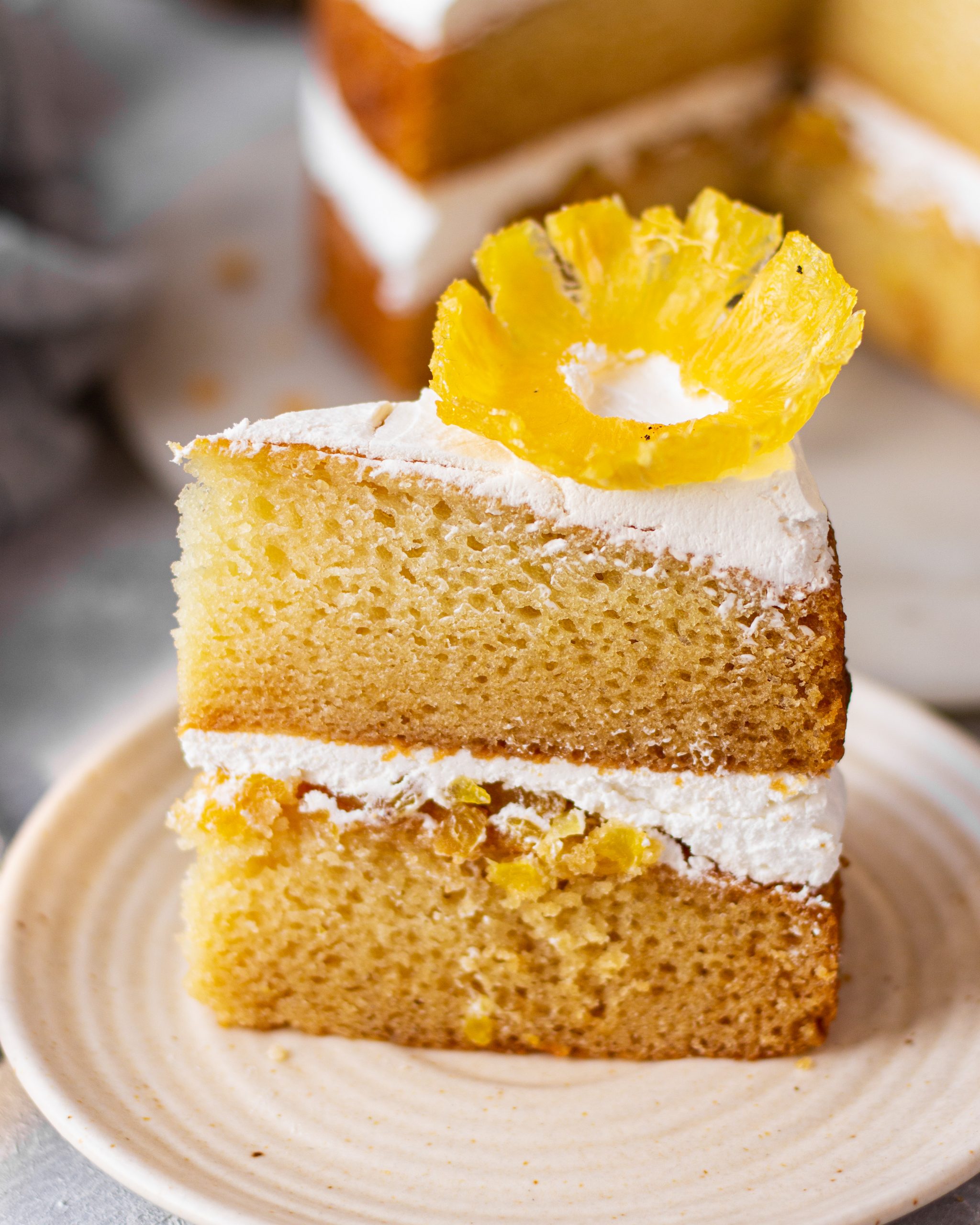 How to garnish the eggless pineapple cake 
This has to be everyone's favorite part where all that is left to do is decorate the cake, make it look pretty and then slice and eat! I used some  beautiful dehydrated pineapple slices to garnish my cake and it ended up looking super cute! 
All you need is some very thinly sliced pineapple slices and put them on a cupcake tray that us turned upside down so that each slice can hang onto each cupcake cavities edges and form a small well. This needs to be in the oven at 90 degree for 2-3 hours. 
And that was how easy it is to make a crowd pleaser eggless pineapple cake which everyone will definitely love. I hope you make this cake and share your pictures with me on my Instagram @shivesh17. 

eggless pineapple cake
Ingredients
For cake
1 + ½ cup (180g) all purpose flour
2 tablespoons (15g) milk powder
1 teaspoon (6g) baking soda
1 cup (200g) castor sugar
½ cup (120mL) vegetable oil
¼ cup (72g) yogurt
2 teaspoons (10ml) lemon juice
2 teaspoons (10ml) vanilla extract
1 + ¼ cup (300ml) milk
For compote:
1 cup (200g) chopped pineapple
2 tbsp (25g) sugar
¼ cup (60ml) water
Instructions
Preheat the oven at 180C and line two 6 inch cake pans with oil and parchment paper.
In a bowl add in oil and sugar, whisk this for 2 minutes at high speed. Also add in vanilla and curd and whisk again for 2 minutes.
Into the same bowl add in milk and lemon juice and give the wet ingredients one nice final mix.
Bring a large sieve over the same bowl and sieve maida, milk powder, and baking powder.
Using a spatula combine the wet and the dry ingredients to bring the batter together.
Pour the batter into prepared baking pans and bake at 180C for 25-30 minutes or until golden brown.
Meanwhile, to make the compote, in a saucepan over low medium heat, add in pineapple chunks, sugar and water. Keep mixing occasionally and cook till the pineapple reduces down and forms a jam like consistency.
Once the cakes have baked and cooled completely, demould them. Take one layer and brush it with pineapple or sugar syrup. Pipe whipping cream on the edge of the cake, creating a very shallow well. In the centre of the well, spread the compote in one single layer.
Put some more whipped cream on top and then put the second cake layer.
Add dollops of whipped cream and spread it evenly on the top surface. Garnish as you wish and enjoy!