eggless pineapple cake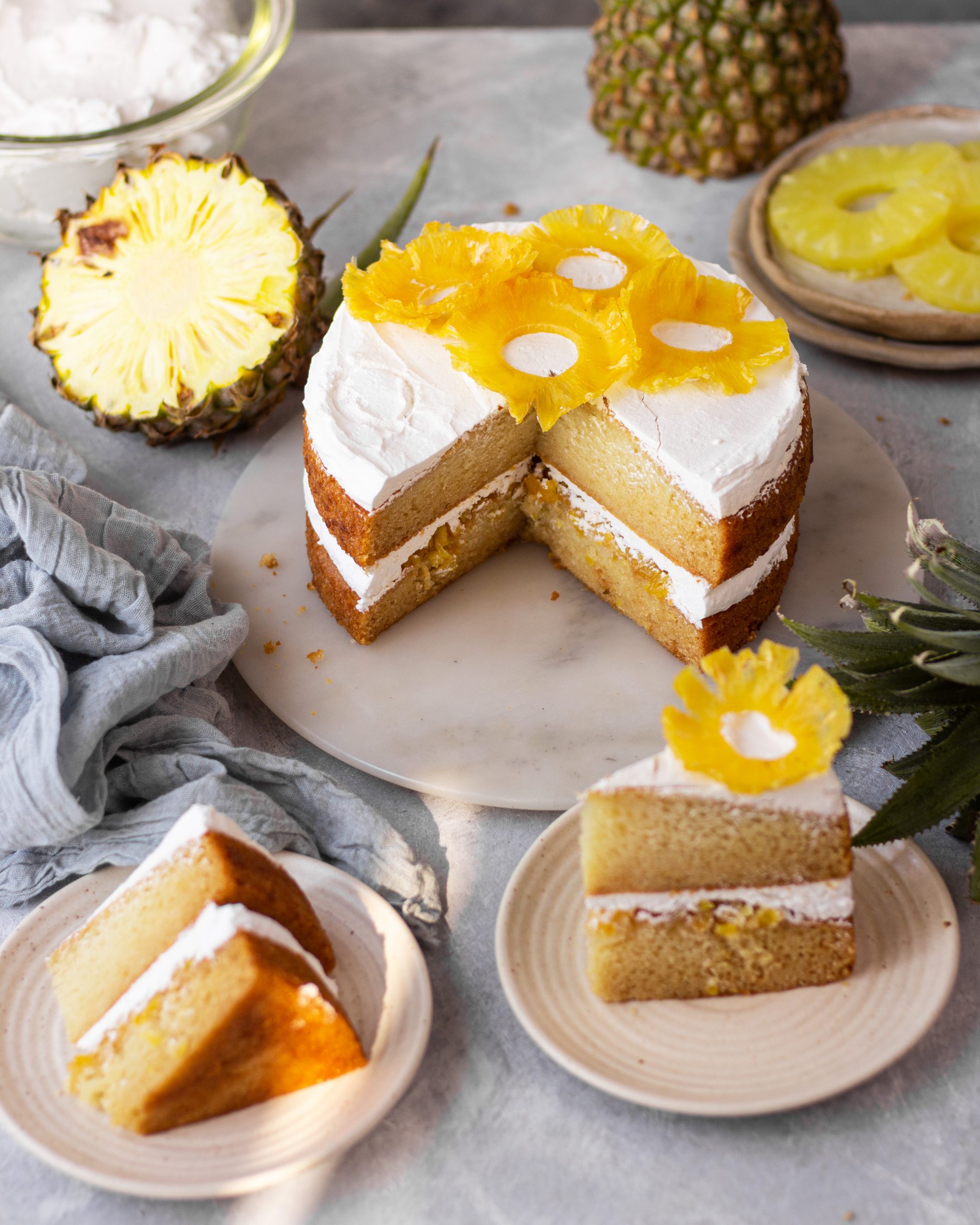 1 + ½ cup (180g) all purpose flour
2 tablespoons (15g) milk powder
1 teaspoon (6g) baking soda
1 cup (200g) castor sugar
½ cup (120mL) vegetable oil
¼ cup (72g) yogurt
2 teaspoons (10ml) lemon juice
2 teaspoons (10ml) vanilla extract
1 + ¼ cup (300ml) milk
1 cup (200g) chopped pineapple
2 tbsp (25g) sugar
¼ cup (60ml) water
Preheat the oven at 180C and line two 6 inch cake pans with oil and parchment paper.
In a bowl add in oil and sugar, whisk this for 2 minutes at high speed. Also add in vanilla and curd and whisk again for 2 minutes.
Into the same bowl add in milk and lemon juice and give the wet ingredients one nice final mix.
Bring a large sieve over the same bowl and sieve maida, milk powder, and baking powder.
Using a spatula combine the wet and the dry ingredients to bring the batter together.
Pour the batter into prepared baking pans and bake at 180C for 25-30 minutes or until golden brown.
Meanwhile, to make the compote, in a saucepan over low medium heat, add in pineapple chunks, sugar and water. Keep mixing occasionally and cook till the pineapple reduces down and forms a jam like consistency.
Once the cakes have baked and cooled completely, demould them. Take one layer and brush it with pineapple or sugar syrup. Pipe whipping cream on the edge of the cake, creating a very shallow well. In the centre of the well, spread the compote in one single layer.
Put some more whipped cream on top and then put the second cake layer.
Add dollops of whipped cream and spread it evenly on the top surface. Garnish as you wish and enjoy!