Summer is just around the corner which means all of us are going to be on the lookout for some cold, refreshing, and yum drinks! While cold coffee has trillions of fans including me, it can be dehydrating sometimes. A great alternative to a basic cold coffee is a chocolate shake. My recipe shows you how to make the best ever chocolate shake. 
This best ever chocolate shake literally only requires 4 ingredients. All of these ingredients are exceptionally basic and I am sure you already have them on hand.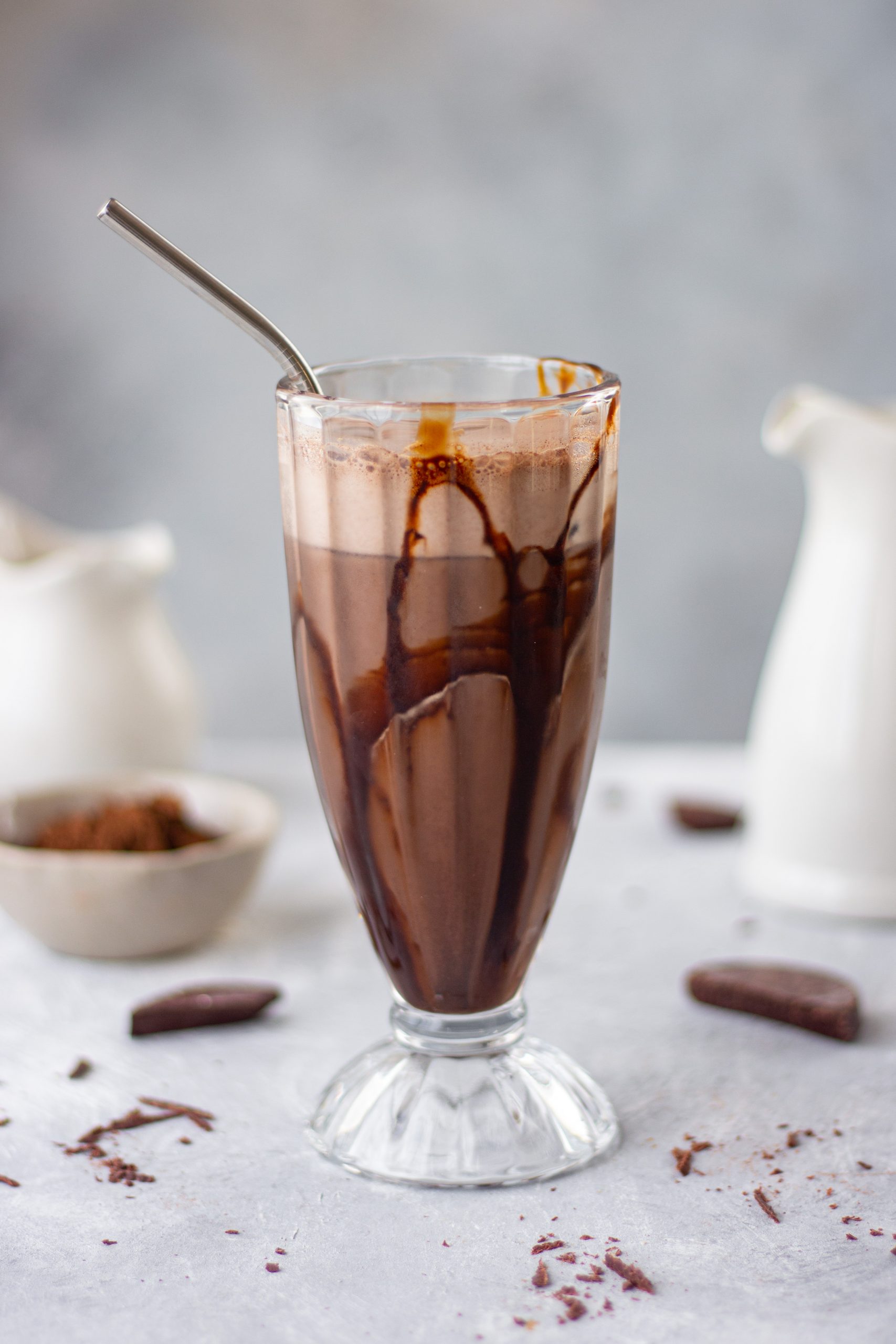 Ingredients for the best ever chocolate shake 
Cocoa powder 
First things first, to make this chocolate shake you need cocoa powder. We are not adding any other form of chocolate so make sure to get your hands on some good quality cocoa powder. 
I personally love using hersheys. But brands like weikfield and cadbury also have great cocoa powders. 
If you have a bakery supply store near you, they might have other brands of cocoa powder available too. You can check those out too! These shops have cocoa powders in non branded packets and each store I think keeps that in bulk. If you are buying a non branded cocoa that is dark in color, it means that is dutch processed cocoa powder. If the color of the cocoa powder is light, then that is naturally processed cocoa powder. 
Both natural and dutch processed are equally good. Dutch processed cocoa gives a deeper chocolate flavor as compared to natural cocoa powder. You can buy any as per your preference. 
Ice 
I cannot really count this as an ingredient but it is important for the texture and temperature of our best ever chocolate shake. The ice gets crushed in the blender and adds some great consistency to the shake so that is it not too thick to drink. Ice cubes also help ensure that after blitzing everything together, you instantly have a cold shake that you can drink right away in the summer heat. 
Milk 
Milk adds a bit of fat and creaminess to the shake. You can use any milk you like. I used regular toned milk. With milk you can choose to add as little or as much as you want. I like to add 1 cup of milk because it gives me the perfect consistency of the shake. If you like your shakes to be of thinner consistency, you can increase the quantity of milk. And if you like your shakes to be of a thicker consistency, you can reduce the quantity of milk. 
Sugar 
This is ofcourse to add some sweetness to the shake. Now keep in mind that we are only adding cocoa powder as the flavoring in this shake. Cocoa powder in its raw form is very bitter. You will definitely need to add some sugar to balance out the flavors. I added caster sugar but if you like, you can add brown sugar or even jaggery powder. 
Can I make the shake more decadent ?
You can definitely go all out and make this shake super decadent and over the top! Some ways to do that include: 
Add scoops of ice cream 
Adding 2-3 scoops of chocolate ice cream or even vanilla ice cream if you want some variety in flavor is a great way to add some decadence and additional creaminess to your shake. 
Add cake crumbs 
Okay this might seem odd but adding leftover cake chunks to your shakes is a great idea! It adds a whole another texture and really makes a shake indulgent. You know, just like a brownie shake or a cheesecake shake! 
Add melted chocolate or chocolate chips 
You can also add in some melted chocolate before bilting everything or you can simply throw in some chocolate chips. 
Whipped cream for the win!
And of course, the best way to finish it off would be with some whipped cream on top! 
Decor ideas for the best ever chocolate shake 
I kept this one super simple but the one thing I did was drizzle some chocolate sauce on the inside of my serving glass. This adds a great look to your glass and makes everything look more dramatic and more yum! 
I simply used hershey's chocolate syrup to drizzle on the inside. One thing you need to take care of is to make sure whenever you are dressing up your glasses for shakes like this, refrigerate just the glass before. This ensures that while decorating, your glasses cold and the chocolate syrup will stick where you drizzle it. 
Other Chocolate recipes on the blog 
If you like my recipes, you can follow more of my work on Instagram @shivesh17. Happy munching!

Best ever chocolate shake
Ingredients
1 cup ice cubes
1 cup (240ml) milk
2 tbsp (15gms) cocoa powder
2.5 tbsp (30gms) sugar
Instructions
In a blender add ice cubes, milk, cocoa powder, and sugar. Blitz everything together till your mixture is a smooth consistency.
Pour into serving glasses and enjoy!