One thing that I know everyone loves is chocolate. What's better than just plain chocolate? Chocolate cupcakes ofcourse. And what is better than chocolate cupcakes? Chocolate cupcakes topped with some chocolate buttercream, yes! Let me show you how to make the best chocolate cupcakes. 
I do not know how I have never shared a recipe with all of you that involves chocolate buttercream. So many of you love adding the classic vanilla buttercream frosting to your desserts and that's one of my favorite frostings too but you need to try out this recipe for a chocolate flavored buttercream. It's super rich and super yum.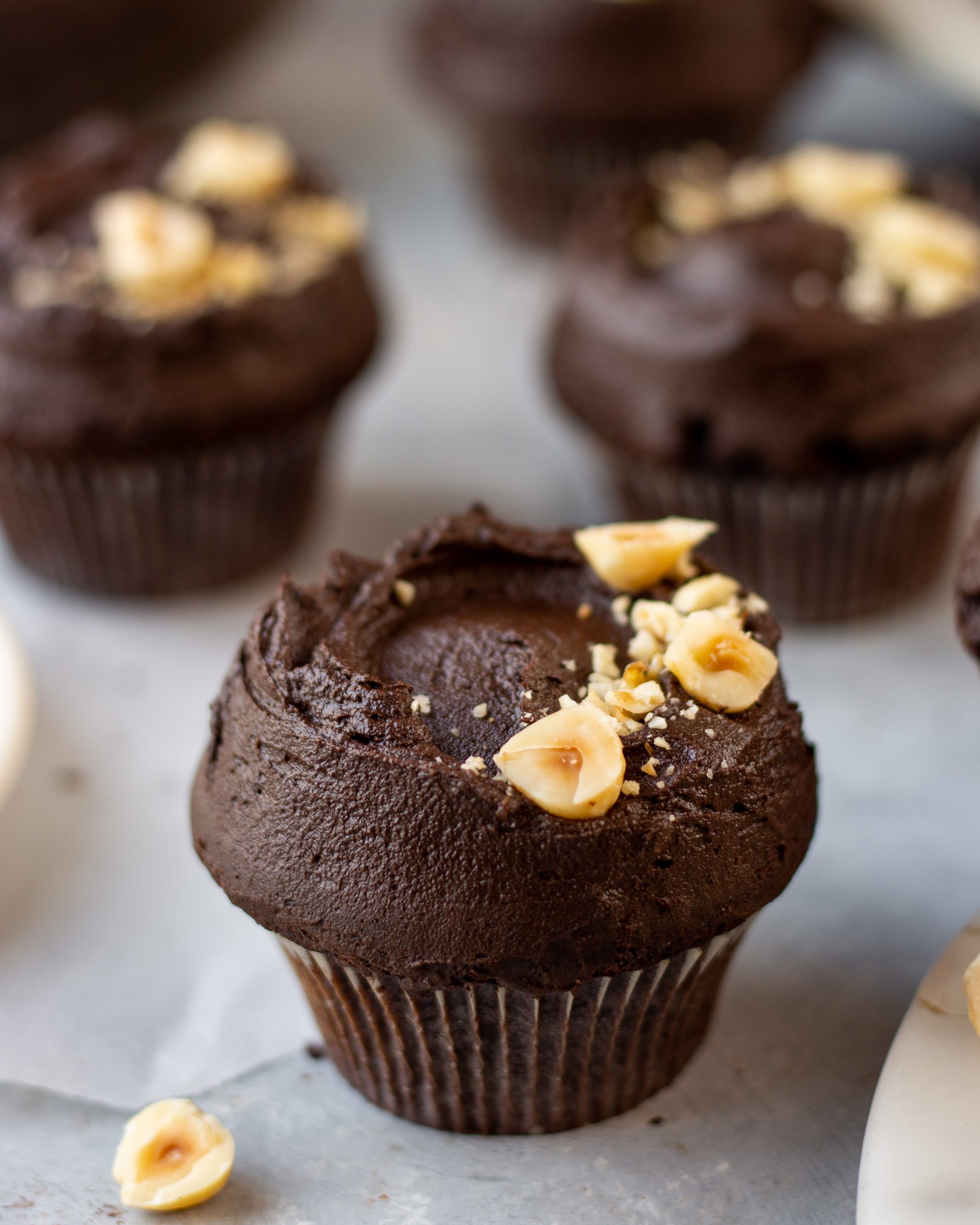 How to make the best chocolate cupcake 
Cupcakes are a very popular bakery item and I think they are also one of the easiest things to make at home. But with baking, even the most simple recipes require some kind of directions and a few rules that one should always follow. 
For this chocolate cupcake, we are using both eggs and buttermilk. Usually buttermilk is used as a substitute of eggs. I wanted my cupcakes to have the richness from the eggs and the fluffy and airy texture from the buttermilk. This is why the recipe calls for adding both of these components. 
A chocolate cupcake will of course always have some cocoa powder. There are two kinds of cocoa powder: natural and dutch processed. The two are actually very simple to identify. Natural cocoa powder is always lighter in shade whereas dutch processed is dark brown in color. If you want a deeper chocolate flavor, dutch processed cocoa powder is the one you should use. But if you want a decent amount of chocolate flavor, natural cocoa powder is perfect. 
I have used oil instead of butter as the source of fat in this recipe. Oil based cakes/cupcakes are much softer and tender compared to those made with butter. You can use equal amounts of melted butter if you want to not use oil. 
When you know which ingredient does what, you can very easily make your own recipes and tweak them as per your liking and make them perfect in your own way.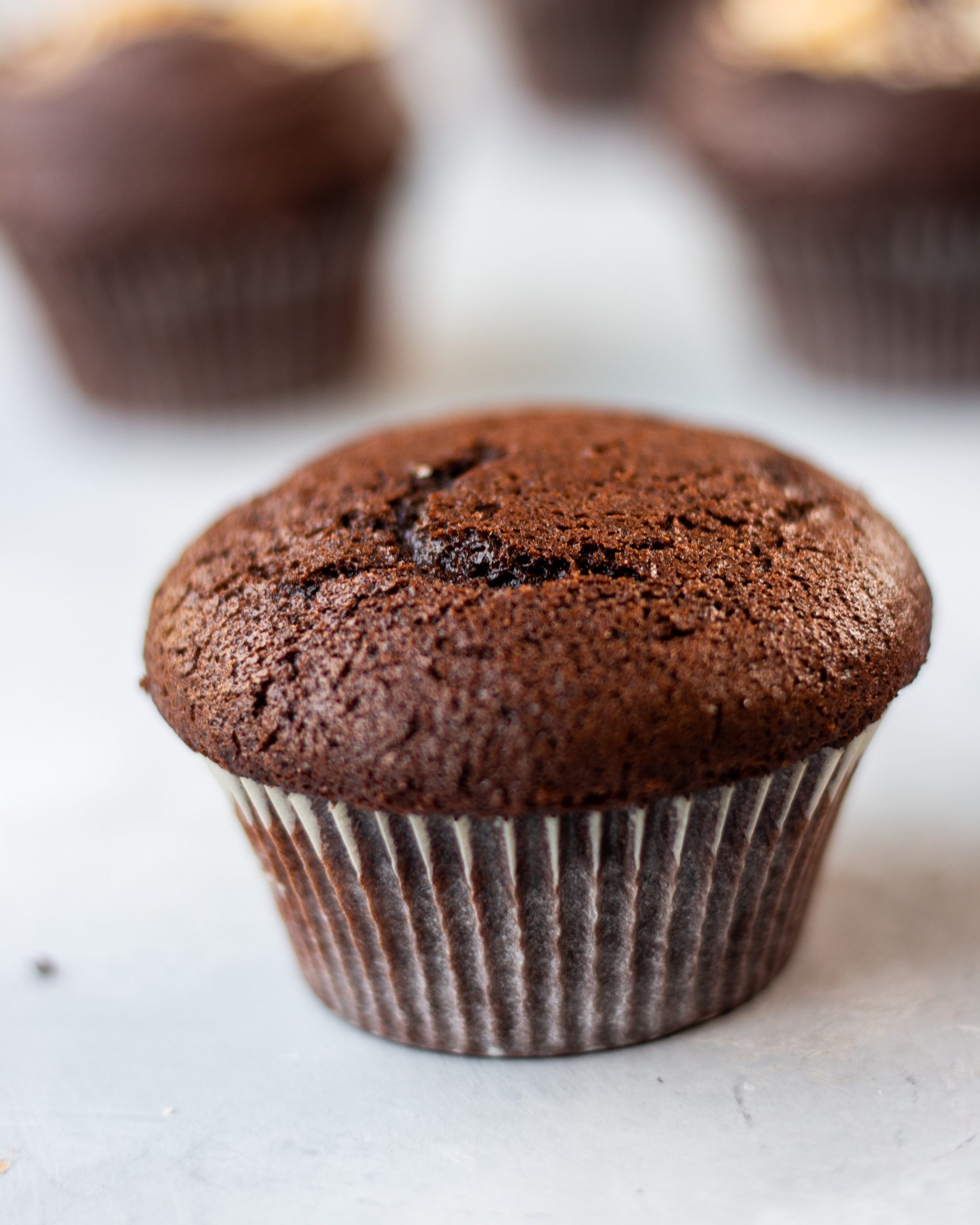 The best chocolate buttercream frosting 
Okay coming to my favorite part, the frosting. I love everything about a buttercream and I love it even more when you add some chocolate to it. A classic buttercream requires butter, icing sugar, and vanilla. A chocolate buttercream simply needs you to add some cocoa powder to it and really take the frosting to the next level. 
I used weikfield's cocoa powder. Another brand I love is hersheys. You can use any cocoa powder you have in your local markets and your frosting will turn out great! Just make sure to sift your cocoa powder while adding it into the frosting. Cocoa powder tends to be lumpy and if you add it directly to the butter and icing sugar mix, the final frosting will not be as smooth and luscious if any cocoa powder lumps are left in it.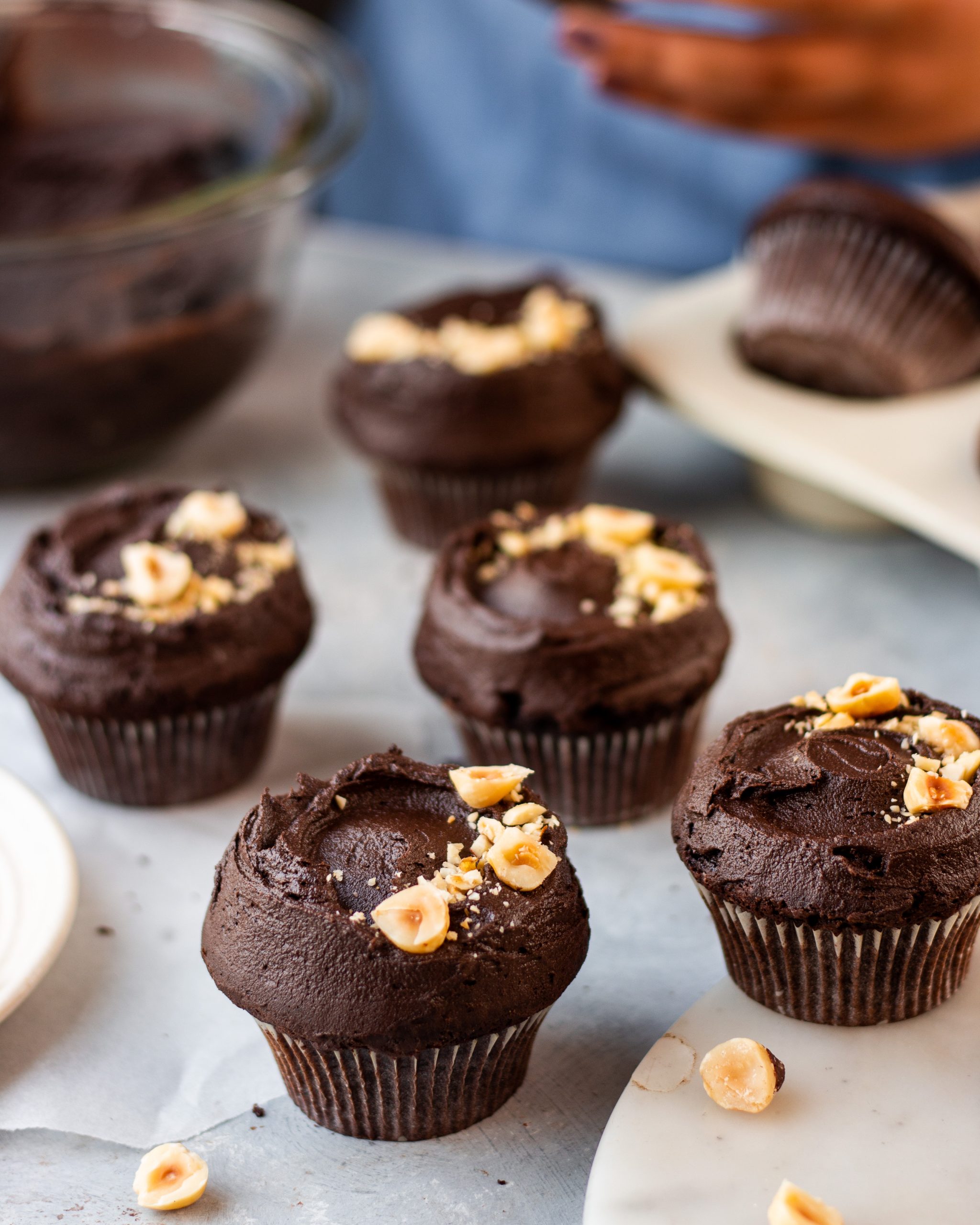 Can I make these chocolate cupcakes in the microwave?
YES! Everyone loves it when they can use their microwave to make desserts. I know how quick and easy it is to make desserts in a microwave and I have a special chocolate cupcake recipe for you that you can check out. Microwave cupcakes: ready in 40 seconds! 
These cupcakes can also be made in the microwave on the convection setting. Preheat your microwave for 10 minutes at 180 degree celsius and meanwhile prepare your microwave safe cupcake tray and line it with cupcakes liners. Pour the batter 2/3rds of the way in each liner and bake these for 20-25 minutes in the microwave. 
Tips to make perfect chocolate cupcakes with chocolate buttercream 
If you want to make perfect cupcakes, you need to keep these tips in mind: 
Do not overmix your batter. This will always lead to cupcakes that are harder to chew and not as soft. 

Be very careful to not over bake the chocolate cupcakes. Because of the already brown color, judging by looking whether a chocolate cupcake is fully baked or not is tough. The best way to know if the cupcake is ready is by inserting a skewer or a toothpick in the centre. If the toothpick comes out clean, it means your cupcake is ready. 

A lot of time cupcake tops get overly crispy. This can happen if your oven is not giving out even heat and the top cooks before the rest of the cupcake. In such a case, simply turn on just the bottom rod so that all parts of the cupcake can get baked evenly and the top doesn't get crisp. 

Always only fill your cupcake liners 2/3rds of the way. Overfilling a cupcake batter is a complete disaster at the last step and there is no going back from it. If you want, you can fill one cupcake liner first and do a trial to see how much it is actually rising and then fill other cupcake liners together and bake.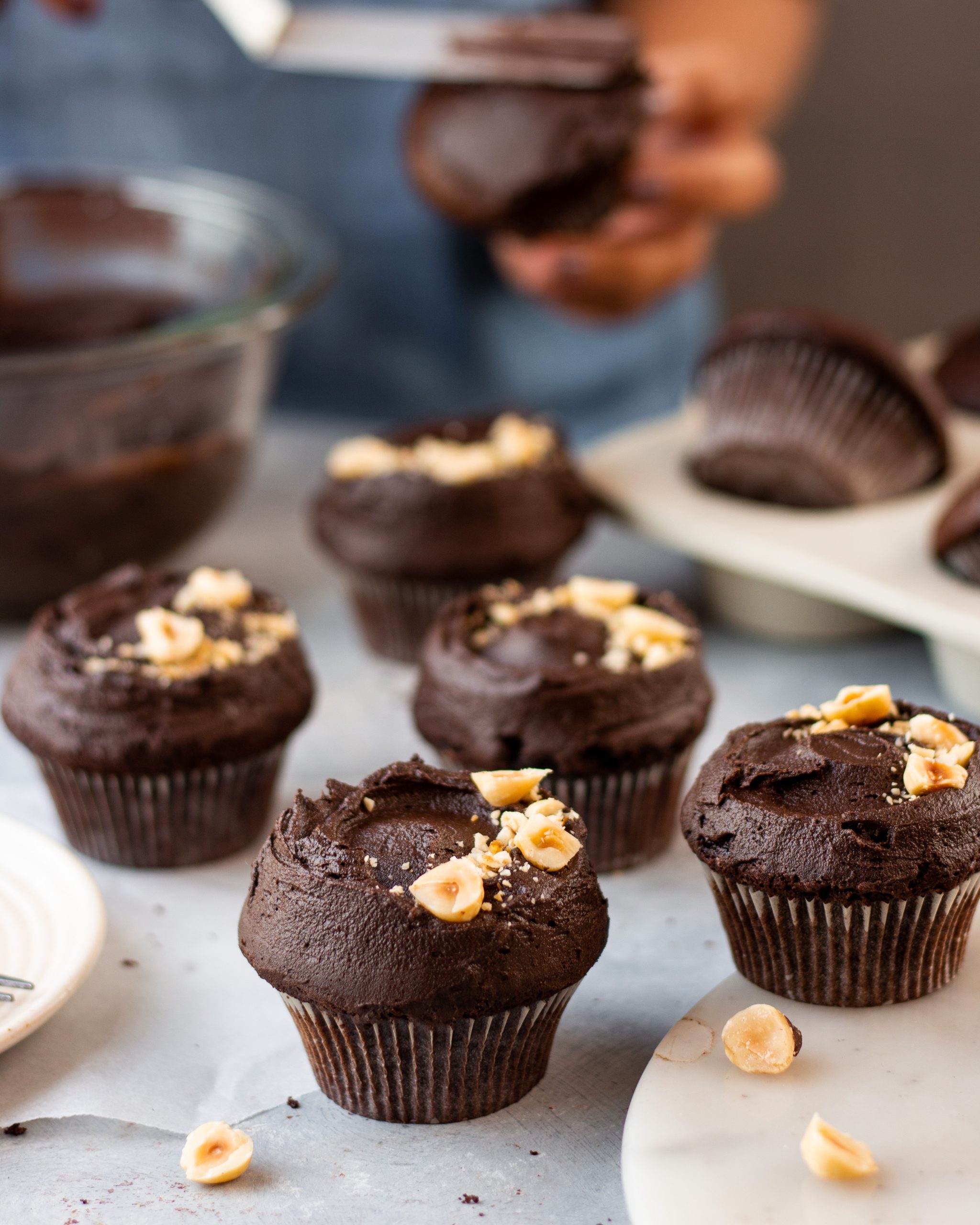 Frosting and storage tips for your chocolate cupcakes 
While making the frosting, make sure to beat just the butter for a good 3-4 minutes at high speed. The butter should turn pale and be super airy. Adding all this air ensures a great structure and stability for your buttercream. Once you have whipped the butter, only then move to the next step which is sifting icing sugar in batches and then sifting in cocoa powder. 

You can use any cocoa powder you have in the local markets. While whipping up the buttercream with cocoa powder, start on low speed so that everything just doesn't fly off and you are not covered in cocoa powder dust. 

Once your buttercream is ready and it feels like it is too soft to pipe, refrigerate it for 20-30 minutes and let it chill. Once chilled, whip it up again at high speed and watch it become stiff and stable. 

You can make your buttercream in advance but transfer it to the piping bag only when you need to use it immediately after.  

If you are making the buttercream in advance, make sure to cover it with cling wrap or to store it in an airtight container. 

While piping the chocolate buttercream on your cupcakes, make sure to cover the entire top surface of the cupcake. This ensures that your cupcake will stay moist even if kept in the fridge for 2-3 days. 
I absolutely love making cupcakes and I know you guys do too! So many other cupcake recipes on the blog that you should check out :D. Eggless Vanilla Cupcakes, Eggless Raspberry and Lemon Cupcakes, Eggless Oreo Cupcakes with Oreo Buttercream. 

best Chocolate cupcakes with chocolate buttercream
Ingredients
1½ cups (180 g) all purpose flour
¾ cups (90 g) cocoa powder
1 tsp (4 g) coffee powder
½ tsp (3 g) baking soda
1 tsp (4 g) baking powder
¾ cup (180 ml) vegetable oil
1½ cups (300 g) sugar
2 eggs
½ tsp (2.5ml) vanilla extract
¾ cup (180ml) milk + 1 tsp (5ml) white vinegar, mixed together and rested for at least 5 minutes
For buttercream
½ cup (100 g) butter
1 cup (130 g) icing sugar
¼ cup (30 g) cocoa powder
Instructions
Pre-heat the oven to 180C. Line a cupcake tray with cupcake liners.
Whisk cocoa, flour, coffee powder, baking soda and baking powder into a bowl.
In a large bowl, beat oil with sugar.
Add eggs, one at a time and mix well after each addition
Beat in vanilla using mixer at low
Add the flour mixture to the wet ingredients alternating with milk, starting and ending with flour mixture. Beat until smooth
Pour the batter into cupcake pans and bake until a toothpick inserted in the center comes out clean
To make the frosting, beat the butter till it becomes pale. Sift in half of icing sugar and beat again. Once incorporated, sift in second half of icing sugar along with cocoa powder and beat till the frosting becomes stiff and stable.
Generously top the cupcakes with frosting once they have cooled completely.