Even though I am a baker at heart and desserts are my go to, it is something about beverages that make my heart so warm and fuzzy. Especially coffee, not that it compliments any dessert beautifully but is enjoyable on its own also. It's the layers of flavours, creamy foamy milk and espresso for me. Now I am a big coffee drinker and usually lean towards going out for my drinks, but I took upon the challenge to recreate these beautiful drinks right here in the studio, and make cafe like coffee at home. 
Now with the ever changing weather of Delhi, I wanted to experiment both with a warm fuzzy caramel latte for the cooler morning and evening. And for the scorching afternoons, a perfect chilled cafe mocha. Both of these coffee are perfectly sweetened, creamy and taste soooo good! So let me show you what you need to make them and what tips and tricks you need to get those café like coffee layers.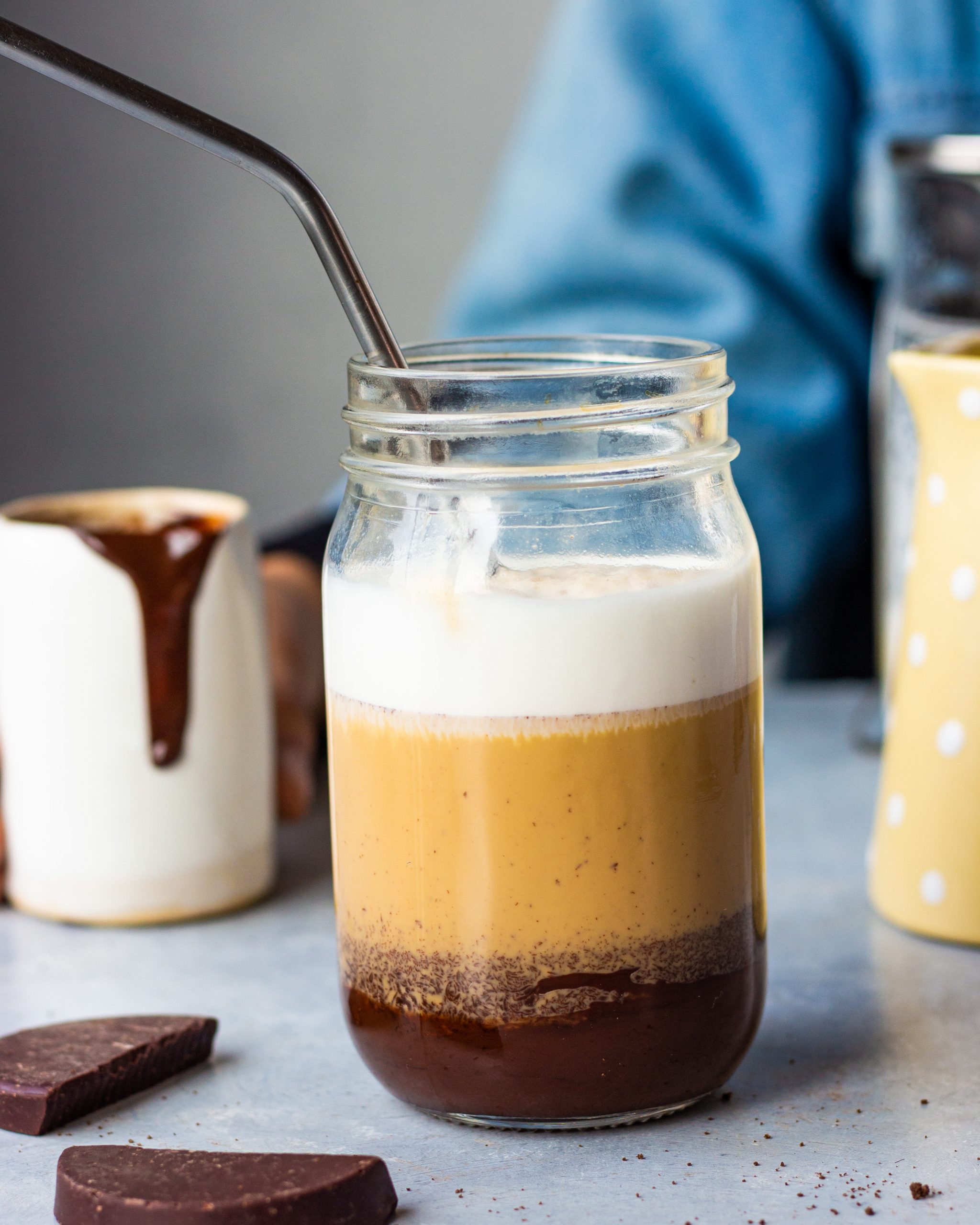 How to get that perfect café like coffee at home?
The espresso
Use only the best most delectable coffee that you can find. Even if i don't have an espresso machine with me, I love using the instant espresso 57 from David Off that is much more intense and flavored than your basic regular instant coffee. Now you can also use regular instant coffee that will be fainter in taste so I suggest you add more than usual to get a stronger taste. To get the perfect strong rich taste from you espresso, I add 1 tbsp coffee powder per 30ml of water that is warm, not boiling and that is one shot of 'cheat' homemade espresso.
Frothing the milk
This is most café like coffee element. I love the foamy, creamy texture of the milk and it makes the coffee feel so much more glossier and smoother on the palette. I have used a french press to froth the milk, you can also use a milk frother or your high speed blender to replicate the foam. Through experiment I have realized your full fat milk and tetra pack milk work best for foaming. Single toned, double toned or skim milk won't be great when it comes to frothing and getting that bubbly texture. 
Flavourings
It won't be a café like coffee if you are having it plain jane. You can always add additives like chocolate sauce, caramel, vanilla or another flavor of your choice. You can also elevate your coffee even more by adding a dash of vanilla or pinch of salt to your milk and make the foam flavored. 
How to make these coffees vegan?
With a lot of people not having the best relationship with dairy anymore because of either dietary reasons or even ethical reasons, I did not want them to skip out on these drinks. 
There are so many varieties of vegan milks available in the market be it coconut, almond, soy or oat. You can easily replace the dairy milk in these recipes and substitute with the non-dairy milk of your choice. Now soy tastes closer to milk and it replicates the look of dairy perfectly. Almond milk is slightly watery and won't add that creaminess to your drinks. Coconut milk is perfect for hot lattes, but oat milk is what all the hype is about. Oat milk foams and froths beautifully and taste absolutely creamy. You can easily make a café like coffee vegan using any of these milk substitutes and enjoy!
Caramel latte
I always wake up feeling a little cold, so a warm beverage is my go to. This caramel latte will give you all the fuzzies, it is warm, comforting and perfectly sweetened using my homemade caramel sauce. You can get that recipe HERE. to prepare this cup of happiness all you need to do is add caramel sauce to the bottom of your glass, add a couple of shots of homemade espresso, top it off with a generous layering of warm foamed milk. Then some final elements to dress up our coffee to make it look like a cafe like coffee- extra drizzle of caramel and some butterscotch nuggets on top. Thinking about this is making me crave it so bad already!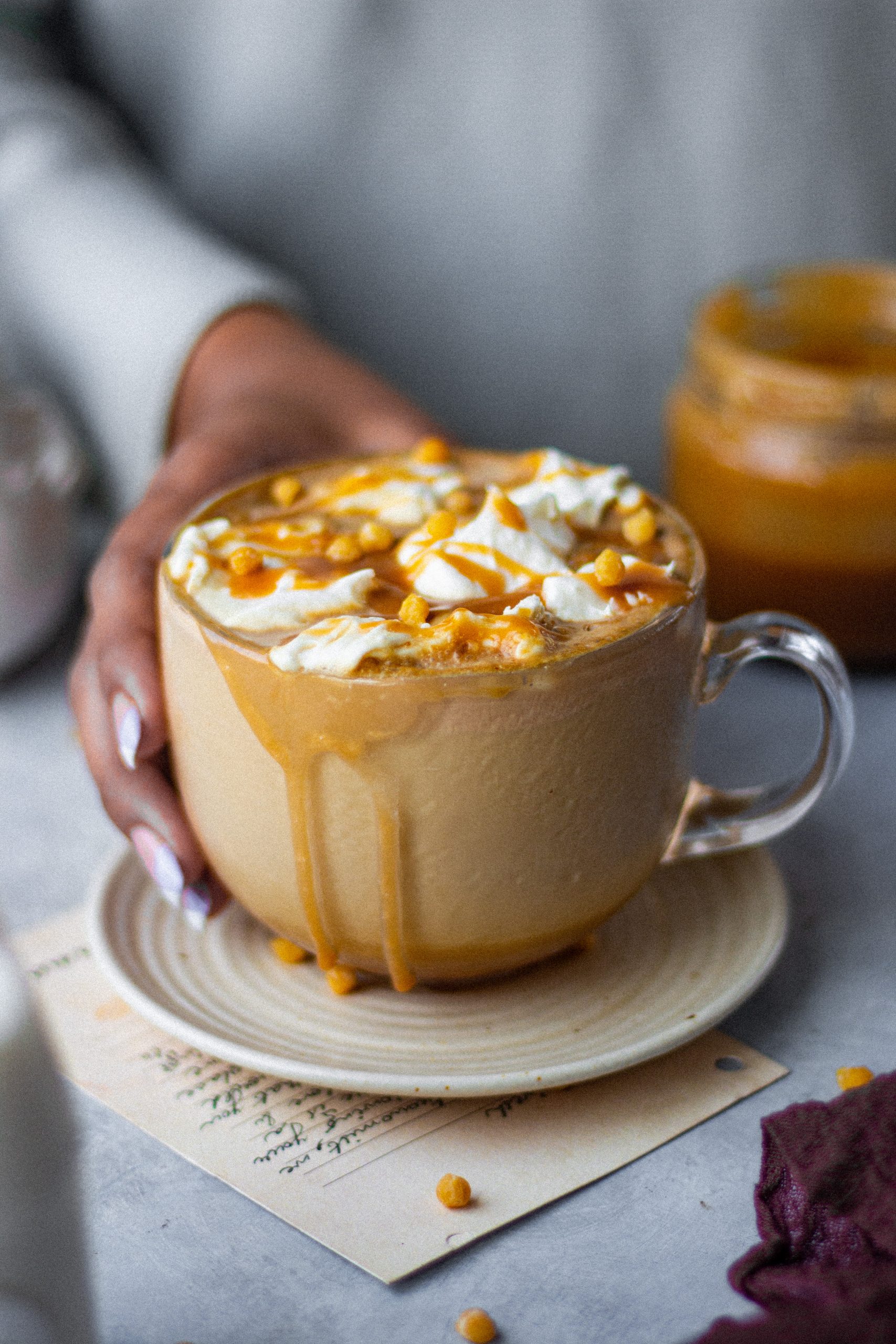 Cafe mocha
This match made in heaven of coffee and chocolate is perfect. The sweet indulgent taste of chocolate matched with the crisp taste of coffee is just what you need to kill those afternoon lazy thoughts and get you up and going. To make our cafe like coffee mocha at home, add a generous layer of chocolate sauce, cold foam milk, shots of espresso. That is it, give a stir and get sipping!

Cafe like coffee- cafe mocha + caramel latte
Ingredients
Caramel latte
2 tbsp coffee powder
60 ml warm water
2 tbsp caramel sauce + extra for drizzling
300 ml warm foamed milk
1 tbsp butterscotch
Cafe mocha
2 tbsp coffee powder
60 ml warm water
3-4 tbsp chocolate sauce
300 ml cold milk foam
Instructions
Caramel latte
In a mug, add caramel sauce to the bottom.
Infuse the coffee powder with warm powder by combining the two in a small bowl and mixing it until all coffee granules are well dissolved. Add it to the mug.
Top with warm foamed milk, drizzle some caramel sauce to dress it up and butterscotch.
Cafe mocha
Add chocolate sauce to the bottom of a glass jar.
Add cold foamed milk.
Infuse the coffee powder with warm powder by combining the two in a small bowl and mixing it until all coffee granules are well dissolved. Add it to the jar.
Stir and get sipping.
Other yum beverage recipes on the blog include
Strawberry shake
,
Red Velvet Shake
,
Healthy Smoothies- 4 Ways!
You can also follow my work on Instagram @shivesh17. Happy baking!