I know it sounds fancy but it is actually super simple to make. This caramelized almond vanilla cake is a fluffy cake, it is soft, it is perfectly sweet and goes super well with your favorite cup of tea/coffee. 
Caramelized almond vanilla cake was my perfect recipe for women's day celebration. To take things to the next level, I turned this into a layered cake and added my mom's favorite custard filling in between. Yummm!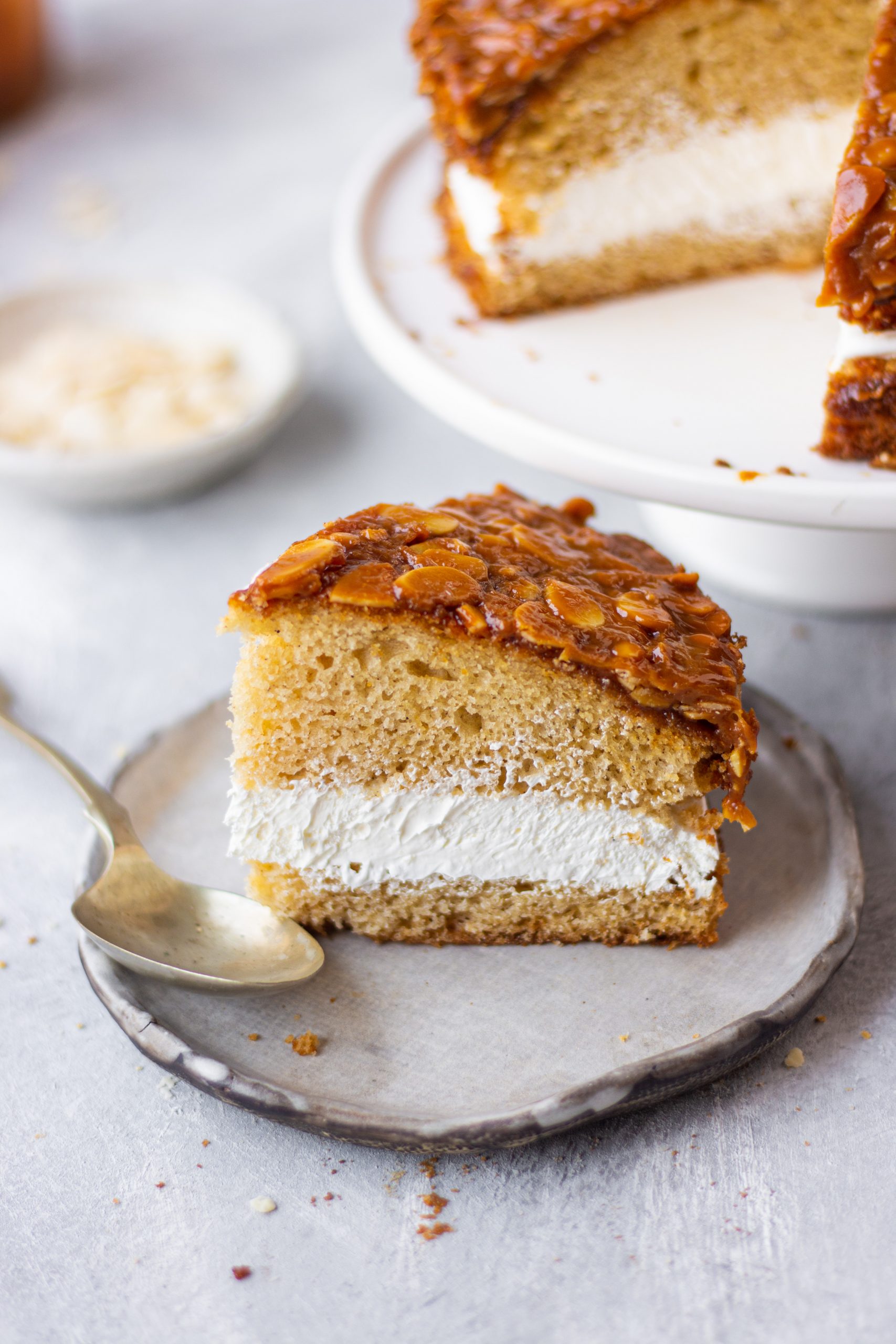 Let us go through the different components of this cake and some points to help you make the perfect almond vanilla cake. 
The almond vanilla cake sponge 
The base of this recipe, that is the sponge, is actually super basic and easy. The aim is to make a super fluffy and high risen sponge so that the final look of the cake is decadent and extravagant. 
One ingredient that always helps with this is eggs. In this recipe we are adding 3 eggs and each egg is added one by one. After the addition of one egg, you want to whisk the batter nicely to make sure the egg is incorporated throughout the batter and that while whisking, you are also adding in more air. The second egg goes in only after the first has been fully incorporated. We need to continue this till all 3 eggs are added. 
If you rush the step of adding in eggs and add all 3 at once, your cake will not have the same fluff and softness to it. 
Other ingredients of this sponge are the ones that I am sure you already have on hand. You simply need to combine all dry ingredients in a bowl and set it aside. Then mix your wet ingredients together and bring the dry and wet ingredients together and bring the cake batter together. This batter is slightly lumpy so don't worry about that and make sure to not overmix the cake batter. It will bake beautifully and you have an ideal crumb on your cake.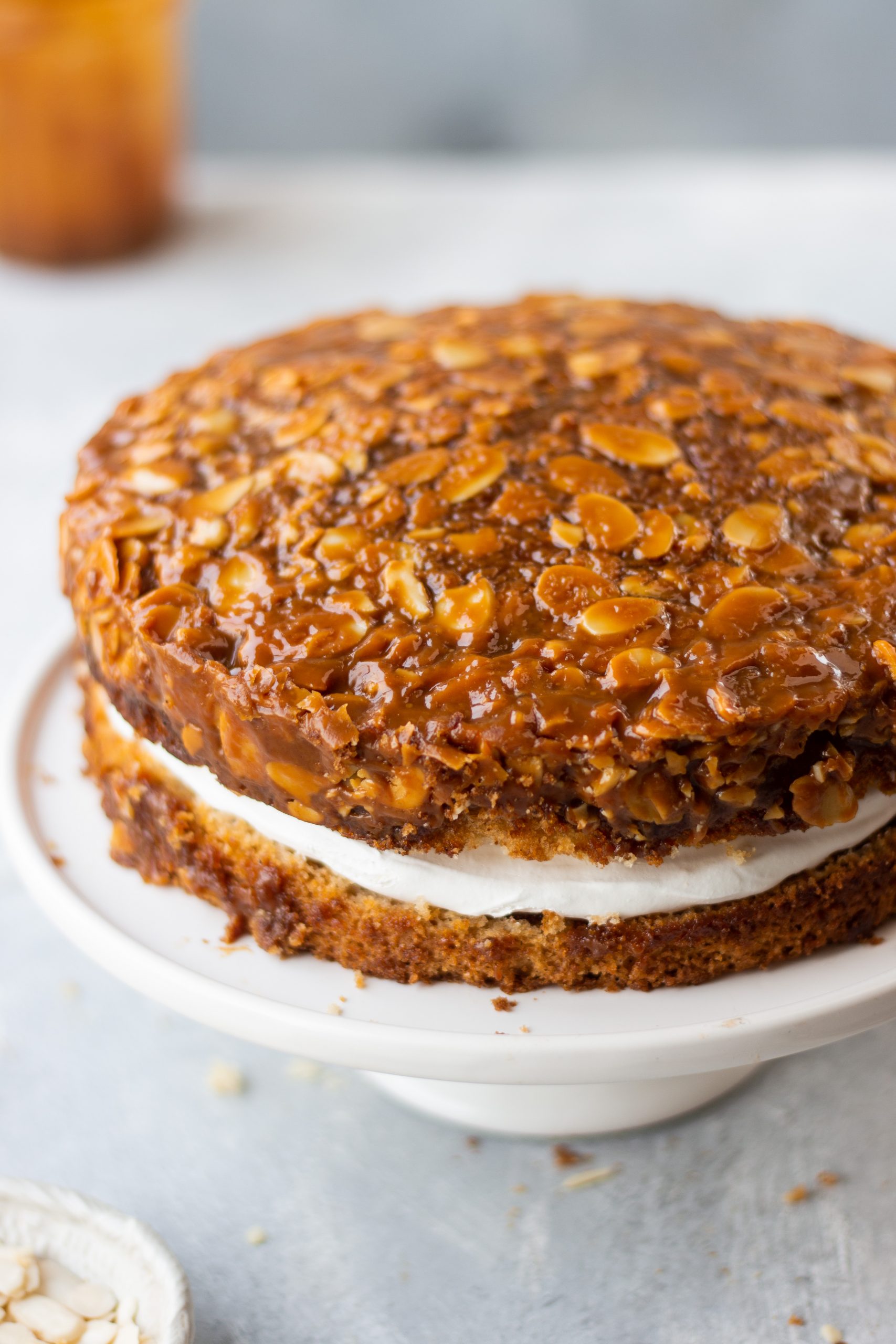 Caramel layer of the almond vanilla cake 
This is one of the elements that makes this cake unique. Adding a caramel and almond layer on top adds an immense amount of flavor and texture to your cake. It also adds a lot of beauty to the cake and makes it look super fancy. 
For the almond caramel layer you first need to make the caramel. For the caramel you need some granulated sugar, water, fresh cream and butter. First step is to cook the sugar and water till it reaches a beautiful amber color, then add warm cream in and then in the end goes in butter. 
Once the caramel is ready, we then add in flaked almonds and coat all of them in the caramel. I love adding flaked almonds and not slivered or whole almonds because flaked almonds have a beautiful offwhite color and a smooth texture. If you can't find flaked almonds, you can also simply chop up some almonds and add those in instead. 
Tips to help you make the perfect caramel sauce
Use a heavy bottom saucepan that does not burn easily. This will further enable slow cooking of the caramel and prevent anything from burning 

Take a saucepan big enough to fit the required sugar quantity in one single layer. You cannot have a heap of sugar while making caramel. The sugar needs to be on one even surface, evenly distributed or else the sugar will definitely seize.

Cook the caramel on low medium heat. Let the sugar dissolve and change colors on its own. Rushing the process by increasing the heat always leads to burnt caramel in the end and that is of no use. 

Add only warm cream and not cold or room temperature cream. Addition of warm cream is important to help with the temperature maintenance of the caramel. This means, everything will mix in nicely and no drastic temperature change will keep the caramel smooth and un seized. 

Technically you can skip on adding the butter but I really do not recommend it. Butter adds a great shine, texture and taste to the caramel. If you want your caramel to taste delicious, you definitely need to add butter in the end. 

Add the almond flakes once the caramel is off the heat and make sure to coat all the flakes in the caramel. Use a spatula to do the same.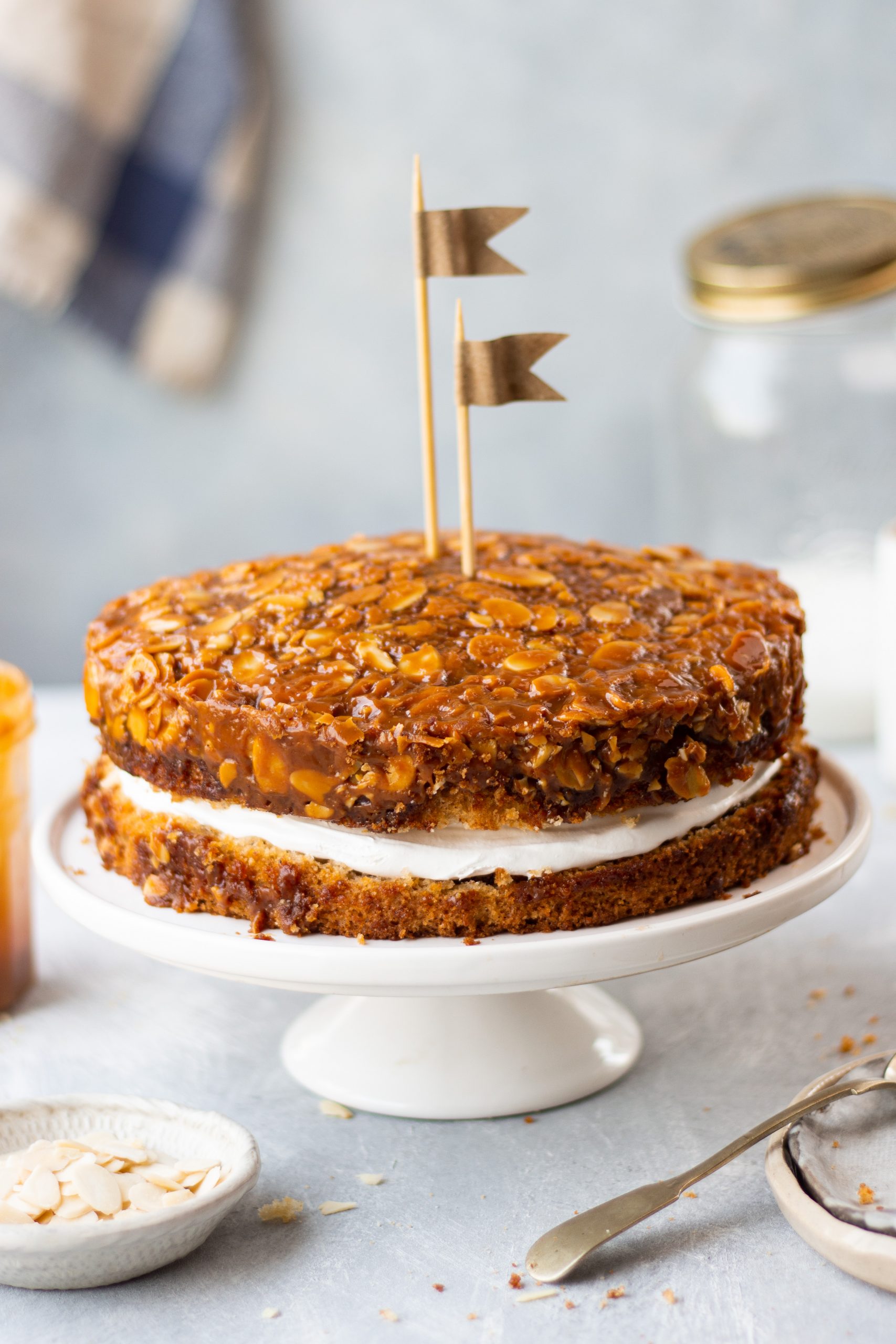 Custard filling of the almond vanilla cake 
This is the second element that makes the cake unique! It comes together by combining vanilla custard and whipped cream. You can make your custard in advance for this because it needs to be set and completely cooled before you can combine it with whipped cream. If you don't want to go through the hassle of making custard and then whipped cream, you can simply layer this cake with just whipped cream too. I felt like going the extra mile and that is why I chose this filling. 
For the custard, first bring 1/2 cup of milk and 4 tablespoons of sugar to a simmer. In a separate small bowl, add in 2 tablespoons of milk and 4 tablespoons of custard powder. Mix this well and add it to the milk once it comes to a simmer. Keep whisking till the custard becomes thick and then contact wrap it and let it cool completely.
Points to keep in mind for the custard filling
You need to fold in the custard into the whipping cream and make a light, airy and stable filling for the cake. Make sure to whip the cream till it reaches stiff peaks. If you leave the cream at soft peaks, it won't be able to hold the custard and you will have a very unstable filling. 

Start with mixing 1/3rd of the whipping cream into the custard. This will make the custard light and help with further mixing of whipped cream and custard and you will have a lump free even filling. 

If you think the filling is getting too soft, just refrigerate it for 30-40 minutes and use an electric whisk whip it at high speed for 2-3 minutes or until stiff. 

Fill an adequate amount of filling but make sure to not over do it or else while cutting into the cake, the extra cream will start coming out from the edges and things will get messy. 

You can make the entire filling a day or two in advance. Just make sure to cover it with cling wrap or store in an airtight container.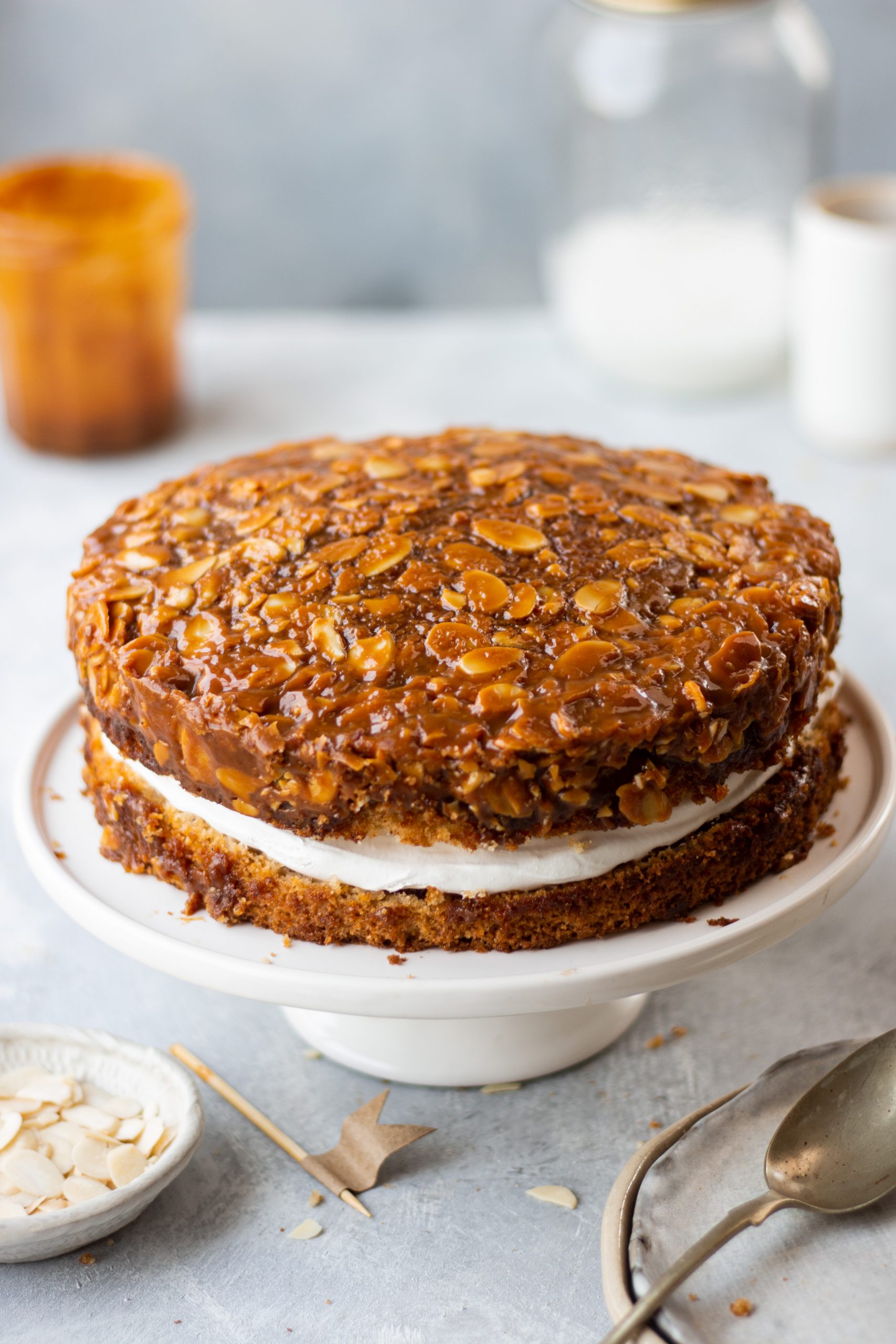 Assembling our caramelized almond vanilla cake 
Now that you are familiar with all the elements – vanilla sponge, caramelized almond layer, and the custard filling, let us talk about how everything is finally coming together. 
First things first, you will make the cake batter and bake the cake according to recipe instructions. While the cake is baking, you need to prepare your caramel layer so that once the cake is out of the oven for the first time, you can top it off with the almond caramel layer. 
Make sure to evenly spread the caramel layer all over the top surface of the cake. 
Once that is done, the cake goes inside the oven again for another 10 minutes so that the caramel layer can cook further and set.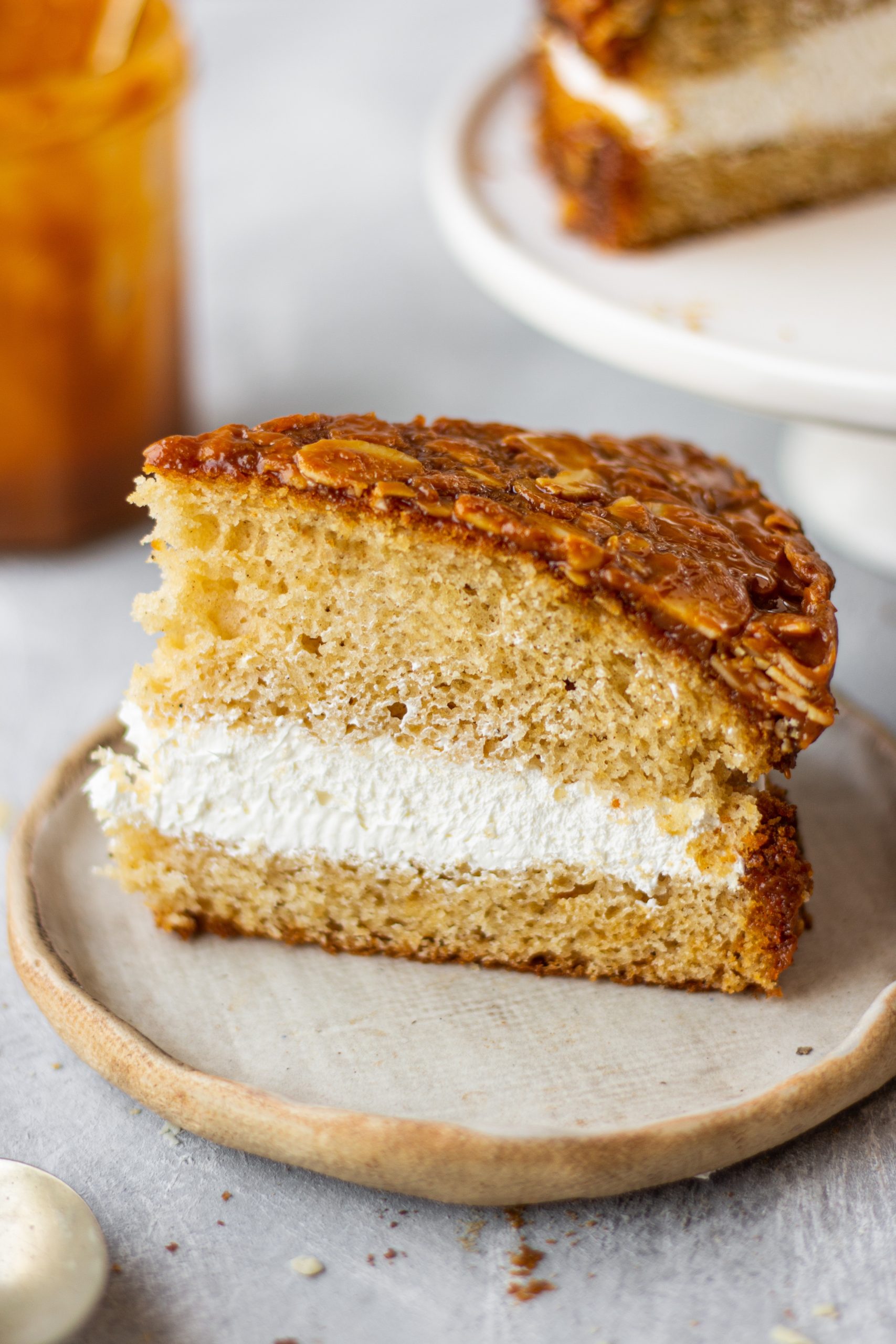 After 10 minutes, you need to let the cake cool down completely and make the custard filling. I chose to cut the cake in half and make two layers out of it. You can also do the same or you can simply add the custard filling on top of the cooled cake. Once layered and filled with filling, cut into the cake and enjoy!
You can also follow my work on Instagram, @shivesh17. Happy baking!
caramelized almond vanilla cake
Ingredients
For sponge
1 + ½ cup (180gms) maida
¼tsp (1gm) cinnamon powder
1 + ½ tbsp (27gms) baking powder
¾ cup (150gms) sugar
½ cup (120ml) vegetable oil
1tsp (5ml) vanilla
3 eggs
½ cup (120ml) milk
For caramel
½ cup (100gms) granulated sugar
3 tbsp (45ml) water
6 tbsp (75ml) fresh cream (warm)
1 tbsp (14gms) butter
6 tbsp (30gms) flaked almonds
For custard filling
2 cups (400gms) whipped cream
½ cup (120gms) custard
Instructions
Preheat the oven at 180 degree c and line your 9 inch cake pan with parchment paper and grease it well with oil.
In a bowl combine maida, cinnamon, baking powder and mix them together and set aside.
Take another bowl and add in oil and sugar and whisk till it becomes pale and fluffy. Mix in vanilla too. Next, add eggs one at a time, whisking really well after each addition.
Into the same bowl add in milk and bring all wet ingredients together.
Once combined, add in the dry ingredients into the wet and using a spatula, bring the cake batter together.
Transfer to the prepared baking dish and bake at 180 degree C for 30-35 minutes.
For caramel
In a heavy bottom saucepan set on low medium heat, add in granulated sugar and water.
For even cooking, if need be, you can tilt your pan from side to side rather than stir the mixture. Cook this slowly till it reaches the perfect amber color.
Once it reaches amber color, turn off the heat and add in warm cream. The mixture will sizzle and bubble up as you add cream. Use a wooden spoon to mix it in and be careful.
Put the pan back on low medium heat and add in butter. Cook this for a minute or so while mixing the caramel with a spoon. Make sure the butter is well incorporated and turn off the heat.
Add in flaked almonds and make sure all are coated in the caramel sauce.
Add the caramel layer on top of the cake and spread it evenly. Put the cake back into the oven for another 10 minutes at 180 degree C.
For the filling, fold custard into the whipping cream and combine nicely.
Let the cake cool down completely. Cut the cake half into two layers and layer it with custard filling or filling of your choice.
Slice and enjoy!