caramelized almond vanilla cake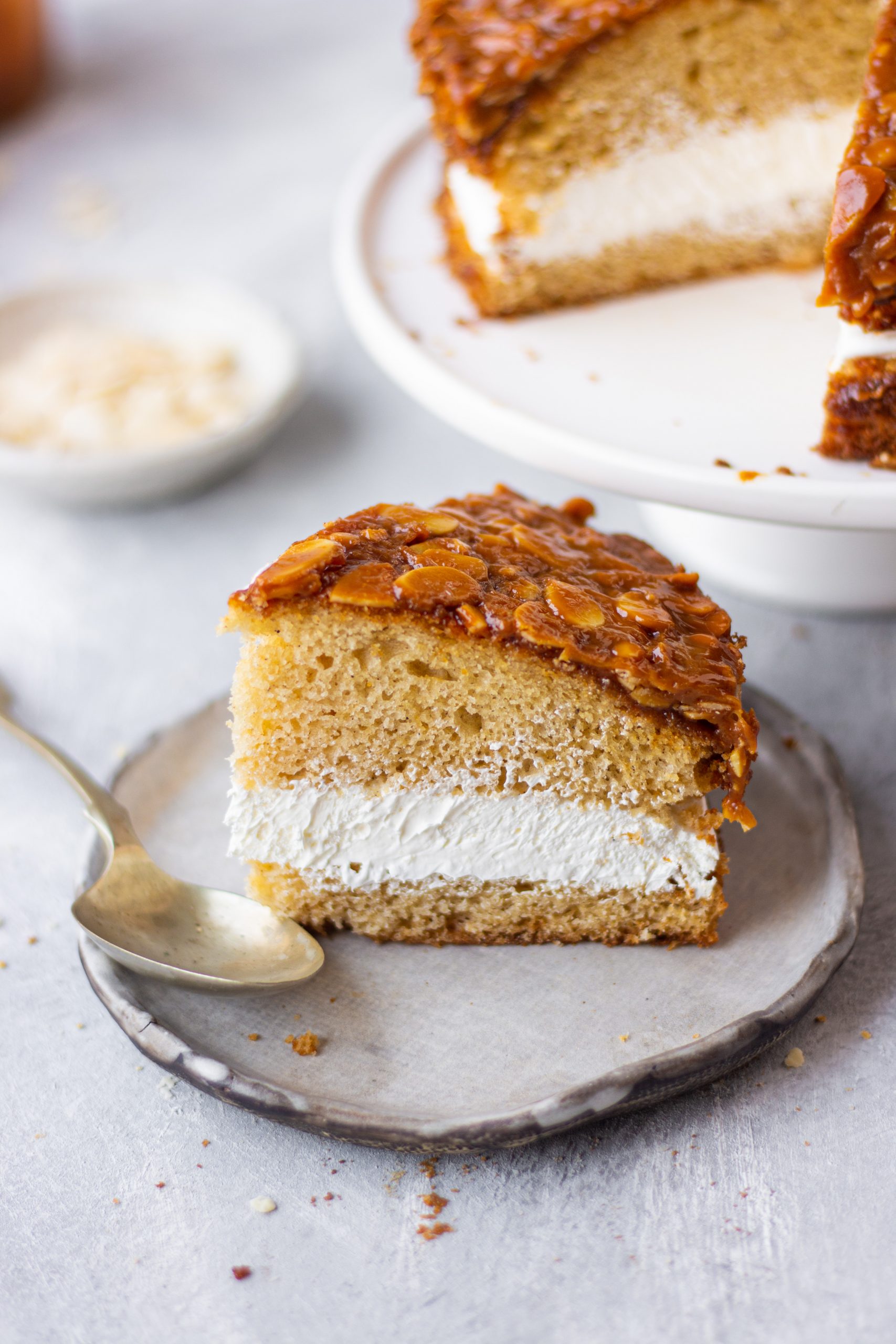 1 + ½ cup (180gms) maida
¼tsp (1gm) cinnamon powder
1 + ½ tbsp (27gms) baking powder
¾ cup (150gms) sugar
½ cup (120ml) vegetable oil
1tsp (5ml) vanilla
3 eggs
½ cup (120ml) milk
½ cup (100gms) granulated sugar
3 tbsp (45ml) water
6 tbsp (75ml) fresh cream (warm)
1 tbsp (14gms) butter
6 tbsp (30gms) flaked almonds
2 cups (400gms) whipped cream
½ cup (120gms) custard
Preheat the oven at 180 degree c and line your 9 inch cake pan with parchment paper and grease it well with oil.
In a bowl combine maida, cinnamon, baking powder and mix them together and set aside.
Take another bowl and add in oil and sugar and whisk till it becomes pale and fluffy. Mix in vanilla too. Next, add eggs one at a time, whisking really well after each addition.
Into the same bowl add in milk and bring all wet ingredients together.
Once combined, add in the dry ingredients into the wet and using a spatula, bring the cake batter together.
Transfer to the prepared baking dish and bake at 180 degree C for 30-35 minutes.
In a heavy bottom saucepan set on low medium heat, add in granulated sugar and water.
For even cooking, if need be, you can tilt your pan from side to side rather than stir the mixture. Cook this slowly till it reaches the perfect amber color.
Once it reaches amber color, turn off the heat and add in warm cream. The mixture will sizzle and bubble up as you add cream. Use a wooden spoon to mix it in and be careful.
Put the pan back on low medium heat and add in butter. Cook this for a minute or so while mixing the caramel with a spoon. Make sure the butter is well incorporated and turn off the heat.
Add in flaked almonds and make sure all are coated in the caramel sauce.
Add the caramel layer on top of the cake and spread it evenly. Put the cake back into the oven for another 10 minutes at 180 degree C.
For the filling, fold custard into the whipping cream and combine nicely.
Let the cake cool down completely. Cut the cake half into two layers and layer it with custard filling or filling of your choice.
Slice and enjoy!
Recipe by
Bake with Shivesh
at https://bakewithshivesh.com/caramelized-almond-vanilla-cake/