Summers are officially here and with that, it's time to bid adieu to strawberries! This strawberry season has been great for me as we created so many recipes in our kitchen and got to share them with you. We made strawberry tea cakes, topped our pancakes with strawberries, and blessed all of us with Chocolate Strawberry Brownies!
So I thought, what better way of saying goodbye than to make an indulgent celebratory treat with strawberries! This milkshake is all sorts of thick, creamy goodness that you dream of on a hot, sunny day. So let's get into the recipe.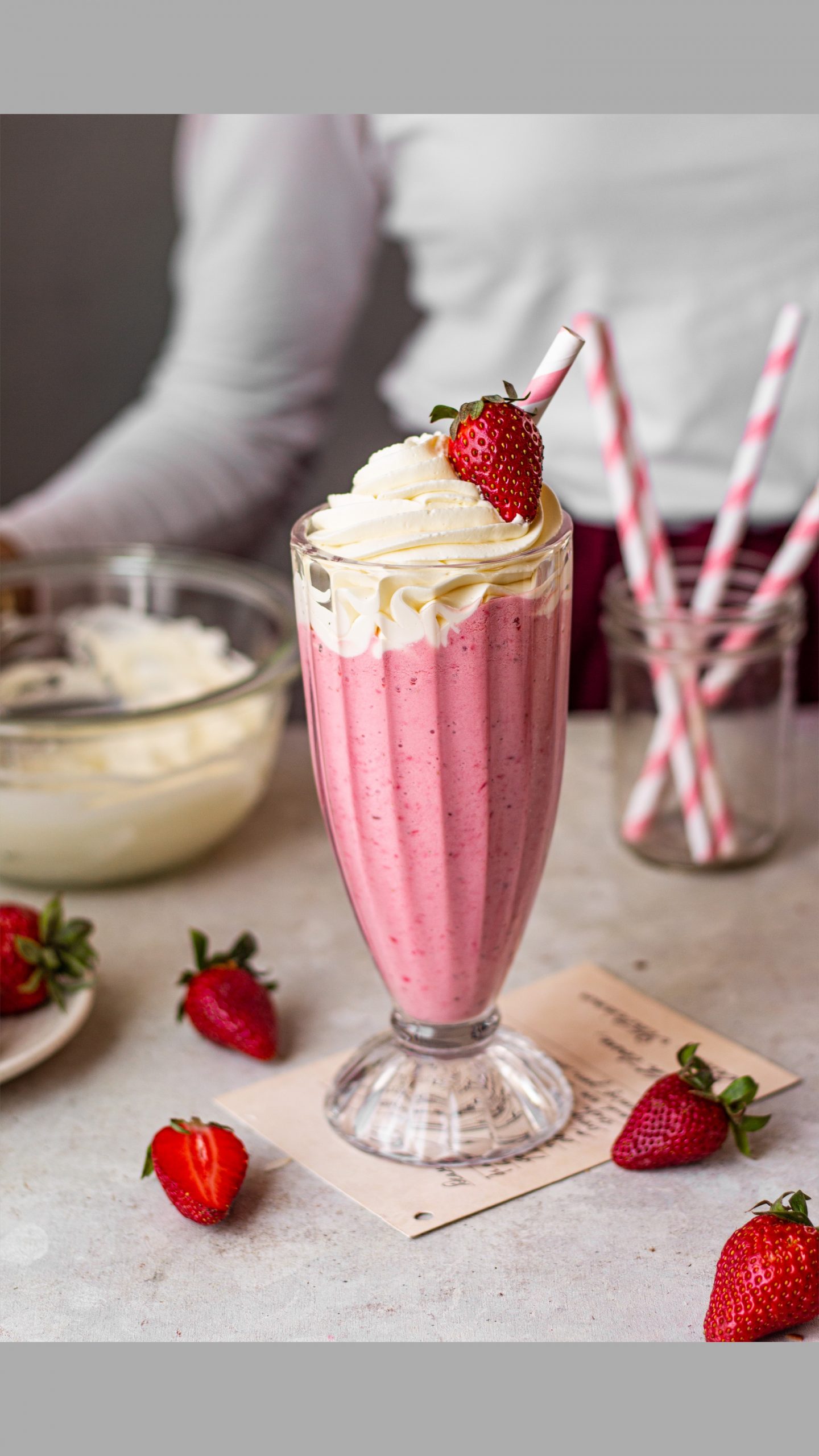 INGREDIENTS NEEDED FOR STRAWBERRY MILKSHAKE
The best part about making a milkshake is that it requires the most minimal ingredients and you end up with a tummy-filling treat. You just need milk, some good quality strawberries, vanilla ice cream, some whipped cream and you're good to go!
You can also take your milkshake to a new level by keeping the milk chilled and ready to be blended. It's also necessary that the consistency of the ice cream is soft so that it glides on a spoon easily. I recommend not using ice in your milkshake as it melts and it'll make your red velvet milkshake thinner. You can always use more milk if you want a thinner milkshake.
CAN I MAKE MILKSHAKE WITHOUT A BLENDER?
Unfortunately, it'll be hard to make this milkshake without a blender or a food processor. Since this recipe involves the strawberries to be blended with the milk and ice cream, a hand blender won't be able to do the job. So I'll recommend you to make this milkshake only in a food processor or blender for good results.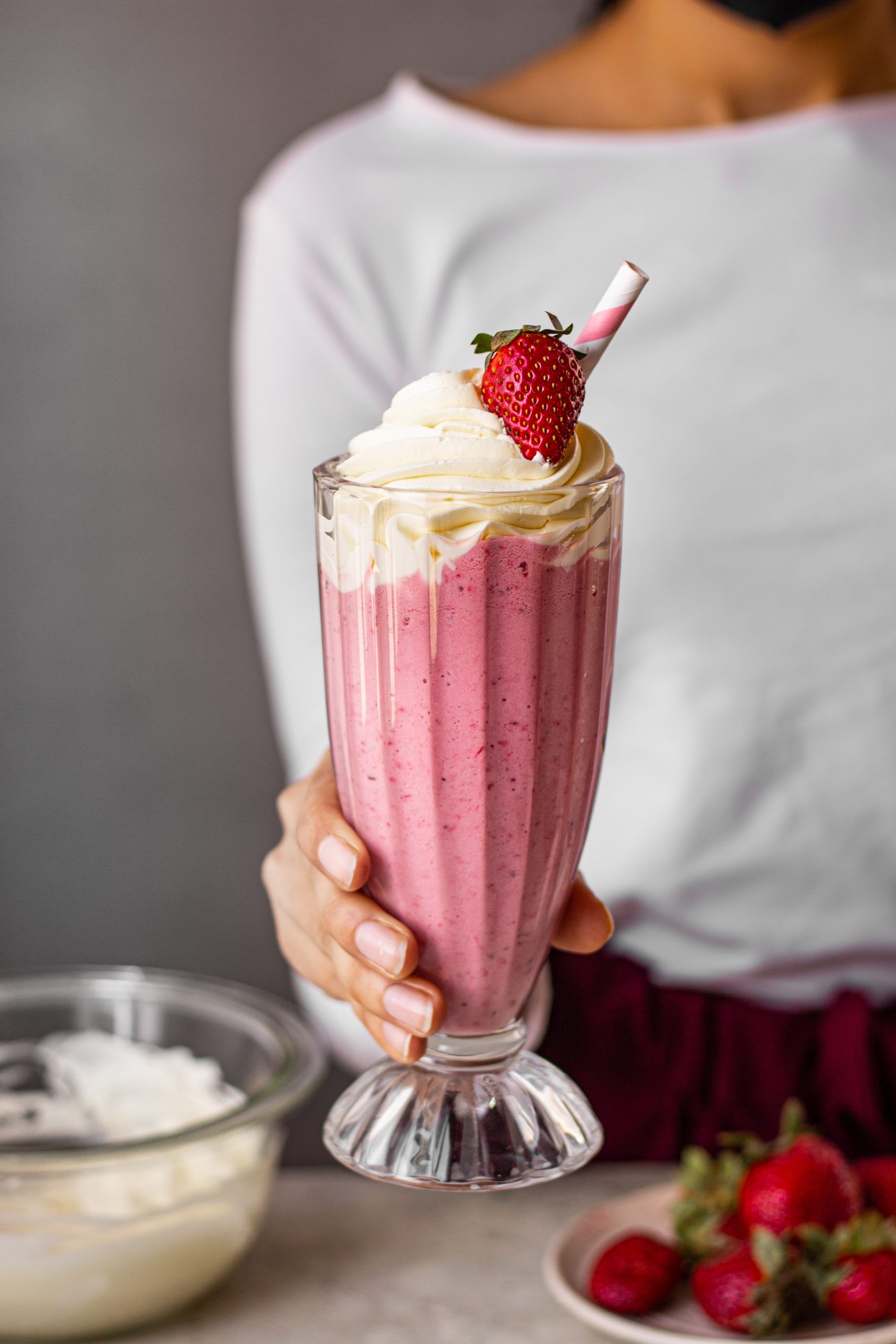 MAKING VEGAN STRAWBERRY MILKSHAKE
To make this milkshake vegan, you will have to, unfortunately, substitute each and every ingredient except strawberries! There are vegan milk brands out there, you can use almond or soy milk for this recipe. Plus, since you are a vegan, you might also be very well aware of vegan ice cream brands. Get some nice vanilla vegan ice cream and this Milkshake will be done within seconds. There are also many dairy-free whipping cream brands in the market. You can use that to top your strawberry milkshake!
OTHER STRAWBERRY RECIPES ON THE BLOG
Strawberry Milkshake
Strawberry Milkshake- with 3 ingredients
Ingredients
2 tbsp milk
1 tbsp strawberry jam
3 scoops vanilla ice cream
10 strawberries
Instructions
In a processor, blend together the milk, strawberries and soft vanilla ice cream.
Blend for 3-4 minutes until everything comes together.
Pour the milkshake into the glass jar.
To make the whipped cream, whip the cream to stiff or heavy peaks and frost it over the strawberry milkshake.
Serve cold and enjoy!
If you happen to make this recipe, do tag me on
Instagram
using #Bakewithshivesh.