You know, some desserts stay with you forever. They are so simple and so nostalgic, no matter how many fancy and extravagant desserts you have had, there are always a few simple desserts that you come back to. For me, that dessert is an atta chocolate cake. 
When we were kids, a classic atta chocolate cake was a weekly treat that we all looked forward to. Today I am sharing my version of this nostalgic cake. It's made with whole wheat flour, cocoa powder and lots and lots of love.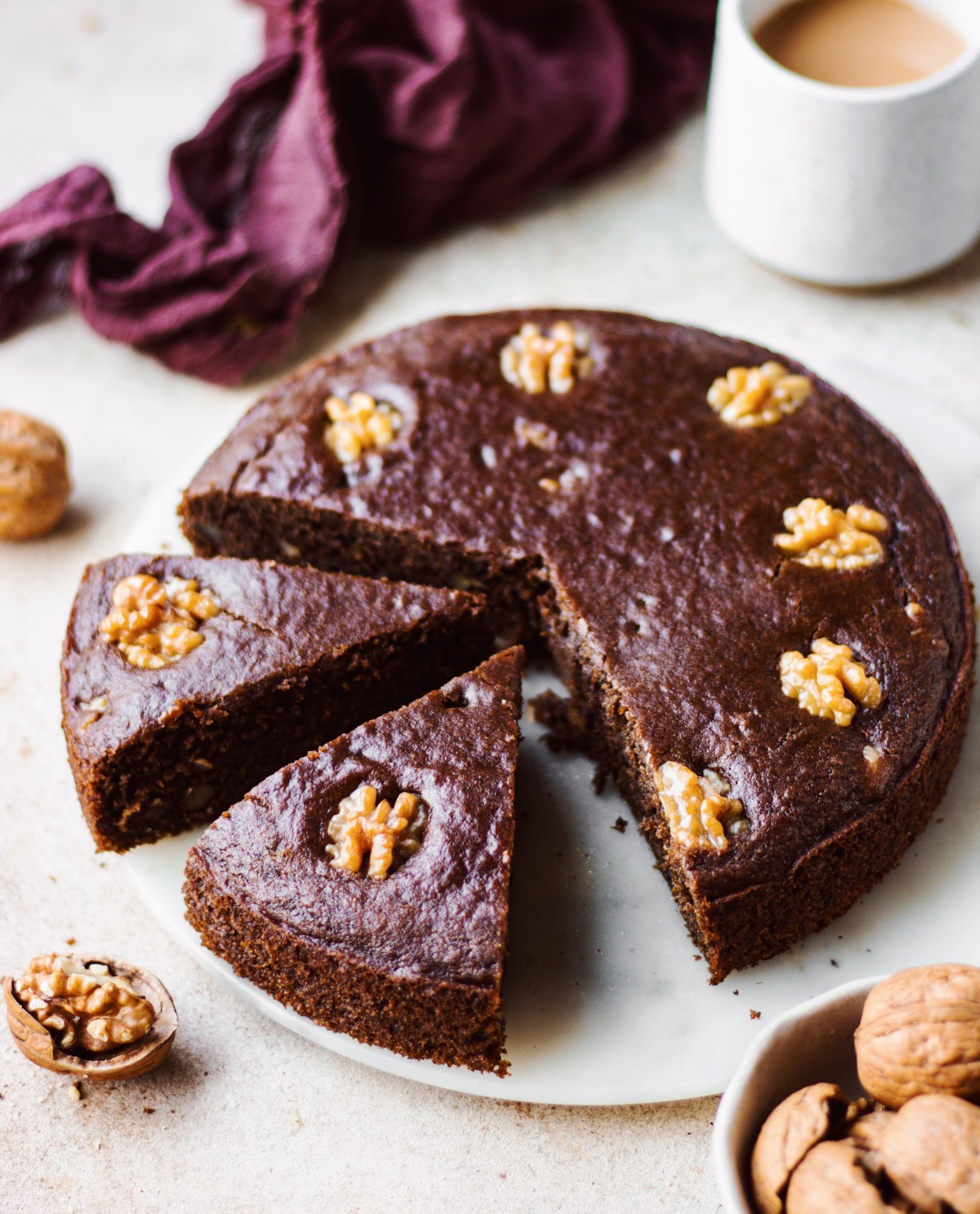 Ingredients used for the best ever atta chocolate cake
Yogurt and baking soda 
I love adding yogurt to my cakes. You don't always need some fancy greek yogurt to make cakes. I use homemade dahi and you can too. Just make sure to not use the watery parts of the yogurt and use the thick part instead and you will be good to go. 
In recipes that I want to make something extra fluffy and moist, I always start with mixing in yogurt and baking soda. Since yogurt is acidic in nature, it reacts with baking soda and foams up really nicely. This foaming up leads to incorporation of a lot of air into the batter and gives your cakes a wonderful height and rise. 
Cocoa powder and coffee powder 
Since this is a chocolate cake, we are obviously adding cocoa powder. The cocoa powder brands I usually buy are either weikfield or hersheys. A lot of you have access to cadburys cocoa powder also and you can use that in this recipe. My personal preference though, has to be hershey's first. One ingredient that goes extremely well with chocolate/cocoa powder is coffee. 
Coffee actually elevates the taste of chocolate and makes any chocolate dessert taste more chocolatey. Since this cake is majorly made of chocolate flavour, I wanted to make sure that the flavor was coming through and that is why I added some instant espresso powder in with the dry ingredients. I used nescafe but you can use any instant espresso powder you prefer. 
Whole wheat flour 
The presence of this ingredient and the absence of eggs magically makes a lot of my viewers super happy! While making desserts, adding a few ingredients that make them a tiny bit healthier now and then is a good thing. What's best is that in this cake, with the flavors of chocolate, and coffee, the earthiness of whole wheat flour goes great. 
Vegetable oil 
I love adding vegetable oil into almost all of my cakes. If you do not have vegetable oil, you can use any flavorless oil that you might have. This includes sunflower oil, soya bean oil, canola oil, etc. You can also use butter instead of oil if you wish. I just think using oil adds a great softness to the cake and that is always a texture preference for me. 
Walnuts to top 
This is completely optional but I think it goes so well in combination with the chocolate flavor plus adds a great crunch and additional texture to the cake. You can actually top this cake with anything you want. And if you don't want to simply top it off, you can also fold in some crushed nuts or chocochunks or chocochips. 
Other ingredients that are going in include vanilla, milk, and some caste sugar. If you want to make this cake slightly more healthy, you can also replace caster sugar with equal amounts of jaggery powder. 
Things to keep in mind for  atta chocolate cake
The first step of the recipe calls for combining baking soda and yogurt. Here, make sure that your baking soda is not expired and that you are not using the watery portions of the yogurt. 

You also need to take care of the fact that after you have combined the two, you need to give it 5-7 minutes to foam up. Don't rush this process as it will take a few minutes to show results. 

While adding milk, adding warm milk always is better than adding cold milk. Warm milk mixes in much more smoothly and leads to a lump free batter than adding in cold milk which will get mixed in but not as easily and not as quickly as warm milk. 

I mostly add vanilla extract but you can add vanilla beans if you have or a nice vanilla essence. 

Since this is an eggless cake, whisk everything really nicely so that you can incorporate an adequate amount of air. But while mixing in dry ingredients into the wet, make sure to not carefully use a spatula and incorporate the two together. Overmixing here will lead to a tough cake and nobody wants that.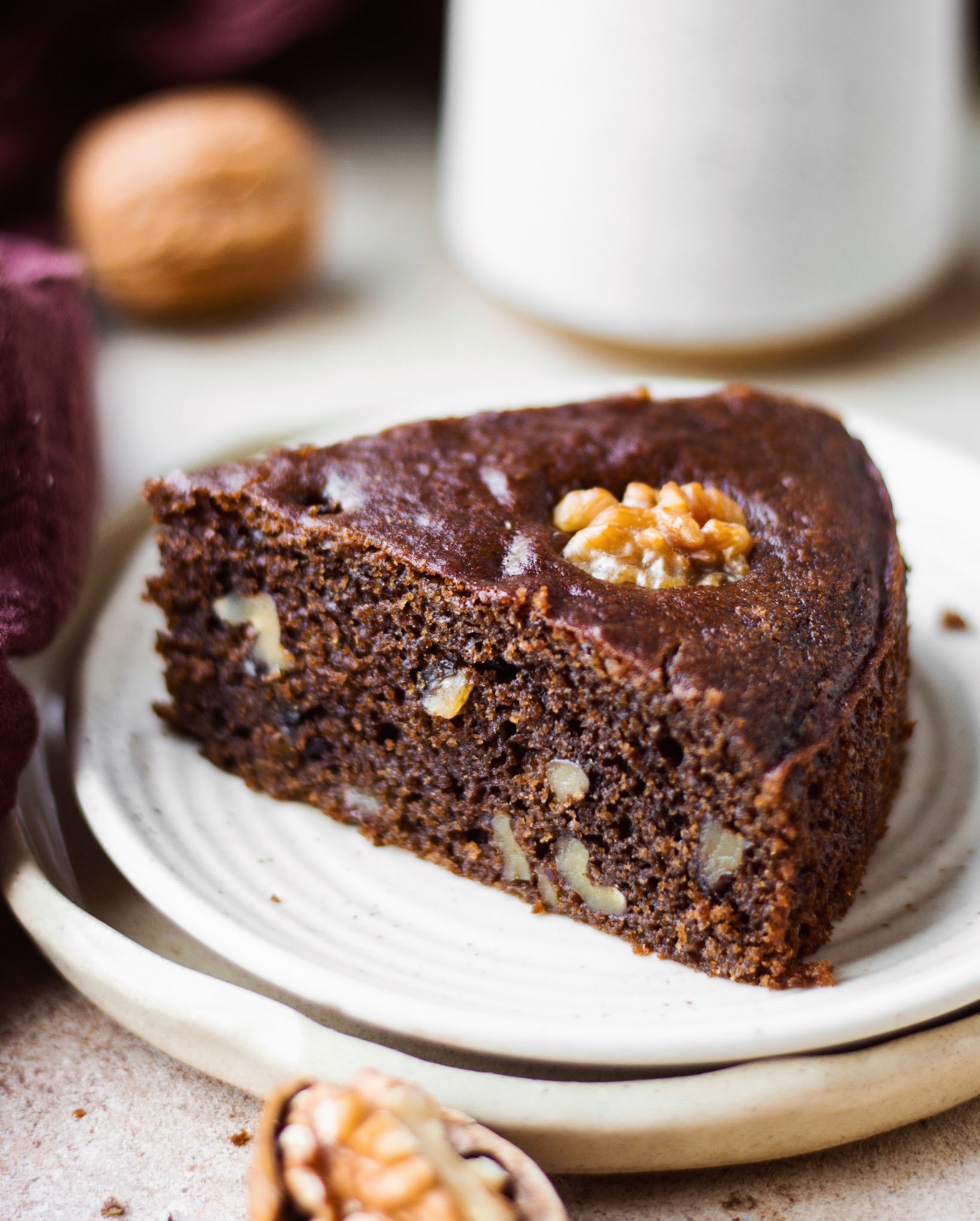 How to make atta chocolate cake without an oven 
There are actually quite a few different ways in which you can bake a cake even without an oven! 
Use your convection microwave 
A very famous substitute of an oven is a convection microwave. This is a super popular appliance that most of you have at home. To bake a cake in a microwave all you have to do is turn on its convection mode and then follow all the same steps you would if you had an oven. 
Preheat your microwave, transfer the batter in a microwave safe dish and fix the time and temperature and voila! For this cake, you will need an 9inch cake pan and bake this at 180 degree celsius for about 25-30 minutes. 
Cake in a pan 
You can also make this in a slightly high raised non stick pan! All you need to do is find a big enough saucepan in which you can fit your cake pan and a stand to put underneath it. You need to first add some water into the saucepan and add the stand and then the cake pan over. Cover and let it simmer for 50-60 minutes at medium low heat. Keep a close eye on the water because you will need to refill it as soon as it evaporates. Some cakes can take 1.5hrs too. 
Other cake recipes on the blog 
If you like my recipes, you can also follow my work on Instagram @shivesh17. Happy baking!

Best ever eggless atta chocolate cake
Ingredients
1 cup (285gms) yogurt
½ tsp (3gms) baking soda
1+1/4 cup (150gms) whole wheat flour
¼ cup (30gms) cocoa powder
1 tsp (4gms) baking powder
¾ cup (150gms) castor sugar
½ cup (120ml) vegetable oil
1 tsp (5ml) vanilla
⅓ cup (75ml-80ml) milk
1 tbsp (12gms) coffee powder
½ cup (50gms) walnuts
Instructions
Line a 9inch cake pan with oil and parchment paper. Preheat the oven at 189 degree c.
In a small bowl combine yogurt and baking soda. Let this sit aside for 5 minutes or until it foams up.
Meanwhile, in another bowl add in whole wheat flour, cocoa powder, baking powder. Give this a good mix and set it aside.
In a big bowl add in oil and caster sugar. Whisk this at medium high speed till the mixture becomes slightly pale. Add in the yogurt and baking soda mixture and whisk again.
To the same bowl, add in vanilla and warm milk and coffee and combine all wet ingredients.
Once combined, add in dry ingredients and bring the cake batter together.
Pour the batter into the prepared pan and top it off with some walnuts.
Bake for 30-35 minutes or until a skewer inserted comes out clean.