You guys, 2020 is finally coming to an end and oh my god, what a year it has been! Christmas time has to be the best time for all us bakers and dessert lovers out there. I have an extremely simple hot fudge cake recipe for you that is sure to become a family favorite in no time.
This hot fudge chocolate cake is the epitome of gooeyness, chocolatey-ness, and deliciousness. You don't need to be a baking pro to make this masterpiece. It comes together in minutes and requires no fancy equipment or precision.
I am so excited for you to try this recipe. If you are looking for more elaborate christmas recipes, you can see my Christmas Yule Log, Eggless Gingerbread Cookies, and Christmas Rum Balls!
Difference between Hot Fudge and Chocolate sauce
The main difference between a chocolate sauce and hot fudge is the texture and consistency. A chocolate sauce is much more thinner in consistency and is pourable compared to a hot fudge which is thick and gooey. Hot fudge is something I'd pour on top of a brownie or rather, use it for a cake. This recipe consists of a delicious hot fudge which forms the centre of the cake and makes it absolutely warm and comforting! It just needs a few simple ingredients, like water, sugar and cocoa and it whips up into something so decadent!
Tips to keep in mind while making this Hot Fudge Cake
This recipe is super quick. But just a few points to keep in mind so that you get all that beautiful gooeyness from the cake-
While mixing the dry ingredients for the cake batter, if your cocoa powder is lumpy, you can sift it in instead of simply adding it. Sifting will help remove all the lumps and give a smooth batter.
While pouring over boiling water, make sure to not mix it in. let the water just sit and the cake will bake beautifully.
When the cake is in the oven, check for the jiggly centre after 35 minutes of baking. If you think the cake is too liquidy from the centre, then you can bake it for an additional 10 minutes.
If you want to enhance the chocolate flavor even more, you can add 1/4tsp of coffee powder into the boiling water and then bake this cake.
This cake is best when served warm so try to make it as close to serving time as possible.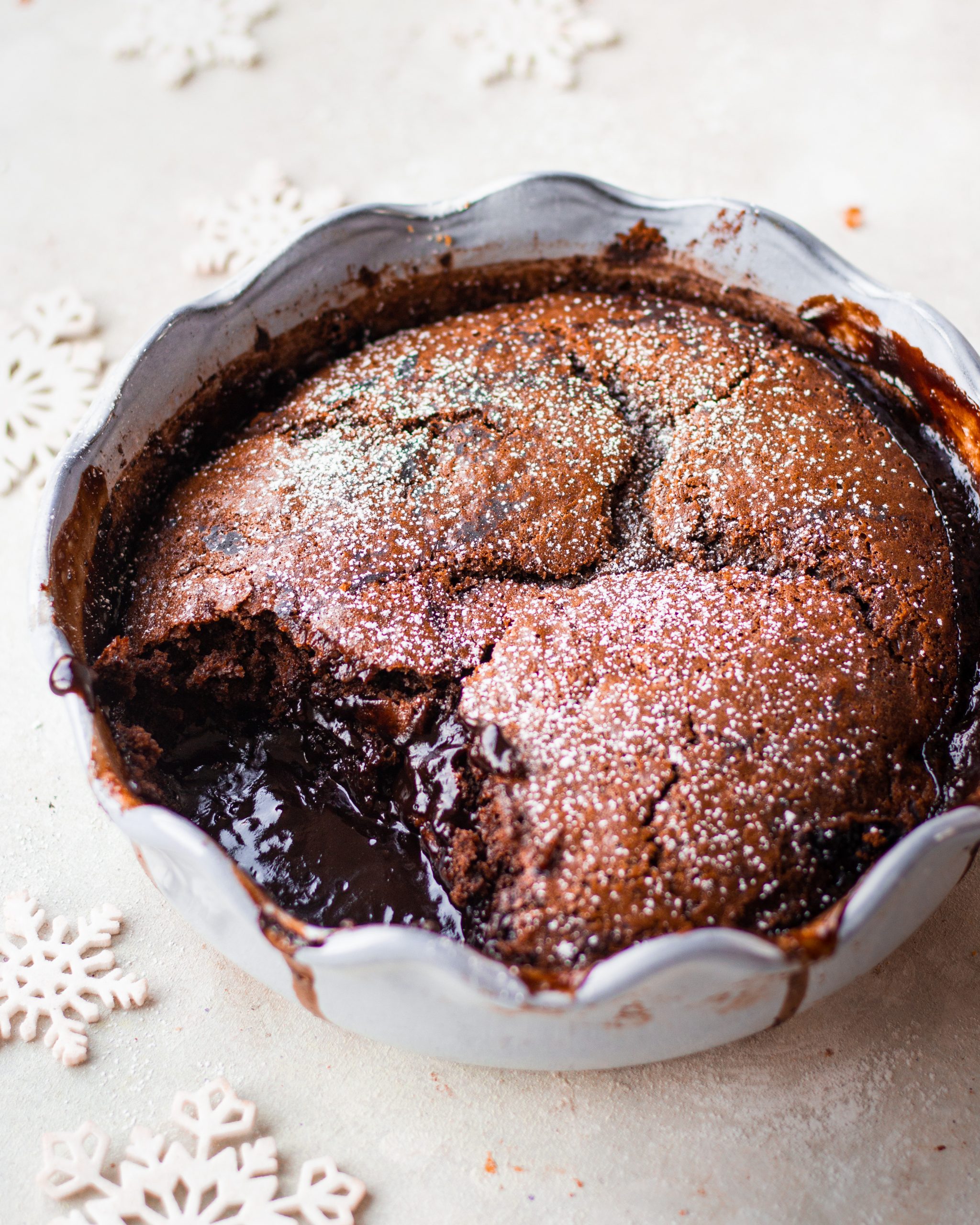 What makes this Hot Fudge Cake unique?
I'm always up for trying a different version of a recipe. I absolutely love playing around with chocolate in my kitchen and I've tried a hundred different varitaions of chocolate brownies, gooey chocolate cakes, mug cakes etc. Nothing compares to this hot fudge cake. It is so warm, like a hug in a cake. A hybrid of a gooey brownie, cake with a lava in the middle- it doesn't get better than this. It uses ingredients that are readily available in your kitchen and comes together really easily!
If you're fond of gooey cakes, you definitely have to try out my Chocolate Pudding Cake.
Hot Fudge Cake Recipe
Hot Fudge Cake
Ingredients
For the cake
1 cup (120gms) all-purpose flour
½ cup (100gms)caster sugar
¼ cup (30gms) cocoa powder
2 teaspoons (8gms)baking powder
¾ cup (180ml) warm milk
¼ cup (56gms) butter, melted
1 teaspoon (5ml) pure vanilla extract
For fudge topping
½ cup (100gms) caster sugar
½ cup (100gms) packed light brown sugar
3 tablespoons (22gms) cocoa powder
1 + ¼ cup (300ml) boiling water
Instructions
Grease an 8'cake pan with oil and preheat your oven at 180 degree C.
In a big bowl add in all purpose flour, caster sugar, cocoa powder, and baking powder. Give everything a good mix.
In the same bowl, add in warm milk, melted butter and vanilla. Mix the wet ingredients in carefully without overmixing the batter.
Transfer the batter into the prepared baking dish.
In a small bowl add in caster sugar, light brown sugar, and cocoa powder. Mix these together and sprinkle this mixture all over the top of the cake batter.
Next, boil water and again pour it all over the batter in the prepared baking dish. Do not mix in the water.
Bake the cake for 30-35 minutes, or until the centre is jiggly.
Sprinkle some icing sugar on top and serve warm.
If you happen to make this recipe, do tag me on 
Instagram
and don't forget to use #Bakewithshivesh.