I know I know there are a million chocolate cake recipes out there and on my blog itself, you will see quite  a few variations of it. But the recipe of this chocolate pudding cake is like no other.

This cake defines decadence, indulgence, and the goodness of chocolate desserts. The combination of the luscious pudding with the chocolate sponge is to die for. I have made many chocolate cakes in my life but this one has my heart.

To take this cake to the next level and make it extra fancy, I also added some almond praline! If you love chocolate cakes as much as I do, here are a few other recipes that you can try out – Easiest Eggless Chocolate Cake, No-Oven, Chocolate Cake – Eggless!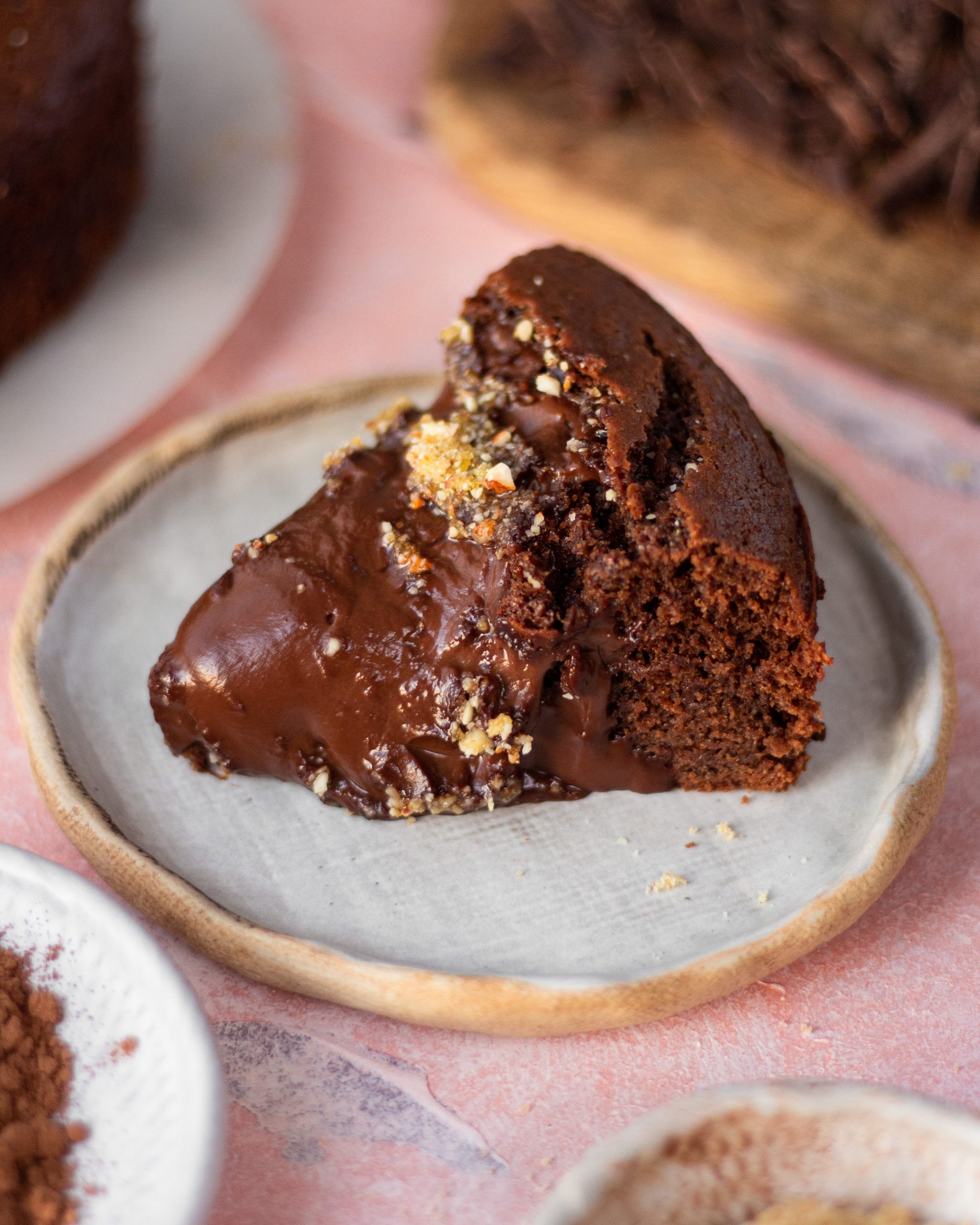 Components of the chocolate pudding cake 
A cake this epic is bound to have a few life changing components. Don't worry, all of the individual elements are easy to make and absolutely worth your patience.

The three components of the chocolate pudding cake includes a chocolate sponge, my favorite chocolate pudding and a beautiful almond praline. All of these components add texture, taste and a whole different mouth feel to my cake. This is why most cakes have such different elements. They are always adding more flavors and enhancing your dessert eating experience. 
The base component is the chocolate cake which is a basic chiffon cake that I have been making for years. But the two  new components that make this cake shine are of course the pudding and the praline.

Chocolate pudding for the cake 
This chocolate pudding is so smooth, it adds a great silky texture to my cake. This pudding will also help keep my cake moist and soft, even after I refrigerate it. The entire decadence of the cake comes from this pudding.

I am a big fan of this pudding. There is an entire video on my Youtube channel that is dedicated to the recipe and process of this pudding. You can check that out here. 
Almond praline for the topping 
One very easy way to make any dessert seem professional and fancy is by adding praline to it. It adds a great crunch and nuttiness to my cake. Just because it looks and sounds fancy, a lot of people shy away from making it. To make a good almond praline, all you need is granulated sugar, almonds, water, and a heavy bottom saucepan.

When I say heavy bottom saucepan, I mean a pan of good quality that will not get burnt easily. This is important for a praline because you'll be cooking down your sugar in a pan and that can take a while.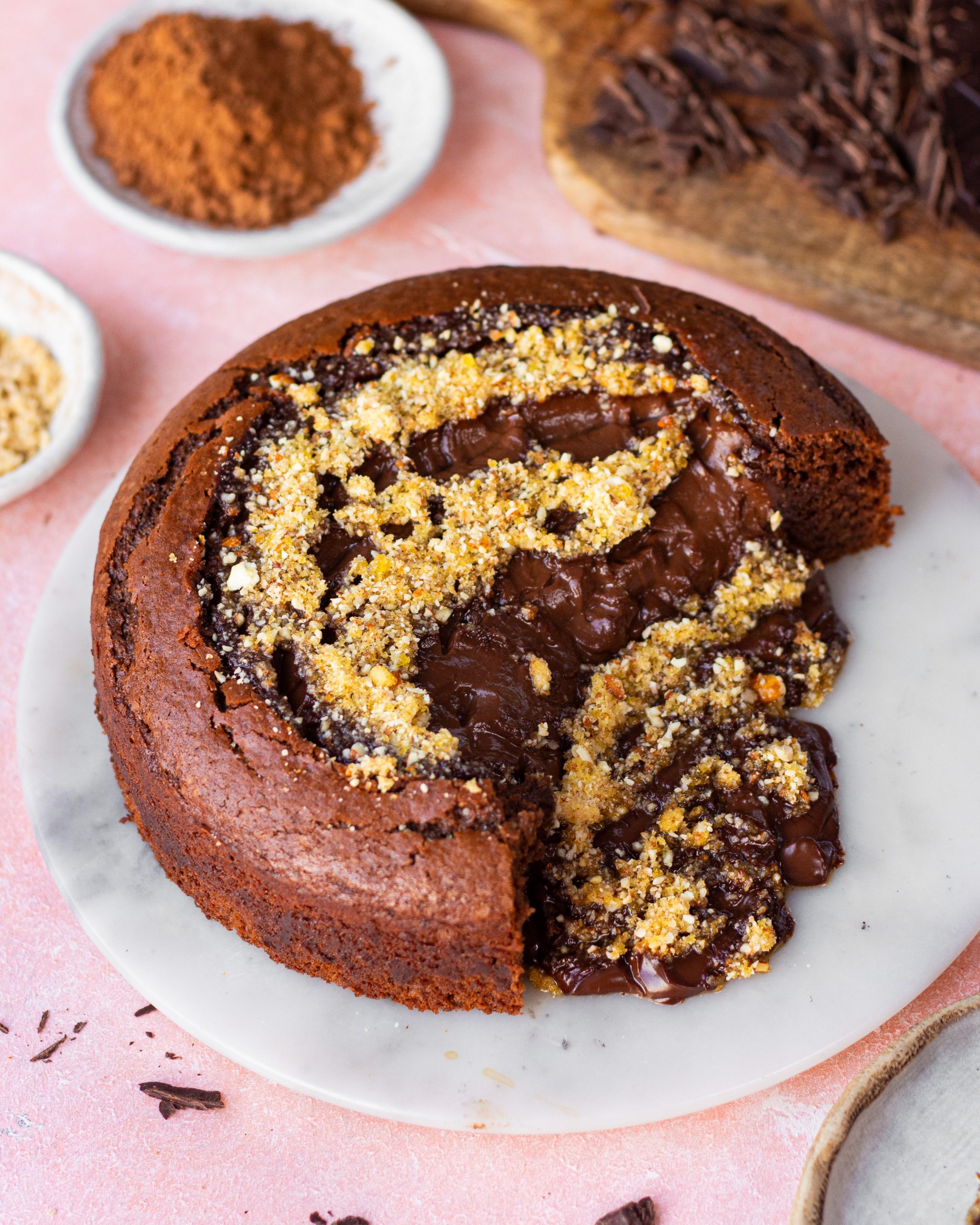 Assembling the chocolate pudding cake 
Before you start to assemble the cake, make sure all your elements are ready and good to go. This means that your cake sponge should be out of the cake mould, and completely cooled down. The chocolate pudding should also be cool and not at all warm to touch and almond praline should be crushed into fine pieces. If you want to watch how to assemble this cake then make sure to watch the Youtube video of this recipe.
Once all elements are ready, the first thing you want to do is hollow out the centre of your cake, leaving space on the edges. I baked my cake in a 9inch sized cake mould and cut out a circle of around 7 inches in the middle. I used a knife  to help me outline the circumference and then I used a spoon to dig out the cake from the 7 inch circle and make a shallow space. I hollowed out the cake halfway through. I would not recommend going further than that but if you want you can definitely make it shallow.
After you have dug out a good amount of cake, pour the pudding into it and spread it evenly. All that is left to do after that is to top it off with the almond praline. I mean, gorgeous! 
Now you can either keep this in the fridge for around 2 hours so that the pudding sets, or you can cut into the cake right away! This way you will almost have a chocolate lava pudding cake and what is not to love in that? 
Things to keep in mind while making the chocolate pudding cake 
Make sure that your cake sponge is baked perfectly. If not, it won't be able to hold the pudding and the praline and you might end up with a chocolate mush instead of a beautiful cake.

While making the pudding, be very careful about keeping its texture smooth and lump free. One way to do that is constantly whisking it till it starts boiling and the cooking process ends. 

Since this is an eggless cake, I sifted in my dry ingredients. This is important because the air that gets incorporated because of sifting helps make your cake slightly more fluffy.

Because we are cooling down the chocolate pudding completely before filling our cake with it, make sure to cover the pudding with cling wrap in a way that the cling wrap touches the surface of the pudding.  This way the texture will remain completely full and it won't form any skin on top. 

While making the praline, be very careful while transferring the mixture to a tray to cool down. The praline will be very hot and can easily cause burns. 

You can choose to blitz the cooled down praline as little or as much you want. I prefer the fine look, but if you want, you can just top the cake with big praline chunks. 
If you make this cake at home, I promise everyone is going to fall in love with it! I am always stoked to see your recreations so don't forget to tag me on Instagram using @shivesh17. Happy baking! 

Chocolate pudding cake- the best chocolate cake ever!
Ingredients
For the cake
1 + ½ cups (300gms) castor sugar
¾ cup (180ml) vegetable oil
1 cup (285gms) Greek yogurt
½ tsp (2.5ml) vanilla extract
½ cup (120ml) milk
1 + ½ cups (180gms) maida
¾ cup (90gms) cocoa powder
½ tsp (3gms) baking soda
1 tsp (4gms) baking powder
For the chocolate pudding
2 cups (480ml) milk
½ cup heavy/ fresh cream
1 cup (176gms) dark chocolate
1 tsp (4gms) instant coffee powder
3 tbsp (36gms) cornflour
6 tbsp (75gms) sugar
2 tbsp (15gms) cocoa powder
2 tbsp (28gms) butter
1 tsp (5ml) vanilla
For almond praline
½ cup (60-70gms) almonds
¾ cup (150gms) granulated sugar
2 tbsp (30ml) water
Instructions
For the cake
Pre-heat the oven to 180*C. Line a 8" baking pan with parchment paper.
In a large bowl, beat together oil and sugar until the mixture is pale and light. Beat in vanilla.
Add yogurt and milk and mix well.
In the same bowl, sift in maida, cocoa powder, baking soda and baking powder.
Mix only until well combined. Don't over mix.
Pour the batter into the pan and bake at 180*C for 30 minutes or until a toothpick inserted in the center comes out clean.
For the chocolate pudding
In a saucepan, combine milk, cream, chocolate and coffee bring it to a simmer over medium heat.
In a separate bowl, stir together sugar, cornflour and cocoa.
Once the cream mixture comes to a simmer, gradually add this to the dry ingredients and whisk well.
Transfer the entire mixture back into the saucepan and bring it to a boil, whisking continuously.
Once the mixture comes to a boil, bring it off the heat and add butter and vanilla. Whisk well.
Cover the surface with a cling wrap and let it cool down.
For the almond praline
In a saucepan add in sugar and spread it evenly on the surface.
Add in water and let the sugar caramelize
Once it reaches golden amber color, add in almonds and using a wooden spoon, coat them in the sugar.
Transfer the hot praline mix onto a silicone sheet and let it cool down completely and become firm.
Break it into pieces and blitz it to a fine powder in your mixer.
For assembling:
Cut out a hollow circle in your cake, leaving space on the edges.
Fill the hollow space with chocolate pudding. Sprinkle some sea salt on top of the pudding (optional).
Top it off with almond praline.
Enjoy!