I think I have done the impossible today. You guys asked for chocolate cake, you got it. You guys asked for eggless chocolate cake, you got it. Then, there were requests for an eggless no-oven chocolate cake. Here, you have it. Truly, am I the best or what? Haha! All jokes aside, I know how it gets so difficult for so many of you to even bake the simplest of things. Ovens are complicated and so are your microwaves. Most of you want baking anything to be an easy process, one which does not give you anxiety about the results. And thus, this no-oven chocolate cake is going to become your best friend ever. If you were going to start on that diet today, I am truly sorry.
Now, this uber-cool no-oven chocolate cake is yum and literally so so easy. I baked this in under 45 minutes and was equally amazed by the results. The No-oven chocolate cake is spongey, delicious, soft, and all things expected from a chocolate cake.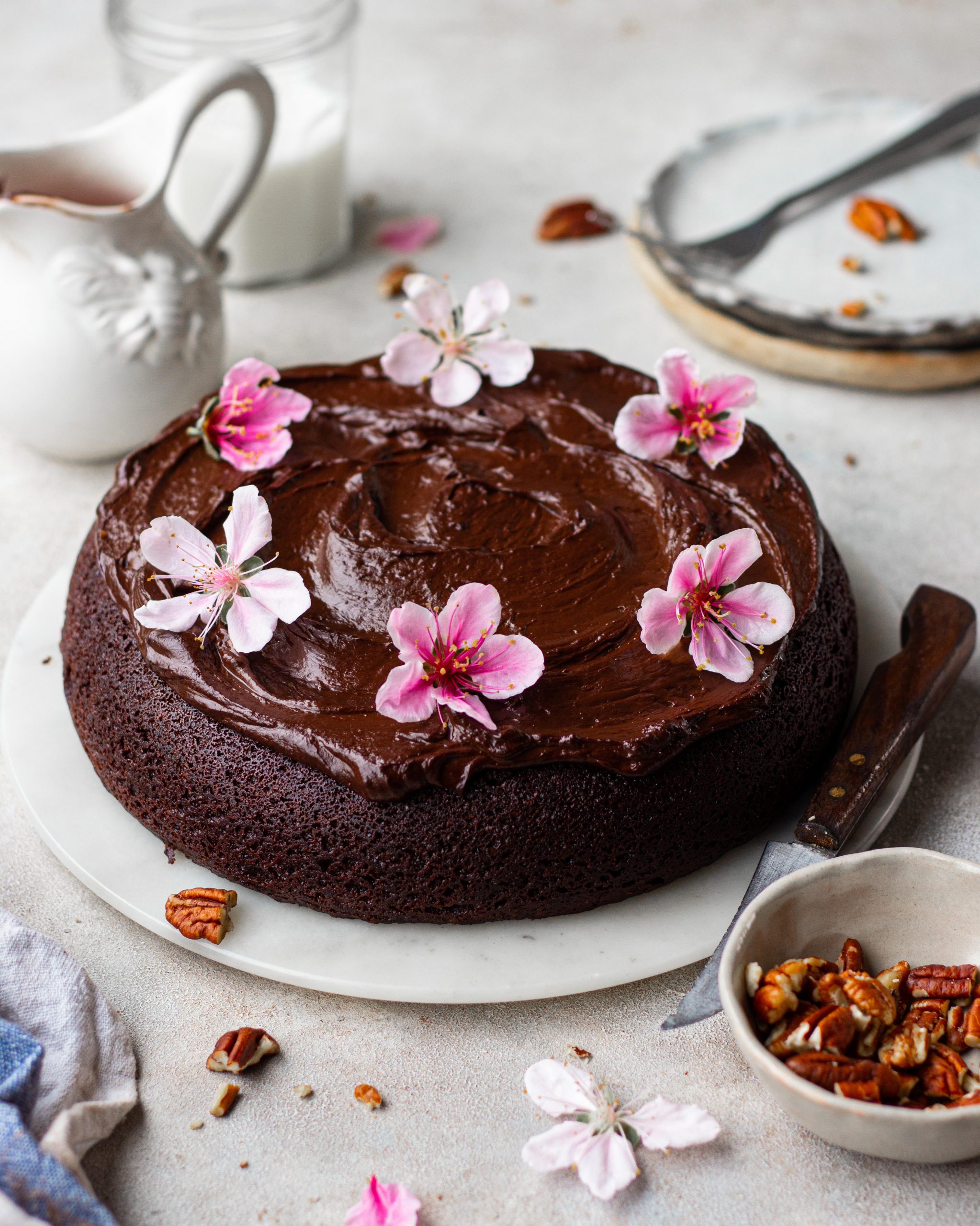 Tips for the best No-oven chocolate cake
Please keep the following things in mind while baking this beautiful no-oven chocolate cake.
Do not overmix your batter post mixing your wet ingredients with the dry ingredients. It will knock out all the air and your cake won't rise.
Make sure you have your saucepans ready. Not only this, please measure both your saucepans before proceeding to pour the batter in.
Do not forget to cover the saucepan with a lid to ensure even baking.
Pour the water into the lower saucepan post five minutes so the cake can bake uniformly.
Be careful while handling the saucepans as they tend to be very hot.
No-oven chocolate cake recipe
No-oven chocolate cake- Eggless recipe!
Ingredients
1 + ½ cups maida (all purpose flour)- 180g
¾ cups cocoa powder- 75g
½ tsp baking soda -3g
1 tsp baking powder- 4g
¾ cup vegetable oil- 180mL
1 + ½ cups castor sugar -300g
1 cup Greek yogurt ( or curd hung over night)- 285g
½ tsp vanilla extract- 2.5mL
½ cup milk + 1 tsp white vinegar, mixed and rested for 5 minutes -120mL + 5mL
a pinch of salt
PROCEDURE
Instructions
Take an 8inch non stick pan and grease it with some vegetable oil. Take another 10inch pan and set these two aside.
In a bowl whisk cocoa, flour, salt, baking soda and baking powder into a bowl
In another large bowl, beat together oil and sugar until the mixture is pale and light
Add yogurt and mix well.
Beat in vanilla using mixer at low.
Add the flour mixture to the wet ingredients alternating with milk, starting and ending with flour mixture. Mix only until well combined. Don't over mix.
Pour the batter into the 8inch non stick pan. Take the 10inch non stick pan and place the pan with the cake batter in this bigger non stick pan. Now put both of these pans on the heat and bake at low heat. Let the cake cook for 5 minutes and then add some water in the 10inch non stick pan, making a water bath of sorts. Put the 8inch pan over it again and bake for 40-50 minutes or until a toothpick inserted in the center comes out clean. If you're using an induction, fix the temperature at 160°C and bake for 40-50minutes.