Too many chocolate and cheesecake recipes on the blog call for healthy desserts. One really needs a detox day, away from calories. I got you covered with this blog post on four recipes of healthy smoothies! These healthy smoothies contain ingredients with a multitude of nutrients. Smoothies are such a great way to pack extra fruit and vegetables in your diet!  I've created four healthy and delicious smoothie recipes so you will never get bored!
The best thing about these healthy smoothies is the fact that they don't need elaborate efforts. There's really not many ways to mess up a smoothie either! Basically, all you do is throw all your ingredients into a blender and blend until smooth. They don't take a lot of time and are certainly the most fulfilling meals. Smoothies are a fast, easy breakfast, and many of us are devoted to our morning shake of fruits, vegetables, and yogurt. If you would like a few tips to help build a better smoothie, look no further.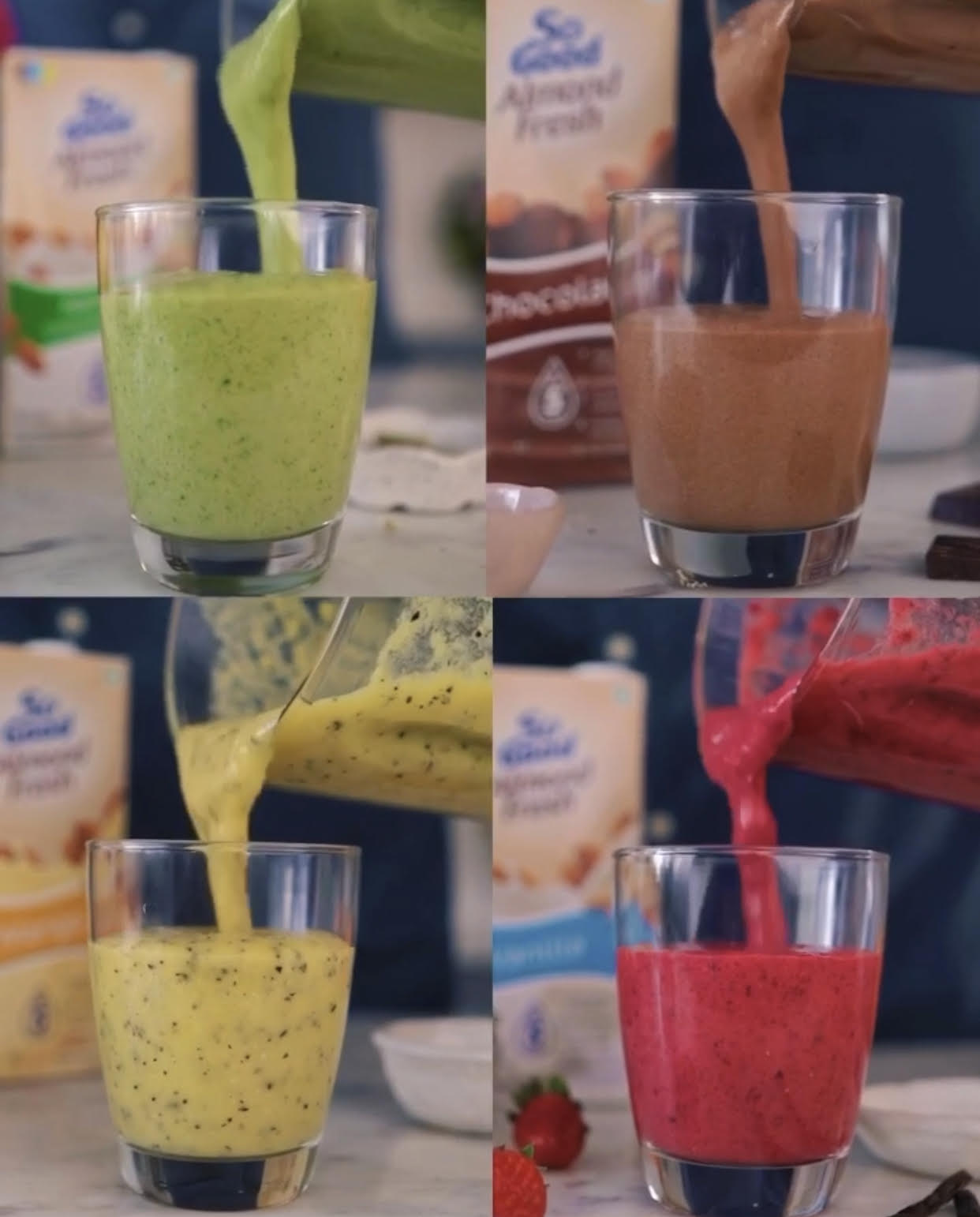 Tips on nailing these Healthy Smoothies
I usually use enough fruit to make my smoothie sweet enough for my liking, but you like want it even sweeter, you can add pure maple syrup, honey, dates, or additional fruit juice.
Using frozen fruit in my smoothies is something I love because it makes them kind of like a milkshake and I love the thickness and coldness it adds.
You don't need to worry about adding liquids. If I have almond milk on hand I will usually use that but if not I just use water and turns out great!  You can use any other milk product (non-dairy or dairy) that you use regularly or you can jazz it up and use juice too.
Stick to the measurements. With the right blend of ingredients, a smoothie can be a nutritional powerhouse—full of antioxidants, minerals, vitamins, and protein. Just a few misguided add-ins, however, and you've got a high-calorie, sugar-laden dessert on your hands.
Plain low-fat Greek yogurt and light coconut milk are optimal choices for creating healthy, creamy smoothies. Greek yogurt provides a boost of protein, while light coconut milk adds a hit of rich flavor and creamy texture.
We're all about adding greens to our healthy smoothies but don't dive into kale right away. If you start with such a bitter green, you may be tempted to pile on too much sugar.
Use natural sources of protein instead of protein powders to help sustain your energy throughout the day.
Healthy Smoothies- 4 recipes!
Ingredients
TROPICAL SMOOTHIE
½th cup banana
¼th cup pineapple
¼th cup passion fruit
1 tbsp maple syrup
¼ tsp turmeric
1 cup mango almond milk
4 ice cubes
MIX BERRY SMOOTHIE
1 cup strawberry
½ cup frozen mix berries
⅓ cup beetroot
1 tbsp chia seeds
1 cup vanilla almond milk
CHOCOLATE SMOOTHIE
1½ cup banana
2 tbsp peanut butter
1 tbsp cocoa powder
1 tsp cinnamon powder
1 tbsp maple syrup
1 cup chocolate almond milk
GREEN SMOOTHIE
2 cups banana
¾ cup spinach
1tbsp maple
½ tsp matcha
1 cup unsweetened almond milk
Instructions
For all individual smoothie recipes, carefully add all the ingredients and blend them well.