Okay we are nearing the end of 2020, I am 24 years old and my love for cookies is still as strong as it was when I was 15. As we are nearing the winter months, I think it is important for all of us to have warm and cozy recipes that we can turn to for comfort. These eggless chocolate filled cookies definitely need to be a part of that list. The eggless chocolate filled cookies are a dessert in themselves. It is crispy on the outside, chewy and gooey on the inside and just beautiful all over.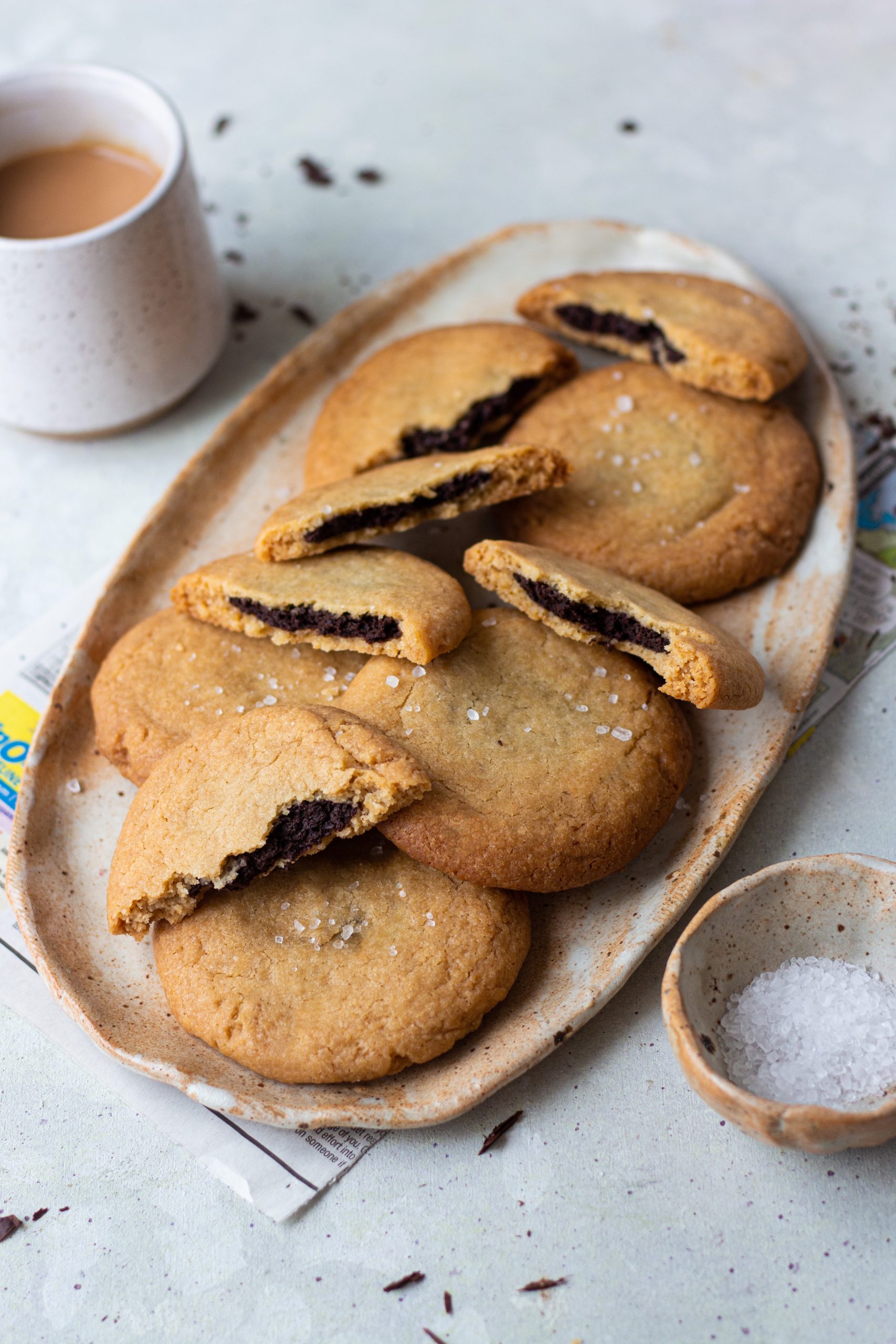 I have so many cookie recipes on the blog already and you all have shown so much love for them! If you are looking to try some new cookie recipes then you need to check out Eggless Red Velvet Cookies, Eggless Coffee Bean Cookie, and Healthy Chocolate Chip Cookies. 
How to make eggless chocolate filled cookies 
Whenever a cookie is filled with something, it is usually called a stuffed cookie. To be honest, you can actually fill or stuff a cookie with anything and everything! 
I chose to fill these with chocolate ganache because it was perfectly complimenting the flavor of the actual cookie. Stuffing cookies with fillings is a great way to play around with flavors and combine your favorites. A red velvet cookie for example, can be perfectly stuffed with a cream cheese filling. 
Making a stuffed cookie is as easy as making any other cookie. You just need to have the two components ready- dough and the filling, stuff it nicely , seal it properly and you are good to go.
A few things to keep in mind while making a stuffed cookie include: 
Make sure your cookie dough has rested and chilled. It will be very difficult to work with warm cookie dough as it will keep sticking to your hands and make a mess. 

It is important to seal the cookie ball perfectly from all edges. Any loose edges will lead to leaking of the filling. 

Be careful about the quantity of the filling. If you put too much, your cookie might collapse. But if you put too little, your cookie won't be as decadent. 

Using a filling that isn't too runny is always better to use for stuffing a cookie. It makes sure it will stay intact even when put in the hot oven for baking. 
Components of the eggless chocolate filled cookie 
Okay this recipe is pretty basic but an additional component here is the chocolate ganache that we are stuffing our cookies with. 
Chocolate ganache 
Whenever you are making chocolate ganache you want to make sure that you use the best quality of chocolate available to you. Since ganache is only two ingredients- chocolate and cream, you want the chocolate flavor to shine. Using a chocolate of low quality will definitely have an impact on the texture and taste of your chocolate ganache. 
Chocolate ganache can be made in various ratios namely 1:1, 1:2 or 1:3. To stuff my cookies, I wanted a slightly stable ganache that would hold its shape while getting stuffed in the cookie dough and melt evenly while the cookie is getting baked in the oven. This is why I made a ganache of 1:2 ratio which had 1 part of cream and 2 parts of chocolate. I used dark chocolate for my ganache but if you want, you can also use milk chocolate instead. 
I know a lot of us struggle with making ganache in the beginning and that is why I have a detailed blog post about How To Make The Perfect Ganache. This will help you troubleshoot any problems that you might be facing while making chocolate ganache. 
Cookie dough 
The second component of course is the cookie dough. This is an eggless cookie dough and the binding agent that I have used is milk. The recipe for the cookie dough could not be easier honestly.

Like most of my cookies, these are also made with both caster and light brown sugar. If you do not have light brown sugar, you can easily replace it with brown demerara sugar. I also add cornflour in my cookies but if you don't have cornflour or just do not want to add it, you can easily skip that step too. 
I like adding cornflour because of the chewy texture that it adds into my cookies. A soft and chewy cookie is my favorite.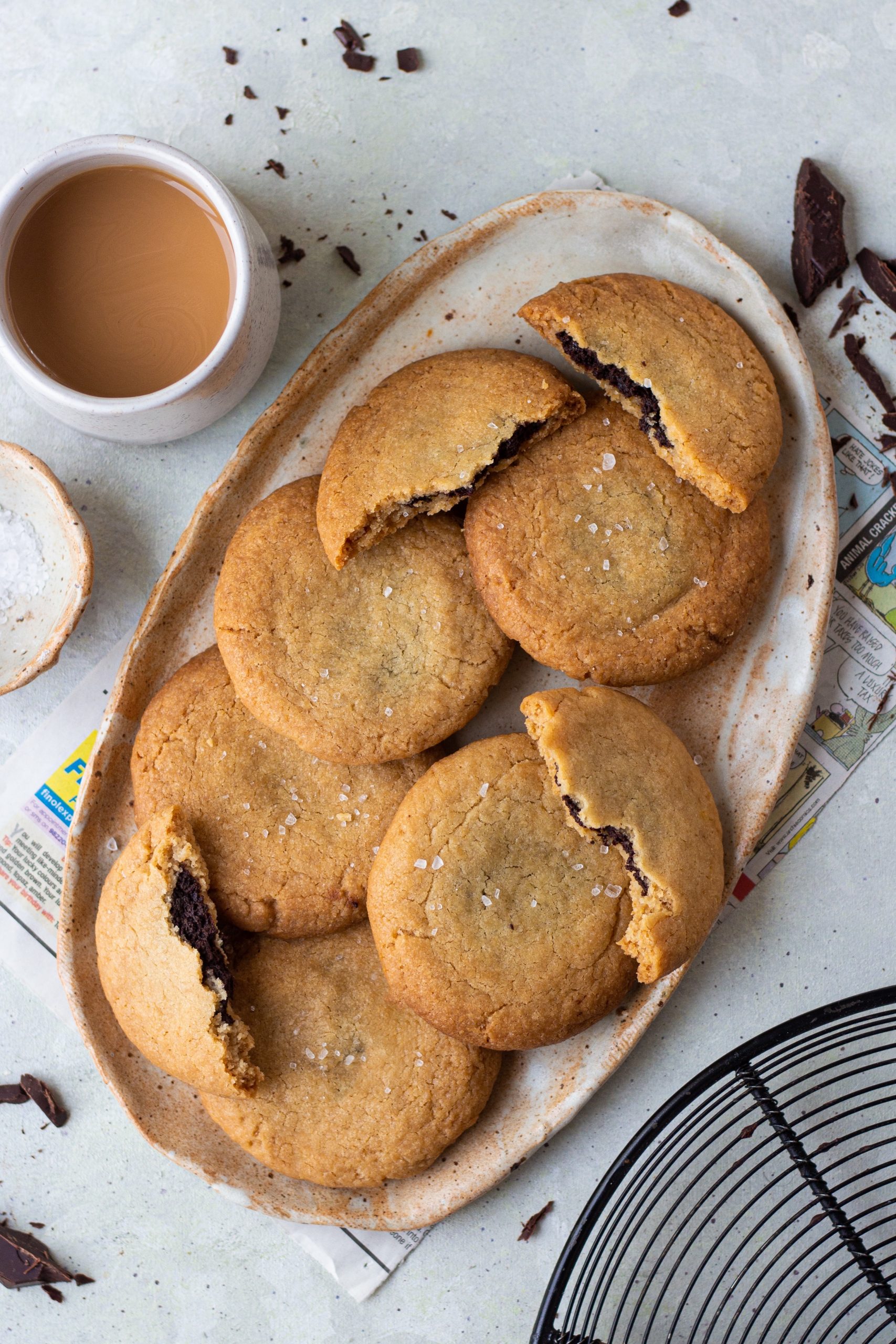 Tips to help you make perfect cookies 
Make sure to use softened butter. If your butter is not softened, your sugars won't mix. Your sugar and butter mixture is the very base of your cookies.

To get softened butter, place it in a bowl and pop it in the microwave. Micro in intervals of 10-10 seconds until it is just softened. Be cautious to not melt it. Melted butter gets very different results.
Use castor sugar. Using castor sugar really helps save time and also helps the final results. There are various types of baking sugars, but all over the world, castor sugar is the Bible sugar for desserts.
Do not disturb the cookies while they bake. You know they are done when they gain that beautiful golden-ish color or when the edges turn brown.
Put the dough to rest in the fridge for at least 30-45 minutes before making it. If this step is overlooked, your cookies will spread far too much.
Allow the cookies to cool down before consuming. They're soft when fresh out of the oven and can break.
How to make eggless chocolate filled cookies in a microwave 
If your microwave has a convection mode, you can also bake these cookies in it! Cookies do not really have disappointing results. They do not have strict guidelines for temperatures and other baking rules. To bake these cookies in the microwave, preheat until 180 degrees celsius. Place the cookies evenly on your tray, and allow to bake for 15-17 minutes only. Again, microwaves differ, so keep a sharp eye out for the golden edges.
PS- If your microwave does not accept a flat tray, take that round cake tin out and evenly place your cookie dough onto it. You might take a longer time to bake a sufficient batch of cookies, but you will succeed!
I hope these tips and tricks will help you get your cookies right every single time. Always excited to see your pictures on Instagram! Make sure to tag me @shivesh17 so that I can see all your lovely creations. Happy baking! 

Eggless chocolate filled cookies
Ingredients
For the ganache:
1 + ¼ cup ( 200gms) chopped chocolate
½ cup cream (100gms)
For the cookie:
½ cup (113gms) softened butter
½ cup (100gms) caster sugar
¼th cup (50gms) light brown sugar
3 tablespoons (45ml) milk
1tsp (5ml) vanilla
1¼ cup (150gms) all purpose flour
½tsp (3gms) baking soda
1tsp (4gms) cornflour
Instructions
To make the ganache, in a saucepan heat cream over medium low heat. Once cream starts to simmer, add in chopped chocolate and melt it. Turn the heat off and letyour ganache cool completely in the fridge.
For the cookie dough, beat butter and the sugars until the mixture is light and fluffy
Add in milk and vanilla and mix it in.
In the same bowl, add the flour, baking soda and corn flour and mix until the dough comes together.
Refrigerate this dough for 30-40 minutes or until slightly firm.
Preheat your oven to 180 degrees and line a baking tray with a silicon mat or parchment paper.
Scoop out your dough into balls of equal sizes in the prepared baking tray.
Flatten the balls using your fingers and stuff them with balls of the chilled chocolate ganache and fold up the edges of the cookies, making sure it is properly sealed.
Bake the cookies for 12-15 minutes at 180 degrees.
Once baked let them cool on a wire rack for at least 10 minutes.
Enjoy!